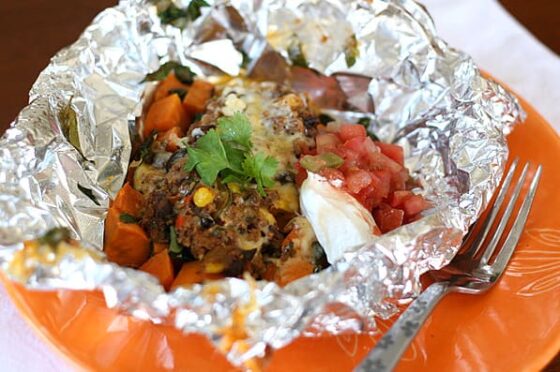 Update 4/11/11: These little foil packet tacos won first place in the Kid-Friendly category in the North Carolina Sweet Potatoes "Sweet 'n' Healthy" Bloggers Recipe contest! Click on the badge below for the details and other winning recipes. . .
We loooove sweet potatoes around here. My kids could eat "orange fries" until they turned orange themselves. One day I had some leftover taco meat in the fridge and decided to experiment a little. HUGE success! It's basically a taco on a bed of sweet potato cubes instead of wrapped in a tortilla (which is a great nutritional trade-off.) Calling this a "taco" is using the term very loosely, but I wasn't sure what else to call it.
These little packets are a cinch to assemble — your kiddos could practically do it themselves. First convince them that the potato cubes don't have to be perfectly arranged on the foil. I swear, my three-year-old gives a whole new meaning to "slow food." She's very thorough and careful, but quickness isn't her forte.
Anyway, pile some sweet potato cubes in the middle of a 12 inch piece of foil. I put a little smudge of butter and a pinch of salt over top, then a (3-year-old-sized) handful of chopped fresh spinach.
(Yes, they eat it. I've been sticking chopped spinach in almost everything they've eaten since they were babies. They're used to it. And they'll notice it's missing and ask for it if I forget.)
Next comes a couple of spoonfuls of taco meat, followed by a couple of pinches of shredded cheese to the mouth. And THEN over the meat.
Then fold the sides into the center and bring the top and bottom ends together and fold them down, creasing the sides to seal. Put them on a rimmed cookie sheet and bake them for about 25 minutes.
I was thinking that this would be a great campfire meal as well. That is, if I ever went camping again. I'd much rather sit in a dentist's chair for an hour than sleep on the ground (or tent, or on an air mattress in a tent, it's all the same to me). If I could eat this in the wilderness, I might get excited to go.
Um, not really.
Seriously, though… try these out on your kids!
P.S. I highly recommend using my Homemade Taco Seasoning on these!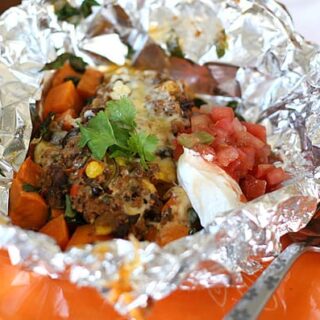 Sweet Potato Foil Packet Tacos
My little ones loved assembling these foil packet tacos and sweet potatoes make a great base for a taco! You can even take these camping!
Ingredients
1/2 pound ground beef or turkey
1/2 cup tomato sauce (4 ounces)
1 can black, kidney, or pinto beans, drained (optional)
2-3 medium sweet potatoes, peeled and cut into 1/2-inch cubes (about 6 cups total)
2 Tablespoons butter
salt
1 1/2 cups chopped fresh spinach
1 1/2 cups shredded cheddar cheese (optional)
sour cream, salsa, and/or guacamole for garnish
6 12-inch long pieces of aluminum foil
Instructions
Preheat oven to 425 degrees F.
Brown ground meat in a skillet over medium-high heat. Stir in taco seasoning, tomato sauce, and beans. Set aside.
To assemble packets, spray the foil with non-stick spray. Place 1 cup sweet potato cubes in the center of each piece. Top with a small piece of butter (about 1 tsp) and a pinch or two of salt. Sprinkle some chopped spinach over the sweet potatoes, followed by about 1/3 cup of taco meat and sprinkle of cheese.
Fold the sides in, then bring the top and bottom ends of the foil together in the center and fold, sealing the packet. Repeat with remaining ingredients, placing the packets on a rimmed cookie sheet.
Bake for 25-30 minutes until the sweet potatoes are tender. Serve with sour cream, salsa, and/or guacamole. Makes 6 servings. Nat's Notes: 1. For the taco meat, I used some leftover Hidden Veggie Chipotle Taco Meat I had in the fridge. (It's in the index.)
Save
Save