My little ones loved assembling these foil packet tacos and sweet potatoes make a great base for a taco! You can even take these camping!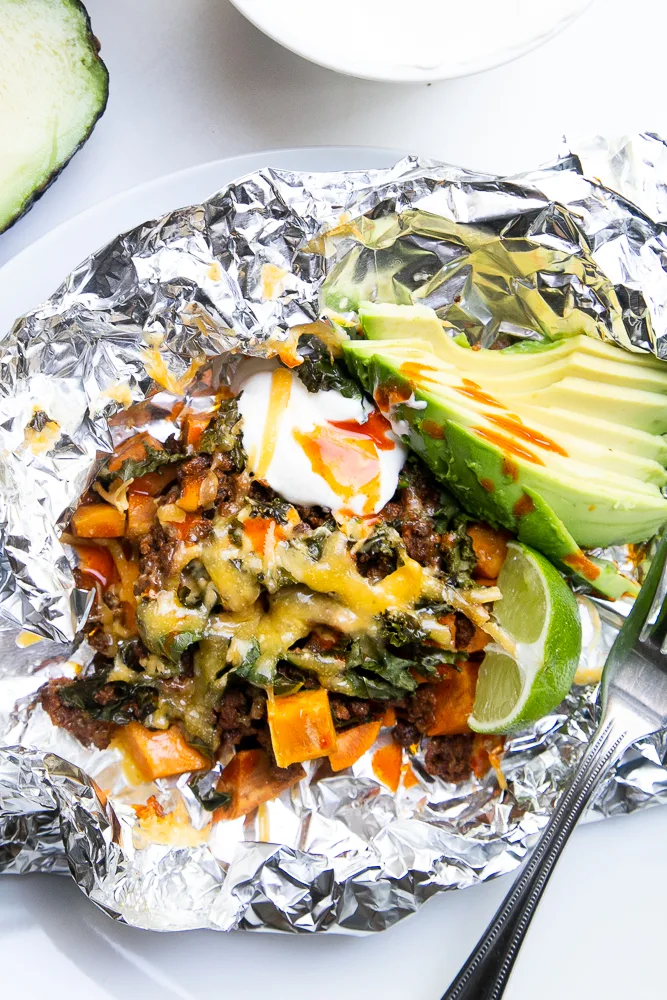 This foil packet sweet potato "taco" is one of my oldest and most beloved recipes.
I won a couple of recipe contest back in the early days of blogging and this recipe was one of those winners!
One day I had some leftover taco meat in the fridge and decided to experiment a little. HUGE success! It's basically a taco on a bed of sweet potato cubes instead of wrapped in a tortilla (which is a great nutritional trade-off.)
Calling this a "taco" is using the term very loosely, but I wasn't sure what else to call it.
Scroll down for some adaptations and other ways to use this meal! (Hint: They're great for camping!)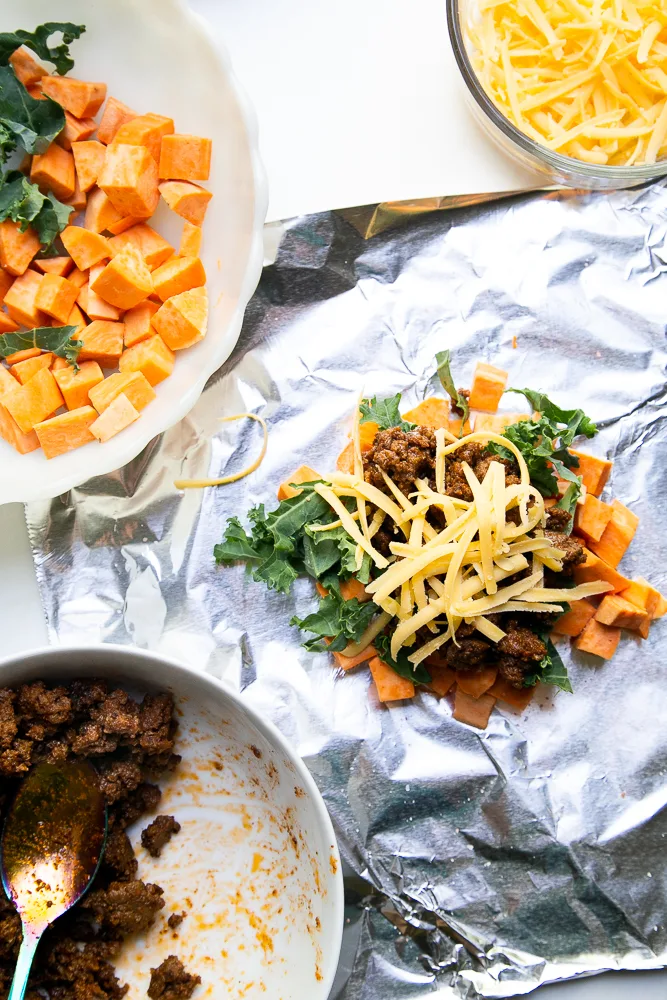 These little packets are a cinch to assemble — your kiddos could practically do it themselves.
How to make Foil Packet Sweet Potato Tacos
Start with a (roughly) 12-inch piece of aluminum foil. If you're concerned about cooking on foil, stick a piece of parchment on top to line it. If you're baking these in the oven, you can just use parchment and skip the foil.

Pile some sweet potato cubes in the middle. I like to put a little dab of butter and a pinch of salt to add more flavor to them.

Add chopped spinach/kale and a few spoonfuls of cooked taco meat. And some grated cheese, if you're into it.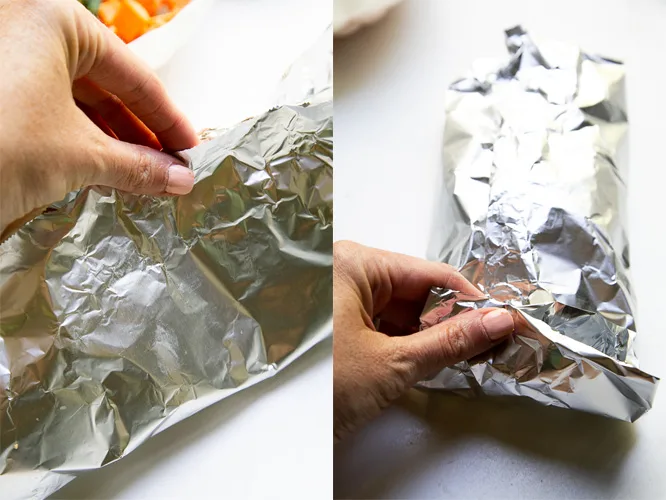 Fold the sides into the center, crease, then bring the top and bottom ends together and fold them down, creasing the sides to seal.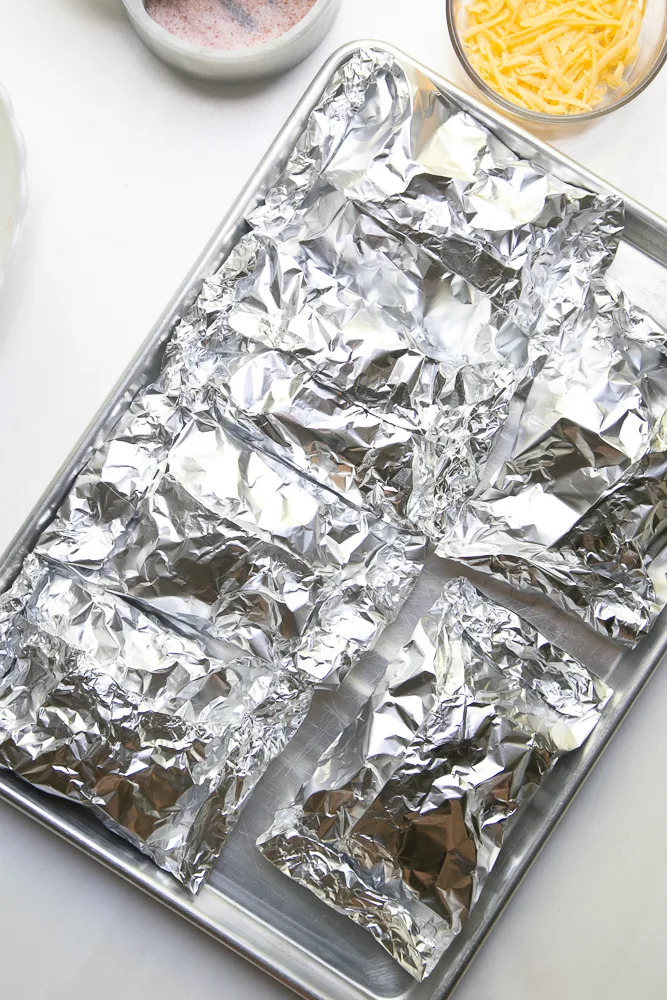 Bake for 25-30 minutes until the potatoes are soft. You could also toss these on a grill over medium-low heat or over some campfire coals.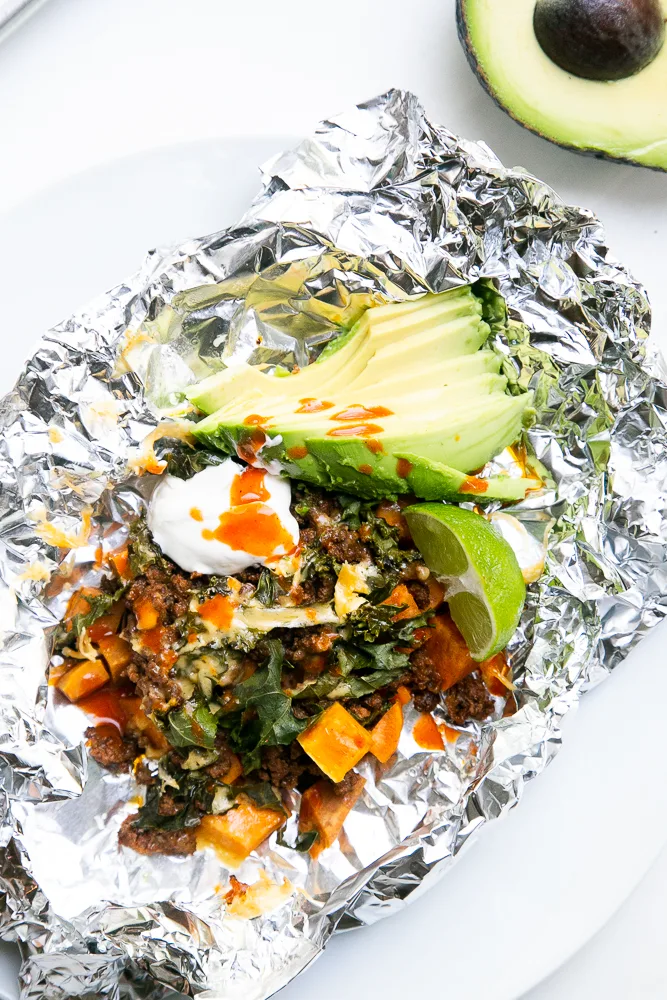 Foil Packet Sweet Potato Variations
There are so many ways you could adapt these! Here are a few ideas:
Make them meatless! Swap out the ground beef for a can of black beans mixed with some taco seasoning or salsa.
Use white potatoes if you don't care for sweet potatoes. You may have to cook them longer, though.
Change up the vegetables. If you don't want to use greens, add diced bell peppers, zucchini, corn kernels, or any other small, quick-cooking vegetable.
Can I make these Foil Packet Tacos ahead of time?
Yes! Feel free to package these up 2-3 days in advance. This is a great make-ahead meal to take on a camping trip.
If you use white potatoes do NOT make these ahead of time. Sweet potatoes don't turn brown as quickly as white potatoes.
Seasoning Suggestions
This recipe calls for taco seasoning. Have you tried my Homemade Taco Seasoning? It's pretty fantastic.
However, you can use any Mexican or Southwest-inspired seasoning blend you like. A few of my favorites for this recipe are Smoky Chipotle Taco Seasoning, Chipotle Chorizo Seasoning, and Sweet Potato Fry Seasoning.
You could even take these in a Smoky BBQ direction by using some Homemade Montreal Steak Seasoning and a little BBQ sauce to the packets!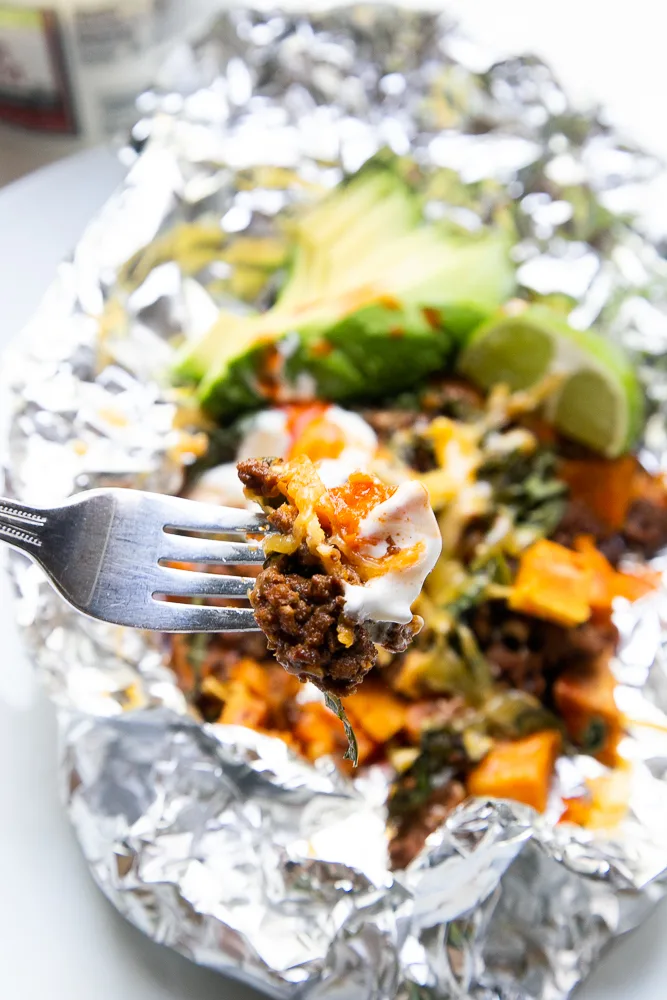 My favorite toppings for these foil packet tacos are some avocado slices, a dollop of sour cream, and some hot sauce. You can top them with whatever you like!SaveSave
---
If you make one of my recipes, be sure to post it on social media and tag me at @perrysplate or #perrysplate so I can send you some love!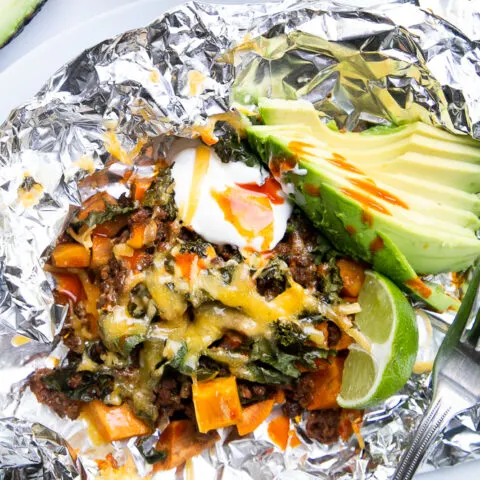 Sweet Potato Foil Packet Tacos
My little ones loved assembling these foil packet tacos and sweet potatoes make a great base for a taco! You can even take these camping!
Ingredients
1 pound ground beef or turkey
1/2 cup tomato sauce (4 ounces)
2-3 medium sweet potatoes, peeled and cut into 1/2-inch cubes (about 6 cups total)
2 Tablespoons butter
salt
1 1/2 cups chopped fresh spinach
1 1/2 cups shredded cheddar cheese (optional)
sour cream, salsa, and/or guacamole for garnish
6 12-inch long pieces of aluminum foil
Instructions
Preheat oven to 425 degrees F.
Brown ground meat in a skillet over medium-high heat. Stir in taco seasoning and tomato sauce. Set aside.
To assemble packets, spray the foil with non-stick spray. Place 1 cup sweet potato cubes in the center of each piece. Top with a small piece of butter (about 1 tsp) and a pinch or two of salt. Sprinkle some chopped spinach over the sweet potatoes, followed by about 1/3 cup of taco meat and sprinkle of cheese.
Fold the sides in, then bring the top and bottom ends of the foil together in the center and fold, sealing the packet. Repeat with remaining ingredients, placing the packets on a rimmed cookie sheet.
Bake for 25-30 minutes until the sweet potatoes are tender. Serve with your favorite taco toppings: sour cream, salsa, and/or guacamole.
Notes
Nat's Note: Feel free to swap out part or all of the ground meat with beans, using 1 can of drained beans for every 8 oz of meat.
This post may contain affiliate links. Any purchases made by using these links won't cost you any extra and helps keep my content free. These links may be Amazon links as I am part of the Amazon Associate Program.