Have you ever baked fish in parchment? It creates a steamy little packet that infuses flavor into fish fillets like no other.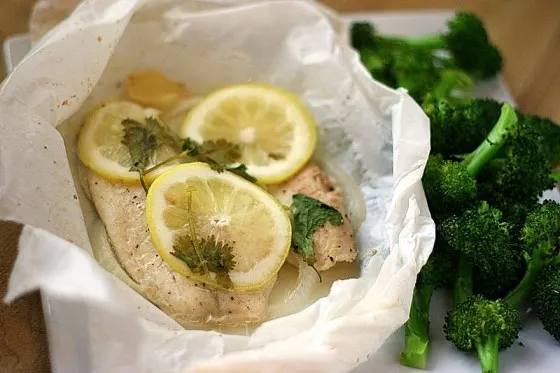 Have you ever baked fish in parchment paper ("en papillote")? Sounds like a fussy thing to do, but seriously… this was one of the easiest, quickest meals I've made in the past few weeks. I even made it twice.
AND it was one of the most moist and flavorful fish I've ever had. It seems like whatever you put in the parchment packet gets completely infused in the fish. It's amazing.
Start with a few onion slices on the bottom. (I wasn't planning on eating them because I'm picky about onions, but after tasting one, I happily slurped them down like strands of fettucine.) Then place the fish on top. You could then put citrus slices (I especially loved lemon and orange slices in there together), fresh garlic or ginger (or both!), fresh herbs, other thinly sliced vegetables, etc. The one above had garlic, ginger, lemon, and cilantro. The time after that I used orange and lemon slices, garlic, and fresh dill. That was the bomb.
Wrapping it up was tricky… until I stopped halfway through my fumbling and ran upstairs to google for instructions. (Um, why didn't I do that before I started??) I wrapped mine like the photo over there. It doesn't have to be 100% airtight, just as long as the packet stays together.
I'm pretty sure you can do this with any type of fish as well. Both times I did this I used Dover sole fillets, which are quite tender as it is. They really melt in your mouth.
Stick it in the oven with some broccoli to roast and you'll have a healthy, delicious meal in under 20 minutes.
---
If you make one of my recipes, be sure to post it on social media and tag me at @perrysplate or #perrysplate so I can send you some love!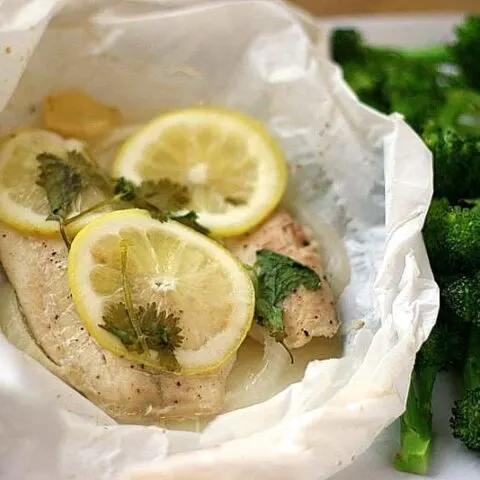 Fish en Papillote (Fish in Parchment)
Have you ever baked fish in parchment? It creates a steamy little packet that infuses flavor into fish fillets like no other.
Ingredients
uncooked fish fillets (rockfish, sole, snapper, salmon, cod, just about any small-ish fish fillet)
salt and pepper to taste
1/4 of an onion, cut into thin rings (for each packet)
citrus slices (orange, lemon, lime)
1-2 cloves of garlic, sliced and/or 1-inch knob of fresh ginger, peeled and sliced thinly
a few sprigs of fresh herbs (cilantro, parsley, dill, thyme, rosemary, etc.)
thinly sliced vegetables (carrots, zucchini, bell peppers, etc.)
drizzle of oil or broth (optional)
10-12 inch piece of parchment paper (or more if needed)
Instructions
Preheat oven to 375 degrees F. Lay parchment flat on a workspace.
On one half of the paper, layer onions, fillets and remaining ingredients on top of fish.
Fold the other side over and crimp/fold the ends together until it looks like a half-circle. Packet doesn't have to be airtight, but tight enough to hold the packet together and contain most of the steam.
Place packet (more than one is fine) on a rimmed cookie sheet. Bake for 10-15 minutes, depending on the thickness of your fillet. Paper may become crispy and slightly browned -- this is fine.
Transfer packets to plates and serve.
Side dish idea: Throw an assortment of vegetables (ones that cook in the same amount of time) on another cookie sheet, top with a drizzle of oil, some salt and pepper, and maybe some fresh lemon juice or garlic. Toss to combine and place in the oven before you start preparing the fish. They ought to be done cooking at the same time.
This post may contain affiliate links. Any purchases made by using these links won't cost you any extra and helps keep my content free. These links may be Amazon links as I am part of the Amazon Associate Program.
SaveSave