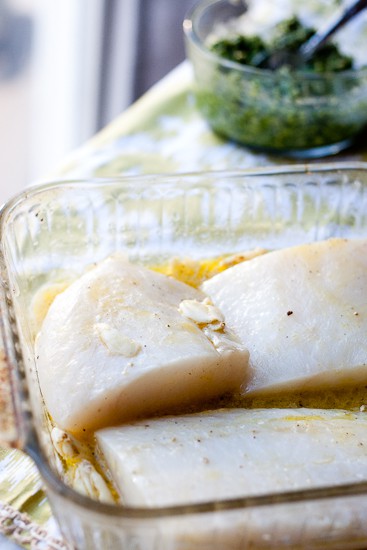 Do you ever go through phases with food? Right now I'm in pesto land. All I want is pesto – particularly on baked fish.
The thing that keeps me from going completely overboard with one flavor or type of food is my kids. In my attempt at giving them a variety of foods and flavors to try, I've created little variety monsters. We can't eat something two days in a row or there's a mutiny.
Unless it's pancakes or pizza. Obviously.
One night I made some baked fish (cod) and threw some pesto on top. Noticing the leftover pesto in the bowl and the mashed sweet potatoes in the pot next to me, I threw a spoonful of pesto into that as well.
I glanced at the roasted broccoli and cauliflower mix and REALLY wanted to toss it with pesto as well, but I thought, "Nat, don't overdo it."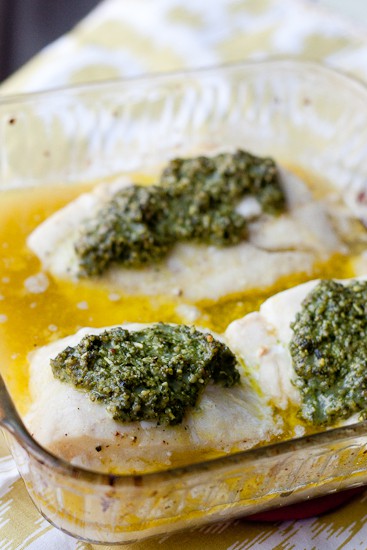 Luckily I didn't because my pesto-loving kids informed me AS WE SAT DOWN TO EAT THAT NIGHT that they no longer liked pesto.
Did I mention that they're incredibly finicky, too? I'm sure many of you can relate to feeding little humans.
At least Steve and I aren't quite as finicky. And I want to tell you with complete honesty that this was one of the best meals I've made so far this year.
The recipe was slightly adapted from a recipe in Giada de Laurentiis's book, Feel Good Food, (It was one of my favorite cookbooks from 2013.) I LOVED her lemon-basil pesto so much that almost always add lemon when making pesto now. It's not only good on baked fish and sweet potatoes, but mixed into roasted vegetables, chicken, stirred into soups (like this creamy Garlic-Almond Soup)
The lemon also helps keep it green longer in the fridge! (Always a bonus.) If you aren't concerned about the cheese in pesto, just add the zest of a lemon and a few squeezes of lemon juice to store-bought pesto. Otherwise, make your own! It's easy!
The recipe for the fish is below, but here a little run-down on the sides…
Pesto Sweet Potato Mash: Steam/bake about 3 medium-sized, peeled sweet potatoes. Mash with 2-3 Tablespoons of pesto and 2-3 Tablespoons of grass-fed butter or olive oil.
Roasted Broccoli-Cauliflower Combo: Cut vegetables into florets, toss with a few chopped garlic cloves, heat-safe oil (avocado or coconut), and sprinkle generously with salt and pepper. Roast at 425 degrees F for about 20-25 minutes, tossing once or twice, until they started to get dark golden brown in spots. Any roasted vegetable is great tossed with pesto right after it comes out of the oven. This included.
Try this recipe with either Dill Pesto or Cilantro Pesto!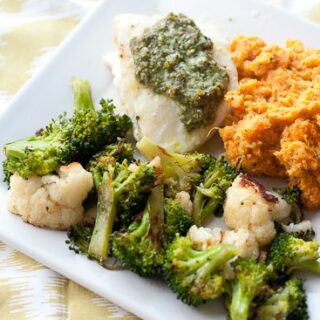 Baked Fish with Lemon-Basil Pesto
I love the pop of flavor pesto adds to a tender fish fillet! You can absolutely use store-bought pesto, but if you're looking for a cheese-less version, I include it in the recipe below.
Ingredients
For the fish
4 cod fillets (around 6-8 ounces each)
3 Tablespoons avocado oil
juice from half a large lemon (about 2 Tablespoons)
2 large garlic cloves, smashed
1/2 teaspoon sea salt
a few generous pinches of black pepper
Additional lemon wedges, for serving
For the pesto
2 packed cups fresh basil leaves
1/3 cup pine nuts
Zest from 1 large lemon
Juice from half a large lemon (about 2 Tablespoons)
1/2 garlic clove, smashed
1/2 teaspoon salt
1/4 teaspoon black pepper
1/3 cup olive oil
Instructions
Preheat the oven to 350 degrees F.
First zest the lemon and place the zest in the work bowl of a food processor. Cut the lemon in half.
Grab a glass baking dish (8 or 9-inch square) and squeeze in the juice from one lemon half. Add the oil, garlic cloves, salt, and pepper. Whisk with a fork to blend. Add the cod to the baking dish and turn several times to coat. Let it stand for 15 minutes.
In the work bowl of a food processor, add the lemon zest and the juice from the other lemon half. Add the basil, pine nuts, garlic, salt, and pepper. Process until finely chopped. While the machine is running, slowly drizzle in the olive oil. Process until thoroughly combined.
Place about 2 tablespoons of pesto on each fillet. Cover and bake for 15-20 minutes, or until the fish flakes easily with a fork.
Serve with additional pesto and lemon wedges.
Store any unused pesto, covered, in the fridge for 3-4 days.