Chile-Lime Fish Taco Bowls with Citrus Crema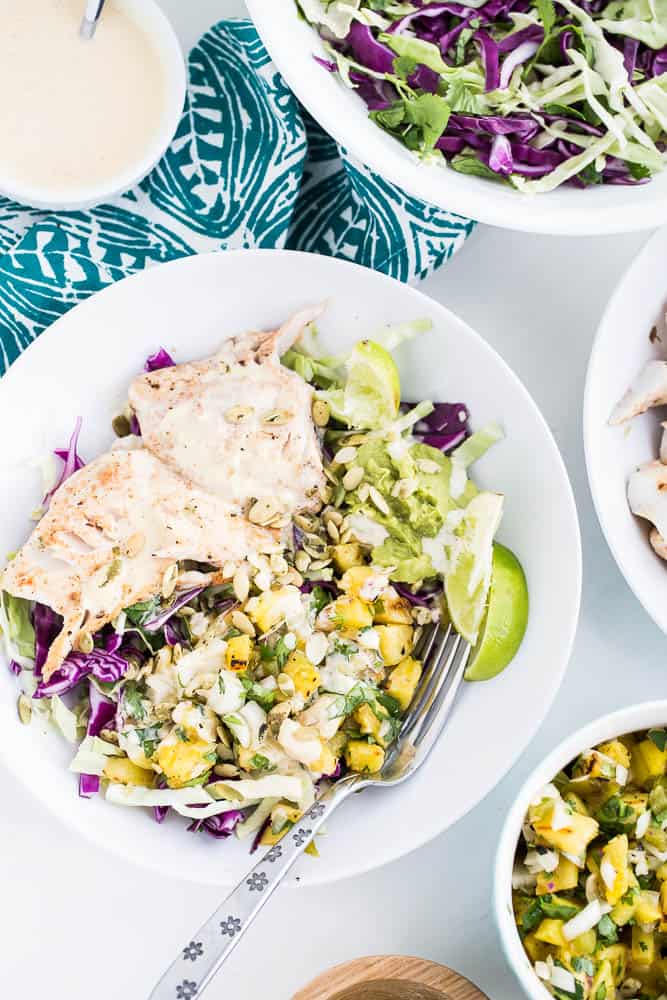 You'd think for someone who loves Mexican-inspired food as much as I do I'd make a bigger deal about Cinco de Mayo. Truth be told I tend to forget about it until the last minute, and most of the time we don't actually eat Mexican food on May 5th. #cincodemayofail
Well, this year is different. I've got some slow cooker barbacoa tacos planned, and I'm going to whip up some paleo tortillas! Ole, right?
That reminds me — have you tried the paleo tortillas in my book, The Big Book of Paleo Slow Cooking? DOOO IT. Seriously, they're good. Not glorified crepes. And they have a chewy bite to them. They're fabulous.
I also happened to have a couple Mexican-inspired recipes to share with you this week — these Chile-Lime Fish Taco Bowls and some crazy-good Grilled Pineapple & Jalapeno Salsa.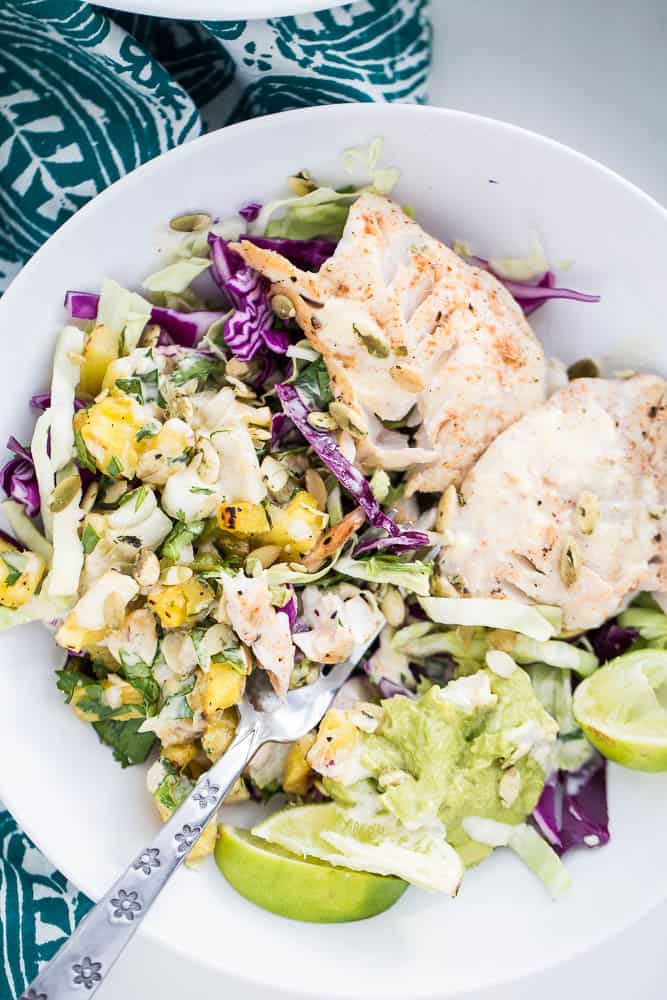 I'm a bit of a fish taco fanatic, and I like to try them at every Mexican restaurant we find. I've had some really great ones over the years, but here's some advice: don't eat fish tacos at Red Robin.
You're probably shaking your head in disbelief that I'd actually order fish tacos at Red Robin. Hey, I was curious! And fish tacos sounded good! Now that I've experienced a tortilla filled with cheap fish sticks covered in crappy tartar sauce, I think I'll order a burger next time. *facepalm*
(That may have been one of the biggest regrets of all of my restaurant experiences. And the most embarrassing.)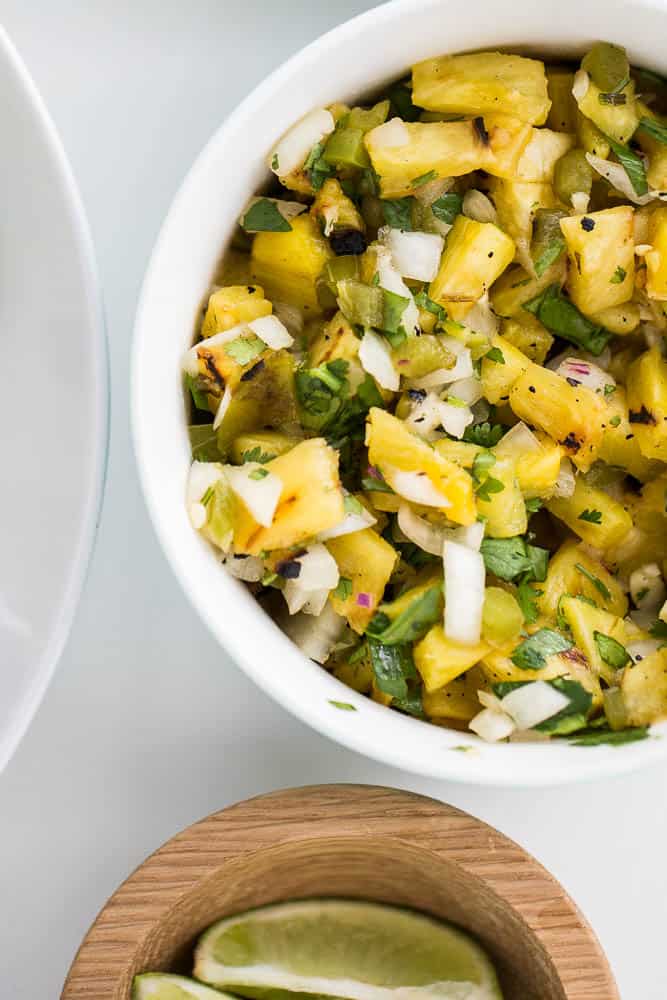 Let's talk about more pleasant things. Like this Grilled Jalapeno Pineapple Salsa. I've got another grilled pineapple pico de gallo, but I decided to do a different version without tomatoes and with grilled jalapenos.
The bits of grilled pineapple were the perfect sweet addition to this fish taco bowl. You could use either grilled pineapple salsa recipe or just use plain grilled pineapple and your favorite salsa or pico de gallo.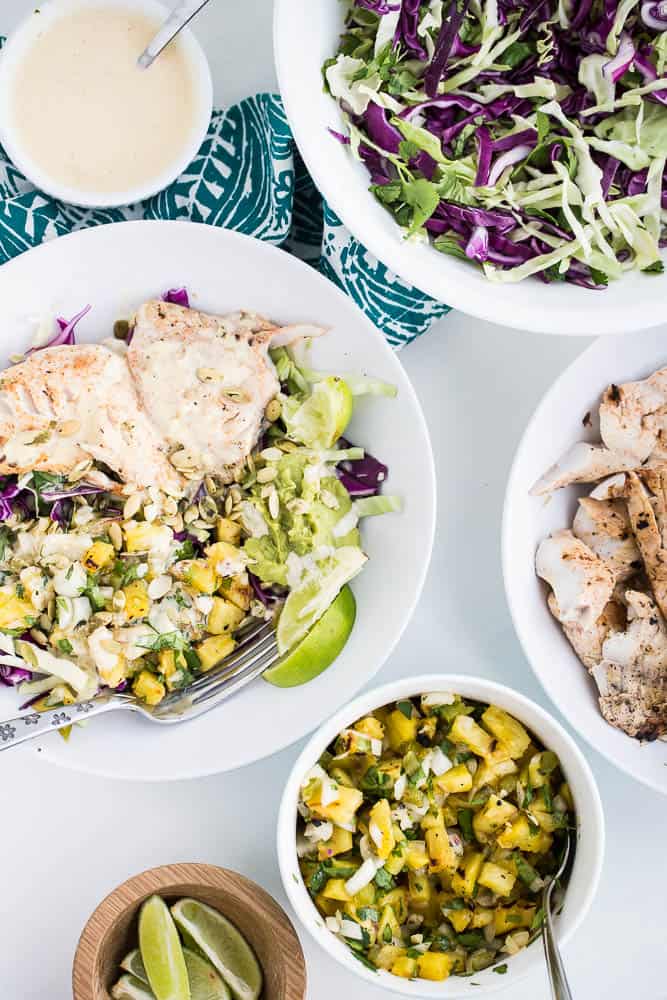 For the fish, I used wild-caught rockfish because they carry it all the time at our Costco and it's relatively inexpensive. Compared to halibut. Cod is great for this, too, or thin dover sole fillets. And yeah, you could even use salmon. Mmm. salmon.
Don't forget the citrus crema! I threw in some freshly squeezed orange juice to give it a little sweetness, and it adds a nice, creamy coating to the slaw underneath.
And you can't leave out the guac either. Because, #guacallthethings.
If you're really wanting to make this awesome, make the Loaded Roasted Chile Guacamole. Or my Lazy Guacamole. Either will do. Or even some Wholly Guacamole from the grocery store. OR the Hatch Chile Guacamole from Sprouts — that's definitely my favorite store-bought guac. YUM.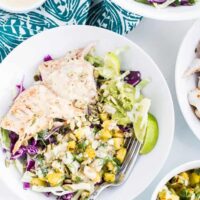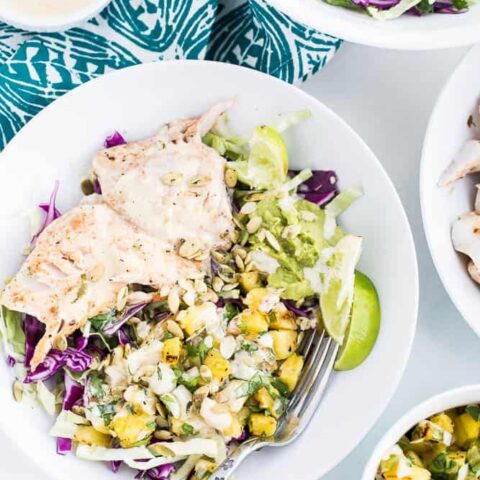 Chile-Lime Fish Taco Bowls with Citrus Crema
Yield: Serves 6

Additional Time: 45 minutes

Total Time: 45 minutes
Ingredients
For the fish:
1 1/2-2 pounds firm white fish, like cod, rockfish, or halibut
1/3 cup freshly squeezed lime juice (from 2-3 limes)
1/2-1 teaspoon dried chipotle chowder
1 teaspoon sea salt
For the crema:
1/2 cup paleo-friendly mayonnaise
1-2 Tablespoons freshly squeezed lime juice (1/2 lime)
2-3 Tablespoons freshly squeezed orange juice (1/2 orange)
1/4 teaspoon sea salt
1/8-1/4 teaspoon dried chipotle powder
For the salad
1 small head of cabbage (red or green or half of each)
Guacamole or diced avocados
2 limes, cut into wedges
Toasted pumpkin seeds (pepitas), optional
Pico de gallo or either of the pineapple salsa recipes linked in the post
Instructions
Place the fish in a large shallow dish or ziptop bag.
Combine the lime juice, dried chipotle powder (more if you'd like it spicier), and sea salt. Pour it over the fish. Chill the fish and let it marinate for at least 2 hours and up to 6 hours.
Combine all of the ingredients for the crema and chill until ready to serve.
Shred the cabbage and prep the guac and salsa (if needed).
Cook the fish by grilling it over medium-high heat in a greased grill pan or in a skillet over medium-high heat in a little coconut oil.
To assemble bowls, put a bed of shredded cabbage in each bowl. Top with a couple pieces of fish, a couple scoops of salsa, guac, and a sprinkle of pepitas. Serve with lime wedges and a drizzle of crema.

SaveSave
SaveSave