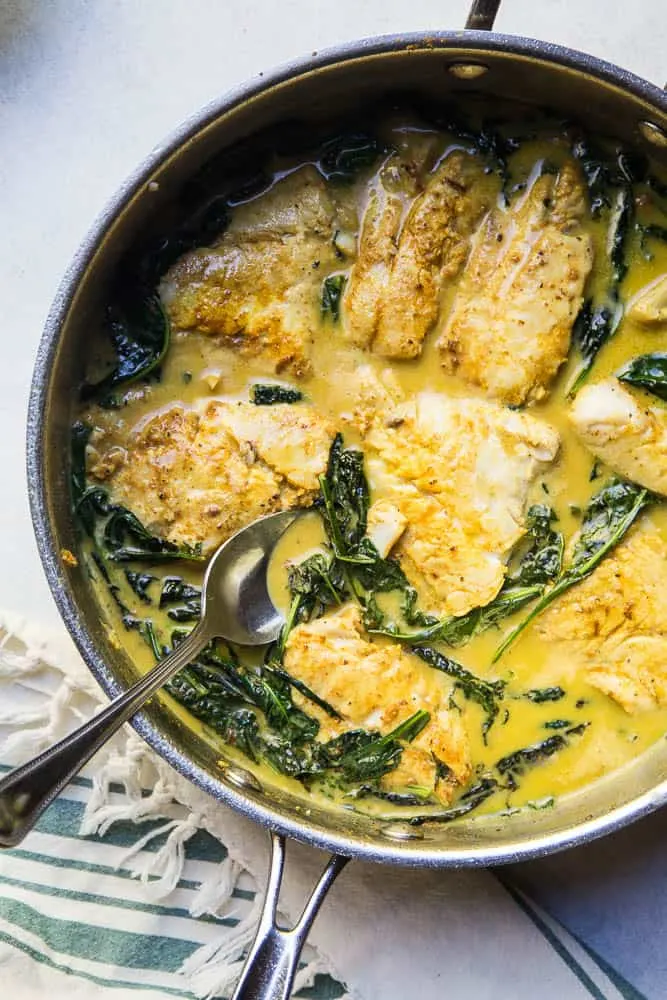 Here we go. This is what I was teasing you with when I posted that Instant Pot Coconut Rice over the weekend. Rice isn't super interesting in a photo by itself, so I put some of this curry on top.
OHHH you'll love this Thai fish curry. Well, unless you don't like fish, then… don't make it.
BUT IF YOU DO — you need to make it. It's super easy and it only takes a few minutes. AND it's a one-skillet situation which always makes me happy.
I get a lot of comments about how fish is intimidating. I get what you mean, but it really shouldn't be. I promise this isn't intimidating.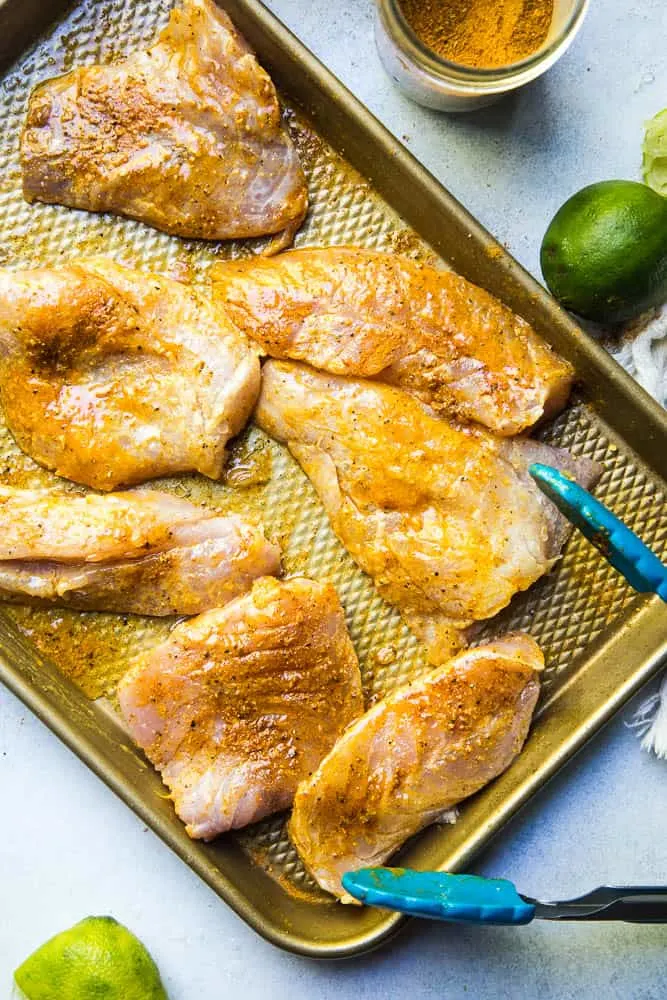 A key ingredient here is my Homemade Thai Seasoning. Have you tried it yet? It's like a dry version of curry paste. I love having it on hand because it has a flavor that you can't quite get with regular curry powder, which has more of an Indian flavor.
How to make fish curry
You start with a quick marinade (like 15-20 minutes quick) with that Thai seasoning, some lime juice, and some salt. At this point you could just throw the fish on the grill. I've made it this way a few times and we really loved it.
This last time I decided to make a saucy curry, and the Thai seasoning surpassed my expectations of flavoring the sauce!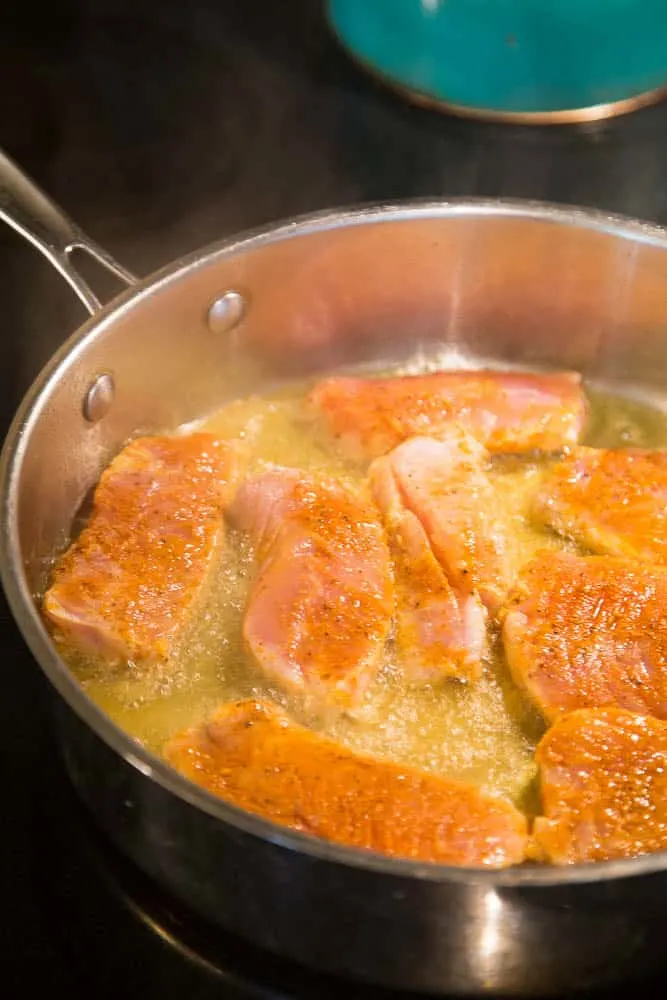 Use a thick, firm white fish — like cod or halibut or rockfish. I like rockfish because our Costco sells a wild-caught version and it's only 4.99/pound.
Just heat some coconut oil in a pan and sear the fish on both sides. (You don't even have to cook it all the way through.)
Take out the fish, the pour in the coconut milk, some greens (I used the last of the baby kale from our garden!), a splash of fish sauce and a little more of that Thai seasoning to boost the flavor. Oh, and lime juice. YOU NEED LIME JUICE.
Then put the fish back in the pan for a few minutes to finish cooking.
Do you know how to tell if fish has cooked all the way through? Poke it with a fork. If it starts to flake apart, it's done. If you cook it too long it'll turn to rubber, so you've gotta watch it.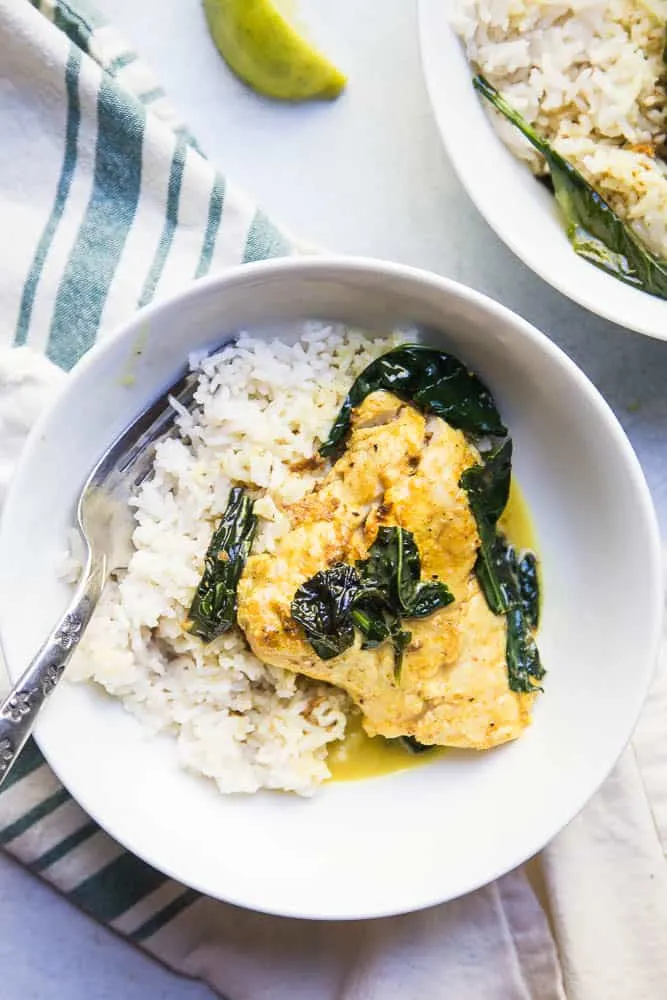 Can I use something other than fish?
This is really a great base recipe for any kind of quick curry. You could use shrimp instead of white fish. Or cubed uncooked chicken.
Or a different type of vegetable, but make sure the vegetable cooks quickly so the fish doesn't get cold or overcooked waiting for the veg to cook.
I recommend sturdy greens like kale or chard or broccoli florets, asparagus, or small pieces of summer squash.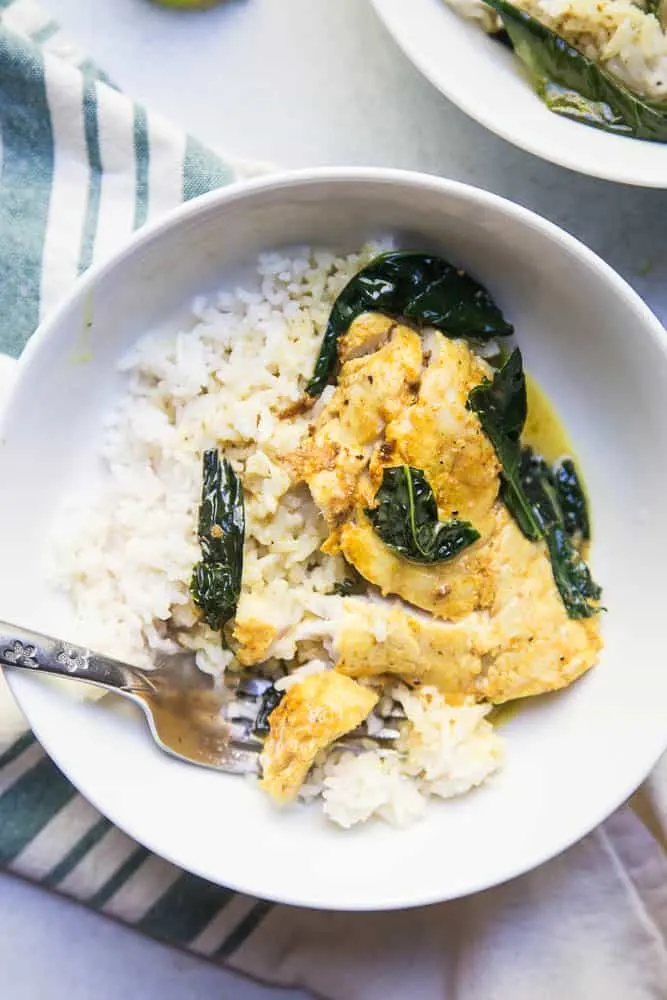 If you like Thai-inspired flavors you'll love these other recipes that use my Homemade Thai Seasoning! You could also use another kind of Thai seasoning if you have it.
More Recipes that use Homemade Thai Seasoning
Paleo Thai Shrimp & Vegetable Skillet – This one's light and fast and great for a weeknight!
Thai Roasted Sweet Potatoes with Coconut & Lime – Who knew that sweet potatoes went so well with Thai seasoning?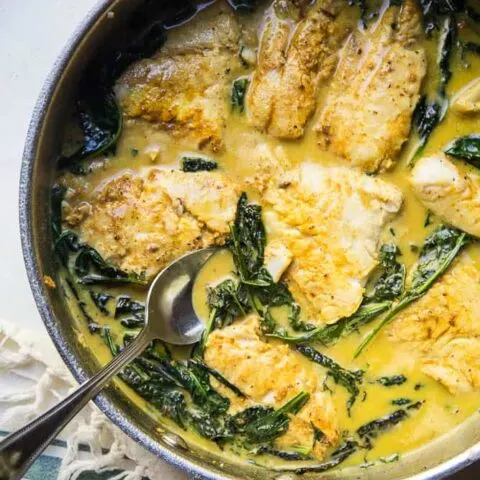 Quick Thai Fish Curry & Coconut Rice
I never thought I would say this about a fish recipe, but the leftovers are actually better. Weird, right? I think curries and chilis and recipes that are heavily seasoned tend to be that way. Maybe that's why they're so great as meal prep recipes?
Ingredients
1 - 1 1/2 pounds thick white fish (like halibut, cod, or rockfish)
1 teaspoon sea salt
2 limes, divided
2 Tablespoons avocado oil
1 bunch of baby kale or a couple handfuls of baby greens (kale, chard, spinach)
1 Tablespoon fish sauce
1 - 13.5 oz can of coconut milk
1/4 cup coconut oil or more avocado oil
Sriracha or sambal oelek (optional)
1 recipe Instant Pot Coconut Rice
Instructions
Start your Instant Pot Coconut Rice (or jasmine rice or whatever kind of rice you're making) so it'll be finished when the curry is finished.
Lay the fish on a large plate or a small baking dish. Cut each fillet in half if they are long (you'll want them all to fit in the skillet).
Sprinkle 1/2 teaspoon of salt and 1 teaspoon of Thai Spice Blend over the fish. Flip the fillets over and then sprinkle the other 1/2 teaspoon and another teaspoon of Thai Spice over the other sides of the fillets. Squeeze the juice from 1 lime and drizzle 2 Tablespoons of avocado oil over the fish. Flip them all over a couple of times to coat them evenly in the spices, citrus, and oil. Let them sit for 10-15 minutes (or chilled up to 2 hours) before cooking.
Heat the coconut oil in a large skillet on high heat. Add the fish and cook for a couple minutes on each side until slightly browned (they don't need to cook all the way through at this point) and then transfer them back to the plate/pan.
Add the kale or greens to the pan (watch out -- it'll sizzle) along with the can of coconut milk. The coconut milk will deglaze the bottom of the pan for you, so help it along by scraping the bottom to remove those bits of stuck fish. Stir in the other 2 teaspoons of Thai Spice, the juice of the other lime, the fish sauce, and a squeeze or two of sriracha (if using).
Return the fish to the skillet and cook for about 5 minutes until everything is bubbly, the sauce has thickened, and the fish is cooked through. Taste, and add a little salt if you think it needs it.
Put a scoop of rice into each bowl along with a fish fillet and some sauce and greens. Serve with a squirt of sriracha, if desired.
Notes
Nat's Note: This recipe is super adaptable! You can swap out the fish for chicken and change up the vegetables. Just ensure that the cooking time for the meat and vegetables is roughly the same. For fish, I'd use chopped zucchini