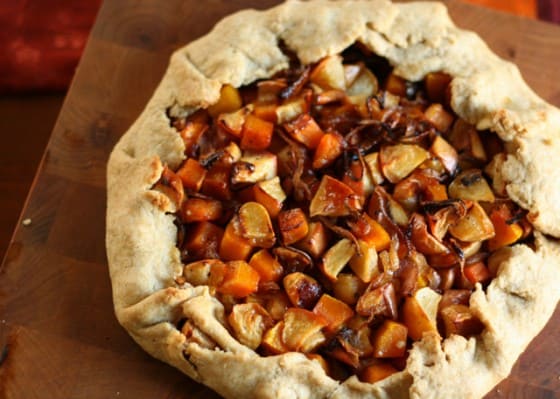 Hi! This Roasted Apple & Butternut Squash Galette recipe has been adapted and reposted! You can find a paleo/Whole30 salad version right here:
---
10 things about this Roasted Apple & Butternut Squash Galette:
1. This was my first galette.
2. I finally know the differece between a galette and a tart. (tart = baked in a pan, more fancy looking, galette = free-form "pie" that looks like it was made by a three-year-old)
3. It's pretty sweet. You could even put a scoop of ice cream on it and eat it for dessert. Taste it and you'll know what I'm taking about.
4. I really love roasting things. But if you've been with me for more than a few months, you probably already know that.
5. I love Pinata apples. A lot. I've seen them at Trader Joe's but not many other stores. They're my new favorite kind.
6. Doesn't this galette just scream October? Luckily apples and squash are still in season.
8. Don't tell her I changed it, please. Thanks.
9. Darkened, caramelized slivers of onion make me really, really happy. My daughter said they looked like worms.
10. My little ones gobbled this up (sans "worms") and informed me they wanted to have it for dinner next time, too. (They never request things like that.)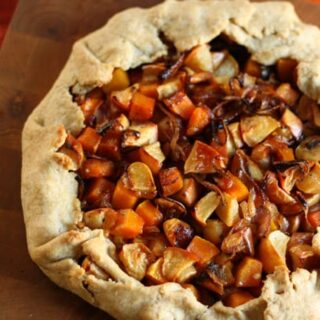 Gluten-Free Roasted Apple and Butternut Galette with Mustard-Maple Glaze
This creamy, sweet, and tart galette is everything that fall embodies. I adore this so much. It's one of the few dinner recipes that could be a respectable dessert, too. Just put a scoop of ice cream on top!
Ingredients
2 Tablespoons avocado or coconut oil
1/2 medium butternut squash, peeled, seeded, and diced into 3/4-inch cubes (about 3 cups)
2 large, tart baking apples, cored and diced into 3/4-inch cubes
1 medium onion, halved, then sliced thinly
1/2 recipe of Perfect Gluten-Free Pie Crust (1 crust)
2 Tablespoons maple syrup
1/2 teaspoon Dijon mustard
salt and pepper to taste
fresh Parmesan or Pecorino-Romano cheese for garnish
Instructions
Preheat oven to 425 degrees F.
Place squash, apples, and onion onto a rimmed cookie sheet. Toss with the oil, then spread them out in a single layer. Roast in the center of the oven until everything is tender and beginning to turn golden (and even darker) in spots, about 35-40 minutes.
Remove from the oven and let it cool until room temperature. TIP: You can do this a day ahead of time. Simply store the roasted bits in the fridge, covered, until ready to use.
Preheat (or reduce temperature) to 375 degrees F.
Whisk together the maple syrup and the mustard in a small bowl. Set aside.
Roll out pie crust dough into a circle, roughly 12 inches across. Transfer to a clean rimmed baking sheet. Spread the roasted vegetables on the circle evenly, leaving a 2-inch border all around. Brush the maple-mustard mixture onto the vegetables. Fold the dough toward the center, sealing any cracks or rips. You should have a rustic-looking free-form pie.
Bake in the center of the oven for about 25 minutes, until the crust is golden brown. Let it sit for 10 minutes or so before slicing. (It stays together better that way)
Cut into slices and sprinkle some Parmesan shavings over top.
Notes
Nat's Notes:

1. You could also use frozen butternut squash chunks if you like. I would thaw them first and drain any excess moisture before roasting.

2. You could also whisk an egg and brush it around the edges of the pie crust. That helps it to brown more beautifully.
Save
Save
SaveSave