I can't tell you how excited I am about these paleo cookies. AND the cookbook it came from. Normally I'm not a huge fan of paleo chocolate chip cookies because the texture is usually way off, which makes me sad — particularly because chocolate chip cookies are my favorite.
This recipe is super, though — a little goo on the inside with slightly crisp edges. And if cake-y cookies are what you like better, just leave them in the oven for a couple extra minutes.
AND if you're looking for low carb cookies, these are REALLY easy to adapt to be low carb. I even put the macros in the comment section of the recipe.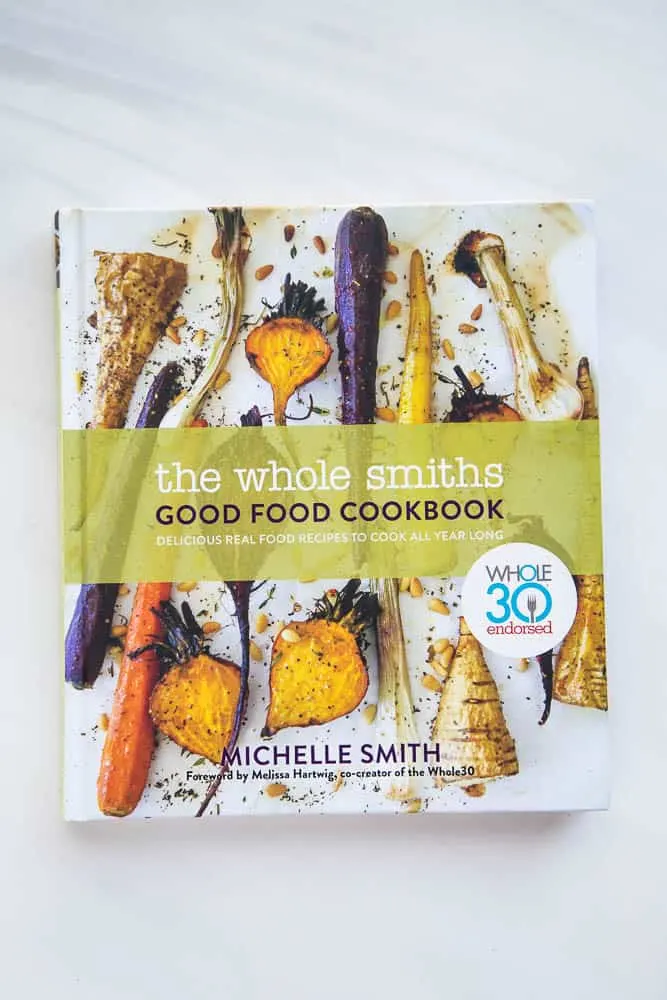 Before I dive into that recipe, I wanted to show you Michelle Smith's new cookbook, The Whole Smiths Good Food Cookbook. Do you follow Michelle's site, The Whole Smiths? Well, you should. Especially her Instagram account because she's funny and relatable and so down to earth.
I've known Michelle online for a long time, and she's one of my favorite people to follow. It was super fun to meet her in person when I went to the natural foods expo in L.A. last year. I could have chatted with her all night. #girlcrush
Her book is endorsed by Whole30, but not all of the recipes in the book are compliant — it's designed to be a resource to take you through the Whole30 program and through the reintroduction phase afterward, along with clean recipes to use no matter what phase you're in.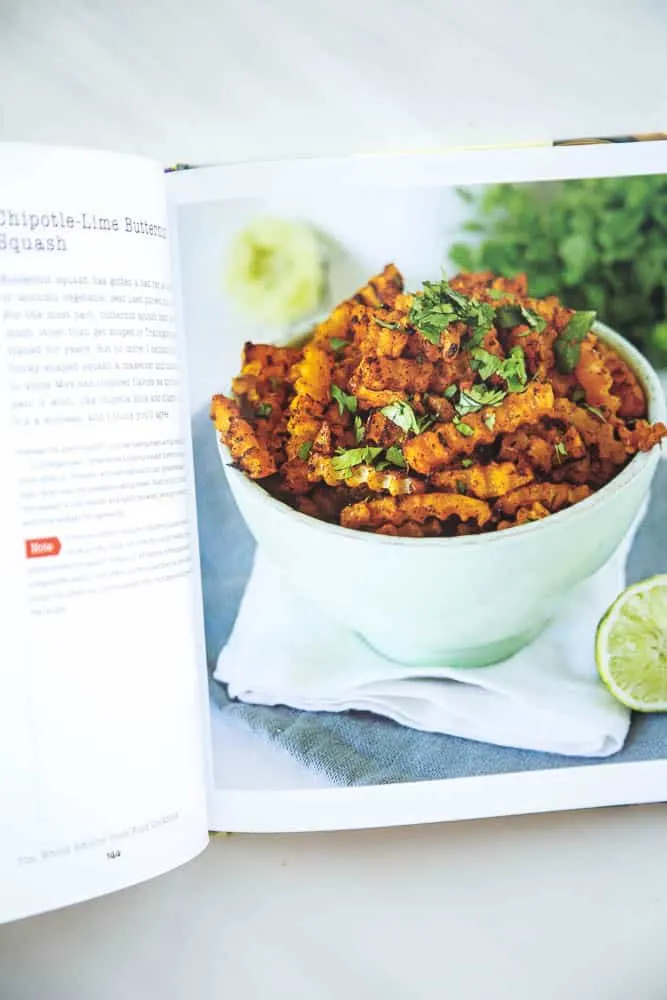 Michelle shared these Chipotle-Lime Butternut Fries a while back and converted me to the butternut zig-zags at Trader Joe's.
(Have you had them? So, so good.)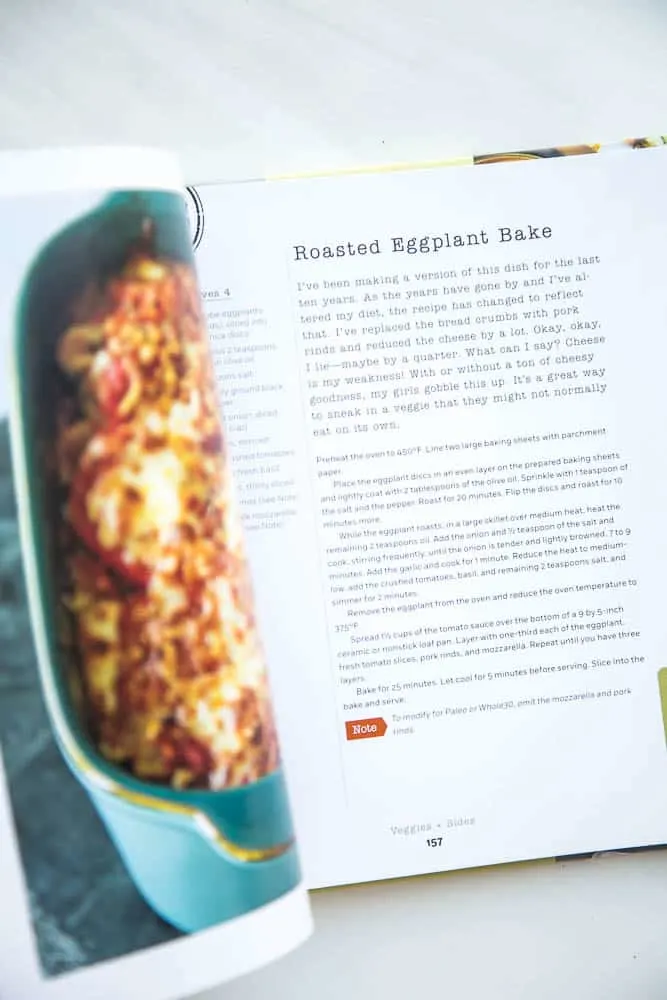 This Roasted Eggplant Bake has my name allllll over it. It's grain-free, but with a gooey cheese topping. (That basically sums up my diet.)
I should show you the to-do list I've made from this book!
Not now, though. We've got to get talking about these soft and chewy cookies.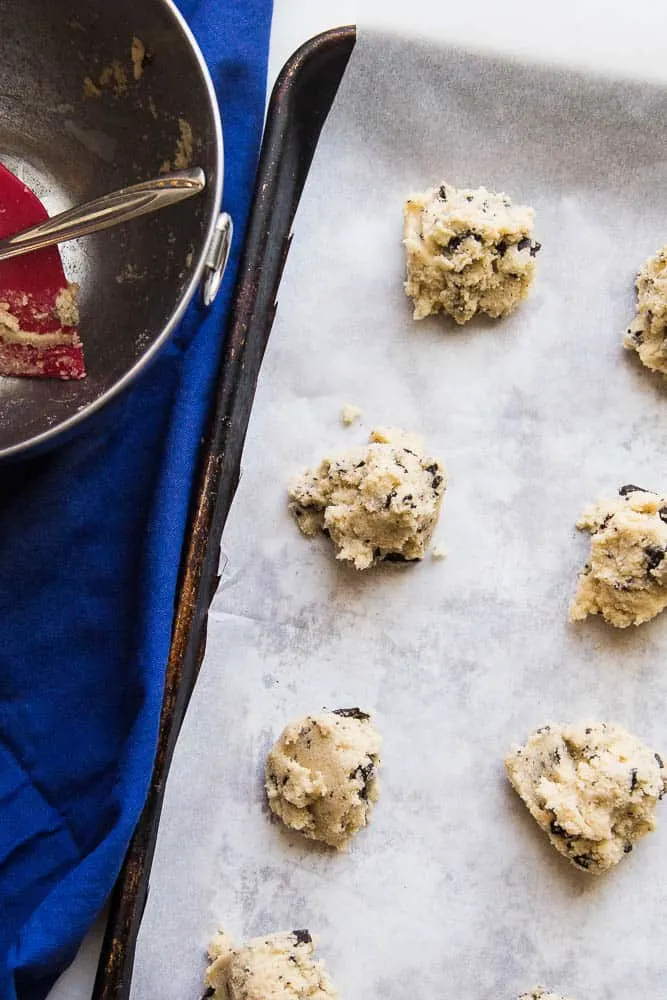 These cookies are so easy to make. And I like that it only makes a dozen. I used to roll my eyes at small batch baking because it just wasn't practical unless you had less than three people in your house.
Now I realize that a dozen cookies is perfect. One thing I've learned about myself is that my thoughts on how many cookies I eat is mainly about the dent I leave in the pile. If there are 3 dozen cookies, I could easily eat 6-7 in a day and no one would notice.
(I realize that I should be more focused on how I feel afterward and my health goals, but I haven't evolved that far yet when it comes to cookies.)
If there are only a dozen cookies with six people in the house, welllllll…..it keeps me from eating six. And I don't have to deal with multiple batches, so they all bake up on one pan.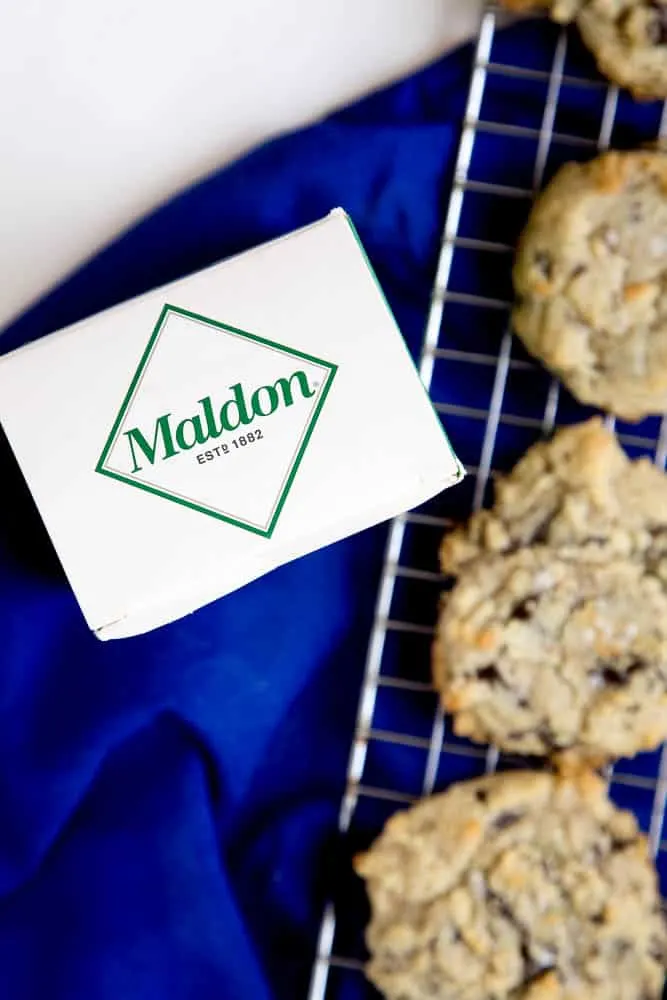 I love that Michelle gave me another reason to pull out my Maldon sea salt flakes.
If I haven't convinced you to buy a box, then maybe this recipe will do it. You can also use it as a finishing salt for steaks or in Homemade Everything Bagel Seasoning or the Keto Chocolate Tahini Fat Bombs I posted recently. Or a million other ways. I love how delicate and light they are — it's not like putting rock salt on your baked goods.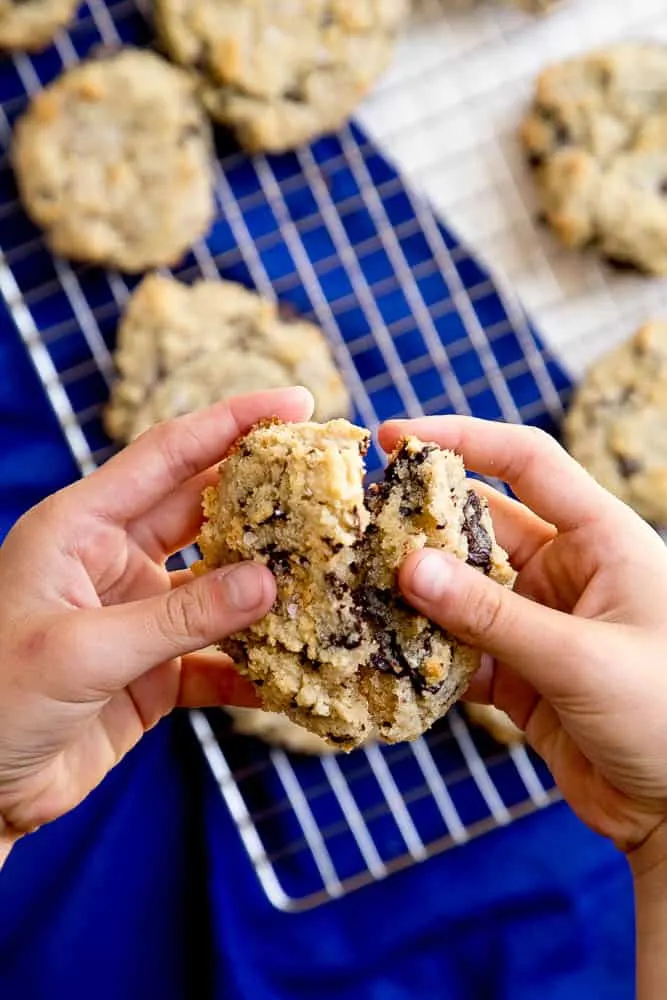 The recipes in the photo are actually a low-carb keto friendly version (see recipe notes!). I swapped out the coconut sugar for granulated erythritol and used a 70% cacao Lily's Stevia-Sweetened Dark Chocolate Bar.
These came out to be just 3.1g net carbs per cookie. (As opposed to 11g per cookie using coconut sugar + Lily's chocolate.) You can find the rest of the nutrition info for the low-carb version in the recipe notes.
They also have the usual ingredients for a paleo or keto cookie recipe — almond flour (or almond meal), coconut flour. And vanilla extract baking soda and salt, of course. If you're not eating low carb or following a keto diet, you could use a natural sweetener. Don't use a liquid sweetener like honey or maple syrup, though, or the texture will be way off.
One note, though. There IS butter in this. Some paleo peeps eat butter. Some don't. I haven't tried it with coconut oil, so I can't guarantee a good outcome. But if you need them to be dairy free, you could try palm shortening, which tends to act more like butter than coconut oil in recipes.
Maybe peanut butter, too? I'm totally curious about a peanut butter version now that we're talking about making tweaks.
This is such a great recipe, guys. I can see all kinds of
Give these a try and let me know what you think! Also, grab a copy of The Whole Smiths Good Food Cookbook. You'll love it.
If you're looking for more chocolate chip cookie-like treats, try these recipes, too!
Chocolate Chip Cookie Dough Larabars — Definitely not low carb, but they're only sweetened with dates and a little stevia if you use Lily's chocolate chips.
Paleo Cookie Dough Bites — You don't even need to bake these! They're a fun little take on raw cookie dough — without the eggs.
Paleo Chocolate Chip Fudge Bars — Remember those oat cookie bars swirled with fudge? I made a grain-free, gluten free version that's naturally sweetened!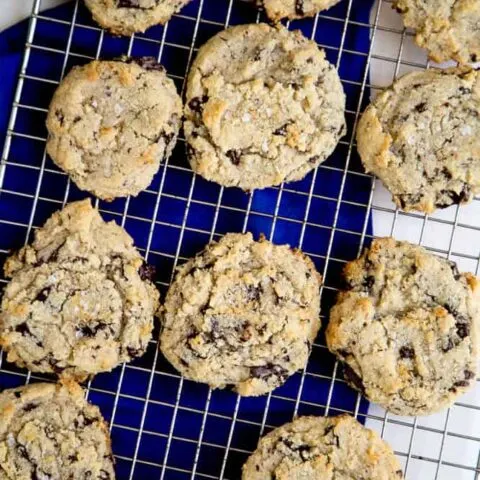 Paleo Chocolate Chip Cookies with Sea Salt
These are the best grain free or paleo chocolate chip cookies I've ever had! You can easily make them low-carb by following the adaptation in the notes below.
Ingredients
1 cup blanched almond flour
2 tablespoons coconut flour
2 tablespoons tapioca flour
1/2 teaspoon baking soda
1 1/2 teaspoons vanilla extract
Pinch of sea salt
5 tablespoons grass-fed butter, at room temperature
1/2 cup + 1 tablespoon coconut sugar
1 large egg
1/2 cup dark chocolate chunks
A few pinches of sea salt flakes, for sprinkling (I highly recommend Maldon)
Instructions
Preheat the oven to 350 degrees F. Line a large rimmed baking sheet with parchment.
In a large bowl, combine the almond, coconut, and tapioca flours. Add the baking soda and pinch of salt. Whisk well.
In a separate medium sized bowl, beat the butter until softened and pale yellow with an electric mixer or a stand mixture fitted with a paddle attachment. Add the sweetener and beat for about a minute longer.
Slowly add the dry mixture to the butter/sugar mixture, scraping down the sides with a rubber spatula, mixing until well combined. Add the egg and mix thoroughly until a dough forms.
Stir in the chocolate chunks until just combined.
Spoon the dough onto the prepared baking sheet in 1 1/2-2 tablespoonful mounds leaving a couple inches of space between each cookie. You should have 12 cookies.
Bake for 10 minutes, then remove the baking sheet from the oven. If the cookies haven't flattened much, press the centers gently with a fork, then sprinkle each cookie with a pinch of sea salt flakes. Return the cookies to the oven to cook for 3-5 more minutes until the edges of the cookies have turned golden brown.
Let the cookies cool for a few minutes, then transfer them to a wire rack to cool a bit longer.
Notes
Nat's Notes:

1. Low-Carb/Keto adaptation: Use granulated erythritol or xylitol sweetener in place of the coconut sugar and use low-carb chocolate chips or chunks. I chopped an entire Lily's 70% chocolate bar, and it was a perfect amount. Nutritional info for low-carb option using erythritol + Lily's 2.8oz 70% bar: (1 cookie) 3.1g net carbs | 119 calories | 2.8g protein | 10.9g fat

2. The original recipe also called for 1 tablespoon of unsweetened almond milk, but after making it twice with the milk I found that they spread a lot more in the pan and were pretty gooey. Not a bad thing at all, but they didn't look like the ones in the cookbook or in this post. If I made them again, I'd add 2 teaspoons of almond milk.

3. If you need these to be completely dairy-free, replace the butter with palm shortening or half palm shortening/half coconut oil.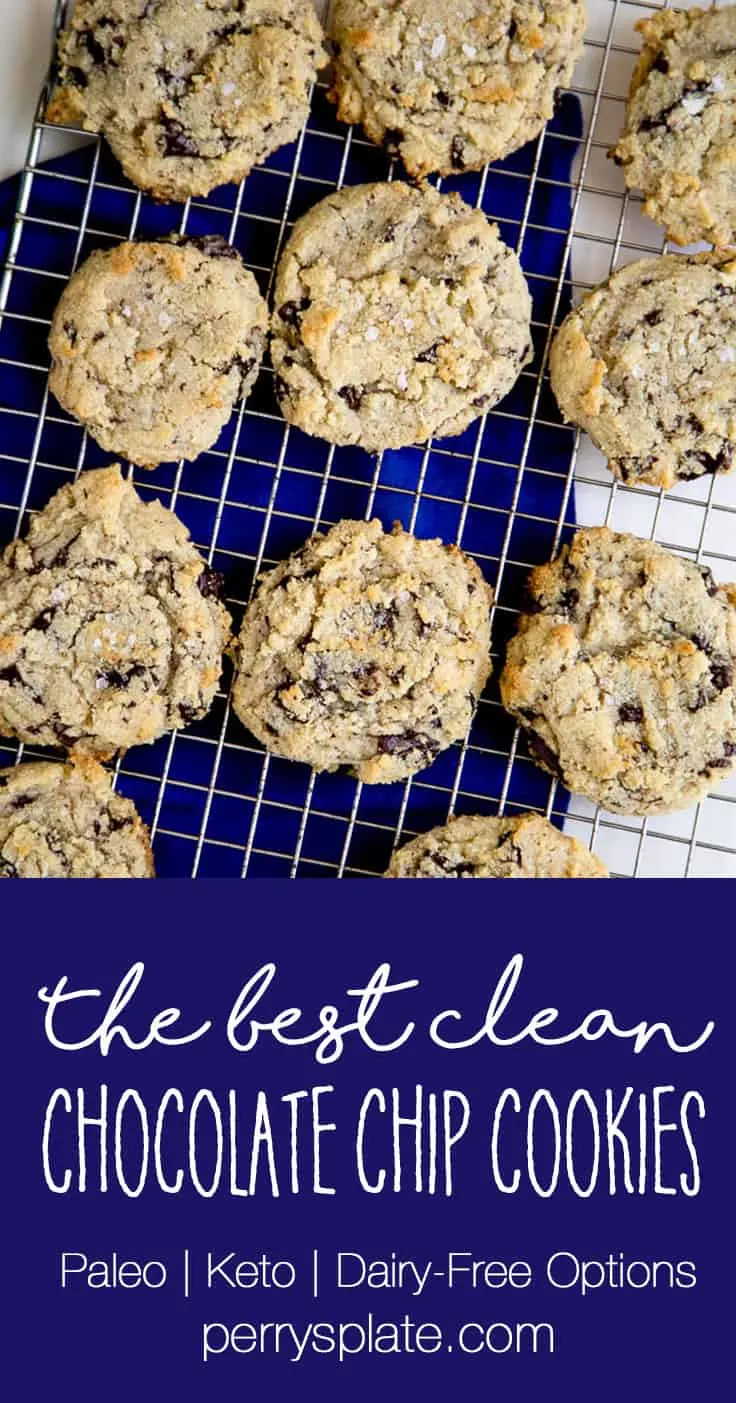 Disclosure: This post may contain Amazon affiliate links. Purchases made by using these links don't cost you any extra and helps to keep my content free.