This Tomatillo-Chipotle Salsa is a snap — roasted tomatillos, onions, and garlic buzzed up into a restaurant-quality salsa and is super versatile!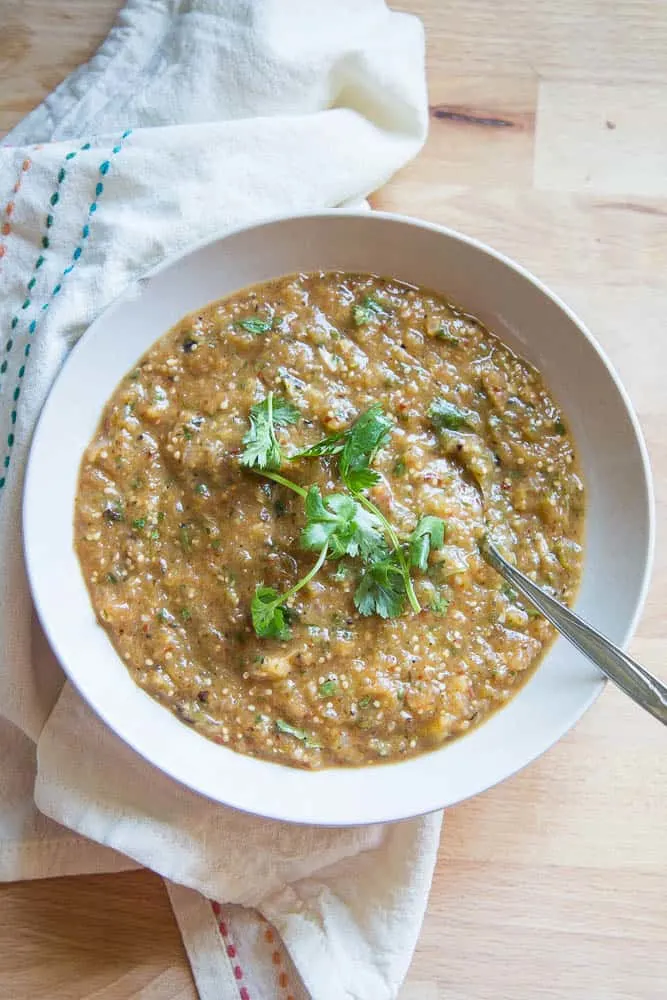 Do you ever have grocery store friends? You know, the people you inadvertently follow through the grocery store because you're following the same route at a similar pace?
About halfway through my shopping trip, I start to wonder about those people…
Why did she come to the grocery store at 11AM in her pajamas? I wonder if I could pull that off?
Wow, that's a lot of butter, I wonder if she bakes?
Salami, peanut butter, Ritz crackers, and frozen pizza? I bet he's single.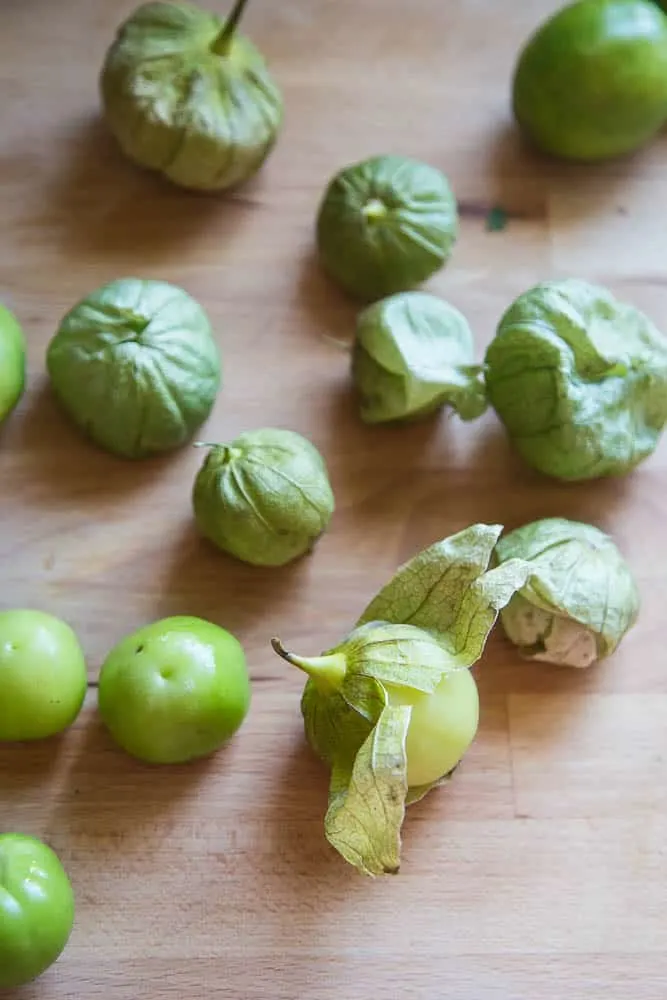 One day I was following a Mexican woman about my age in the produce aisles and she was grabbing gigantic bags of jalapeno peppers, onions, and tomatillos.
I buy my jalapenos one or two at a time so I was curious what she was making. A restaurant-sized jug of salsa verde?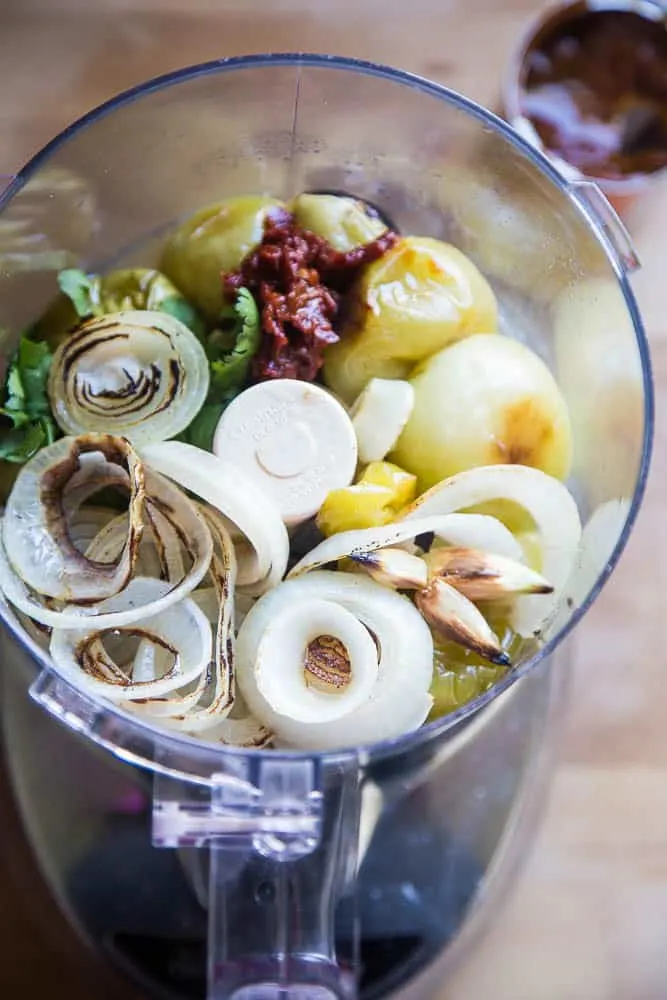 Suddenly craving salsa verde, I grabbed a couple pounds of tomatillos myself.
I swear it was just a couple days later when I got my May issue of Bon Appetit in the mail and nestled among a half dozen mouth-watering Cinco de Mayo recipes was a recipe for Tomatillo-Chipotle Salsa. It was destiny.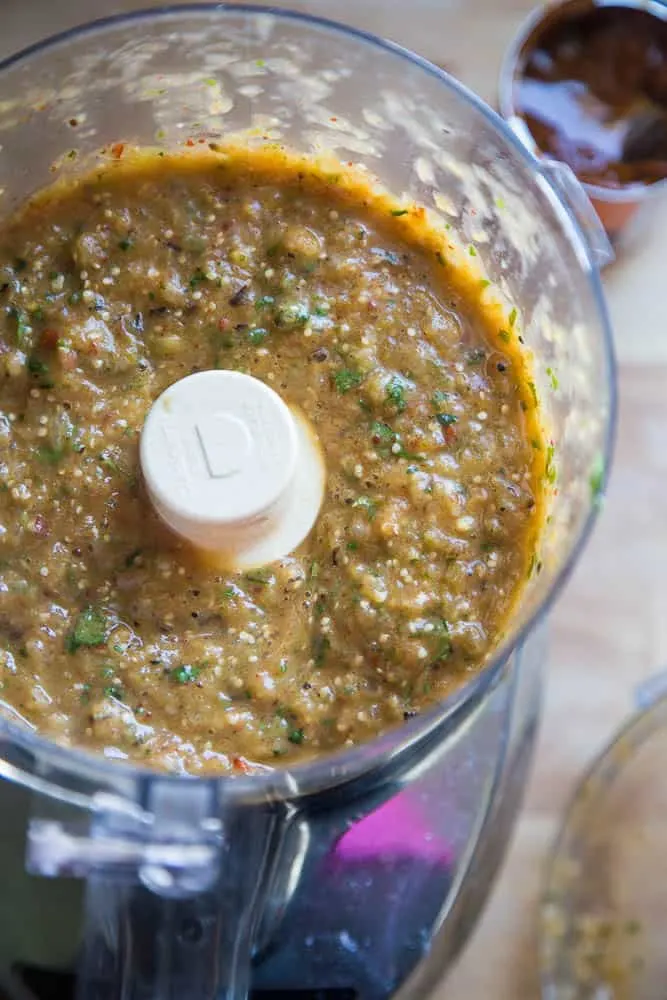 Ohhh this is good salsa. It's tangy, smoky, spicy and slightly sweet.
Perfect with the blue corn chips my kids talked me into getting. They were completely fascinated with them.
The salsa was a little too spicy for them, despite my light hand with the chipotles, but my husband and I happily spooned it onto salads, scrambled eggs, and anything we could think of all week.
Tomorrow I'll have a couple fantastic and super simple taco ideas!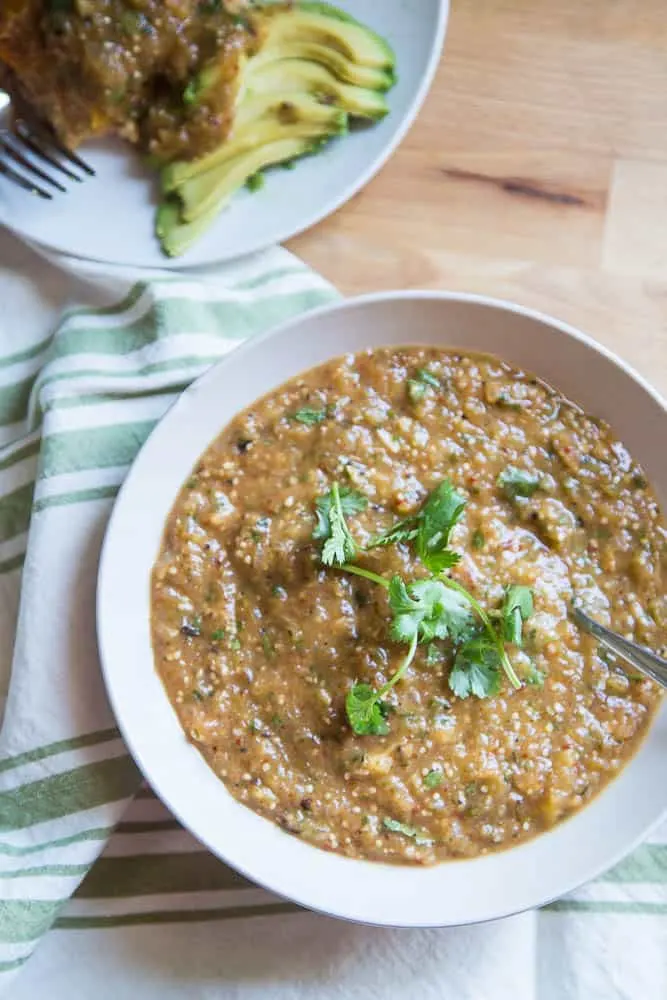 If you like this salsa, you'd love the other salsa recipes I've got on my site!
Smoky Grilled Salsa — I love the smoky, grilled flavor in this salsa! This is a copycat recipe from Chevy's Restaurant.
Grilled Pineapple Salsa — Bits of grilled pineapple make this salsa (or pico de gallo, if you want to get technical) super special.
Grilled Pineapple and Jalapeno Salsa — This is a tomato-less salsa with a sweet/spicy punch.
SaveSave
SaveSave
---
If you make one of my recipes, be sure to post it on social media and tag me at @perrysplate or #perrysplate so I can send you some love!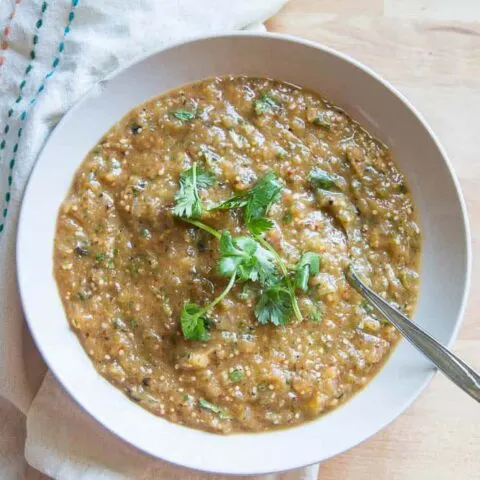 Tomatillo-Chipotle Salsa
This Tomatillo-Chipotle Salsa is a snap -- roasted tomatillos, onions, and garlic buzzed up into a restaurant-quality salsa and is super versatile!
Ingredients
1 pound tomatillos, husked and rinsed
1 small onion, sliced into 1/4-inch thick rounds
4 garlic cloves, unpeeled
3 chiles from a can of chipotle chiles in adobo sauce, seeds removed
1/4 cup chopped fresh cilantro
salt, to taste
Instructions
Position an oven rack 6" from broiler; preheat broiler.
Line a baking sheet with foil and arrange tomatillos, onion, and garlic cloves on prepared sheet. Broil, turning tomatillos occasionally, until soft and slightly charred, 10-15 minutes. Let cool.
Peel garlic; transfer roasted vegetables and garlic to a processor, along with all of the juices from the pan. Add chipotles. Purée until mixture is as smooth as you like.
Transfer salsa to a bowl. Stir in cilantro; season with salt.
Notes
Nat's Notes:
1. You can find canned chipotles in adobo sauce in the latin/ethnic aisle of your grocery store.
2. If you've never used tomatillos, they look like green tomatoes covered in a paper-like husk. Just remove the husk and give them a quick rinse before roasting.
This post may contain affiliate links. Any purchases made by using these links won't cost you any extra and helps keep my content free. These links may be Amazon links as I am part of the Amazon Associate Program.