This homemade guacamole, like the Homemade Pico de Gallo recipe I posted earlier this week, is one of my oldest recipes.
A 2008 post with crappy photos really wasn't doing it justice, and, to be honest, I've tweaked this recipe a lot depending on what I have on hand.
Did you know making homemade guacamole is super easy? And it's better than anything you'll buy at the store.
And I'll show you a few different ways to make it if you don't have all the fresh stuff on hand!
Or if you're just not feeling the knife and cutting board situation at the moment. I get it.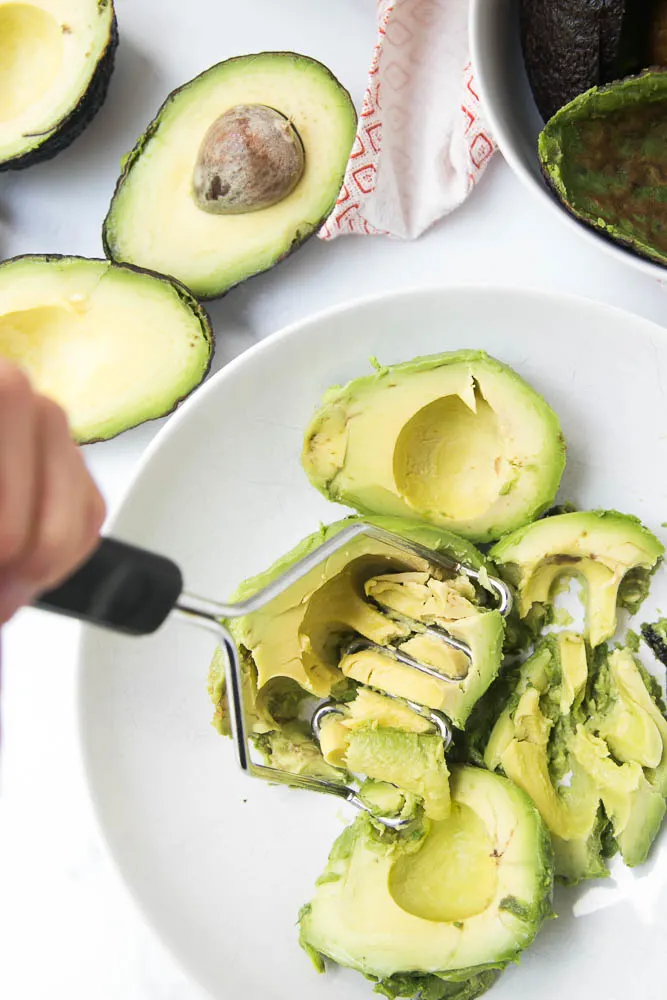 Want to know the secret to great guacamole? Lime juice and cilantro and seasoning are great, but if you don't have good avocados, extra ingredients will only go so far.
Perfectly ripe avocados seem to be elusive for so many people.
And avocados are total stinkers. If you cut it open too early, it's not like you can wrap it up and wait for it to get "perfectly ripe". Nope. You've basically wasted an avocado.
And if you wait a little too long you get those nasty brown mushy spots.
(Just so you know I will still make guac out of those if most of the flesh is still green. Obviously my guac won't be stellar but decent guac is better than no guac at all, right?)
How to tell if an avocado is ripe?
The golden question, right?
Feel it. Honestly, the best way is by squeezing it gently in your palm and learning to know what a ripe avocado feels like. It takes practice. You're looking for some give, but not too much give. There shouldn't be any dents or mushy spots on the outside of the avocado. There also needs to be softness in the entire avocado. If part of it feels soft enough, but the other part still feels hard, don't open it. It's not ready.
Look at it. Most types of avocados darken as they ripen and turn almost black or a deep, deep green when they're ready. If your avocado is still bright or mostly greenish, then wait a little longer.
I've also heard pulling out the stem piece out and looking at the exposed flesh will tell you if it's ripe or not. (Green=ripe Brown/Black=overripe) I haven't gotten consistent results this way, so I don't recommend that to be the only indicator.
How to ripen avocados?
If you need to use them the same day, then try to find a ripe one in the store. Good luck with this. I almost never do this unless it's a dire emergency.
Here's how I always manage to have a ripe avocado on hand:
Buy avocados when they're really hard and green. If you're buying a whole bag, make sure they're all the same hardness.
Put them on the counter. (Don't refrigerate them. Yet.)
Over the next 4-7 days, check on them. Just give them a little squeeze to see how they're progressing.
When they feel like they're ripe and ready to go, put them in the fridge. Putting ripe avocados in the fridge holds them at ripeness for a few days — buying you some time in case you're not quite ready for them yet. Honestly, I've used avocados after they've been in the fridge for a week!
This is how I always manage to have ripe avocados on hand. I just buy a bag every time I go to the store, so I have some sitting on the counter while I'm finishing off the ones in the fridge.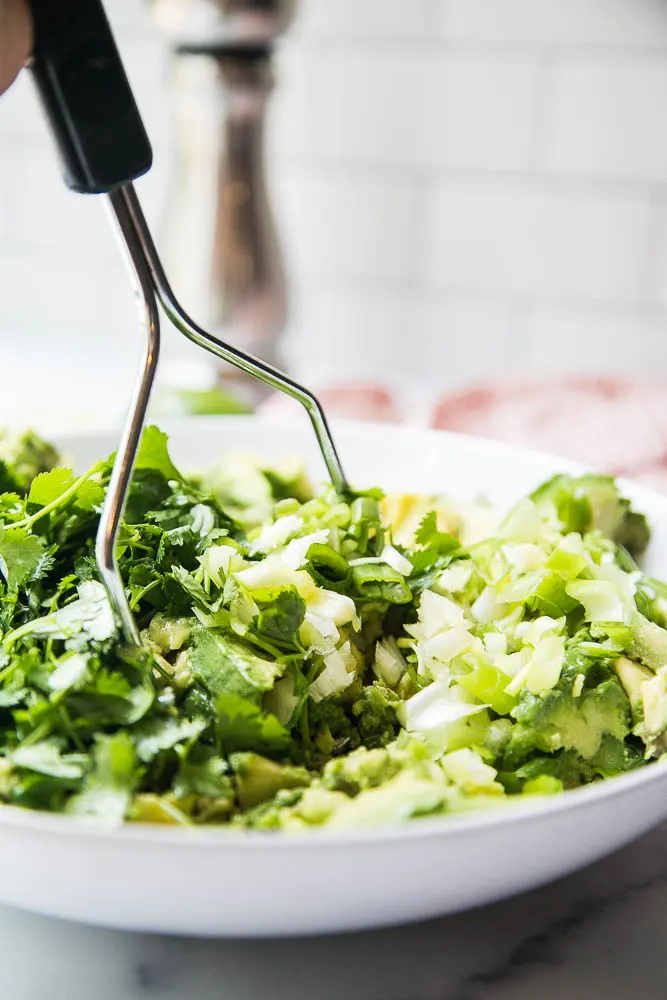 OK, now that we've established that avocados are the biggest predictor of great guac, let's get into some details!
Do you use a potato masher to mash avocados? I started doing it a few years ago and haven't looked back. Forks are OK, too, but it's a lot faster with a potato masher.
You might have noticed that I use green onions instead of white or red onion in my guac. Not the most authentic, but I actually prefer green onions because it makes the texture smoother than little chunks of diced white onion. And green onions are milder.
If you'd rather use white or red onion, go for it.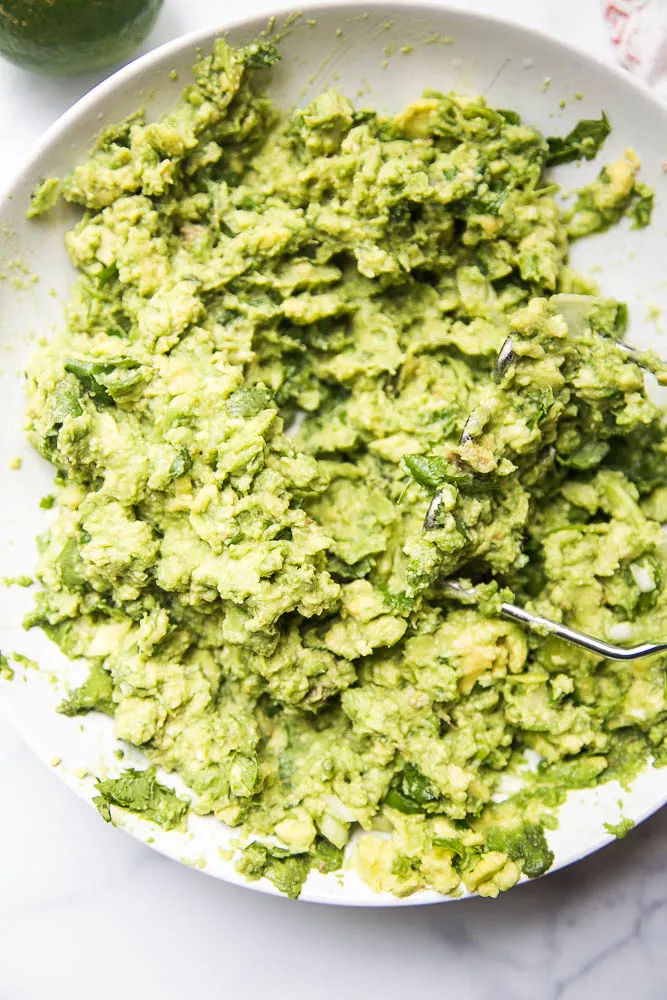 Like I said — this is a basic guac. No tomatoes. No jalapeños, No sour cream (Although a dollop makes it extra creamy. I quite like that.) No extras.
And it's my favorite version because the avocado really shines!
Don't have all the fresh stuff on hand? Don't feel like getting the knife and cutting board out? I got your back. I've listed the ingredients in my guac from greatest to least importance and gave you some substitutions for most.
Guacamole Ingredients (in order of greatest to least importance)
AVOCADOS. I mean, duh. You can't substitute here. I suppose you could buy the frozen chopped avocados from Costco (yes, that's a thing!) and keep them on hand in case ripening avocados stresses you out.
SALT. Preferably sea salt or Himalayan pink salt, but whatever you have works fine. You need this, though.
LIME JUICE. You could stop right here and have some decent guac. No joke. It goes without saying that fresh is better than bottled. I always keep some fresh limes on hand for guac-emergencies.

Substitutions: lemon juice, white vinegar, or (don't laugh) peperoncini juice. I'm totally serious on that last one. Have you made my Lazy Guacamole before? It's quite good.

GREEN ONIONS. Some sort of onion-y flavor needs to be there, if you can swing it.

Substitutions: diced white/red onion or onion powder (confession: I use onion powder more than anything)

FRESH CILANTRO. This one is debatable if you think cilantro tastes like soap. Just don't use dried cilantro. It's not worth it.

Substitution: fresh parsley

FRESH GARLIC. Totally optional. I like to use my Microplane grater for this.

Substitution: granulated garlic or garlic powder

GROUND CUMIN. Another optional one, but I like the extra flavor it adds.
Diced jalapenos or tomatoes are common add-ins, too. Most of the time I don't add them because I don't plan ahead and have them on hand. Or I don't feel like chopping extra stuff.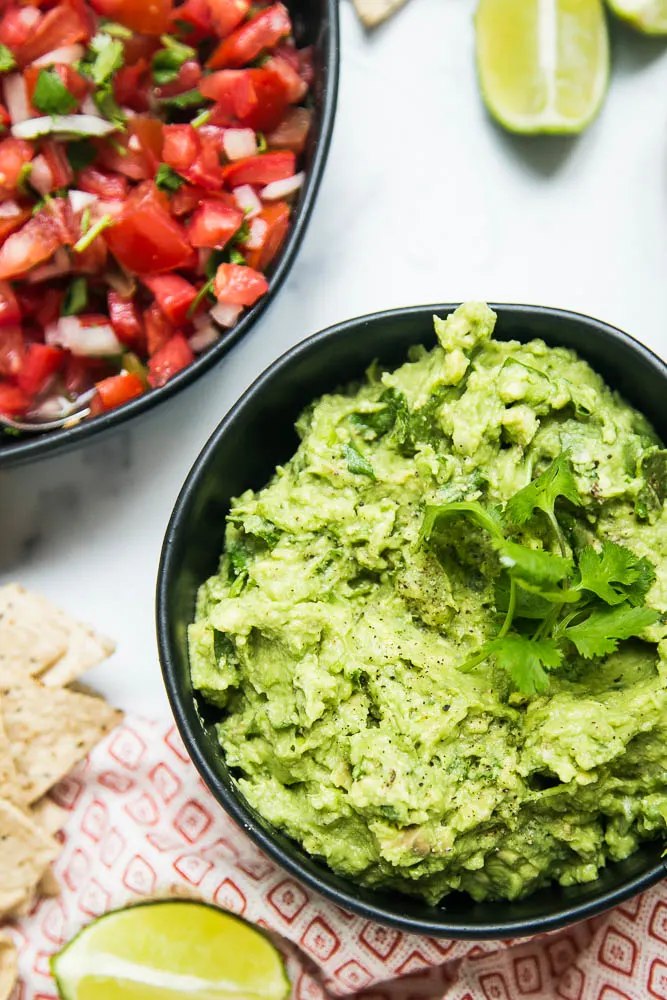 Secret Guacamole Hack
A little trick I learned from The Pioneer Woman is if you're making pico de gallo AND guac, just add a few spoonfuls of pico de gallo to your smashed avocados and VOILA — guac.
I prefer not to have tomatoes in my guac, but if you're pro-tomato, then try that little hack!
I have a totally delicious Homemade Pico de Gallo recipe that would go beautifully with this guac. Give them both a try and let me know what you think!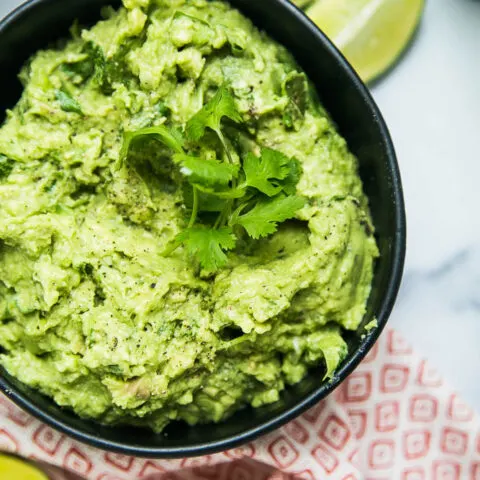 The Best Guacamole
My favorite homemade guacamole might seem a little basic, but it's what my family requests when I visit. And my avocado-hating mother even loves it! Sometimes simple recipes are the best, no?
Ingredients
4 large, ripe avocados, peeled and pitted
2 green onions, thinly sliced
1/3 cup chopped fresh cilantro
Juice from 1-2 juicy limes (about 1 1/2 T of juice)
1 garlic clove, minced or grated with a Microplane grate
Salt & pepper, to taste
Instructions
Put the avocados in a wide, shallow bowl and smash lightly with a fork or a potato masher (my personal favorite).
Add the remaining ingredients and continue to smash and mix everything together until you reach your desired consistency.
Taste, and add more salt or lime, if needed.
Notes
Nat's Notes: If you want to add some kick, stir in a seeded, diced jalapeno.
Recommended Products
As an Amazon Associate and member of other affiliate programs, I earn from qualifying purchases.