Chevy's Fresh Salsa Copycat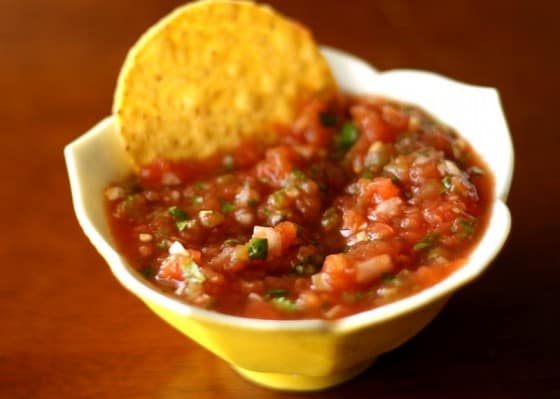 I hadn't made this salsa since I originally posted it over a year ago, and since I have a giant tub of (not so) freshly picked ripe tomatoes, I thought I'd give it another go and update the photos.
Man, I forgot how much I loved this salsa.
Instead of simply updating the old post I decided to revise the recipe a bit. A while ago I noticed that someone had re-posted the recipe and said something to the effect of the salsa being created from Satan himself. (It was hot. But he liked it.) I didn't remember it burning my face off. I don't have a high threshold for heat, either.
Anyway, I doubled the recipe while reducing the number of jalapenos and the amount of liquid smoke. This recipe should fit nicely in a quart-sized mason jar. Unless you add all of the extra liquid from the tomatoes.
See exhibit A:
This go-round I grilled the vegetables at night, then stuck them in the fridge and finished the salsa the next morning. When I pulled the bowl out of the fridge, there was a considerable amount of liquid in the bottom. I decided to leave it out for a thicker salsa (which thickened even more after sitting in the fridge). If you want a looser salsa, then reserve it and add it to achieve the consistency you want.
Oh yeah. If you're swimming in tomatoes (like me), here are a few more ways to get rid of a lot of tomatoes: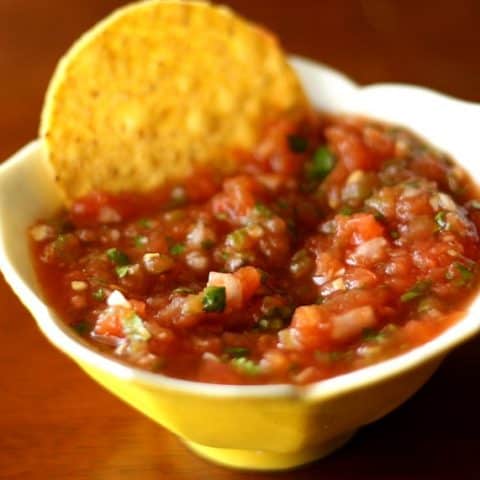 Chevy's Fresh Salsa, Revised
Yield: 2 cups
Prep Time: 15 minutes
Cook Time: 20 minutes
Total Time: 35 minutes
Throw some tomatoes and jalapenos on the grill and make some of this copycat Chevy's Fresh Salsa! It's the perfect addition to a summertime potluck.
Ingredients
2 1/2 pounds tomatoes
3 large jalapenos (use more if small, fewer if large)
1/4 medium Spanish onion (or yellow sweet onion)
3 cloves garlic
1/4 cup chopped fresh cilantro
1/4 cup white vinegar
2 teaspoons salt
1 teasopon liquid mesquite smoke
Instructions
Preheat BBQ (or stovetop grill pan like I used) on high.
Remove stems from tomatoes, then rub some oil over each. Leave stems on jalapenos and rub oil on them, too. Place tomatoes on grill when it's hot.
After about 10 minutes, add all jalapenos. In about 10 minutes, turn the tomatoes and peppers.
When almost all of the surface of the peppers are black, remove them from the grill. The tomatoes will turn partially black, but when the skin begins to come off they are done. Remove from grill and allow veggies to cool.
Remove skin from tomatoes and place in a food processor. Pinch the stem end from each pepper, remove any skin that has burned, and place into food processor with tomatoes. Add remaining ingredients and puree on high for 5-10 seconds. Chill for several hours or overnight before serving. Makes about 2 cups. Nat's Notes: 1. After scraping all of the seeds and some of the whitish veins from the peppers, it was still quite spicy -- about like "medium" salsa you'd buy at the store. 2. After the tomatoes have cooled, you'll notice quite a bit of liquid left in the bowl (especially if you let them sit overnight). Adding it all back into the salsa makes it sort of watery (see picture on original post). I didn't add any back into it this time around and I liked the thicker texture. It also thickens as it sits in the fridge, so hold on to that liquid in case you want to thin it out later.