Throw some tomatoes and jalapenos on the grill and make some of this copycat Chevy's Fresh Salsa! It's the perfect addition to a summertime potluck.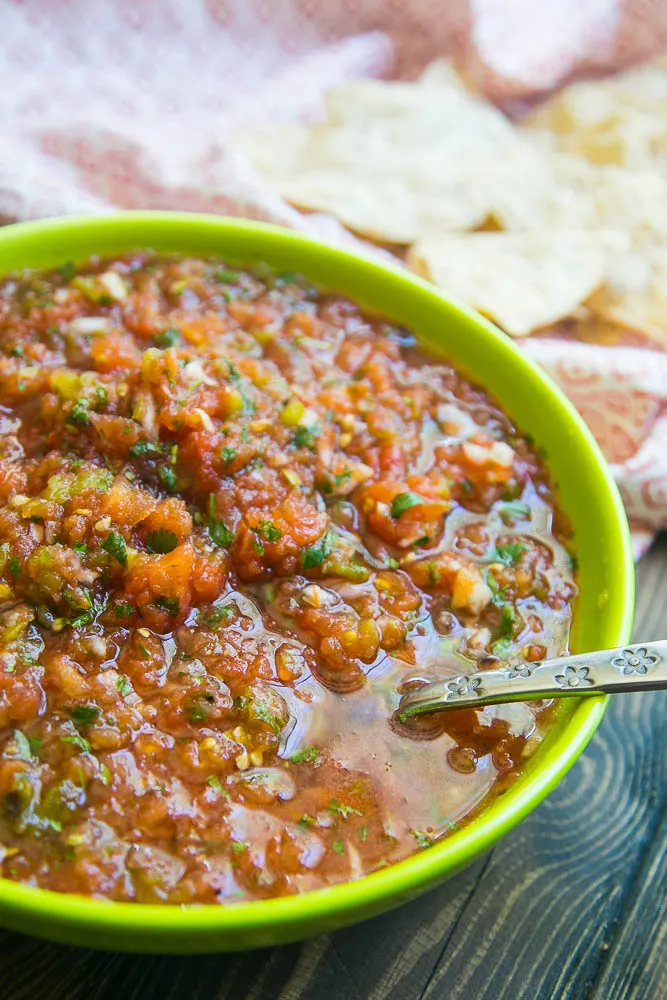 Salsa on the grill? Yes. You'll want in on this.
This is, hands-down, my favorite homemade salsa. It's smoky, spicy, and blended just enough so it's not too chunky. It was originally a copycat recipe from Chevy's.
Does anyone remember Chevy's? It's been ages since we lived close to one — I think it's just a west coast chain, but I might be mistaken.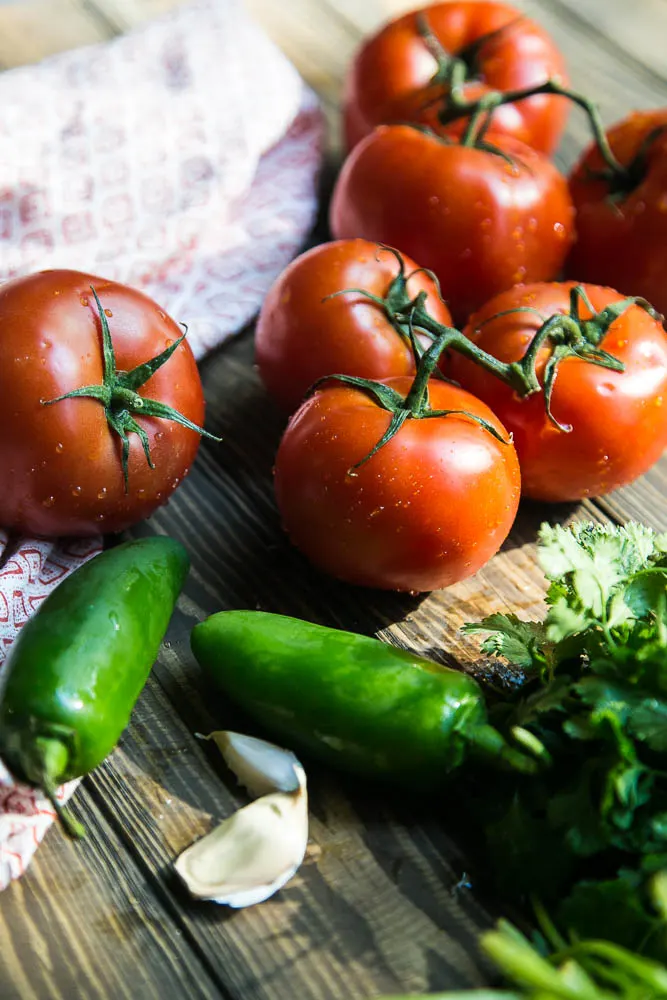 If I had planted tomatoes, I think they'd be busting out of the garden by now. Since I didn't, I'm going to live vicariously through you patient gardeners.
(Or I'll pick up some on-the-vine tomatoes at the grocery store. No shame, friends.)
The nice thing about grilling the tomatoes is that it brings out some sweetness and improves their flavor — which is nice if you're relying on store-bought, hot house tomatoes.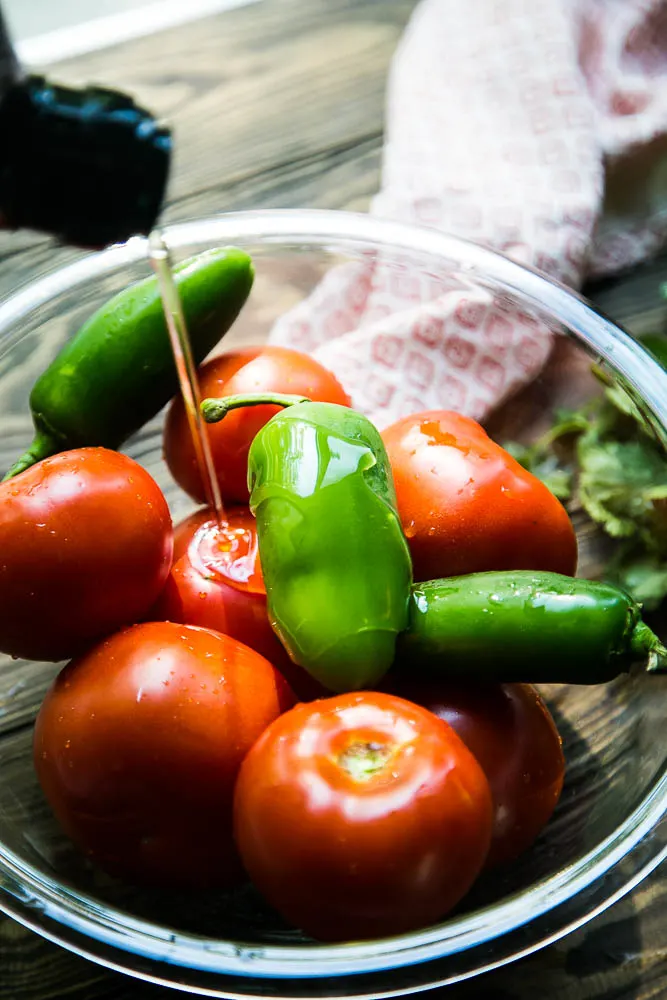 All you need to do is drizzle some tomatoes and jalapenos with heat-safe oil like avocado oil.
Do you have to add jalapenos?
Well, technically no. I love their flavor, but I understand if you don't want it to be too spicy. In this recipe I think 2 jalapenos are just right. One would make it more mild, and 3-4 would make it really spicy, if that's your thing.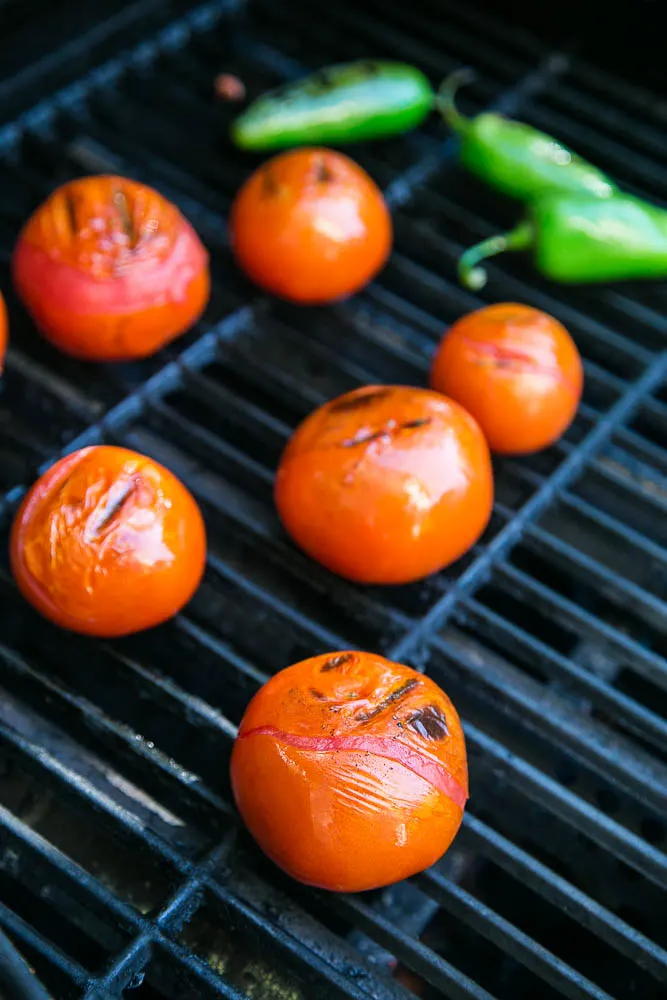 So, how do you know when the grilled tomatoes and jalapenos are done?
They'll have dark grill marks. Especially the jalapenos — leave those on longer so they're mostly black.
The tomato skins will split.
You don't want to wait until the tomatoes get super mush and hard to remove from the grill, though.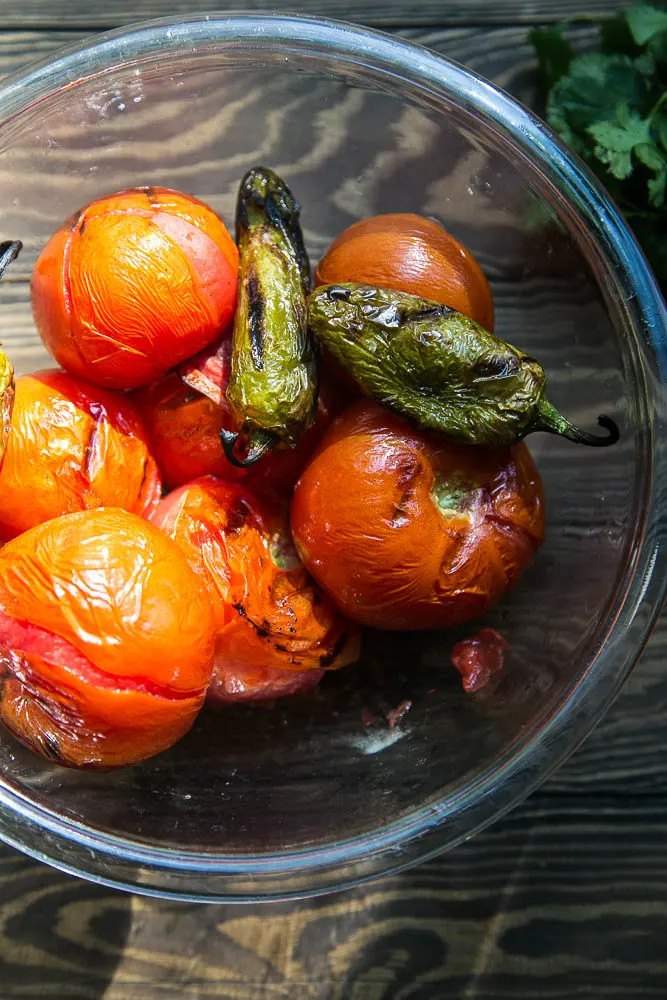 A few more tips to make this grilled salsa:
After the veggies come off the grill, put them in a bowl and cover them. Let them steam for a few minutes and cool off so you can handle them. The skins will come off easier that way, too.
You can even put them in the fridge and work on it several hours or a couple days later. If you do this, you'll notice a large amount of liquid accumulated in the bowl from the vegetables. Save this liquid and use it to thin out the salsa if you find it's too thick for your taste. (Normally all of that liquid would be in the salsa if you grilled the veg & buzzed it up the same day.)
Remove the jalapeno seeds. Even though I removed the seeds from both jalapenos, this salsa still had a good kick to it.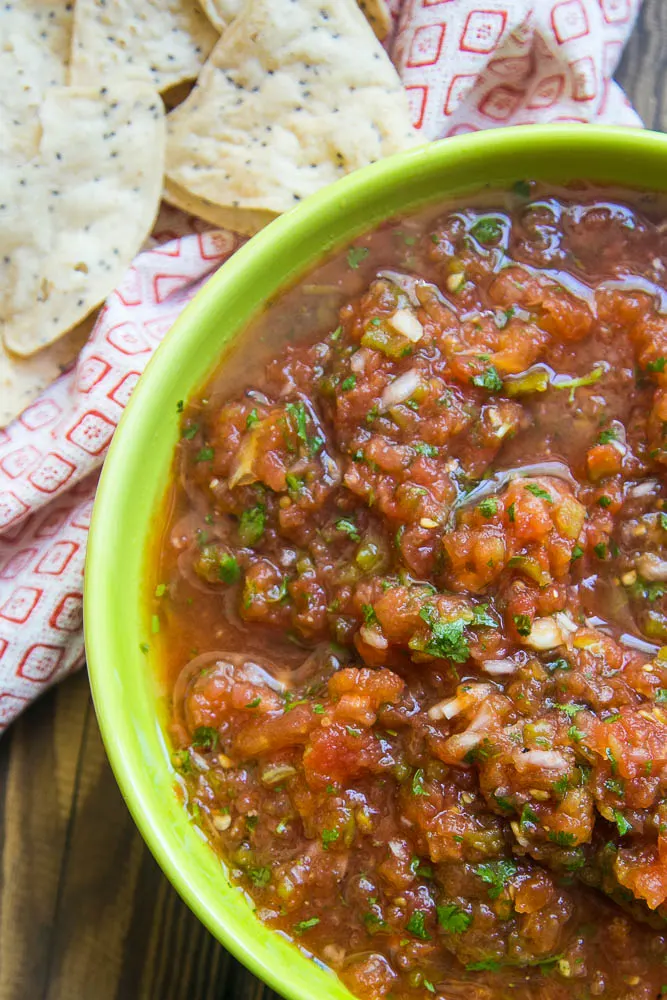 You might notice that the recipe calls for liquid smoke.
This is totally optional, but a little of this can really enhance the grilled smoky flavor. I never leave it out!
If you're wondering what kind of liquid smoke — I like Wright's Applewood Liquid Smoke, but the hickory flavor is good, too. You can find liquid smoke in the grocery store near the BBQ sauces. Or you can grab some on Amazon.
---
If you make one of my recipes, be sure to post it on social media and tag me at @perrysplate or #perrysplate so I can send you some love!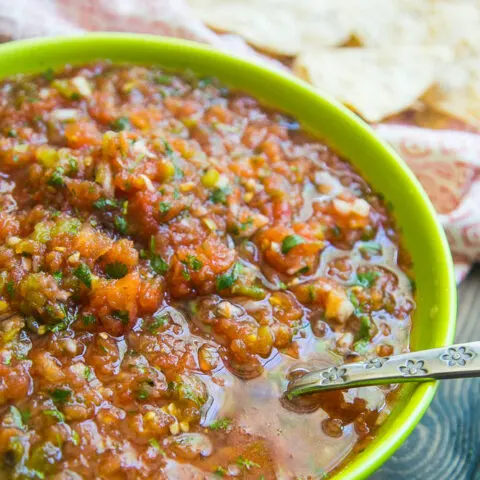 Smoky Grilled Salsa (Chevy's Copycat)
Throw some tomatoes and jalapenos on the grill and make some of this copycat Chevy's Fresh Salsa! It has such a delightful smoky flavor and it's our family's FAVORITE salsa!
Ingredients
2 1/2 pounds tomatoes
1-2 jalapenos
1/4 medium Spanish onion (or yellow sweet onion)
3 cloves garlic
1/4 cup chopped fresh cilantro
1/4 cup white vinegar
2 teaspoons salt
1 teasopon liquid mesquite smoke
Instructions
Preheat BBQ (or stovetop grill pan like I used) on high.
Remove stems from tomatoes, then rub some oil over each. Leave stems on jalapenos and rub oil on them, too. Place tomatoes on grill when it's hot.
After about 10 minutes, add all jalapenos. In about 10 minutes, turn the tomatoes and peppers.
When almost all of the surface of the peppers are black, remove them from the grill. The tomatoes will turn partially black, but when the skin begins to come off they are done. Remove from grill, cover to steam them for a few minutes and allow veggies to cool.
Remove skin from tomatoes as well as the seeds (if you want) and place in a food processor. Pinch the stem end from each pepper, remove any skin that has burned. Cut them in half and remove as many seeds as you can (unless you want the salsa extra spicy). Place the jalapenos into food processor with the tomatoes.
Add remaining ingredients and pulse for about a minute. For best flavor, chill for at least an hour or overnight before serving.
Makes about 2 cups.
Notes
Nat's Notes:
1. After scraping all of the seeds and some of the whitish veins from the peppers, it was still quite spicy -- about like "medium" salsa you'd buy at the store.
2. After the tomatoes have cooled, you'll notice quite a bit of liquid left in the bowl (especially if you let them sit overnight). Adding it all back into the salsa makes it sort of watery (see picture on original post). I didn't add any back into it this time around and I liked the thicker texture. It also thickens as it sits in the fridge, so hold on to that liquid in case you want to thin it out later.
Recommended Products
As an Amazon Associate and member of other affiliate programs, I earn from qualifying purchases.
This post may contain affiliate links. Any purchases made by using these links won't cost you any extra and helps keep my content free. These links may be Amazon links as I am part of the Amazon Associate Program.