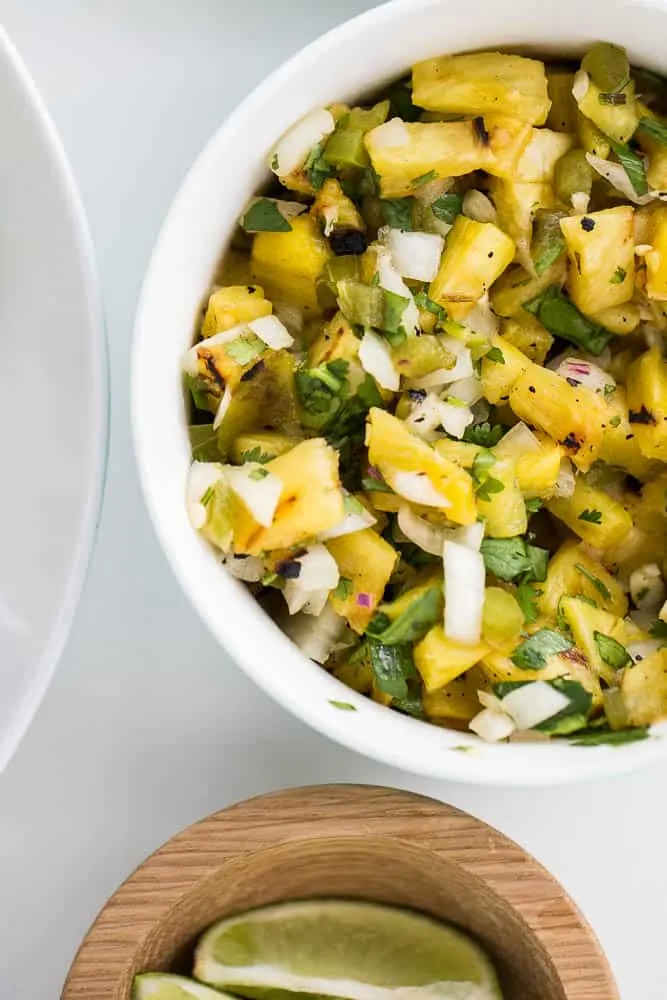 Because there isn't enough grilled pineapple recipes around here, I made another one. Another salsa recipe, even.
I was in the mood for Grilled Pineapple Salsa, but tomatoes are still rather sad in the spring, so I made a version without tomatoes and threw the jalapenos on the grill, too. Pineapple and jalapeno are such a great combination — one of my favorites!
LOVE THIS SALSA. Seriously in love with this.
The biggest reason I made this was to put it on my fish taco bowls.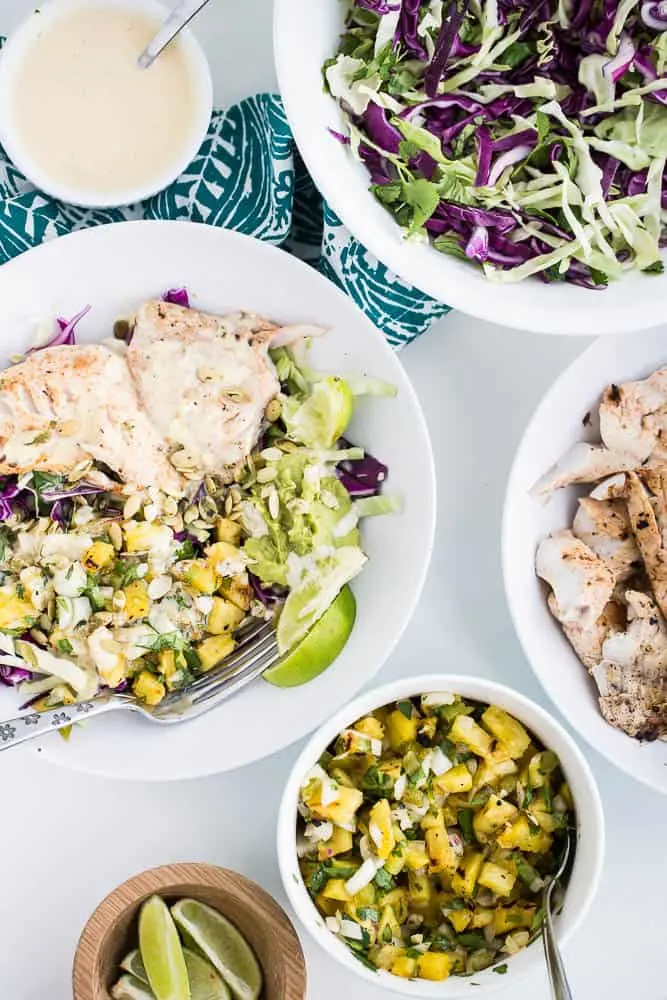 And wow. Honestly, I don't think I'd make these Chile-Lime Fish Taco Bowls without this salsa. Or at least grilled pineapple. Or maybe even just grilled pineapple and jalapeno.
I might as well just make the salsa, huh?
This salsa would also be great on the Cilantro Lime Chicken Salad from Sheena at Noshtastic!
---
If you make one of my recipes, be sure to post it on social media and tag me at @perrysplate or #perrysplate so I can send you some love!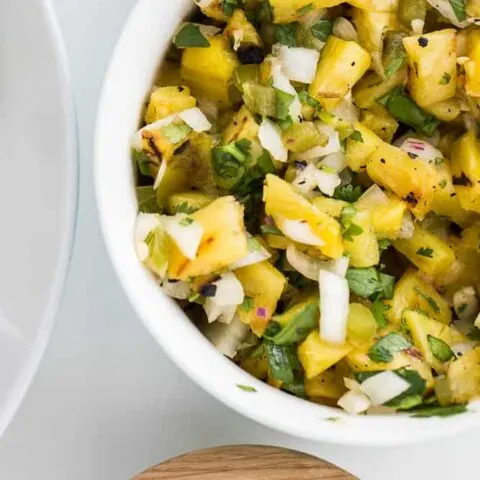 Grilled Pineapple & Jalapeno Salsa
Yield:
Makes about 3 cups
Ingredients
1/2 of a fresh pineapple
1 Tablespoon avocado oil
2-3 jalapenos
1/2 medium onion, chopped
1/2 cup fresh chopped cilantro
1 garlic clove, minced
1 lime
sea salt
Instructions
Preheat the grill to medium-high heat.
Cut the core out of the pineapple and slice it into long strips. Drizzle the strips with a little avocado oil.
Place the pineapple strips and whole jalapenos on the grill. Grill for several minutes, turning them a couple of times until dark grill marks form on the pineapple and the jalapeno skin is blistered and dark.
Transfer the pineapple to a cutting board and let it cool. Wrap the jalapenos tightly in aluminum foil or plastic wrap for a few minutes. This allows them to steam and the peels will come off more easily.
Chop the pineapple and place it in a medium size bowl. Peel most of the blistered skin off the jalapenos, cut off the stems, and chop them, removing the seeds if necessary.
Add the chopped jalapenos to the bowl with the pineapple. Add the onion, cilantro, garlic, juice from 1/2 of the lime, and a generous pinch of sea salt. Taste, and add additional lime and salt, if needed.
Serve immediately or cover and chill.
This post may contain affiliate links. Any purchases made by using these links won't cost you any extra and helps keep my content free. These links may be Amazon links as I am part of the Amazon Associate Program.