These Leek and Brussels Sprouts Fritters would be perfect with a roasted chicken or as a light lunch on their own!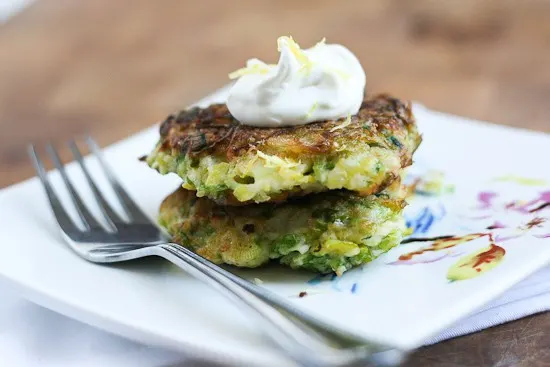 Well, I've got good news and bad news.
Remember when I was wearing my tiny human all the time? Even during dinner prep?
Good news is that she's sitting up and plays happily without being held constantly. It's pretty awesome.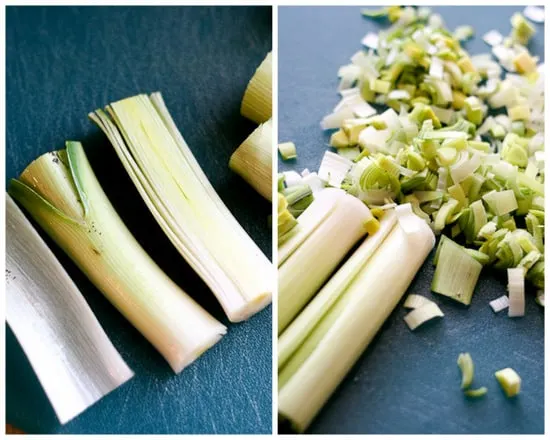 Bad news is that she's also crawling. And pulling up to things.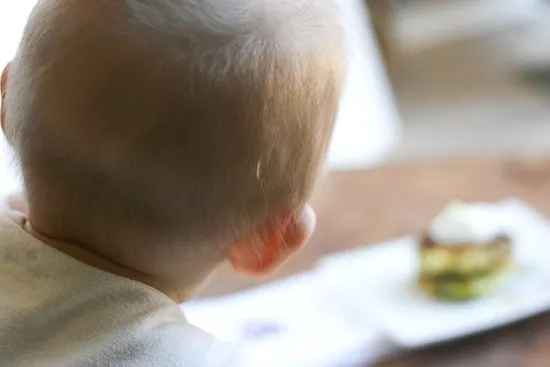 She's a very curious little 7-month-old.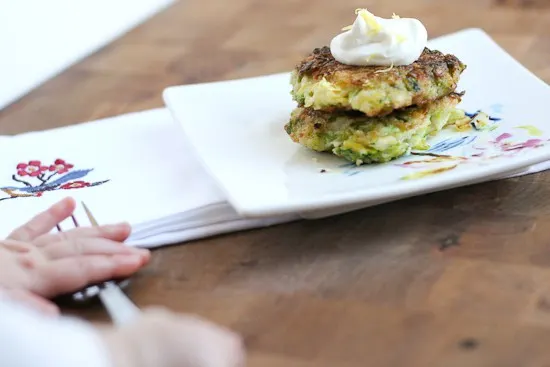 And far too young to be this mobile, in my opinion.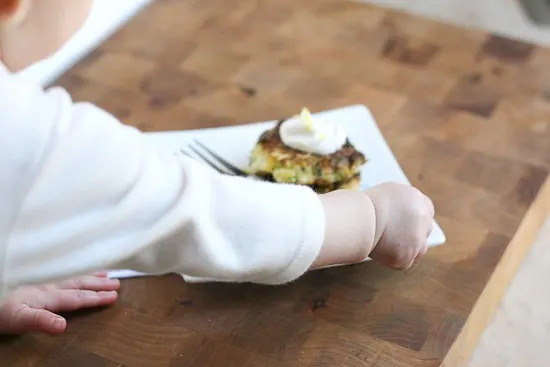 I often shoot photos on a chopping block sitting on the floor next to my back window. The light is fantastic there. Sometimes I use a TV tray, but Muffin makes a beeline for it and tries to stand up. It's not exactly sturdy.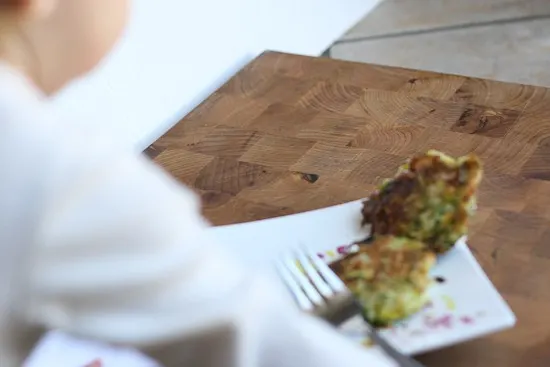 If I need more space I drag the kitchen table about 5 feet over to the window. I don't like doing that. I'm kind of lazy.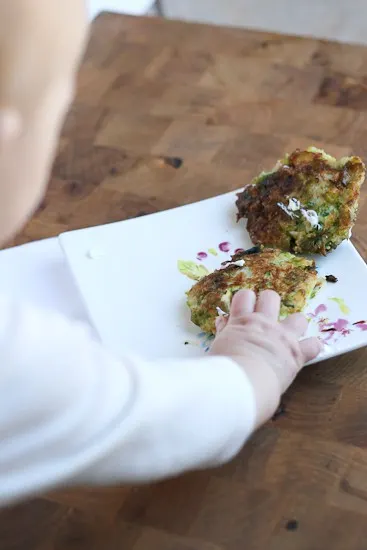 Looks like I might have to do that more often.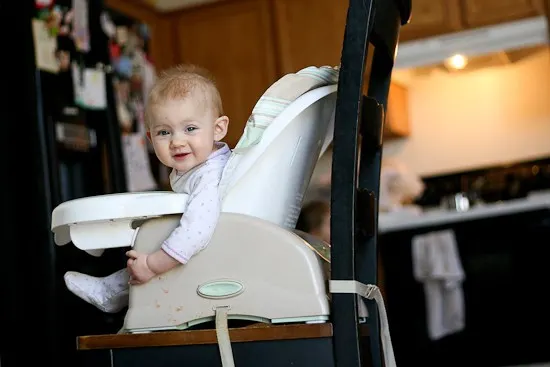 This is the best spot for her during shoots, I think. In a squash-covered booster.
Oh, ya. The fritters. They came from Deb Perelman's The Smitten Kitchen Cookbook. The original has only leeks, but I threw in some Brussels sprouts, which was a great idea.
Have you ever had my Crispy Roasted Brussels Sprouts? The outside of these fritters tastes a lot like that. Crispy crusts on anything is usually a great idea.
I also made these grain-free! They're also paleo if you leave off the cream.
(That was kind of my favorite part, though.)
If you're looking for more DELICIOUS Brussels recipes, click here: Best Brussels Sprout Recipes.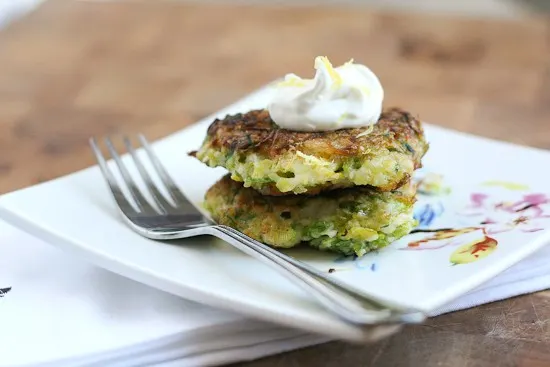 ---
If you make one of my recipes, be sure to post it on social media and tag me at @perrysplate or #perrysplate so I can send you some love!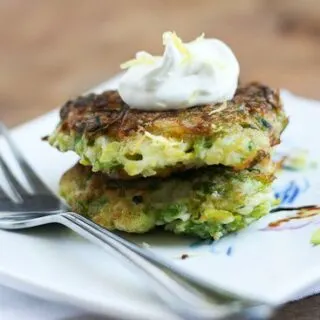 Leek and Brussels Sprout Fritters
Yield:
About ten 2 1/2-inch fritters
If you love the Crispy Roasted Brussels Sprout recipe on my site, you'll love these tasty fritters with leeks! The Garlic-Lemon Cream is a must! If you need to make them dairy-free, try using homemade mayo instead of sour cream. Or a dairy-free sour cream.
Ingredients
For the Fritters
1 pound leeks
1 pound Brussels Sprouts
1/2 teaspoon salt, plus more for pot
2 green onions, trimmed, halved lengthwise, and thinly sliced
1/2 cup almond flour
1 Tablespoon arrowroot powder
1 teaspoon baking powder
Freshly ground black pepper
Pinch of cayenne pepper (optional)
1 large egg
1 large egg white
Heat-safe oil for frying
For the Garlic-Lemon Cream
1/2 cup sour cream
1 Tablespoon freshly squeezed lemon juice
A Few gratings of fresh lemon zest
Pinches of salt
1 small garlic clove, crushed or grated with a Microplane grater
Instructions
Trim the leeks, leaving only the white and pale green parts. Halve lengthwise, then chop into 1/4-inch pieces. If the leeks look dirty (which they often do), put them in a bowl of cold water, swish them around, and remove them with a spider or slotted spoon.
Trim the tough stems and any wilted leaves off the Brussels sprouts. Either slice them very thinly with a sharp knife or use a slicing attachment on a food processor.
Bring a pot of salted water to boil. Cook chopped leeks and sprouts for 3-4 minutes until they are soft, but too limp. (The sprouts may become somewhat limp before the leeks, but that's alright.) Drain, then wring them out in a clean dish towel or piece of cheesecloth, removing as much water as possible.
Transfer the vegetables to a large bowl. Stir in the scallions. In a small dish, whisk together the almond flour, salt, arrowroot powder, baking powder, and peppers. Stir the dry ingredients into the blanched vegetables, then stir in the egg and egg white until mixture is evenly coated.
Preheat your oven to about 200 degrees and place a baking sheet inside, or something to put the fritters on to keep warm. Place a few paper towels on a plate. In a large, heavy skillet (cast iron is great!) heat 2 Tablespoons of heat safe oil over medium-high heat until it begins to shimmer. Form mixture into small, 2 1/2 inch patties and place in the oil. Smash them a bit with a spatula to flatten. Only cook a few at a time, not to overcrowd the pan. Cook until they are golden brown, about 3 minutes. Flip and cook on the other side until it is golden as well. If they are browning too quickly, turn the heat down or remove the pan from the heat for a few seconds.
Place the cooked fritters on the stack of paper towels to drain and transfer them to the warm oven while you make the remaining fritters.
Whisk together the ingredients for the garlic-lemon cream and serve with fritters. These keep in the fridge for several days and are great if heated up on the stove or in the oven.
This post may contain affiliate links. Any purchases made by using these links won't cost you any extra and helps keep my content free. These links may be Amazon links as I am part of the Amazon Associate Program.