This Black Bean and Green Chile Soup is made from pantry staples in under 30 minutes!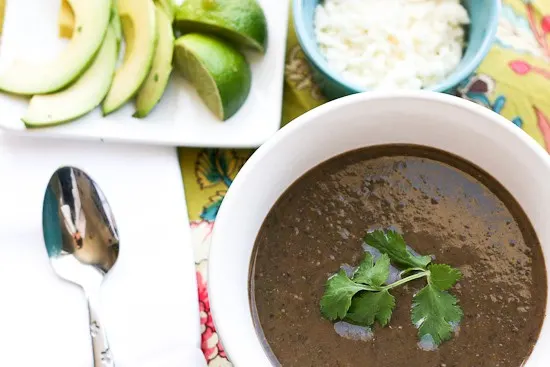 Most days I never know what to make for lunch. I end up scrounging around for dinner leftovers (my fav). I really don't like cold sandwiches, but prefer a salad or something hot.
My 4-year-old prefers anything that involves a tortilla. Luckily she's good about eating vegetables, so I figure it evens itself out in the end.
If I'm feeling on top of things at the point in the day or if hubs is coming home for lunch, I have a handful of soups in my stash that only take 20 minutes or so. And require very little (if any) chopping.
I threw this one together and purposefully used dried minced onion and garlic powder instead of their fresh counterparts because this soup is something that I would make for lunch. Or for a super-quick emergency dinner. And I like to give you recipes that require little effort.
By the way, I love that I get to use my homemade taco seasoning for this! Have you tried it? It's pretty dang awesome.
What are your dinner go-to's? I could use some inspiration!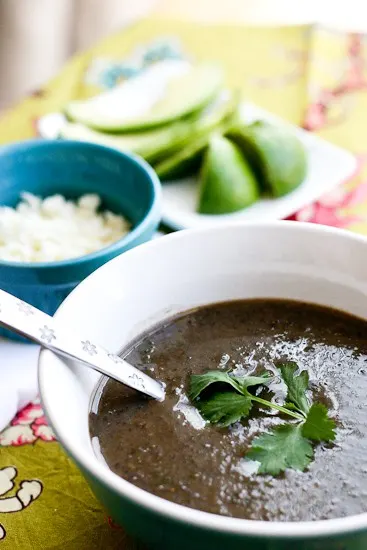 ---
If you make one of my recipes, be sure to post it on social media and tag me at @perrysplate or #perrysplate so I can send you some love!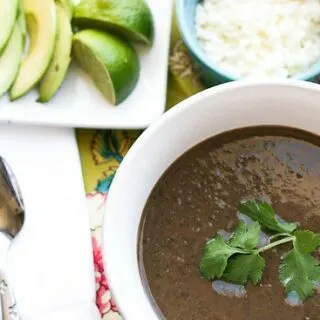 Quick Black Bean & Green Chile Soup
Talk about a quick dinner that's pantry-friendly! The spinach is optional, but I like to toss vegetables into our meals as often as I can. And spinach hides really well in things like this!
Ingredients
4-5 cups black beans (about 3 cans, rinsed and drained)
4 1/2 cups chicken stock, divided (about 2 14-ounce cans)
2 big handfuls baby spinach
1 4-ounce can diced green chiles
1 Tablespoon dried minced onion
1 Tablespoon taco seasoning
1/4 teaspoon garlic powder
Instructions
Put everything into a medium-sized pot, reserving 1/2 cup of the chicken stock. Bring to a gentle simmer and cook for about 10 minutes. Use an immersion blender to blend the soup to your liking. (Or a blender.) Taste and add salt as desired. Add the reserved chicken stock to thin it out if it needs it.
Ladle into bowls and garnish with lime wedges, chopped fresh cilantro, and crumbled cotija or feta cheese.
Notes
Nat's Note: I make my own unsalted beans and chicken stock, so I added about 3/4 teaspoon of salt to this, but if you're using commercial chicken stock and beans, you won't need that much. (Or any.)
This post may contain affiliate links. Any purchases made by using these links won't cost you any extra and helps keep my content free. These links may be Amazon links as I am part of the Amazon Associate Program.