Did you know this is the SIXTH blended squash soup recipe on my site?
Fifteen years ago I still hated squash. Who am I and how did I get here?
I'm pretty sure blended squash soups were my gateway to liking squash — particularly blended butternut squash soups.
What is it about butternut squash? It's so likeable. I'm pretty sure it would win some congeniality prize among squashes. Among squash? Don't use my questionable grammar to judge this soup.
This soup is EASY, guys. And it only has a few ingredients. You can buy the pre-cut butternut cubes at the grocery store or tackle a whole one and roasted it. Or Instant Pot it.
And when you have an Instant Pot that cooks up a squash in no time it's a really easy habit to slip into.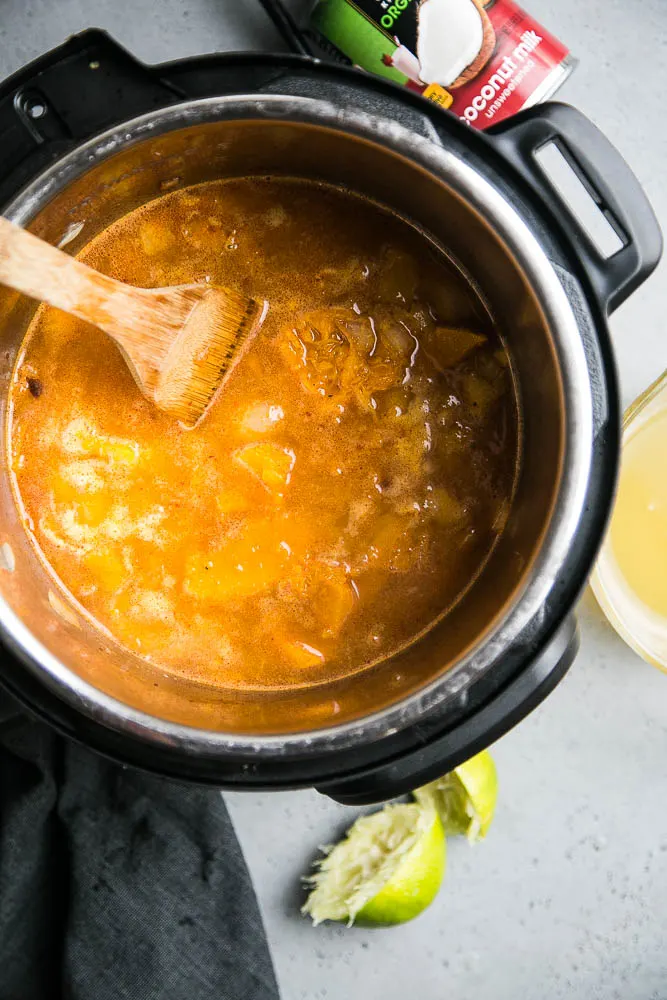 I should say that you don't HAVE to use an Instant Pot for this recipe. I just didn't want to dirty another pot just to blend this soup on the stove.
And since it can heat things (like an electric burner) — I mean, why not?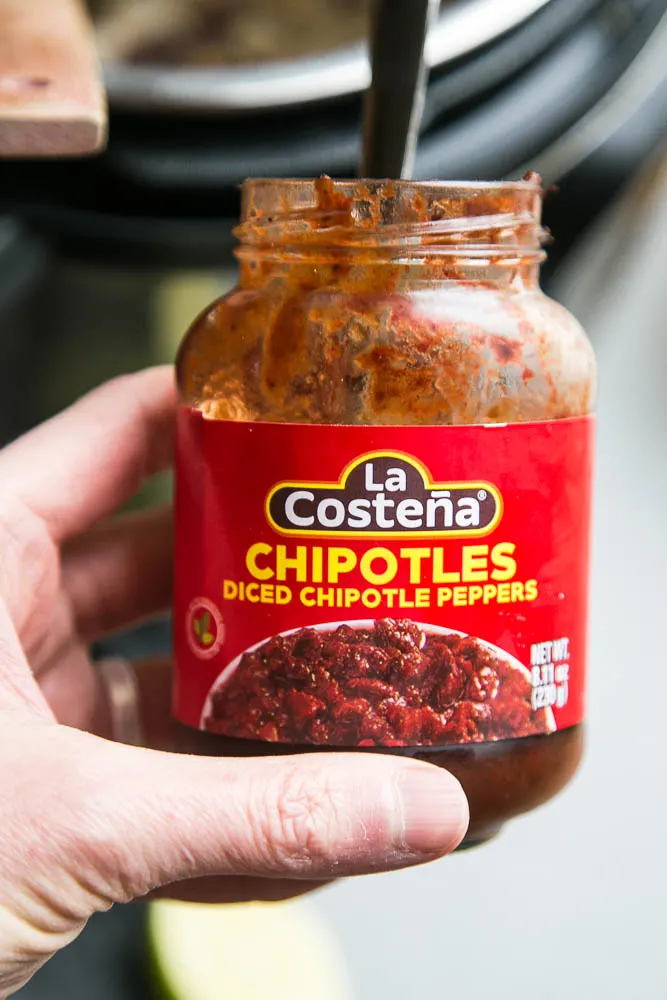 OH!
Have you seen jarred diced chipotle peppers? They're a game changer if you use a lot of chipotles in your cooking.
No longer shall we open a can, use one chipotle pepper, and then wonder what to do with the rest.
Or freeze them individually in an ice cube tray only to break your ice cube tray while trying to remove them or render your ice cube tray useless for making anything other than chipotle-flavored ice cubes.
(And then put the frozen chipotle cubes in a container to get pushed back to the back of your freezer and lost in the Wasteland of Freezerburn.)
This might seem dramatic, but believe me. They're worth it if you can find them. I found mine at Winco.
I'm pretty sure they're seeded, too, so….. I rest my case.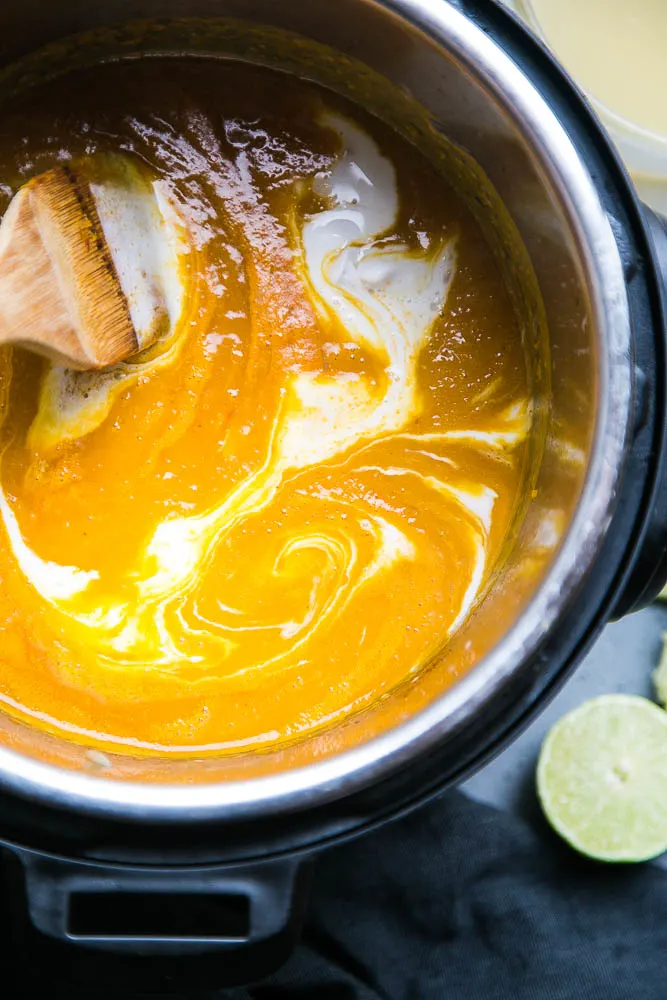 This is always my favorite part of blended soup making — adding some creamy component and watching it swirl around. *swoon*
I used coconut milk here, but you can use heavy cream if you don't need it to be dairy-free.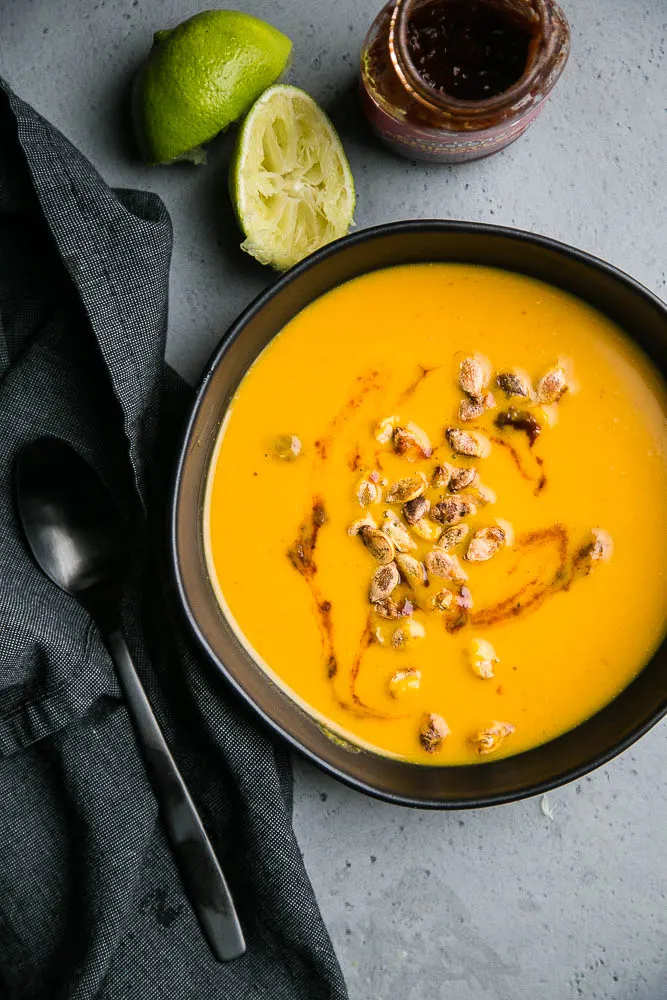 Can you roast squash seeds?
Yes. And they make a great garnish for soups and salads!
These are actually kabocha squash seeds. They're smaller and thicker than pumpkin seeds, but they have that same nutty taste.
Mine were simply tossed in oil and a little salt and roasted while my squash was cooking.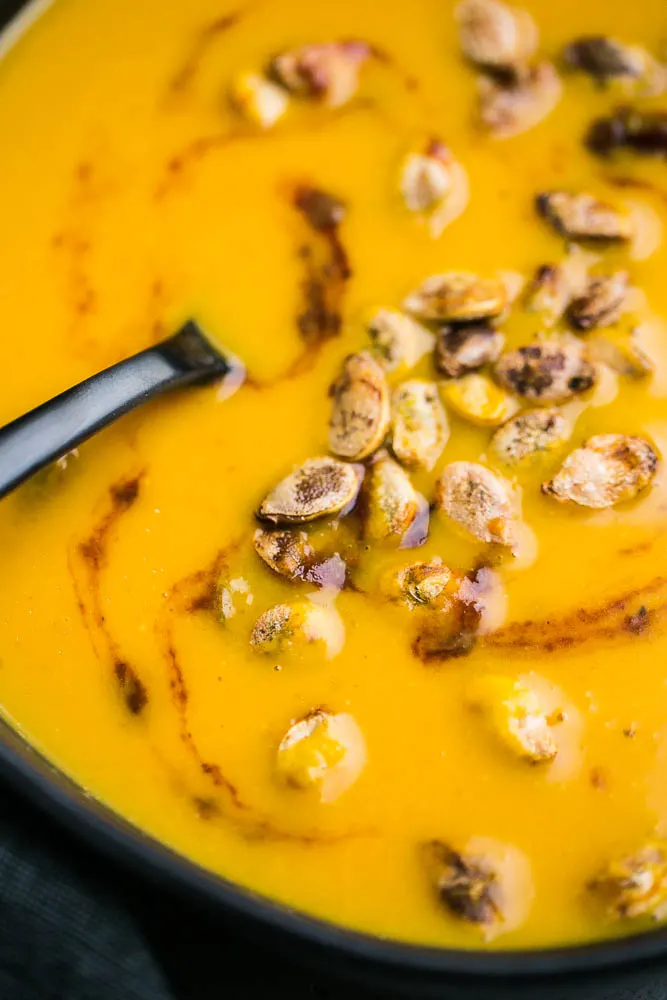 And check out this quick video on How to Cook Squash in an Instant Pot!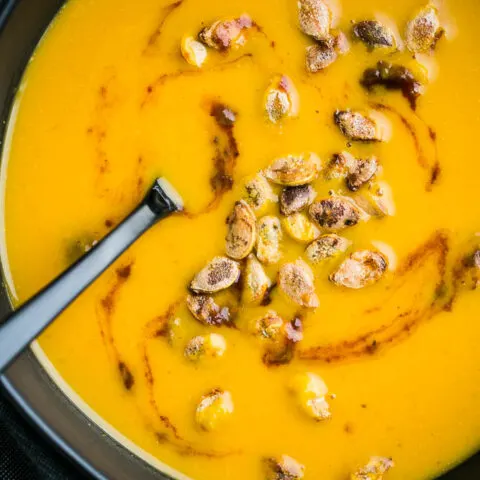 Easy Chipotle Lime Squash Soup
Use butternut or kabocha squash in this super flavorful, silky squash soup recipe with only a few ingredients!
Ingredients
I medium butternut or kabocha squash (or 2 pounds of cubes)
1 tablespoon avocado or coconut oil
1 medium onion
3 cloves garlic, whole
2 juicy limes
1-2 chipotle peppers, diced (1-3 teaspoons)
1 quart chicken broth
1 teaspoon sea salt
1 can full-fat coconut milk
Instructions
If you're using a whole squash, cut the squash in half, scoop out the seeds (Save them for roasting, if you want! See note.) and cook it in either an Instant Pot or roast it in the oven in a baking dish with 1/2-inch of water for about 40-50 min at 400 degrees until it pierces easily with a fork. Scoop it out of the shells and set aside.
If you're using pre-cut cubes, then start by heating the oil in a large pot over medium-high heat. Add the onions and the garlic and cook for about 5-7 minutes until the onions begin soften and become transluscent.
Add the pre-cut raw squash (or cooked squash), chipotle peppers, juice from 1 of the limes, 3 cups of the chicken broth, and the salt. Bring to a boil, then reduce the heat and simmer.
If you used pre-cut raw squash, simmer for 15-20 minutes or until the squash is cooked through.
Blend the soup using an immersion blender or in batches in a blender.
Stir in the coconut milk. Taste, and add more salt, lime, juice, or chipotles to suit your taste.
Serve. (With a sprinkle of roasted squash seeds, if using.)
Notes
Nat's Notes:
1. Cooking squash in an Instant Pot is super easy! Click here to see how.
2. To make the squash seeds, rinse the goopy stuff of of them, pat them dry, and spread them on a baking sheet. Toss them in a little avocado oil and bake them for 375 degrees for 12-15 minutes or until toasty brown and fragrant. Sprinkle with sea salt.
Recommended Products
As an Amazon Associate and member of other affiliate programs, I earn from qualifying purchases.