This isn't just a regular butternut squash soup recipe. Butternut squash and sweet potatoes come together in an unexpected (but easy!) soup with southwest flavors and a fun little garnish. I've got a few pro tips to make this blended soup silky smooth and easy enough for a weeknight!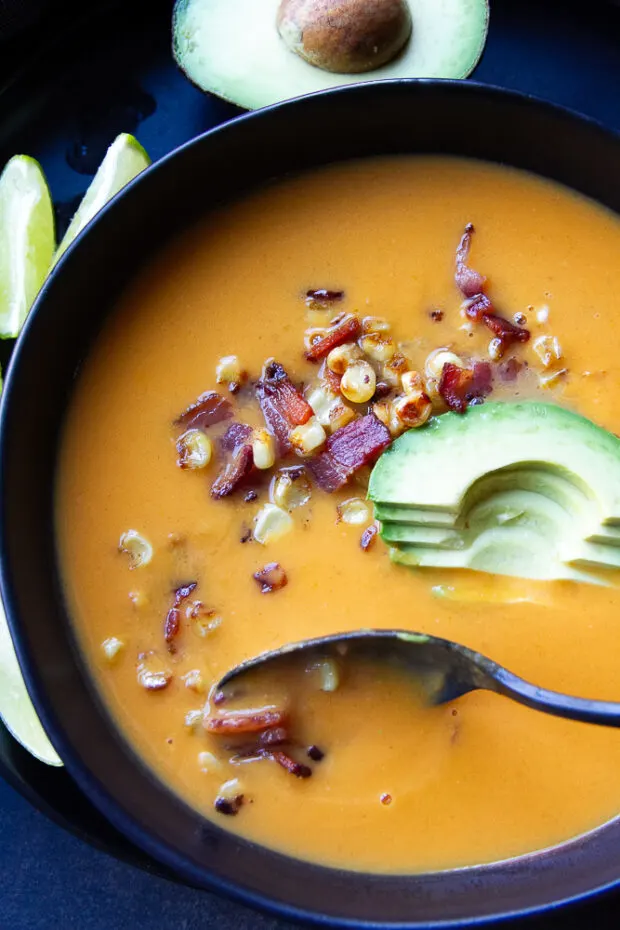 Why you'll love this Butternut Squash and Sweet Potato Soup
You'll love the way butternut squash and sweet potatoes pair beautifully together — playing off each others' sweetness and creamy texture.
Making butternut squash soup is easy, I promise. Grab a package of pre-cut squash at the store and you'll save lots of time and maybe a few fingers. (Dismantling a whole butternut can be a treacherous task.)
Here's the secret to an easy and flavorful soup, my friends: all the vegetables are roasted together in one pan, intensifying the flavors and adding some sweet caramelized edges. After that it's easy-peasy! Just blend everything up with some chicken broth to make this silky butternut squash and sweet potato soup with Southwest flavors.
I was feeling a little extra and made an optional toasted corn and bacon garnish. It's worth an extra few minutes! Let's get started, and I'll walk you through the whole process.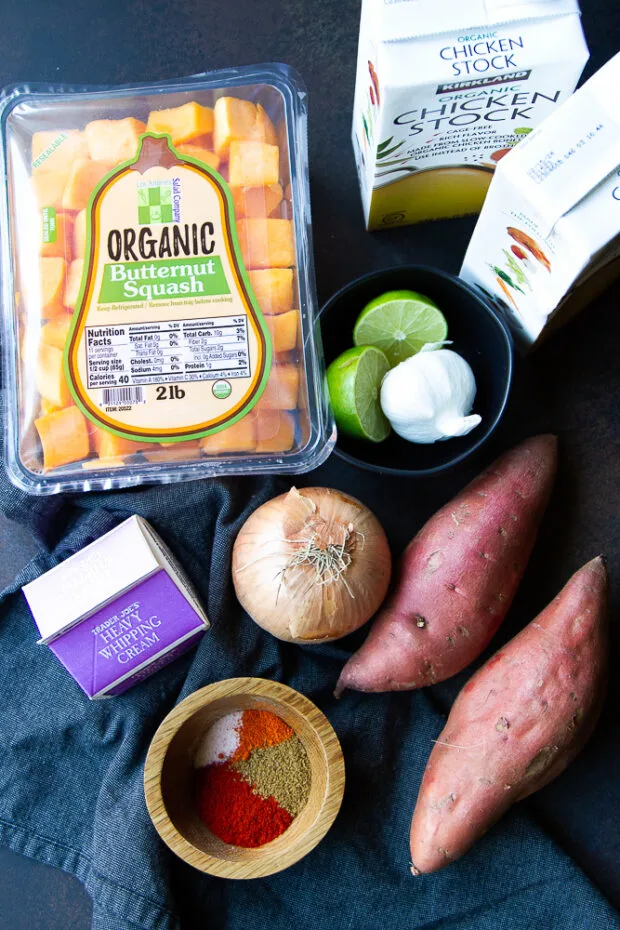 Sweet Potato and Butternut Squash Soup Ingredients
Butternut Squash – I HIGHLY recommend you buy a package of pre-cut butternut squash. It'll save you lots of time. Those don't have a long shelf life though, so try to use it within 4-5 days.
Sweet Potatoes – I like orange-colored "yams". (P.S. "Yams" are just orange sweet potatoes. It's a long story, but they aren't actually yams, despite being labeled as such in every grocery store.)
Onions
Garlic
Spices (smoked paprika, cumin, cayenne, salt)
Heat-Safe Oil – Use a high smoke point oil such as avocado oil or coconut oil.
Chicken Broth – You could make this a vegetarian/vegan soup by using vegetable broth, swapping out the heavy cream for coconut cream, and omitting the bacon.
Heavy Cream – Use coconut cream to make it dairy free.
Lime
Garnishes – Frozen corn, bacon, and avocado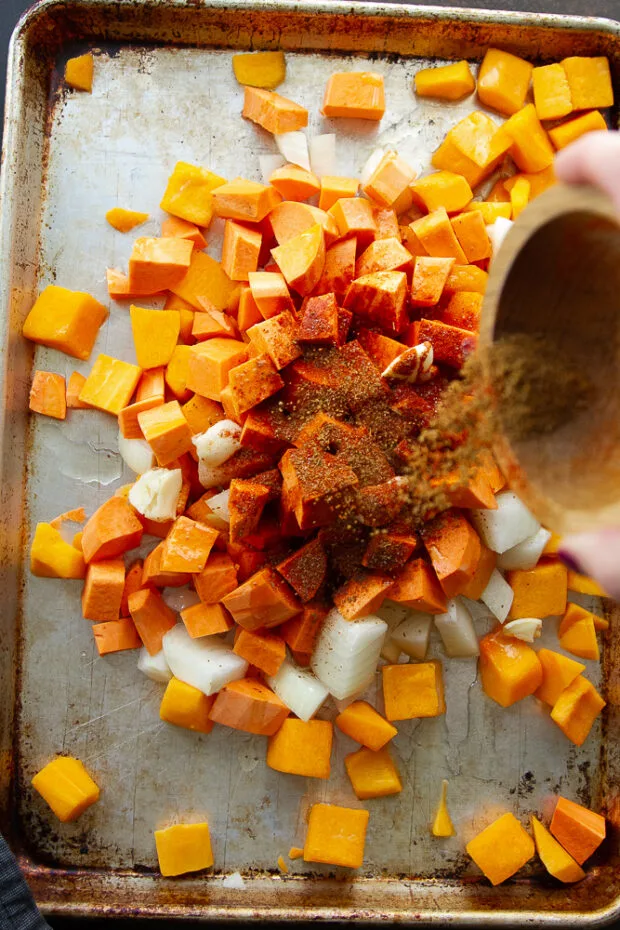 How to make Butternut Squash Sweet Potato Soup
Roast butternut squash, sweet potatoes, onion, and garlic with spices at 425 for 35-45 min until cooked through and caramelized around the edges.
Meanwhile, make the garnish by cooking the chopped bacon and frozen corn in a skillet until bacon is crisp and corn is toasted.
Transfer roasted vegetables to a big soup pot and add the chicken broth. Simmer for a few minutes, then blend.
Stir in the cream and juice from the lime.
Serve with some toasted corn & bacon and a few avocado slices.
How do you cut butternut squash for soup?
If you can't find pre-cut butternut squash, you'll have to cube a whole butternut squash. Here's what you do:
Make sure your knife is extra sharp.
Cut the stem end off the squash. Then cut the butternut squash in half where the bulbous half meets the straight half.
Peel both sections. Then slice the straight half into long planks and then into 1-2 inch cubes.
Slice the other section in half, scoop out the seeds, then slice into 1-inch strips and then cube them as well.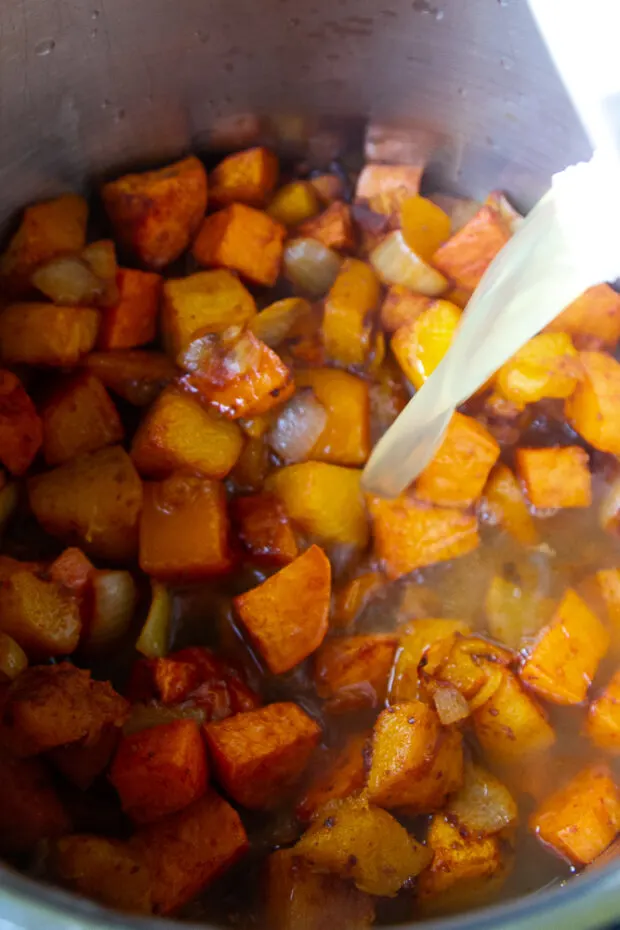 Butternut Squash and Sweet Potato Soup Recipe tips
Use pre-cut butternut squash. I mean… that's the BEST tip for ensuring this recipe goes smoothly and quickly.
Make sure to roast the vegetables well. If they aren't cooked until they're completely soft your soup won't be very smooth.
Prep the corn & bacon while the vegetables are roasting to save time.
Use an immersion blender (if you have one) for easy soup blending. Otherwise you'll need to do it in batches using a countertop blender.
If you'd like it spicier, bump up the cayenne measurement or add some hot sauce to your bowl when you eat it. It's not particularly spicy as is. My kids ate it with no issues.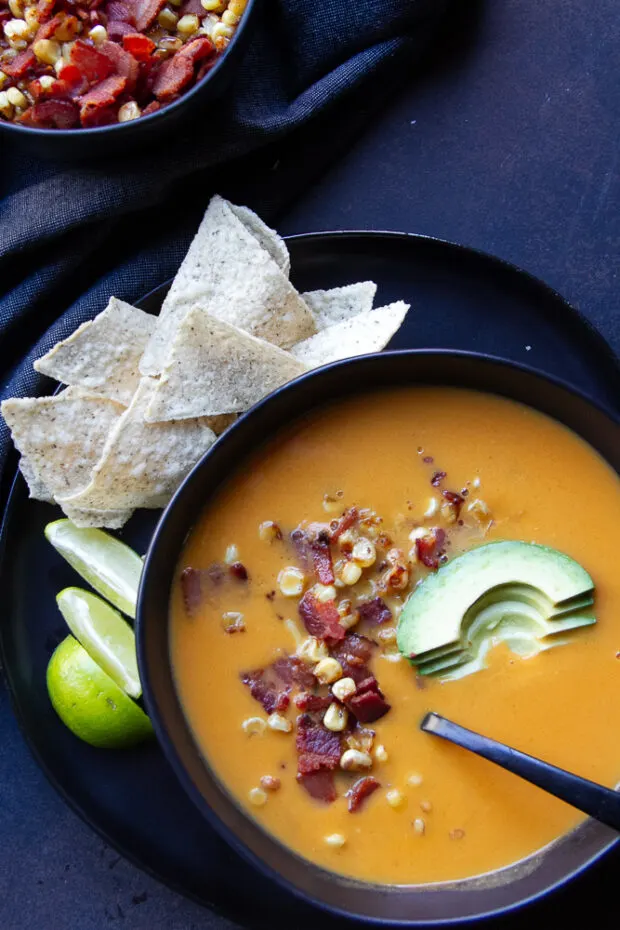 What to serve with this recipe for Sweet Potato and Butternut Squash Soup
This soup actually stands well on its own as a full meal, but if you want to serve it alongside something else, here are a few ideas:
My Avocado Green Salad has bacon and Parmesan shavings with a tangy avocado dressing and would carry the bacon-avocado theme well!
To keep things simple, make a batch of my Southwest Cabbage Slaw — just shredded cabbage dressed in a simple lime vinaigrette. It goes with so many things!
Make some Homemade Pico de Gallo and Homemade Guacamole and serve with some tortilla chips!
Storing Sweet Potato Butternut Squash Soup
Chilled: When the soup cools to room temperature, transfer it to a lidded container and store in the fridge for up to 5 days.
Frozen: This soup freezes beautifully! Transfer it (once it reaches room temperature) to a lidded freezer-safe container. I love and use these Deli Containers on Amazon all the time for freezing soups and broth.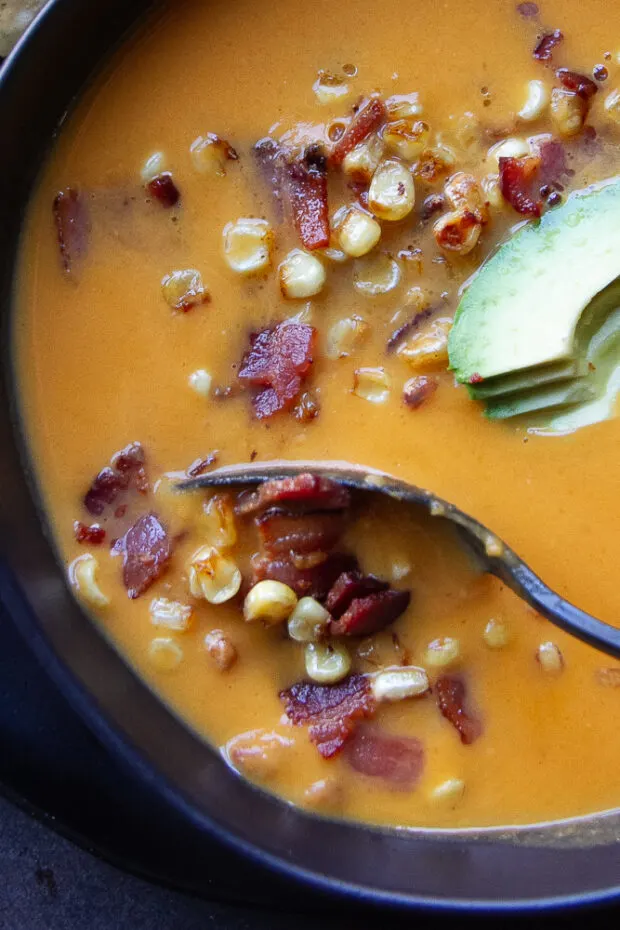 Butternut Squash and Sweet Potato Soup FAQs
What are the benefits of butternut squash and sweet potato?
Both vegetables have similar benefits, being high in fiber and a great source for beta carotene, antioxidants and potassium.
Does butternut squash need to be peeled for soup?
If you aren't using pre-cut butternut squash for this soup, you technically don't need to peel it to make the soup, but your soup will most likely not be as smooth as if you remove the peels.
Why does my butternut squash soup taste bitter?
I've heard of this problem, but I have not encountered it myself. According to a little research, it has to do with the growing conditions of the squash itself and is concentrated near the stem end of the squash. If you're using a whole squash, cut off an inch or two of the stem end as a precaution.

If you have already made the soup and it tastes bitter, try to improve the flavor by adding a little more fat (more cream in this case) or more spices. The roasting process creates natural sugars which can counteract bitterness, too, so I don't think this will be an issue for this soup.
Why is my butternut squash soup not smooth?
One reason would be not roasting the squash long enough. Make sure the biggest pieces on that roasting pan are very, very soft.

Another reason might be your immersion blender. Some aren't as powerful as others and you might have to blend it longer to get the texture you want or transfer it to a countertop blender.
---
If you make one of my recipes, be sure to post it on social media and tag me at @perrysplate or #perrysplate so I can send you some love!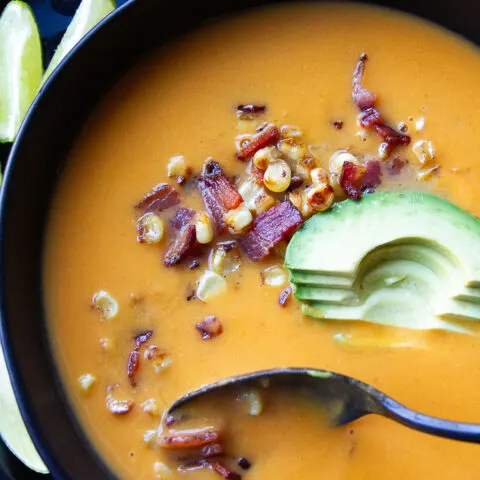 Sweet Potato and Butternut Squash Soup
This isn't just a regular butternut squash soup recipe. Butternut squash and sweet potatoes come together in an unexpected (but easy!) soup with southwest flavors and a fun little garnish. I've got a few pro tips to make this blended soup silky smooth and easy enough for a weeknight!
Ingredients
2 pound peeled and cubed butternut squash
1 1/2 pounds sweet potatoes, cubed (about 2 medium)
1 medium onion
3 garlic cloves, peeled
1 Tablespoon smoked paprika
2 teaspoons ground cumin
1/2 teaspoon sea salt
1/4 teaspoon ground cayenne
2 Tablespoons avocado oil
1 1/2 quarts chicken broth
1/2 cup heavy cream
Juice from 1 lime (2-3 Tablespoons)
For the Garnish:
1 10-12 ounce package of uncooked bacon
2 cups frozen corn
Sliced Avocados (1-2)
Instructions
Preheat oven to 425F degrees. Prepare a large rimmed baking sheet with nonstick spray or a sheet of parchment paper.
Place the squash and sweet potatoes on the baking sheet. Peel and cut the onion into large chunks and add it to the baking sheet. Add the garlic cloves and spices to the pan on top of the vegetables. Drizzle the oil over top.
Use your hands to coat everything in the spices well. Roast on a lower oven rack for 35-45 minutes, flipping things around every 10-15 minutes until the squash and potatoes are very soft and have caramelized edges.
While the vegetables are roasting, chop the bacon and cook it in a large skillet with the corn for 15-20 minutes until the bacon has crisped up and the corn has toasty brown spots. Use a slotted spoon to transfer it to a paper towel lined bowl or plate. Set aside.
When the vegetables are finished roasting, transfer them to a large soup pot. Add the 5 cups of the chicken broth and bring to a boil. Simmer for about 5 minutes.
Remove the soup from the heat, blend with an immersion blender until completely smooth. Stir in the heavy cream and the lime juice. If you'd like the soup a little thinner, add the remaining cup of chicken broth gradually until you reach the right consistency.
Taste, adding more salt or lime juice if you think it needs it.
Serve with a few spoonfuls of the toasted corn and bacon and a few avocado slices.
Recommended Products
As an Amazon Associate and member of other affiliate programs, I earn from qualifying purchases.
Nutrition Information
Yield

8
Serving Size

1 bowl
Amount Per Serving
Calories

2058
Total Fat

182g
Saturated Fat

61g
Trans Fat

1g
Unsaturated Fat

110g
Cholesterol

301mg
Sodium

3683mg
Carbohydrates

45g
Fiber

8g
Sugar

15g
Protein

60g
The information shown is an estimate provided by an online nutrition calculator. It should not be considered a substitute for a professional nutritionist's advice.
This post may contain affiliate links. Any purchases made by using these links won't cost you any extra and helps keep my content free. These links may be Amazon links as I am part of the Amazon Associate Program.