I can't believe I've never made Thai curry in the slow cooker.
I had intended to make Indian curry, but I remembered the Thai curry paste I had in the fridge. I'm convinced that stuff lasts forever, but I didn't want to take my chances. So, Slow Cooker Thai Chicken Curry was born.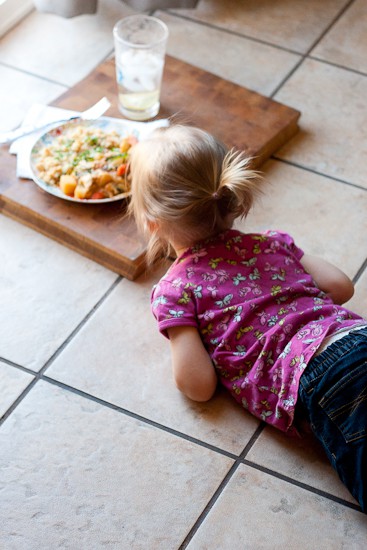 Remember her? She's still as curious as ever.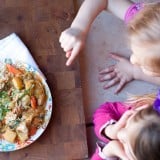 No matter what's on the floor (where my best lighting happens to be… ahem.) she'll come over and inspect it. Her impulse control impresses me. Unless it's a plate of cupcakes, and then, well… she acts like she's going to explode unless she can rip little pieces out of it. Which she does eventually.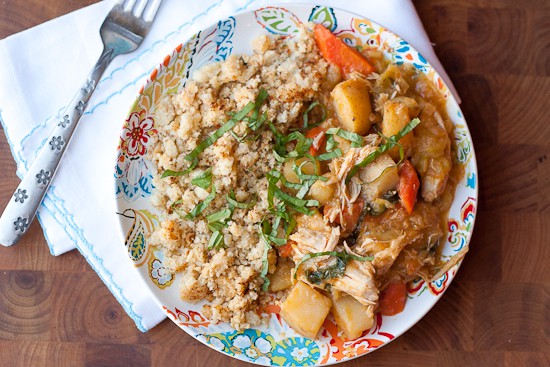 I have to tell you, though. This curry really surprised me. It had so much flavor and was mild enough that my little girlfriends absolutely loved it. The chicken falls apart and the vegetables are super tender. I used zucchini, and was a little bummed that it cooked down to a pulp, but then I realized it thickened the sauce. Awesome.
(Plus my kids don't like zucchini anyway, so that helped.)
And yes, I used Yukon gold potatoes, but you can use sweet potatoes as well, if you're watching your starch intake. I also served this with plain cauliflower rice, but I roasted it instead of sauteeing it in a skillet and I LOVE, LOVE it that way. I'll have to make a post dedicated to that. It's worth it.
If Thai curry is your thing you might also like these…
Thai Chicken Curry Soup (Chicken Khao Soi)
Thai Shrimp Curry with Summer Squash (Homemade curry paste recipe, too!)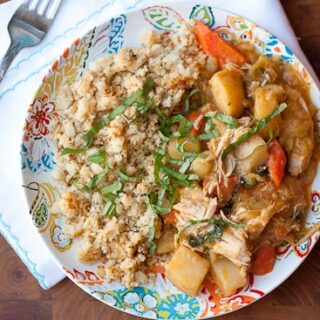 Slow Cooker Thai Chicken Curry
Additional Time:
40 minutes
This slow cooker Thai chicken curry is SO flavorful! The chicken is super tender and the vegetables create a perfect sauce to spoon over cauliflower rice.
Ingredients
2 Tablespoons coconut oil
Kosher salt
3 large boneless, skinless chicken breasts
1 large onion, peeled and small diced
1 1/2 inch knob of fresh ginger, minced
1-2 Tablespoons red or green curry paste (I used red)
1 13-ounce can of coconut milk
Zest and juice from one lime
2 Tablespoons fish sauce
1 teaspoon Kosher salt
2 medium zucchinni, cut into 1-inch pieces
3 large carrots, peeled and cut into 1-inch pieces
3 medium Yukon gold potatoes, cut into 1-inch pieces (or 1 large sweet potato)
1 bunch fresh basil, sliced thinly
Rice (or cauliflower rice) for serving.
Instructions
Heat 1 T coconut oil in a large skillet over medium-high heat.
Sprinkle chicken breasts with a generous pinch of salt and add to skillet, searing on both sides until they are golden brown, but not cooked all the way through. Transfer chicken to a 4 quart slow cooker.
Add 1 T coconut oil to the skillet, then add the onion and ginger. Cook, stirring occasionally, until onion is translucent and slightly brown, about 7-9 minutes.
Add curry paste to the skillet and cook for 1 minute. Add coconut milk, zest and juice from the lime, fish sauce, and 1 teaspoon salt. Heat until bubbly, then remove from heat.
Add chopped zucchini, carrots, and potatoes to the slow cooker. Pour the curry sauce over the top.
Cook on high for 3-4 hours or low for 5-6 hours.
Remove the chicken from the slow cooker. (If you can. It will probably fall apart.) Shred chicken into large chunks, then return to the slow cooker.
Stir in half of the basil a few minutes before serving. Reserve the rest as a garnish. Spoon chicken curry over cauliflower rice, regular rice, or quinoa.

SaveSave
SaveSave