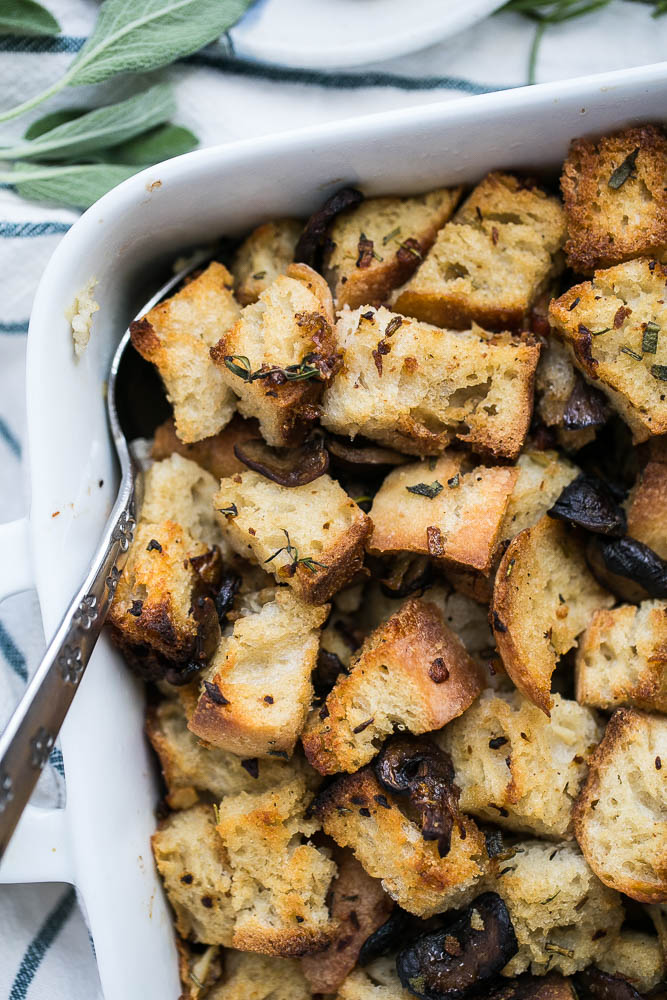 I was debating whether or not to post this sourdough stuffing recipe because I've tried to keep all of my content gluten-free for the past several years. (And most of the time dairy-free and grain-free as well.)
This stuffing is just tooooo good, though. The bits of roasted garlic, caramelized mushrooms, and crispy pancetta take it over the top. This recipe needed a home here.
And you could use any gluten-free crusty bread loaf in place of sourdough!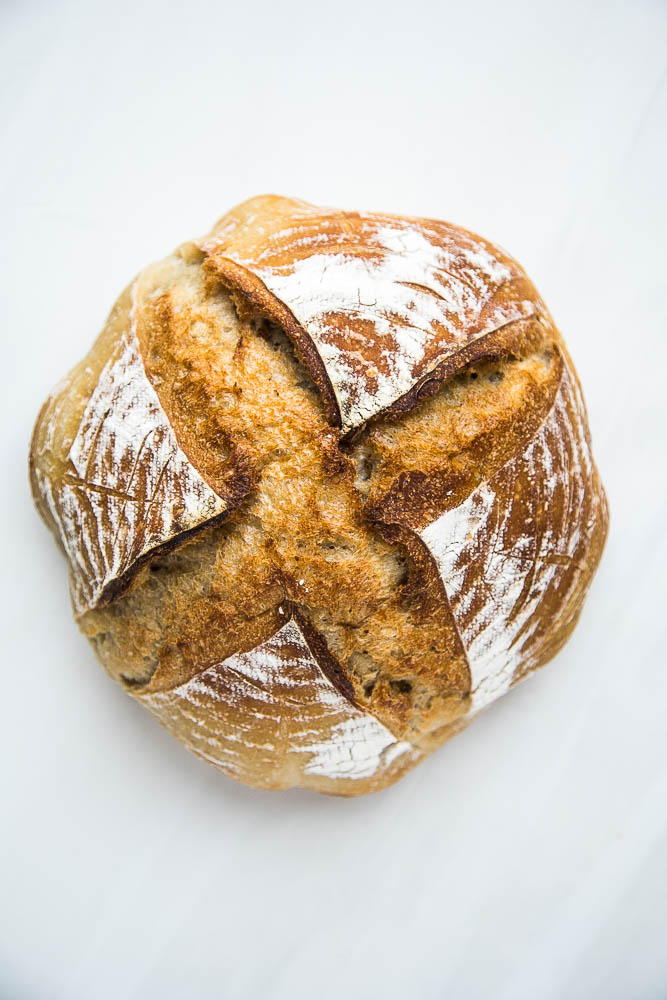 Anyone else take on the sourdough challenge of spring 2020? I loved seeing people with starters on their counter trying to pass the time at home.
I restarted my sourdough starter in 2019 and "Matilda" was still alive a year later — I guess she liked being a part of our family.
I've grown to LOVE baking sourdough bread and sourdough pizza, and I find that my gut can handle traditional sourdough baked goods MUCH better than regular wheat bread. For that reason I may branch out and post a recipe or two using sourdough discard or sourdough bread.
I don't anticipate posting Sourdough 101 tutorials because I don't feel qualified to answer super technical questions about caring for sourdough and making bread, but I can direct you to some good resources if you like. Just email me at natalie@perrysplate.com or message me on Instagram — @perrysplate and I'd be happy to help!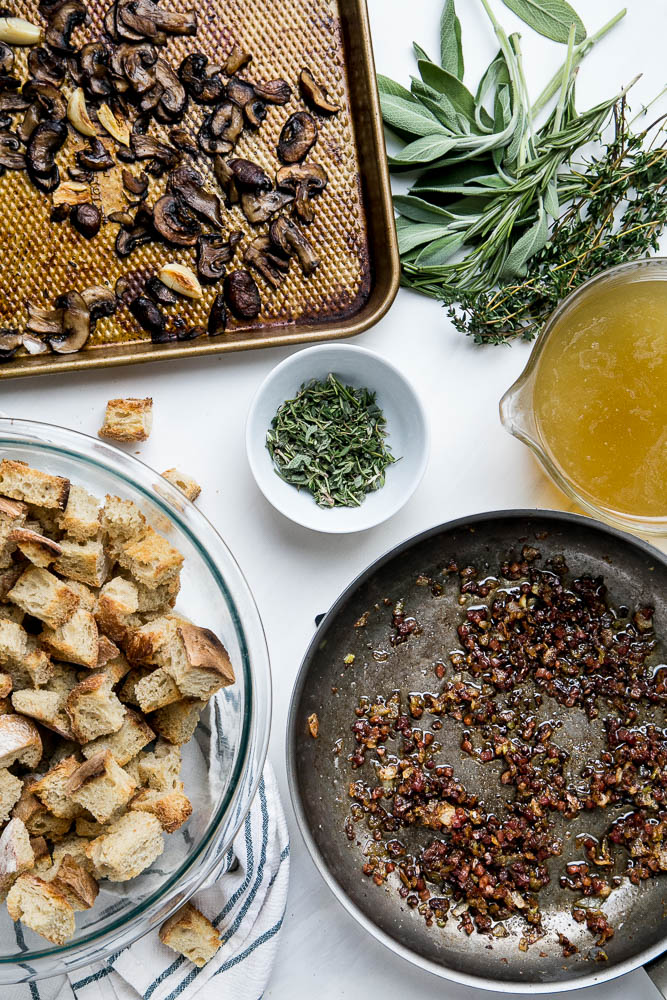 Ok, back to this glorious stuffing.
The first time I had sourdough stuffing was one of our first Thanksgivings after we moved to the San Francisco Bay Area for chiropractic school. I've always loved stuffing, and the version I tried with butter-sauteed mushrooms and fresh herbs blew my mind.
How do you make sourdough stuffing?
Yes! Making homemade sourdough stuffing is more work than using a boxed kit, but it's totally worth it. (Steve and I ate an entire pan by ourselves in one day while I was testing this out for you. True story. It's that good.)
Like all multi-component recipes, it takes some time, but it's not difficult and you can make a lot of the components ahead of time. Here's a basic overview with options for doing it ahead of time:
Toast the bread cubes (5-7 days in advance)
Roast the mushrooms & garlic (3-4 days in advance)
Saute the pancetta and vegetables (3-4 days in advance)
Combine everything along with fresh herbs and chicken broth (1-2 hours in advance)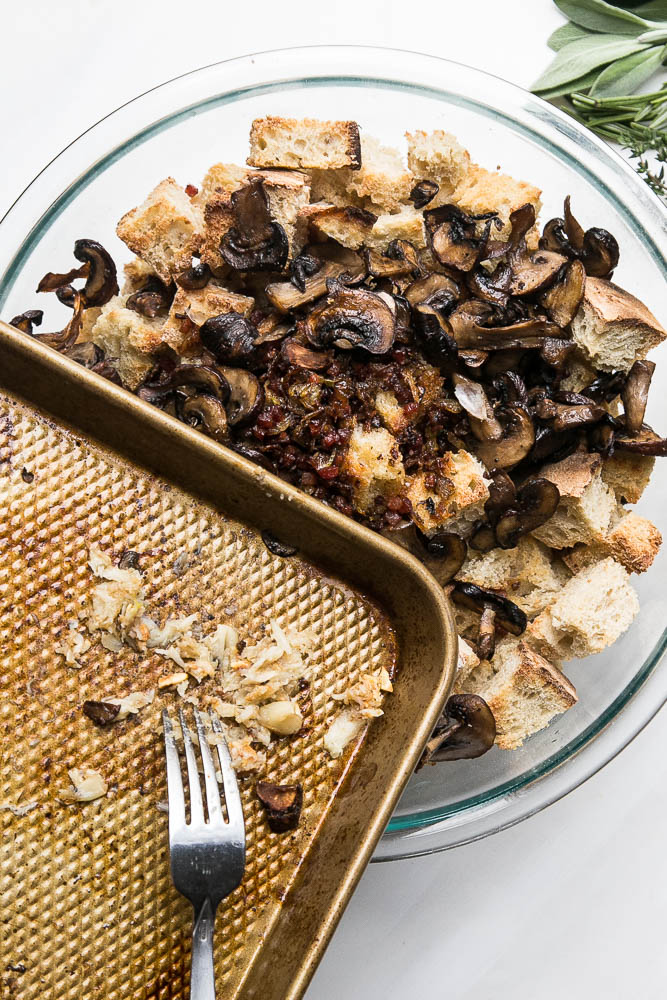 Why roasted garlic?
Roasted garlic seems like a fussy addition, but when you roasted it with the mushrooms and then smash it up with a fork it's super easy.
The bits of roasted garlic are super delicious in sourdough stuffing and pair so well with the roasted mushrooms and pancetta, so don't skip this part!
Substitution for pancetta?
Pancetta is like an Italian form of bacon. (Sort of) If you can't find or don't want to use pancetta, just use 4-6 ounces of chopped bacon.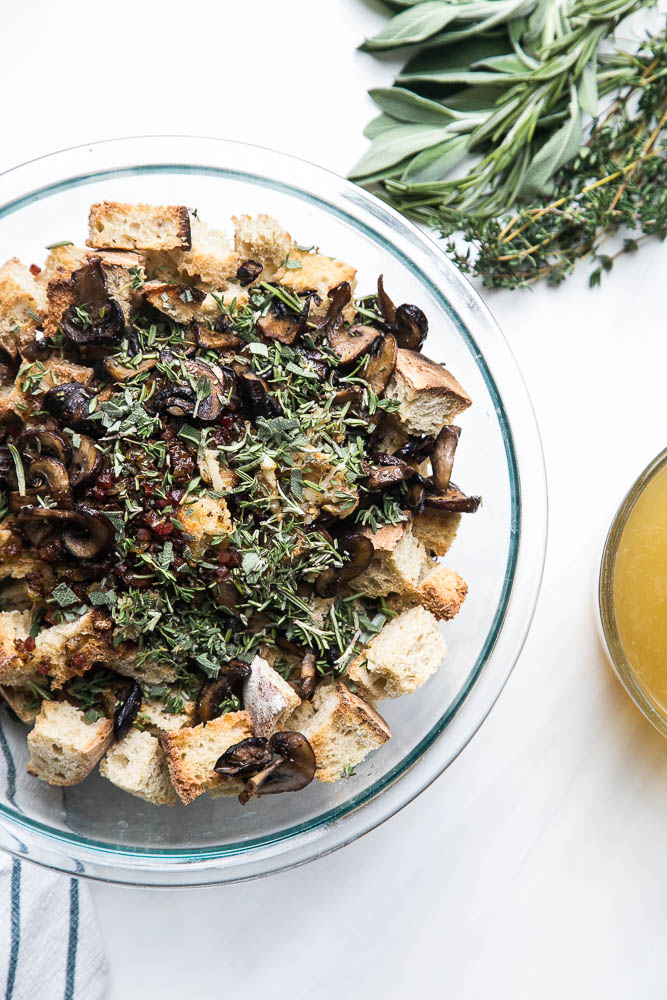 What fresh herbs do I in homemade stuffing?
Around October and November you'll see more "poultry herb mix" at the grocery store that contain a few sprigs of rosemary, thyme, and sage.
A small box of the poultry mix is perfect for this recipe and will give you roughly 2-3 Tablespoons of minced fresh herbs.
You can also use fresh parsley, if you like. I think parsley tastes like grass most of the time, so I leave it out.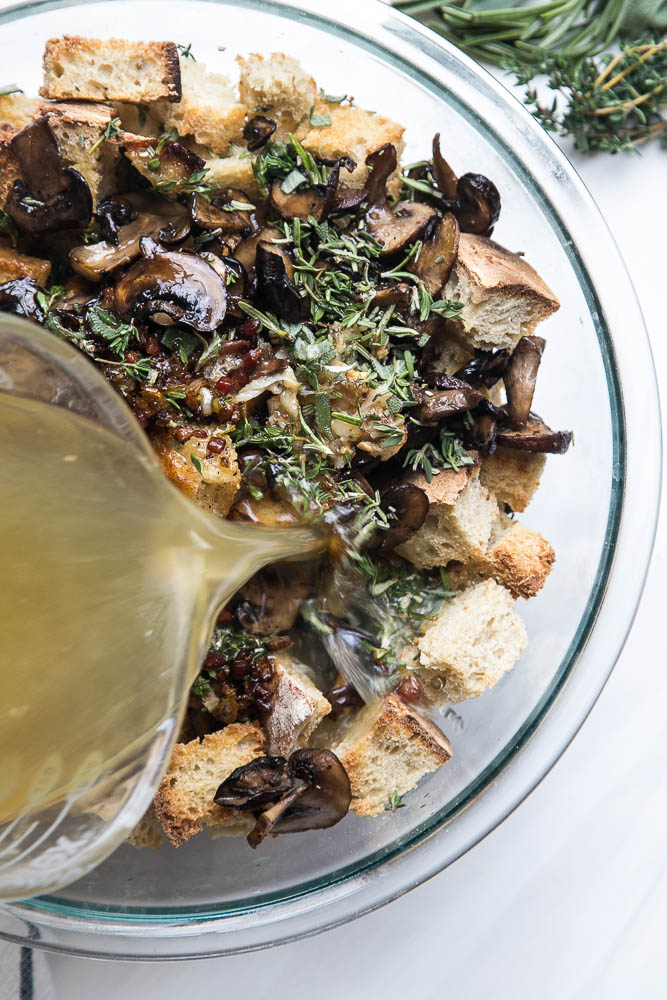 If you happen to have some Homemade Chicken Bone Broth on hand aka liquid gold — definitely use that here! Using store-bought is totally fine, too.
Oh, and If you happen to make your own and you don't salt it, take that into consideration when salting your sourdough stuffing. (I added a note about this in the recipe.)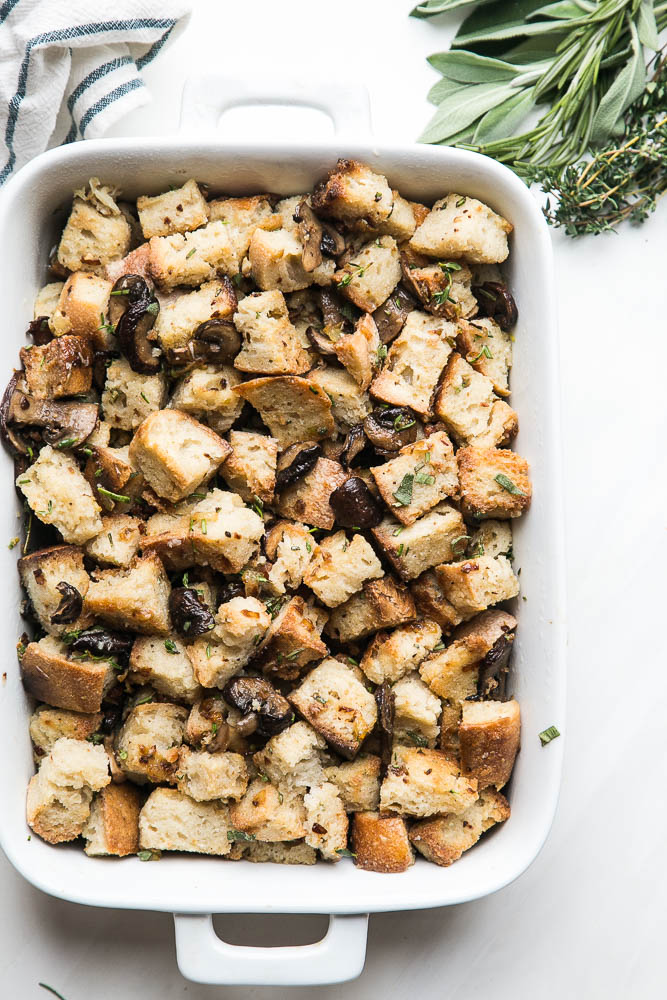 This recipe will make a full 9×13 pan full of sourdough stuffing. The amount of broth you use will depend on how dry and dense your sourdough bread is.
Dryer, more dense bread will soak up more broth, so you may need to add more so your stuffing doesn't dry out. You'll want enough broth to have a little sitting in the bottom of your pan before you bake it.
If you have too much your bread will get super soggy and if you don't have enough it'll be dry underneath and scorch on the bottom.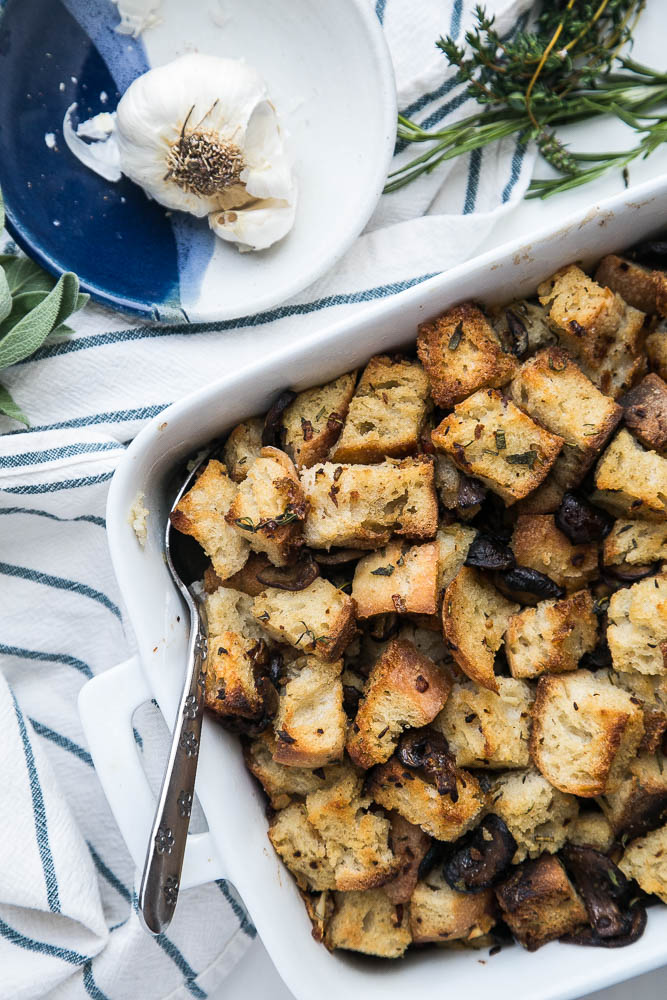 How do you know if your sourdough stuffing is done baking?
The top layer should have golden brown, crispy bits and the layer underneath should be moist — but no chicken stock should be sitting at the bottom of the pan.
If you check 2/3 the way through cooking time and the bottom is starting to get dark, drizzle 1/2 cup of chicken broth over the whole thing.
Can you make sourdough stuffing ahead of time?
Yes! Here are a few options:
Make all of the components ahead of time (scroll up for make-ahead times for each component) and assemble/bake the stuffing the day you intend to eat it.
Assemble the stuffing in the baking dish the night before. (You may need to pour 1/2 cup or so of chicken broth over the top before you bake it since it may have dried out some.) Just add a few extra minutes of cooking time to make sure it's good and toasty.
Assemble the stuffing and bake it the day before and reheat it about 45 minutes before you plan to eat. Again, you may need to add 1/2 cup of chicken broth if it looks too dry. 20-30 minutes in a 350 degree oven should do it.
I'm excited for you to try this stuffing! It's my all-time favorite recipe and it even converted my in-laws. One Thanksgiving I asked if I could bring stuffing and my mother-in-law said, "Oh, we don't usually make stuffing. No one really eats it."
After I picked my jaw up off the floor I told her I'd make a really great version and I brought some sourdough stuffing. Stuffing is my favorite part of Thanksgiving and if anything I could eat most of it myself. (heh)
There wasn't a speck left, guys. (And I didn't eat it all myself…)
More Delicious Thanksgiving Recipes
Here are a few of my favorite Thanksgiving recipes from my site….
Dry-Brine Turkey with Orange & Rosemary Herb Butter — Dry-brining a Thanksgiving turkey is WAY easier than a wet brine! Check this turkey out — it even has a citrus herb butter that gets slathered under the skin.
Instant Pot Garlic Mashed Potatoes — You'll never go back to making mashed potatoes on the stove. This is so much easier and saves precious stove space!
Wassailed Cranberry Sauce — Confession: I don't like cranberry sauce on turkey. I'd much rather eat it on rolls, pancakes… ice cream… get my drift? This homemade cranberry sauce is filled with sweet citrus and spices that reminds me of a cup of wassail.
Grandma Inez's Pineapple Pie — Hands down, my favorite pie in the whole world. Think lemon meringue, but with pineapple instead of lemon.
Perfect Gluten-Free Pie Crust — People don't even realize this is a gluten-free crust, guys. It's just as buttery and flaky as the real deal.
If you're doing a low-carb or keto Thanksgiving dinner, check out my 10 Keto Thanksgiving Recipes!
---
If you make this recipe, be sure to post it to social media and tag me at @perrysplate or #perrysplate so I can send you some love!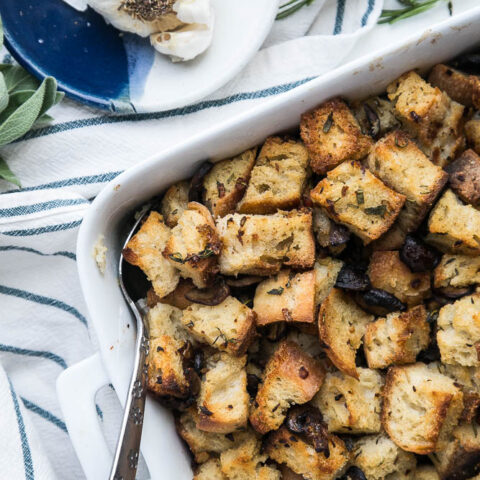 Sourdough Stuffing with Roasted Garlic, Mushrooms, and Pancetta
Homemade sourdough makes AMAZING stuffing! Mixed with loads of fresh herbs, roasted garlic and mushrooms and bits of crispy pancetta takes it over the top. (All it needs is a side of Thanksgiving turkey & gravy drizzled over the top.)
Ingredients
1 crusty sourdough loaf (1 1/2-2 pounds)
8-10 ounces of sliced cremini or baby bella muchrooms
6 whole cloves of garlic, peeled
2 Tablespoons avocado oil
4 Tablespoons butter
1 cup diced onion
2 celery stalks, diced
4 ounces pancetta or bacon, diced (if it isn't already)
3 Tablespoons minced fresh herbs (thyme, rosemary, sage)
4 cups chicken broth
1/2 teaspoon sea salt
Instructions
Preheat the oven to 400 degrees F. Prepare a 9x13 baking dish with nonstick spray.
Slice or tear the bread into 1-1 1/2 inch pieces. Place them on a baking sheet.
Put the mushrooms and garlic on another baking sheet and toss in the avocado oil. Place both baking sheets in the oven (mushrooms on a lower rack). Roast for 20-25 minutes until the bread is completely crispy and hard and the mushrooms and garlic are golden brown.
Meanwhile, melt the butter in a medium skillet over medium-high heat. Add the onion, celery, and pancetta. Cook for 15-20 minutes or until the pancetta is crispy and the onions and celery are soft and caramelized.
Put the bread cubes in a very large bowl along with the sauteed pancetta mixture and fresh herbs. Separate the garlic cloves from the mushrooms and smash them with a fork. Add the mushrooms and garlic to the bowl.
Pour the chicken broth over everything and mix it well. Let it sit for 5 minutes or so to let the bread cubes soak up the broth, stirring a couple of times.
Reduce the oven temperature to 350 degrees F. Transfer the stuffing to the 9x13 baking dish and bake it for 35-40 minutes until the top of the stuffing is golden brown with crisp edges and no more chicken broth remains in the bottom of the pan.
Let the stuffing cool for 10 minutes before serving.