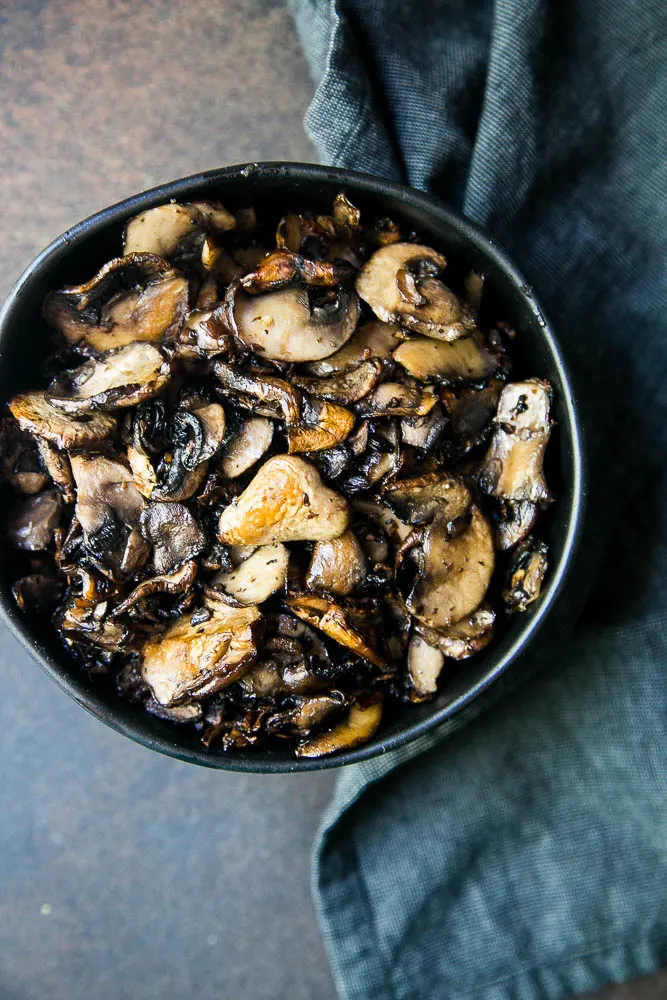 I can't believe that I'm posting a recipe that's basically a bowl of mushrooms.
I used to hate mushrooms — did you know this?
It wasn't until I was an adult that I learned to appreciate them. Butter may have had something to do with it. Mushrooms sauteed in butter were my gateway.
AND THEN I ROASTED MUSHROOMS.
Roasted mushrooms are one of the most delicious roasted vegetables (fungi?) ever. Especially when you throw in some shaved garlic. Fresh rosemary is nice, too.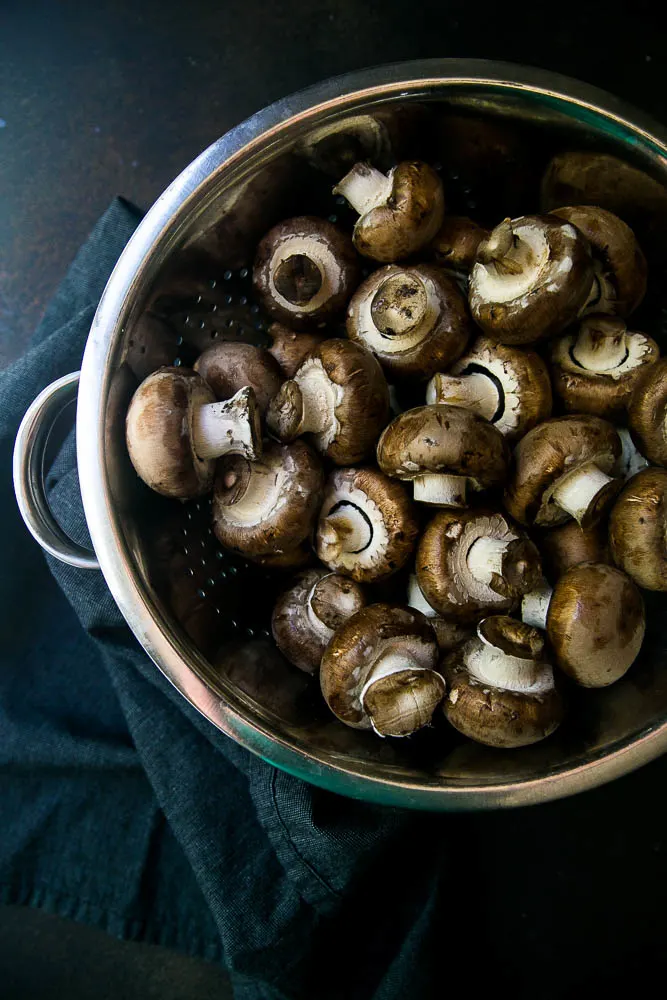 How to Wash Mushrooms
Short version: I rinse mine in a colander.
Long version: Most of the time you'll hear that you aren't supposed to rinse mushrooms because they'll absorb a lot of water, rendering them useless. (OK, maybe not useless. I exaggerated a bit.)
The most common way people clean their mushrooms is by wiping them off with a kitchen towel or a paper towel. I never felt OK about this because most mushrooms I buy are pretty dirty. We're talking mini dirt clods. I thought they needed more than a little towel rub.
And then I watched an episode of Good Eats where Alton Brown (who, is a scientific culinary genius) did an experiment to see how much water mushrooms actually absorbed.
It turns out they absorb the same amount of water if they're lightly sprinkled with water as they do when they're fully submerged for a few minutes. And it's not a lot of water.
So I rinse mine and use my hands to get all the dirt off.
What's your stance on washing mushrooms? I'm super curious.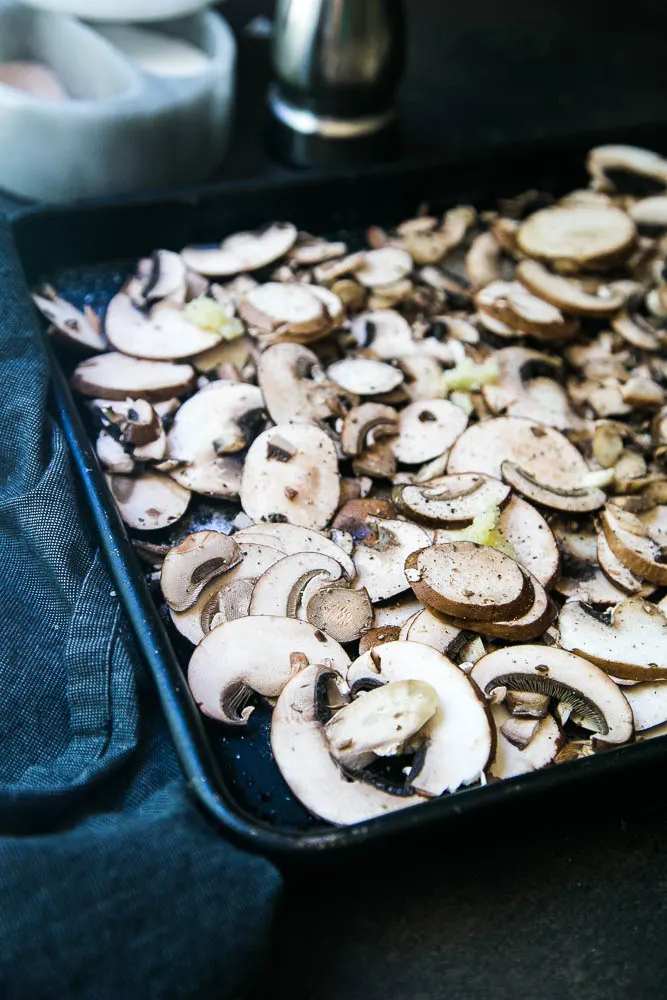 How to Roast Mushrooms
What is your end goal? Are you wanting to add some flavor before pureeing them into a soup? My Paleo Creamy Mushroom Soup starts off by roasting the mushrooms with the onion and garlic. I just quarter them and throw them on the pan.
If you want them to be extra rich and flavorful and have chewy/crispy bits, then slice them.
Sliced mushrooms are easy to find at the store (and tend to be cleaner than whole mushrooms), but you can easily slice them at home. I like to use the slicing attachment on my food processor.
I just add a drizzle of avocado oil, salt, pepper, and some Microplaned grated garlic. Sometimes I add some fresh rosemary or thyme (which is fantastic).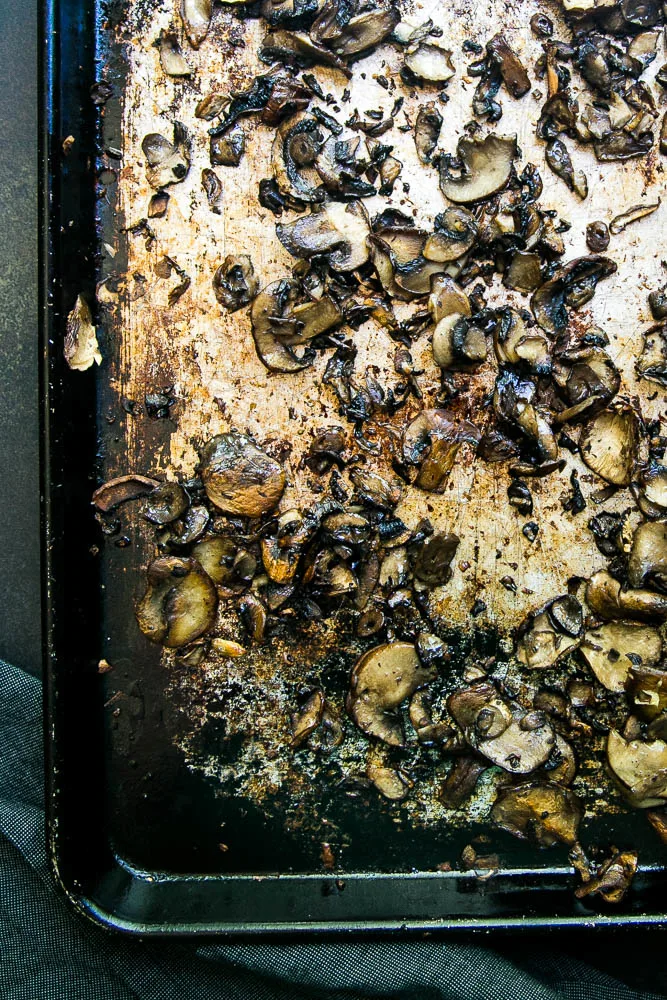 And don't be afraid of loading up that sheet pan. See these cooked mushrooms? This is a whole pound (the same pan you see in the photo above this one). I normally roast two pans at once so I'll end up with more roasted mushrooms.
How long to roast mushrooms?
And cook them for at least 20-25 minutes so they're golden brown. You'll get a better flavor and texture that way.
99% of the time I roast mushrooms it's for my personal meal prep so I like to have a lot on hand to toss into salads, rice bowls, or any other leftovers I'm heating up for lunch.
Did you know I added a Meal Prepping section to my index? If you're a fan of prepping ingredients and simple recipes ahead of your busy meal schedule, check it out. You'll find all of my favorite things to make when I do my own meal prepping.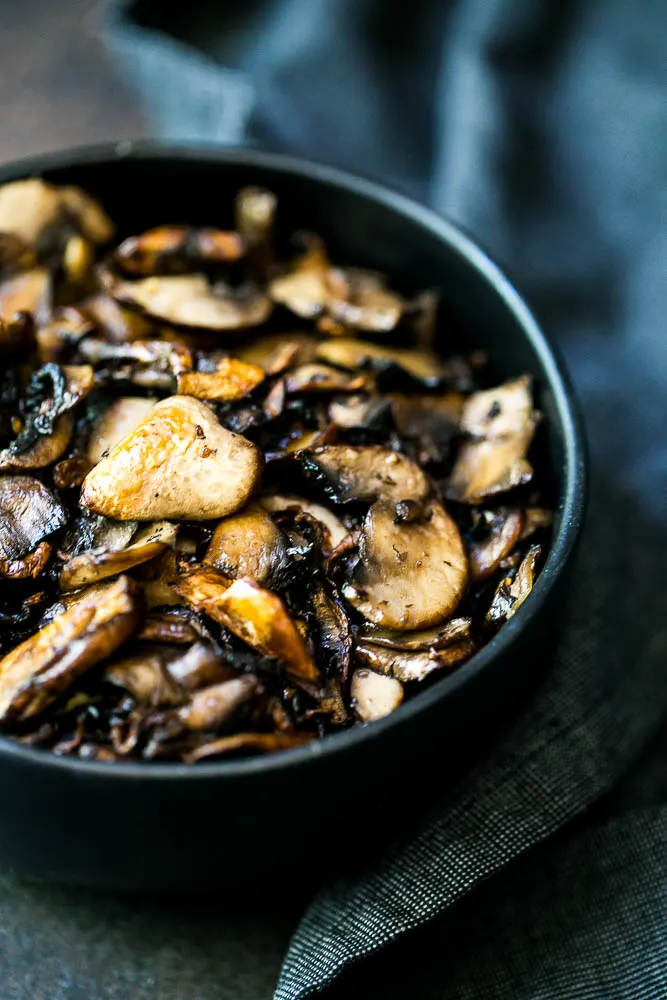 Aren't these just gorgeous? They're so earthy and delicious. I still can't believe how much I love them after hating mushrooms for 80% of my life.
More Recipes with Mushrooms
If you're a mushroom lover, too, check out these other recipes I've got that feature mushrooms!
Creamy Paleo Mushroom Soup with Bacon & Cheese Crisps — I know I already mentioned this one, but this soup is literally in my top 10 soups of all time. (Even my mushroom-hating kids like it.)
Spaghetti Squash with Roasted Mushroom & Garlic Sauce — This is a one-pan paleo & vegetarian wonder!
Double Mushroom Burgers with Roasted Garlic Aioli — Easily one of the best burgers I've ever eaten. I don't know what's better — the dried mushrooms incorporated into the burgers or the roasted garlic aioli. It's all super fabulous.
Rustic Mushroom Tart — I love using my Gluten-Free Pie Crust for this delicious vegetarian mushroom tart with fresh herbs and cheeses. It's SO GOOD.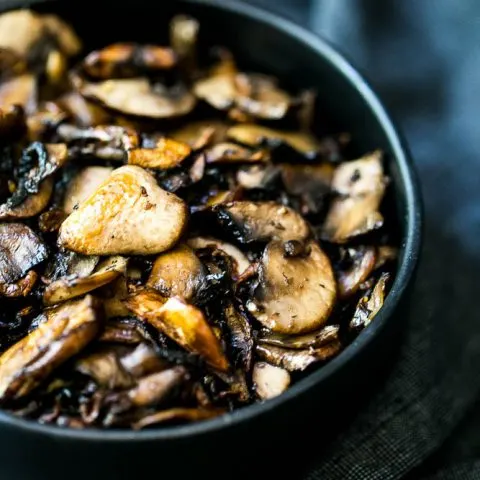 Easy Roasted Mushrooms
Yield:
Makes about 1 1/2 cups
Roasted mushrooms are one of my go-to meal prepping recipes! I love adding them to salads, rice bowls, or alongside any protein we're serving during the week. Be sure to cook them for nice and long so they're caramelized!
Ingredients
1 pound sliced mushrooms, any kind
2 Tablespoons avocado oil
1/4 teaspoon sea salt
2 whole garlic cloves, finely minced or grated with a Microplane grater
2 teaspoons minced rosemary or thyme leaves (optional)
Instructions
Preheat your oven to 425 degrees F.
Put the mushrooms on a heavy rimmed sheet pan and drizzle with oil. Sprinkle on the salt, pepper, garlic, and herbs (if using). Use your hands to mix everything well and spread them out evenly on the pan.
Roast on a lower oven rack for about 20 minutes, flipping them around every few minutes so they develop caramelized edges.N
Remove from the oven and allow them to cool for about 10-15 minutes before transferring them to a serving dish or for storage in the fridge.
Notes
Nat's Note: Feel free to double this recipe, using two pans. Just rotate the pans halfway through cooking and allowing an extra 5-10 minutes or so to get that golden caramelized color.
Recommended Products
As an Amazon Associate and member of other affiliate programs, I earn from qualifying purchases.