Looks can be deceiving. Pizza crust isn't traditionally green, but just trust me on this one.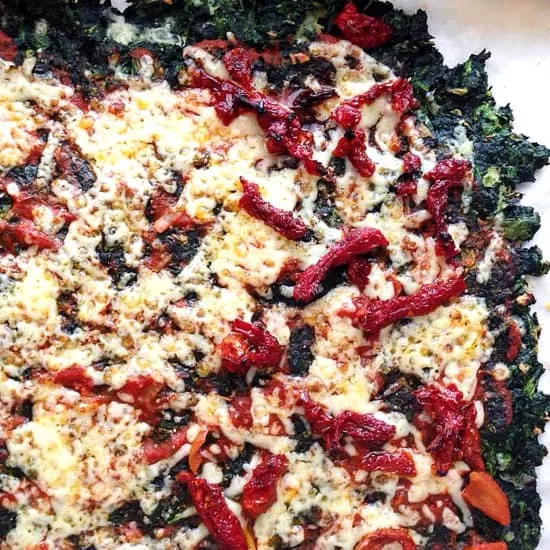 Alright, this is one of those recipes where you're just going to have to trust me. I know we eat with our eyes first, but just close them for a second, OK?
I've been toying with alternative gluten and grain-free pizza crusts for a while because pizza is one of my favorite things ever. My kids love it. Plus, I can't imagine a life without it. Or very little of it.
I've gone the cauliflower pizza crust route with a lot of variations. I've tried almond flour/coconut flour crusts, too. They're alright, but just not what I'm looking for in an every day pizza crust.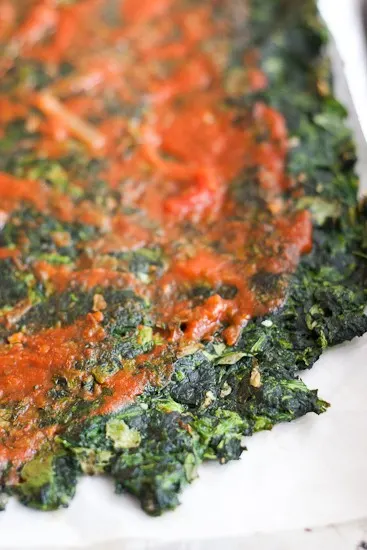 When I received Let Them Eat Kale! by my dear bloggy friend, Julia Mueller (who writes over at The Roasted Root), I zeroed in on her pizza crust — made almost entirely of greens.
I admit, I didn't have super high expectations with something so saturated in greens. And by expectations, I mean expecting my kids to eat it. The older ones (7 and 5) helped me through the whole process and CLEANED THEIR PLATES. Even the 2-year-old ate it right up. You may assume it was because I put pepperoni and cheese on it, but I've made crusts in the past where they eat the toppings off and leave the crust. I thought maybe I caught them on a particularly cooperative day, so I made it again this week and . . .
BOOM. Plates cleaned again. I think I have struck gold.
You can find a slightly adapted version of Julia's recipe below!
Meanwhile, I want to tell you about her book.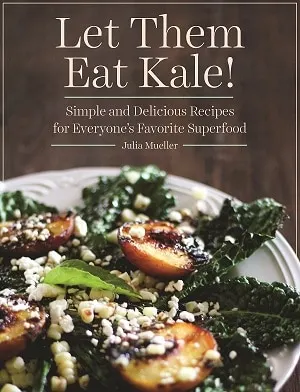 Kale seems to be having a hey-day right now and Julia offers an entire book dedicated to it!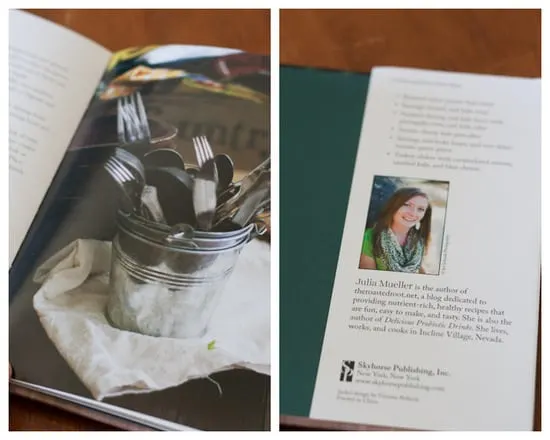 I love all of Julia's rustic photography she did for her book. Yep, she did all herself. (I think…) Oh, and there she is! *waves* Hi Julia!
Julia is one of the only bloggers I've met in real life, and she lives less than an hour away from me, tucked away in the mountains. We even went to So You Think You Can Dance Together last year when they came through Reno on tour! OK, Valerie and Ricky? Killing me right now.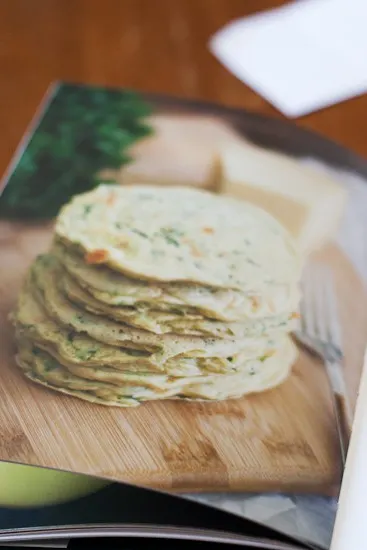 Know what also is killing me? Julia's Savory Cheesy Kale Pancakes. I made them for brinner one night with some chicken & apple sausage and fried eggs. Um… that ranked in my top 5 favorite brinners ever. Seriously. And the next day I used the leftover pancakes to make grilled ham and cheese sandwiches for lunch. They're not paleo (Um, hello cheese. I love you.) but they're milk and gluten-free.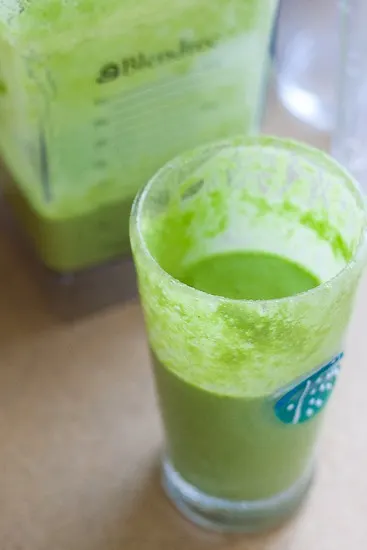 I also tried her Green Apple Ginger Smoothie. It reminded me of my Green Smoothie (that actually tastes good), but simplified and creamier. Loved it, and I fully intend to make it regularly once apples come back in season!
So yes, Let Them Eat Kale = awesome book. I can't wait to try more! Go grab a copy!
In the meantime, here's that crazy (but seriously delicious) crust recipe. Enjoy!
---
If you make one of my recipes, be sure to post it on social media and tag me at @perrysplate or #perrysplate so I can send you some love!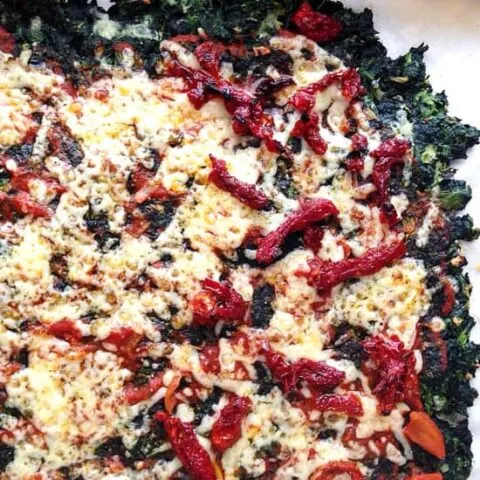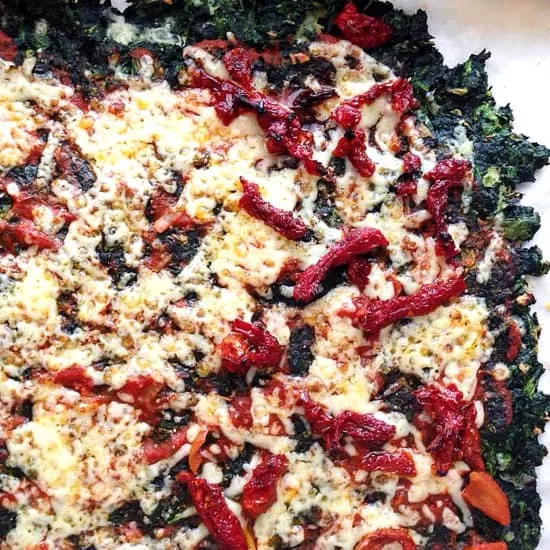 Greens Pizza Crust
Total Time:
1 hour
5 minutes
From Julia: It may seem strange to build a pizza on kale and spinach, but greens make an incredibly tasty crust! This nutritious and gluten-free crust can be used to make your favorite pizza, or cut into squares for making sandwiches or paninis.
Ingredients
1 pound bag frozen chopped kale
1 pound bag frozen chopped spinach
2 Tablespoons preferred cooking oil (Butter and bacon drippings are especially good. Clearly.)
5 cloves garlic, minced
generous pinch of salt
4 eggs
a handful of fresh basil, chopped (optional)
pizza sauce
your favorite toppings
Instructions
Preheat oven to 350 degrees F. Spread the frozen kale and spinach on a rimmed baking sheet, breaking up the larger chunks. Bake for 10 minutes or long enough to thaw the greens. Remove from the oven and squeeze the excess juice out (save the juice for smoothies!). I used my hands, but you can use cheesecloth or a flour sack dishtowel.
While the greens are thawing, bring the oil to medium heat in a small skillet. Add garlic to skillet and cook for just a few minutes until the garlic is fragrant and softened. (I like it a little golden brown for more of a toasted garlic flavor, but be careful because it burns easily and continues to brown when you remove it from the heat!) Remove garlic from heat and allow to cool.
In a medium-sized mixing bowl, whisk the eggs. Add the greens and garlic/oil mixture to the bowl and mix well. You may have to switch to a rubber spatula or a wooden spoon for this. If you are using the fresh basil, add it to the mixture now. Stir until the eggs and greens are mixed well.
Increase oven heat to 375 degrees F. Cover your pizza pans (or a rimmed baking sheet) with a sheet of parchment paper. Transfer the greens mixture to the parchment and spread them around in a thin, even layer. Hands work really well for this. Place crust in the oven and bake for 30-35 minutes until the edges are turning a little brown and beginning to crisp. The center of the crust should also feel firm.
Remove the crust from the oven and turn oven up to 425 degrees F. Spread the sauce on top and add your favorite toppings. Toppings should be pre-cooked or ones that cook quickly for best results. Return the pan(s) to the oven and bake until toppings are cooked through (or crisp) and cheese (if you're using) is melted and bubbly. This should take about 10 minutes.
Serve!
Notes
Nat's Note:

1. The original recipe also had sun-dried tomatoes incorporated into the crust. I left them out to avoid mutiny from my children, but I put some on top and it was delicious. If you want to add them to the crust, cook them with the garlic.

2. I broiled the pizza after I added the toppings and liked that result as well.
Disclosure: I received a copy of Julia's book for review, but received no other compensation for this post. All opinions are 100% my own (as always!). There are also Amazon affiliate links up there. Purchases made by using these links don't cost you any extra and provide Perry's Plate with a few pennies.