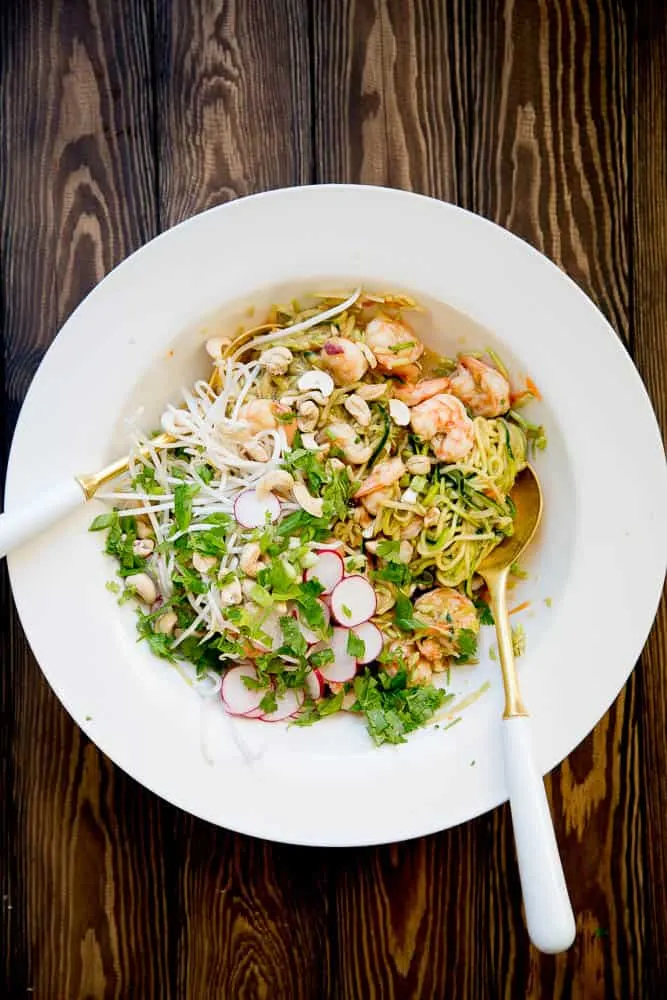 Pad Thai has been on our family's favorite dinner list for a couple of years now, and the kids always do a happy dance when they find out I've made it.
I've been meaning to test out a paleo pad Thai on them and just did it recently. Only one of my kids likes zucchini noodles, though. Womp. Womp.
BUT — the kid that likes zucchini noodles said she liked it better than the rice noodle version. So, there's that.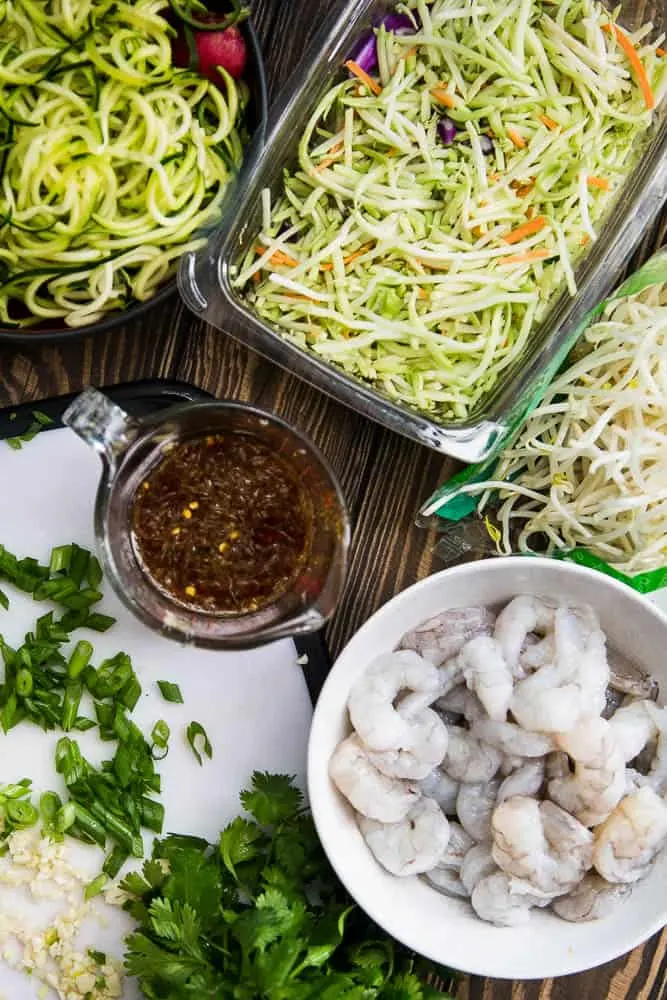 I'm not claiming that this is an authentic pad Thai recipe. (First of all it's paleo pad Thai, and yes, that's broccoli slaw up there. I'll get to that in a minute.) I'm willing to bet Thai food in America (like most ethnic food) is quite different from the version in its country of origin.
Steve got me a Thai cookbook for my birthday one year that supposedly has true, authentic Thai recipes in it. I was excited to try the pad Thai recipe, but it turned out to be the worst pad Thai I'd ever eaten. Oops. I think I might give it another go because my tastes have changed a lot in the last 10 years and even some of the restaurant pad Thai I eat tastes more sweet than I'd like.
As much as I love pad Thai with rice noodles I've always felt like this dish could use a veggie boost. I started adding chopped spinach or shredded Brussels sprouts or shredded carrots or whatever I had in the crisper that needed to be used. The kids didn't mind, so I kept doing it.
Turns out broccoli slaw is pretty tasty in it, too, and doesn't require any chopping. Score. The nice thing about a paleo pad Thai recipe is that is REALLY vegetable heavy. I love that in a recipe.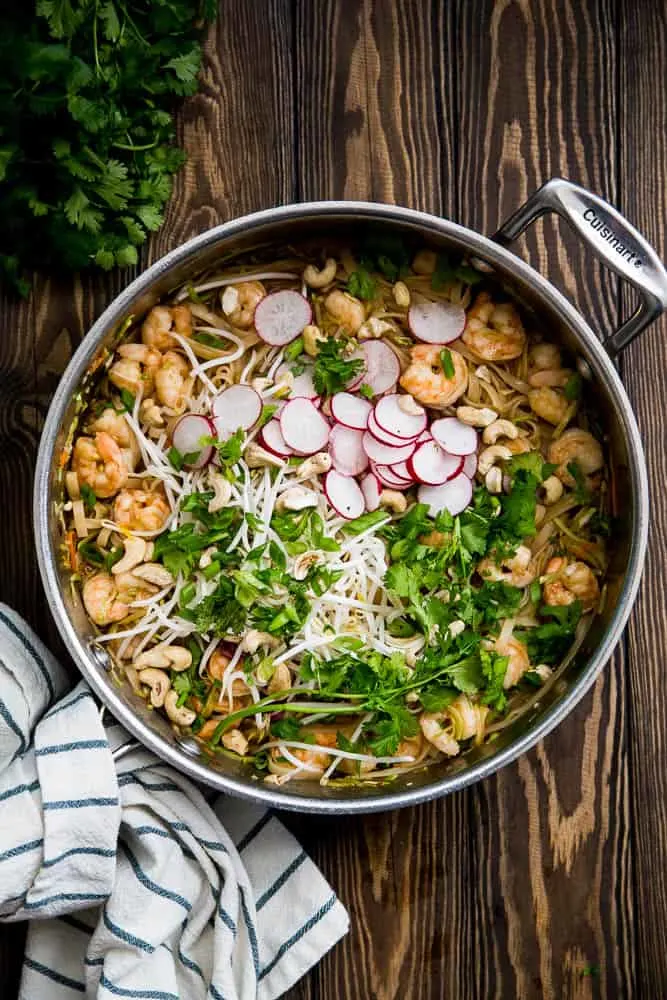 If you love the rice noodle version, I added an adaptation for that in the recipe notes. As well as notes for adapting the Paleo Pad Thai to be Whole30 or low-carb or keto friendly.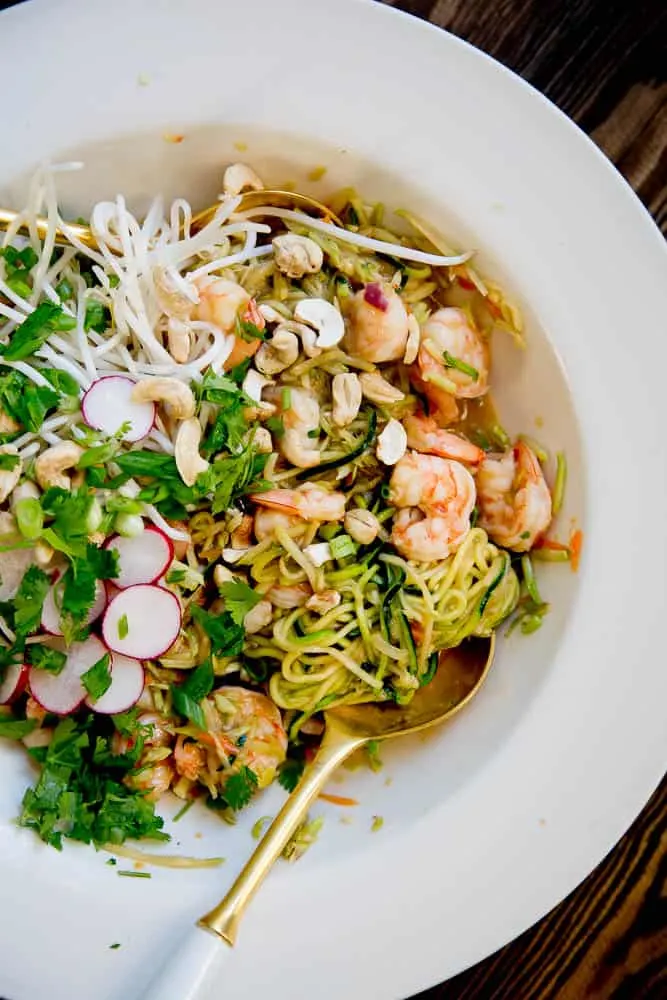 Isn't this gorgeous? I love all of the colors! Especially the pinks from the shrimp and radishes. (Confession: the only reason I use radishes is to add some hot pink to a plate. The cool crunch is nice, too, I suppose.)
If shrimp isn't your thing, you could substitute a pound of thinly sliced chicken or omit it entirely for a meatless version.
More Asian-Inspired One-Pan Meals
Thai Green Curry Zoodles with Shrimp & Broccoli is a knock off of one of my favorite meals from Noodles & Co. It's a great meal for hot summer days, too.
A family favorite, Egg Roll in a Bowl with Sriracha Mayo is easy to put together and has all of the flavors of Chinese egg roll without the fried exterior!
Paleo Thai Shrimp & Vegetable Skillet is very similar to these egg roll bowls — but with a Thai flair.
Mango Chicken Curry is an oldie, but such a great recipe for a quick weeknight dinner.
SaveSave
SaveSave
SaveSave
---
If you make one of my recipes, be sure to post it on social media and tag me at @perrysplate or #perrysplate so I can send you some love!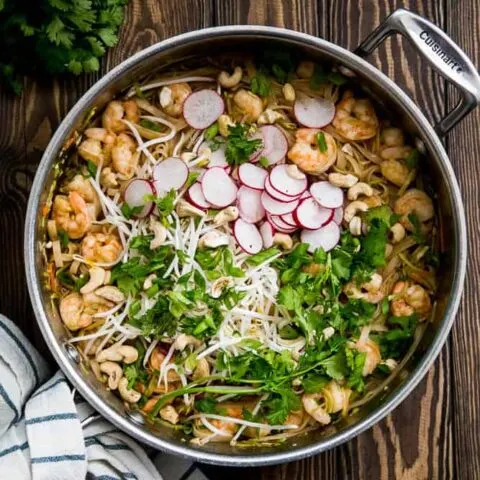 Easy Paleo Pad Thai
This Easy Paleo Pad Thai is SUPER easy to make and even better than takeout. It can be adapted to be paleo, Whole30, or low-carb!
Ingredients
5 tablespoons fish sauce
3 or 4 juicy limes
3 tablespoons coconut sugar (see note)
2-4 teaspoons sambal oelek or Asian garlic chili paste
2 teaspoons tapioca or arrowroot flour
1 pound of large uncooked shrimp, deveined and tails removed
3 tablespoons avocado or coconut oil
6 garlic cloves, minced
8 or 9 ounces of broccoli slaw (half of a 16-18 ounce bag)
2-3 medium zucchini, spiralized
1 handful of mung bean sprouts
3 sliced green onions
1/2 cup chopped fresh cilantro or basil (or both)
3-4 sliced radishes
2/3 cup whole or chopped cashews
Instructions
Whisk together the fish sauce, 1/4 cup of juice from about 2 of the limes, coconut sugar, sambal oelek, and tapioca flour and set aside. Slice any remaining limes into wedges and set aside for later.
Make sure the rest of the vegetable prep is finished before you start cooking because it goes very quickly.(mincing the garlic, spiralizing the zucchini, etc.)
Heat the oil in a large skillet over medium-high heat. When the oil is hot, add the shrimp to the skillet and cook until just barely pink (not all the way through). Transfer the shrimp to a plate.
Put the garlic and broccoli slaw in the skillet with half of the fish sauce mixture. Stir and cook for about 2-3 minutes until the broccoli slaw begins to soften.
Add the shrimp back to the skillet along with the zucchini noodles and the rest of the fish sauce mixture. Cook, tossing everything around with tongs until the shrimp is cooked through and the zucchini noodles are soft, but not mushy.
Transfer the shrimp and vegetables to a large serving bowl and add the garnishes to the top (bean sprouts, green onions, cilantro/basil, radishes, and cashews).
Serve with lime wedges.
Notes
Nat's Notes:

1. Whole30 adaptation: Make sure your fish sauce and chili paste are sugar-free (Red Boat is the best). Omit the coconut sugar and replace with either 2-3 tablespoons of Date Paste or pineapple juice.

2. Low-carb/Keto adaptation: Replace the coconut sugar with a low-carb sweetener, like erythritol and replace the cashews with a lower carb nut, like peanuts.

3. If you'd like to use rice noodles instead zucchini noodles, omit the tapioca/arrowroot from the recipe and soak an 8-ounce package of flat rice noodles in hot water for about 5-8 minutes before you start cooking the shrimp. They should be limp, but still somewhat gummy when you bite one. Add the soaked rice noodles when you add the broccoli slaw in step 4. If, after you add the rest of the sauce, the sauce gets completely soaked up by the noodles, just add a 1/4 cup of water to make things saucy again.