Slow Cooker Green Chile Chicken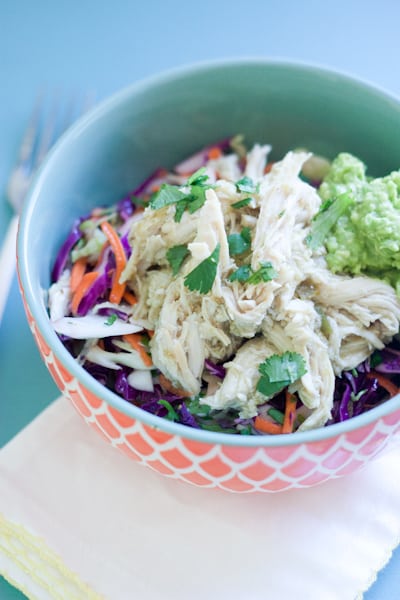 I created this recipe last winter when I was in a freezer-meal frenzy. Having freezer meals ready to pull out right after you have a baby is THE BOMB. Before our little man made his appearance I had about 21 meals worth of stuff in the freezer, and I still have a container of this chicken left.
I mentioned my pre-baby freezer prep on Instagram and a few of you asked about freezer-friendly meals, so I added a Freezer-Friendly category in my index. (You're welcome!) These are recipes that I have either frozen myself or ones that I would see no trouble with freezing. This time around I froze mostly soups, chili, layered casserole-type things, and lots of shredded, slow-cooked meat. Shredded meat isn't a stand-alone meal, but it can give you a head start if you've got some produce in the fridge. You can also freeze large batches of tortillas, pancakes, waffles, and cookie dough. I didn't add those things to the category — just dinners.
So ya, this chicken is super flavorful. You just whip up a quick sauce in the blender and pour it over the chicken. You could throw the ingredients in without blending, also. I did it so my kids wouldn't freak out over the chile and onion chunks. #sneaky
It's especially good over some Southwest Cabbage Slaw (like the photo) or some Romaine lettuce with homemade Ranch, guacamole, and a sprinkle of Mexican cotija cheese (if you're a cheese-eater. Like me.)
Psst… you can make my dry Ranch mix paleo by omitting the buttermilk powder. You really don't need it. Just blend with some paleo mayo and a splash or three of almond milk. Use less seasoning than you normally would, though, because it's more concentrated.
Slow Cooker Green Chile Chicken
Yield: 10-12 servings

Prep Time: 15 minutes

Cook Time: 6-8 hours

Total Time: About 6-8 hours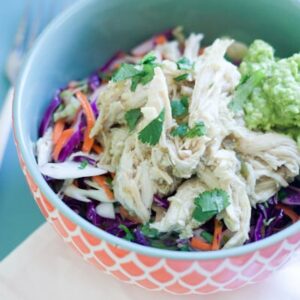 Ingredients:


4 4-ounce cans of mild (or hot) diced green chiles


1 large sweet onion, peeled and chopped


6 cloves of garlic, peeled


1 1/2 teaspoons ground cumin


1 1/2 teaspoons ground coriander


1 Tablespoon sea salt


1/2 teaspoon freshly ground black pepper


1 jalapeno, seeded (seeding optional)


Zest and juice from 1 lime (about 1/4 cup juice)


5-6 pounds of uncooked chicken (I used boneless, skinless breasts)


1 cup chopped fresh cilantro


2 thinly sliced green onions


Directions:


Combine chiles, onion, garlic, cumin, coriander, salt, pepper, jalapeno, and lime in a blender or large food processor. Blend until smooth.


Place chicken in a 4-6 quart slow cooker. Pour chile mixture over top. Push the chicken around a bit so the chile mixture can go in between all of the pieces.


Close and cook for 4 hours on high or about 6 hours on low.


Remove chicken, shred, and place back into the slow cooker. Stir in cilantro and green onions and season, if necessary.





Nat's Note: You don't have to blend the sauce. You could just add all those ingredients straight into the slow cooker. I blend so my kids don't freak out by seeing chunks of chile and onion.