This green chile shredded chicken can be made in an Instant Pot or a slow cooker and is a delicious meal prep recipe to make tacos, salads, or any kind of healthy Mexican-inspired meal!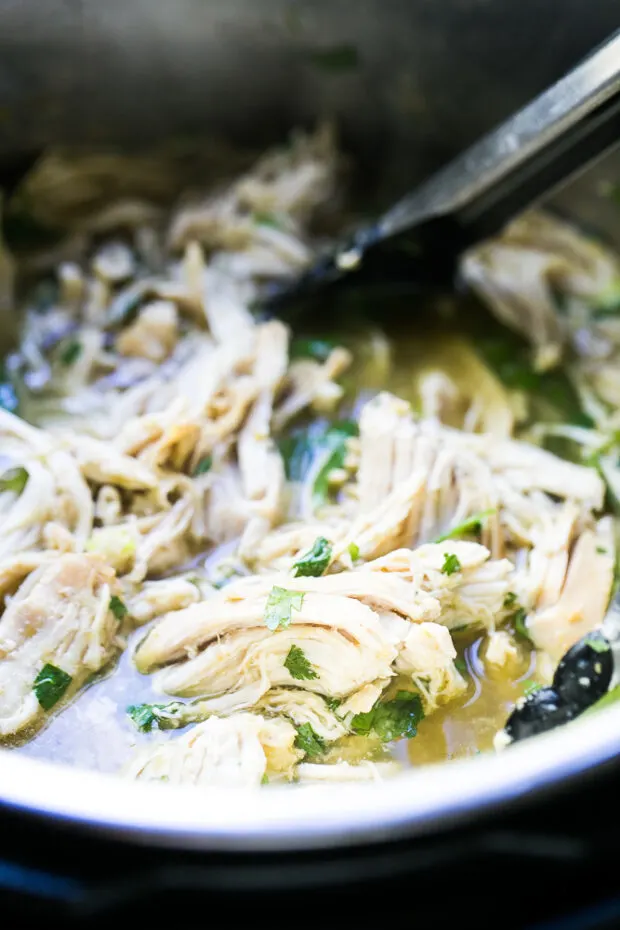 I created this Green Chile Shredded Chicken recipe last winter when I was in a freezer-meal frenzy. I'm so glad I did because we had prepped meat for tacos, salads, quesadillas, and even a shortcut soup on hand!
Having freezer meals ready to pull out right after you have a baby is THE BOMB. Before our little man made his appearance I had about 21 meals worth of stuff in the freezer, and I still have a container of this chicken left.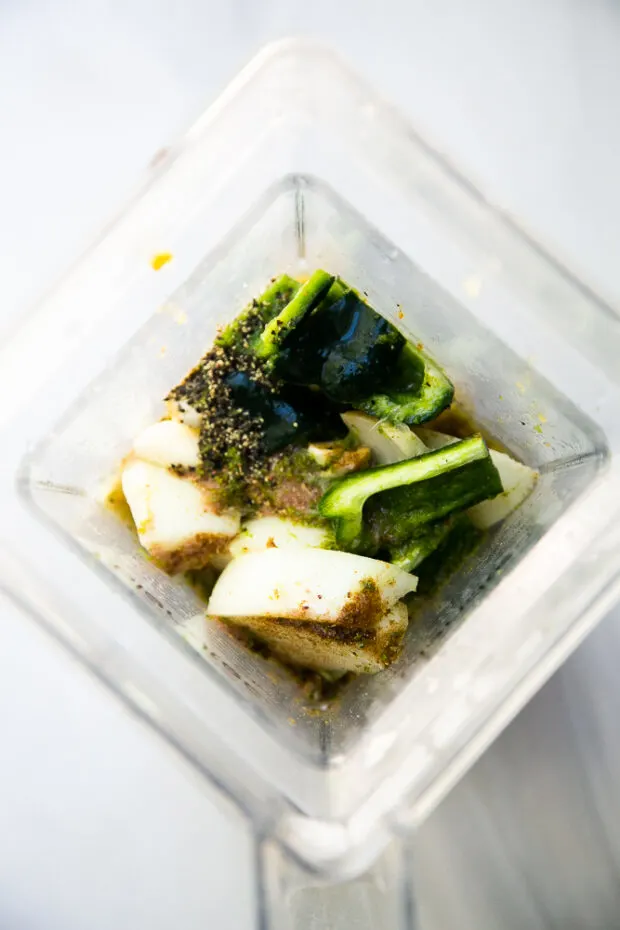 Shredded meat isn't a stand-alone meal, but it can give you a head start if you've got some produce in the fridge.
So ya, this Instant Pot shredded chicken is super flavorful. You just whip up a quick sauce in the blender and pour it over the chicken.
What kind of green chiles should I use?
I like to use those chopped Hatch chiles that they sell at Costco (505 Southwestern brand is great!), but regular diced green chiles in the can will do the trick, too.
The jalapeno is optional. In fact, if you're worried about the shredded chicken being spicy and you're using the 505 Southwestern chiles, I'd leave the jalapeno out. Those chiles have some kick on their own.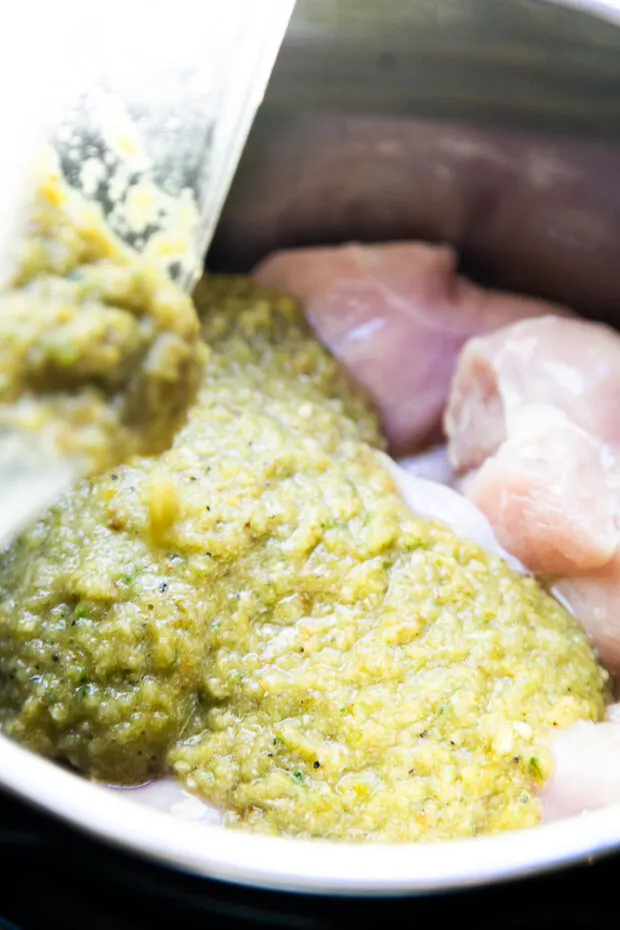 Rather have it chunky?
You could also chop the onion, jalapeno, and garlic without blending! I chose to blend it all together so my kids wouldn't freak out over the chile and onion chunks. #sneaky
You don't have to sear the chicken either! (You're welcome.)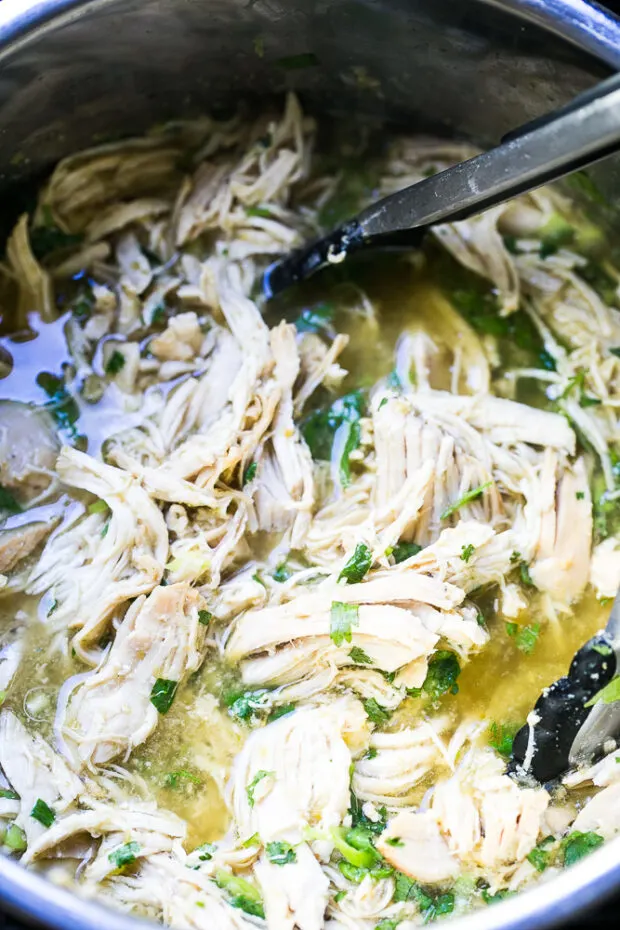 See how tender and juicy this is? Pressure cooking for 20-30 minutes might seem like a long time, but that's what it takes to get fall-apart shredded chicken when you're doing a batch of 4-6 pounds.
If you like this recipe check out these other recipes for shredded chicken (and other meats!) for tacos and other Mexican-inspired meals
More Shredded Taco Meat Recipes on Perry's Plate
The Best Instant Pot Shredded Chicken for Tacos might be a tie with this green chile version. It has a traditional red salsa base and a kick of chipotle (but not too much of a kick. Unless you like that sort of thing.)
Instant Pot Shredded Beef with Green Chile is a beef variation of this shredded chicken!
Slow Cooker Chipotle Shredded Beef — The very first Mexican-inspired shredded meat recipe I ever made. And still one of our very favorites!
Chipotle Copycat Barbacoa Beef — another variation on a chipotle shredded beef recipe that mimics the beef at Chipotle restaurant!
If shredded or pulled pork is your thing, you'd love this Hot & Sweet Orange Pulled Pork! You can make it in a slow cooker or an Instant Pot Pressure cooker!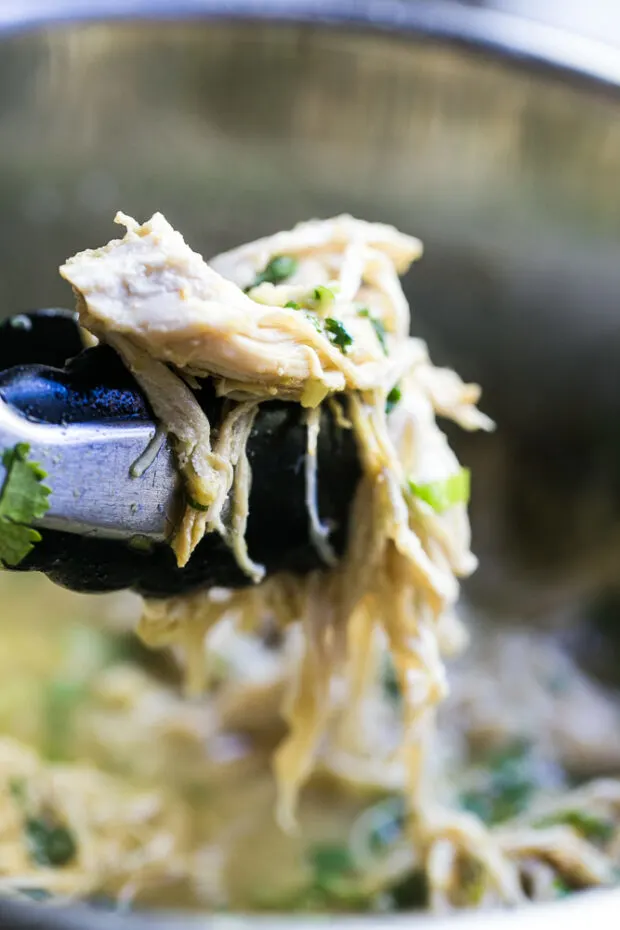 If you make one of my recipes, be sure to post it on social media and tag me at @perrysplate or #perrysplate so I can send you some love!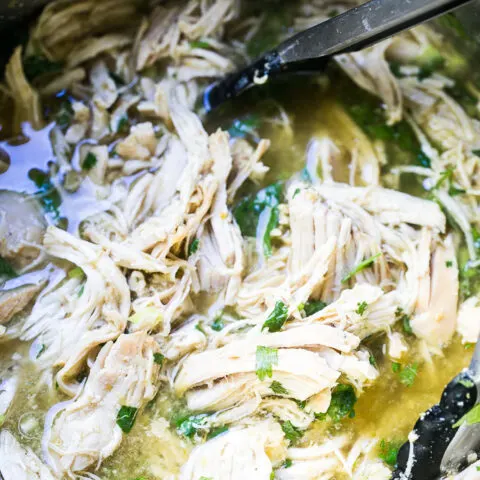 Shredded Green Chile Chicken (Slow Cooker or Instant Pot)
Total Time:
8 hours
15 minutes
This slow cooker green chile chicken is such a versatile recipe -- great on tacos, salads, nachos, lettuce wraps...and on and on and on.
Ingredients
4 4-ounce cans of mild (or hot) diced green chiles
1 large sweet onion, peeled and chopped
6 cloves of garlic, peeled
1 1/2 teaspoons ground cumin
1 1/2 teaspoons ground coriander
1 Tablespoon sea salt
1/2 teaspoon freshly ground black pepper
1 jalapeno, seeded (seeding optional)
Zest and juice from 1 lime (about 1/4 cup juice)
5-6 pounds of uncooked chicken (I used boneless, skinless breasts)
1 cup chopped fresh cilantro
2 thinly sliced green onions
Instructions
Combine chiles, onion, garlic, cumin, coriander, salt, pepper, jalapeno, and lime in a blender or large food processor. Blend until smooth.
Place chicken in a 4-6 quart slow cooker. Pour chile mixture over top. Push the chicken around a bit so the chile mixture can go in between all of the pieces.
Close and cook for 4 hours on high or about 6 hours on low.
Remove chicken, shred, and place back into the slow cooker. Stir in cilantro and green onions and season, if necessary.
Notes
Nat's Note: You don't have to blend the sauce. You could just add all those ingredients straight into the slow cooker. I blend so my kids don't freak out by seeing chunks of chile and onion.
Instant Pot Instructions: Put the chicken and blended green chile mix into the insert pot of your pressure cooker. Cook on high pressure for 20 minutes (30 minutes if you're using closer to 6 lbs of chicken). Let the cooker release pressure naturally for 15 minutes, and then release the rest of the pressure by moving the steam valve to "venting". Shred chicken and return it to the green chile sauce. Add the cilantro and sliced green onions.
Recommended Products
As an Amazon Associate and member of other affiliate programs, I earn from qualifying purchases.
This post may contain affiliate links. Any purchases made by using these links won't cost you any extra and helps keep my content free. These links may be Amazon links as I am part of the Amazon Associate Program.