This deeply flavorful, tender shredded beef is a copycat version of Chipotle's barbacoa beef! I included instructions for both slow cooker and Instant Pot in the recipe notes.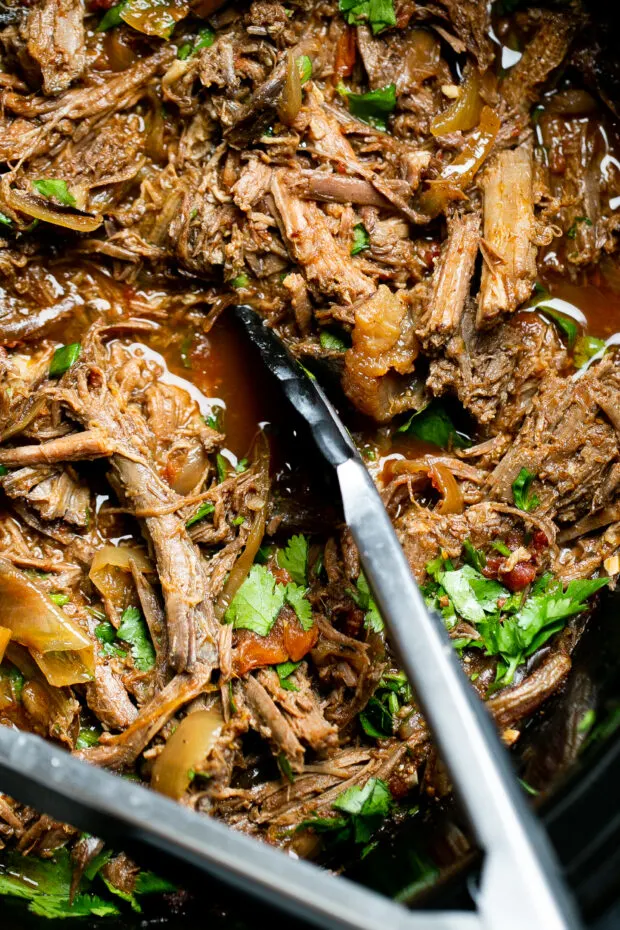 Is there anyone who doesn't love Chipotle? I like that they make it a priority to source their meat well and use fresh ingredients. I miss their pork-chicken chorizo, but luckily I made a chipotle copycat recipe of that, too — Copycat Chipotle Chorizo.
Their barbacoa beef is my second favorite protein option and all you need is a big beef roast (chuck roast is great!) and a few ingredients to make this shredded taco beef at home.
I kind of feel like making amazing shredded meat is my super power. This one is a FABULOUS barbacoa recipe, and I hope you like it!
Carnitas vs Barbacoa
If you've ever wondered what is the difference between carnitas and barbacoa. . .
Barbacoa is used to describe the style of cooking — slow-cooked shredded meat. It's usually made from beef, lamb, or goat. The word "barbecue" is derived from barbacoa, but it the meaning is totally different now.
Carnitas translated means "little meats" and is usually made from pork. Carnitas isn't seasoned quite as heavily as barbacoa and it's usually finished off in the oven to get some crispy bits. Mmm.
What's your favorite? Carnitas or Barbacoa?
What's in Chipotle Barbacoa?
First you'll slather your beef roast with a super flavorful spice paste with ingredients that are easy to find:
Chipotle peppers either from a can of chipotles in adobo sauce or some pre-chopped chipotle peppers. I love that jar of pre-chopped chipotle chiles already covered in adobo sauce. I saves a lot of time!
Lime juice
Lots of garlic
Lots of aromatic spices you probably already have in your cupboard — cumin, chili powder, oregano, black pepper, and a little bit of ground cloves.
Put it in your crock pot and top with a can of diced tomatoes, a sliced onion, and a couple of bay leaves.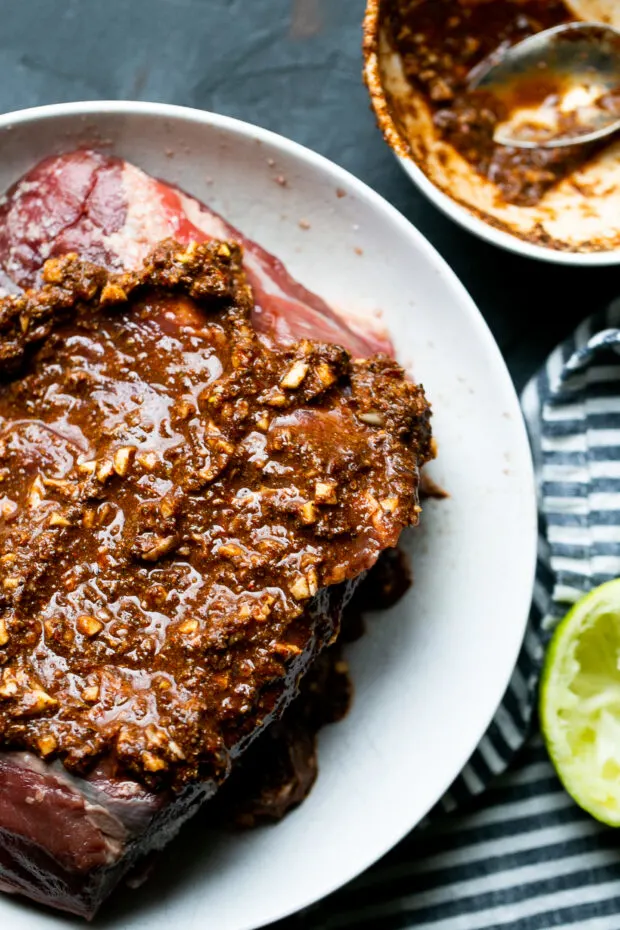 Can I make this in an Instant Pot?
Yes! This slow cooker barbacoa beef is easily made in a pressure cooker. I added some extra instructions in the recipe notes — like cutting the roast into pieces and adding some beef broth, cooking on high pressure, but it's almost the same method.
What cut of beef is best for barbacoa beef?
Just about any large beef roast will do — chuck roast is my favorite. You can use beef shoulder, any round roast, or even beef cheeks.
If you're using grass-fed beef or have an extra lean roast, it will probably take longer to cook and it might not fall apart as easily as a fattier roast. When you put the shredded meat back into the cooking juices and let it hang out for a while, you'll have more tender beef before you know it.
Is this barbacoa beef spicy?
Not really. If you make the recipe as is it's fine for anyone to eat. Even my kids who don't like spicy food inhaled it. Feel free to boost the amount of chipotle peppers or add some hot sauce when you serve it if you'd like it spicier.
Is barbacoa beef gluten-free?
Yes! It's also low-carb & keto-friendly.
What you serve it with can alter that for sure, though. For gluten-free tacos and quesadillas we love using the Siete almond flour tortillas. They just started selling them at our Costco and they freeze well, too!
Can you freeze it?
YES. Absolutely.
If you make more than you can eat (and aren't big into leftovers), just put it in an airtight container that is freezer-safe and freeze it for several months. Then you can have a delicious meal later with a fraction of the effort.
P.S. These freezer-safe deli containers are my favorite for freezing leftovers.
Help! I cooked my beef roast for 8 hours and it's still tough!
The short answer: Cook it longer until it's tender!
Long answer: Depending on the thickness of your roast and heat calibration of your slow cooker, it could take between 8-12 hours sometimes.
If your roast is fatty, it tends to break down faster. Just give your roast longer to break down that connective tissue. But, only check it every hour or so since slow cookers lose their heat really quickly when you open the lid and take a while to reach a good temperature again.
If your roast is large or you're concerned about it being finished on time, cut it into 2 or 3 pieces before you start the recipe.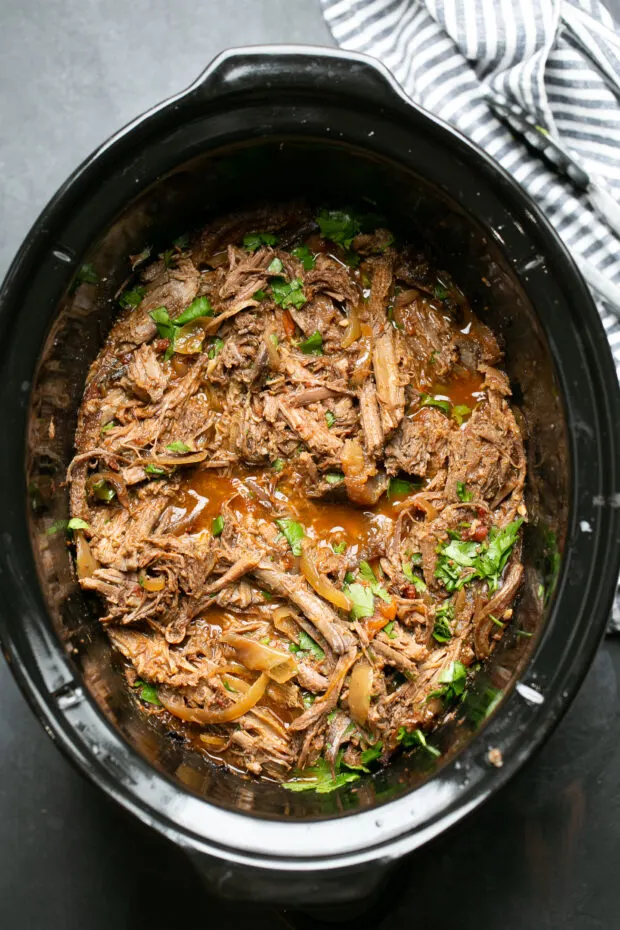 How to serve barbacoa beef?
I mean…. how can you NOT eat it? A batch of this copycat chipotle barbacoa recipe is like a big pot of gold, culinarily speaking. Maybe that's a weird metaphor. Eating gold would be weird.
Here are a few of our favorite ways to serve barbacoa:
Tacos (duh, the favorite!)
Taco Salads
Burrito Bowls
Quesadillas
Oven Nachos
Breakfast scrambles (Seriously. Toss a little beef into your scrambled eggs and tell me it's not amazing. Or throw the whole thing into a breakfast burrito!)
Homemade taquitos (working on a GF recipe for those right now!)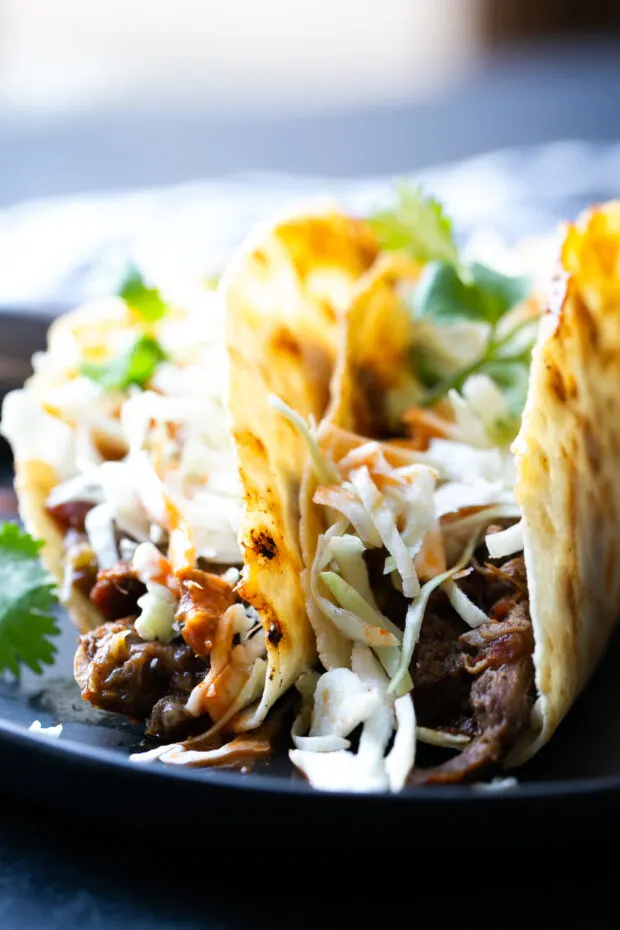 What to serve with barbacoa beef tacos?
Here are a few of my favorite side dishes and toppings if you're making barbacoa tacos!
Instant Pot Cilantro Lime Rice is a crowd favorite. Everyone who makes this loves it!
Mexican-Style Instant Pot Black Beans is one you can make ahead and freeze. I usually have a container or two in the freezer to pull out for Mexican nights.
The Best Guacamole is what I'm asked to bring when our family is having anything Mexican-related.
Homemade Pico de Gallo is fun to throw together when you're making guacamole because a lot of the ingredients overlap.
Copycat Chevy's Smoky Salsa is one of my favorite salsas to make when I have extra tomatoes in the summertime.
Grilled Jalapeno & Pineapple Salsa is a favorite during the summer and pairs well with this beef barbacoa recipe!
If you like this easy barbacoa recipe, try some of these other great recipes for slow-cooked Mexican-style shredded meat. Many of these are Instant Pot recipes that can also be made in a slow cooker.
More Shredded Taco Meat Recipes on Perry's Plate
Beef
Taqueria-Style Shredded Beef is a more authentic street taco beef using dried Mexican chiles (it's easy though!) and creates those red, drippy juices common in Mexican restaurant tacos.
Shredded Chipotle Beef is a slightly different from this barbacoa recipe with lots of chipotle flavor.
Instant Pot Green Chile Shredded Beef is a good home for a large jar of Hatch green chiles.
Chicken
Instant Pot Green Chile Shredded Chicken — if you want to try a chicken version!
The Best Instant Pot Shredded Chicken for Tacos is another shredded chicken recipe that only has a few ingredients and comes together so quickly!
---
If you make one of my recipes, be sure to post it on social media and tag me at @perrysplate or #perrysplate so I can send you some love!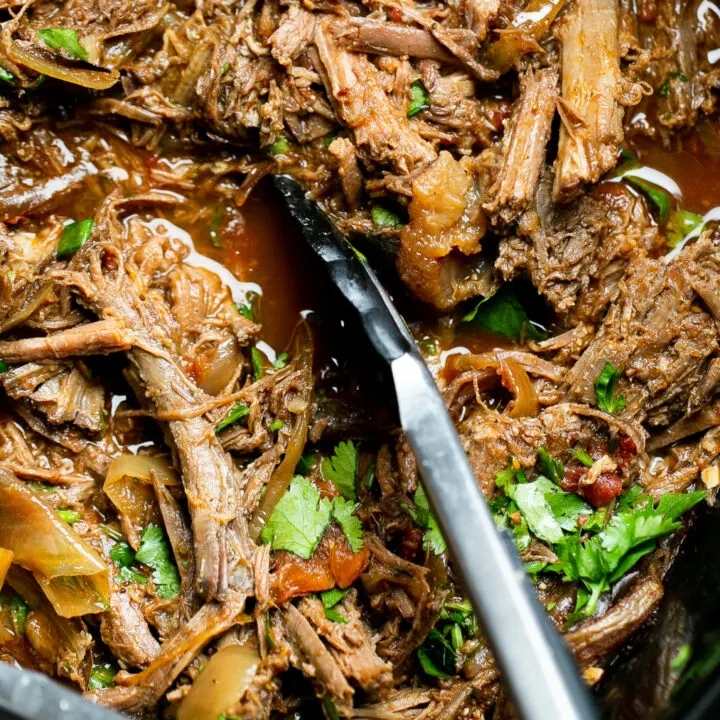 Copycat Chipotle Barbacoa Beef
Total Time:
10 hours
10 minutes
This deeply flavorful, tender shredded beef is a copycat version of Chipotle's Barbacoa Beef! I included instructions for both slow cooker and Instant Pot in the recipe notes.
Ingredients
3-4 pound beef roast
1 Tablespoon sea salt
1 or 2 chipotle peppers, plus 1 Tablespoon of sauce from a can of chipotles in adobo sauce
6 garlic cloves, minced or grated
2 limes
1 Tablespoon ground cumin
2 teaspoons chili powder
1 teaspoon dried oregano
1 teaspoon black pepper
1/4 teaspoon ground cloves
2 bay leaves
1 small onion, peeled and sliced thinly
1 15-ounce can diced tomatoes, undrained
1/2 cup chopped fresh cilantro
Instructions
Rub the salt all over the roast. Let it sit while you assemble the spice paste.
Slice the chipotle peppers in half, scraping out the seeds. (Leave them in if you want to add a big kick of heat.) Chop the peppers and put them in a small bowl with the adobo sauce, garlic, juice from 1 lime, cumin, chili powder, oregano, black pepper, and cloves. Stir well and rub the paste all over the roast.
Place the roast in a 4-7 qt slow cooker along with the bay leaves, onions, and tomatoes along the sides or on top.
Cover and cook on low for 8-10 hours or until the meat pulls apart easily with a fork.
Shred the roast on a large platter and return the meat to the pot with the juices. Stir in the fresh cilantro. Taste, and add more salt and lime juice if necessary.
INSTANT POT VARIATION:
Cut the roast into roughly 1 pound pieces and try to make them roughly the same size.
Follow the instructions in steps 1 and 2 and place the roast pieces in the stainless insert of your Instant Pot. Add the tomatoes with their juices, the onions, and bay leaves and add 1 cup of beef or chicken broth.
Seal the pot and cook on high pressure for 120 minutes. Let the steam naturally release for at least 20 minutes before releasing the rest of the pressure manually. (You'll end up with the most tender, fall-apart meat if you let it release all the way naturally.)
Continue to step 5 to finish the recipe.
Notes
Buying pre-chopped chipotle peppers in adobo sauce is a real time saver! It's in the Latin aisle of some supermarkets around here. I hope you can find some.