Make this chipotle shredded beef in your slow cooker or Instant Pot! It's a perfect meal prep recipe to give you a head start on weeknight dinners.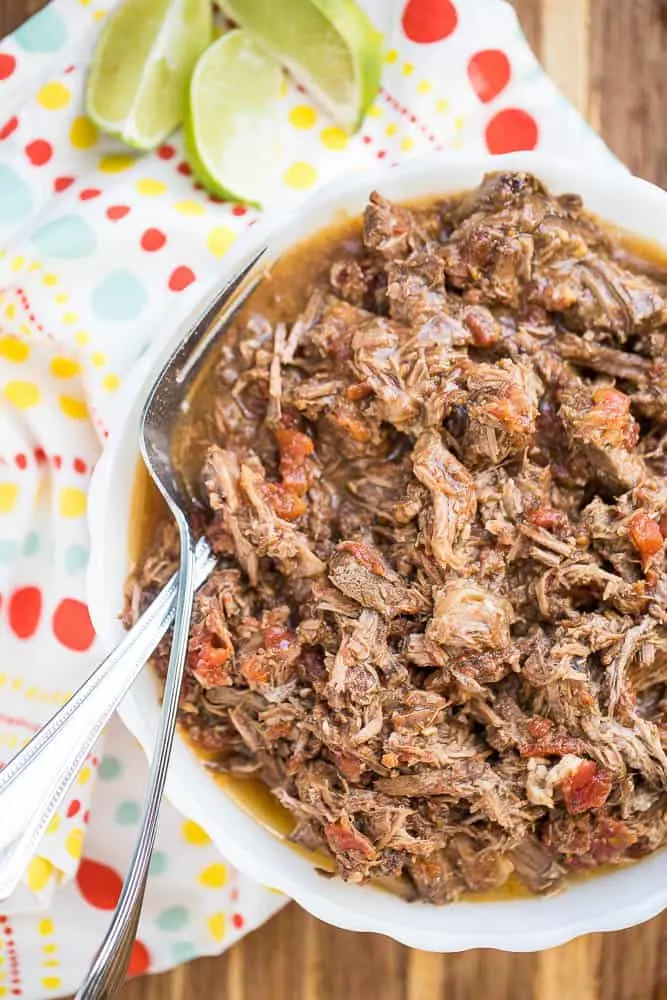 This Slow Cooker Chipotle Shredded Beef recipe has been updated, re-photographed, and Instant Pot adaptation has been added to the recipe!
This recipe was posted on my blog almost exactly a year ago, but I decided to bring it back up to the front because a) I have a photo of it now and b) this beef is seriously so good.
I made a huge (triple) batch of it Valentine's Day weekend because had a lot of family in town for my daughter's baby blessing. I think that having too much food leftover is much better than running out during dinner, but that means I usually have lots of food leftover.
The last time I made this we used the leftovers in some nachos and it was fantastic. This time I tried to get more creative and I made a soup out of some of the leftover beef. Whoa. That turned out so well that it gets its own post shortly. We don't usually eat a lot of red meat, but I could seriously eat this stuff daily. Especially since it gets better after a day or two.
I love batch cooking in my slow cooker or Instant Pot so much that I added a few dozen pulled pork, chicken, and beef recipes to my cookbooks — The Big Book of Paleo Slow Cooking and The Big Book of Paleo Pressure Cooking (Instant Pot!). So many great ones in there — I think the Peperoncini Beef is my all-time favorite though.
I do have more shredded meat recipes on my site, though!
More Slow Cooker or Instant Pot Shredded Meat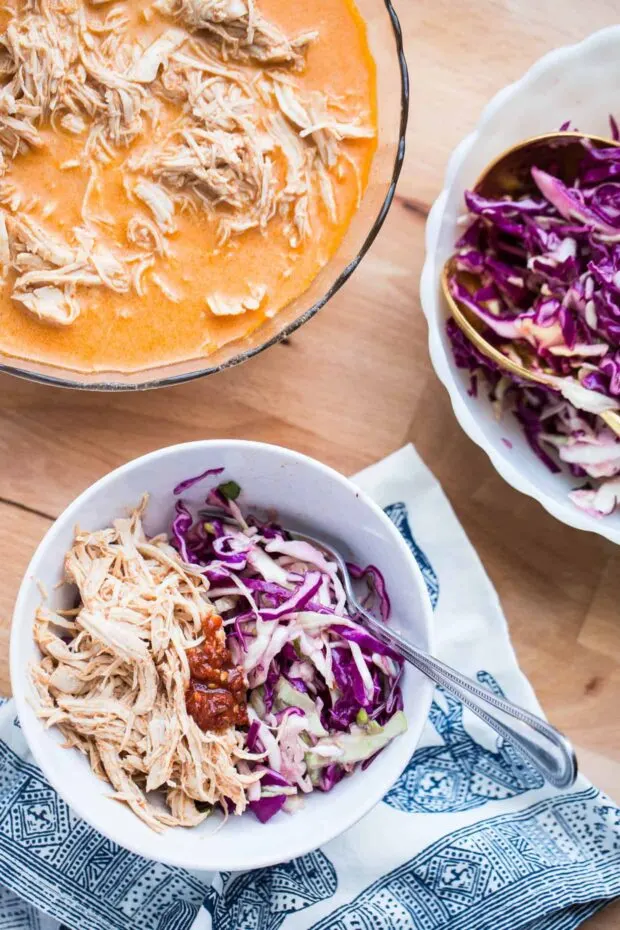 Shredded Red Curry Chicken & Sweet Thai Slaw went over REALLY well with my kids. Super quick in the Instant Pot, too.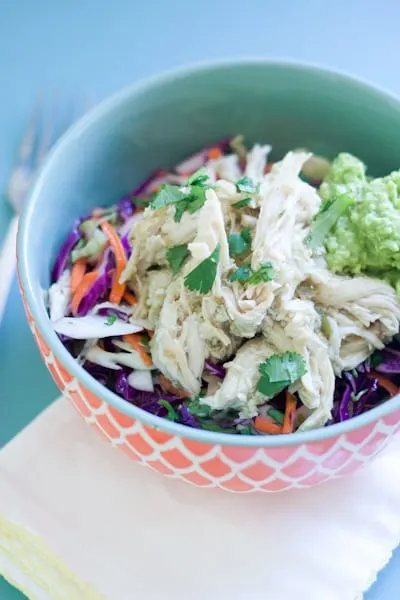 Slow Cooker Green Chile Chicken is a super versatile recipe you can use in all kinds of Mexican-inspired recipes.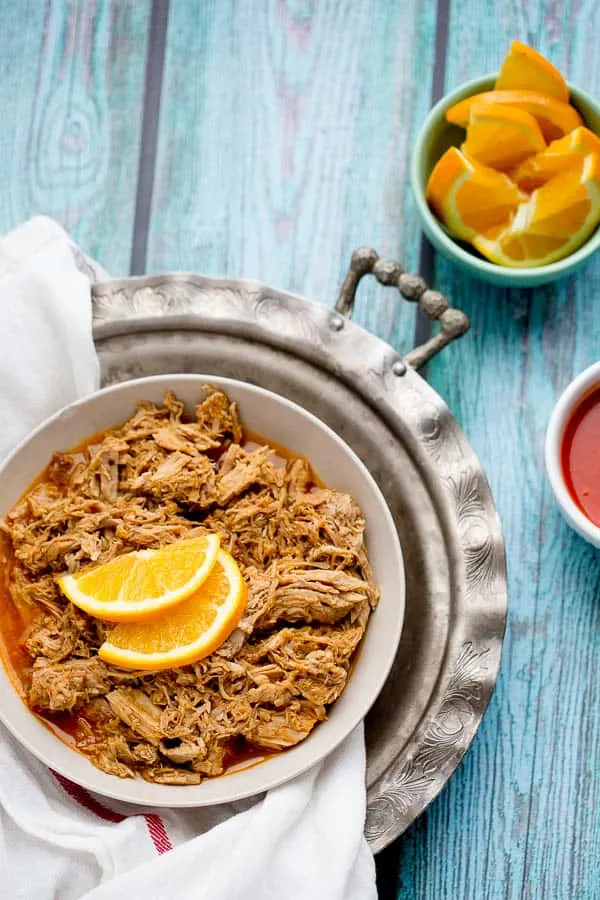 Hot & Sweet Orange Pulled Pork. Think…. wing sauce meets citrusy sweetness. It'll blow your mind.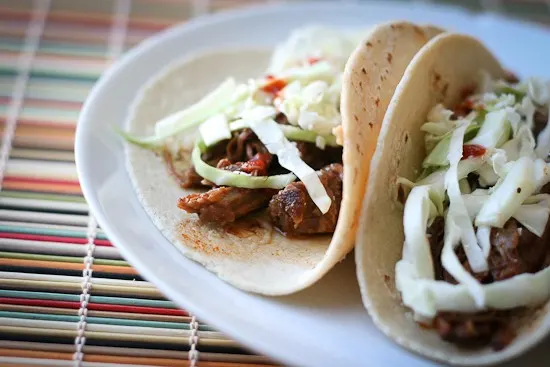 If you've got some extra time on your hands, try this authentic Taqueria-Style Shredded Beef. That kind of drippy, spiced beef you get in those tacos from the hole-in-the-wall places. Mmmm.
Here's another version of a tex-mex slow cooked shredded beef: Copycat Chipotle Barbacoa Beef.
SaveSave
SaveSaveSaveSave
SaveSave
SaveSave
SaveSave
SaveSave
SaveSave
SaveSave
---
If you make this recipe, be sure to post it to social media and tag me at @perrysplate or #perrysplate so I can send you some love!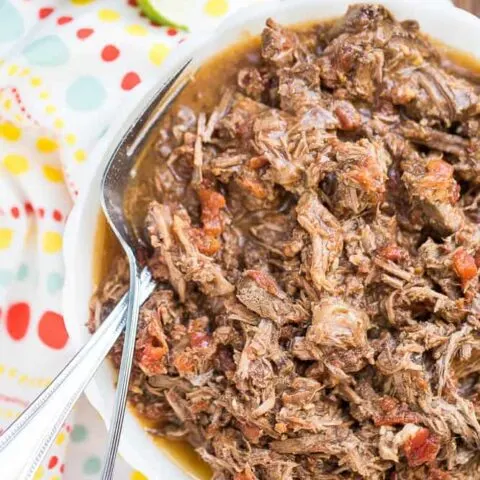 Shredded Chipotle Beef
Total Time:
8 hours
10 minutes
Make this chipotle shredded beef in your slow cooker or Instant Pot! It's a perfect meal prep recipe to give you a head start on weeknight dinners.
Ingredients
3 pound beef roast
2 teaspoons salt
1 14.5 ounces can diced tomatoes, undrained
1 cup chopped onion
1 or 2 chipotle peppers from a can of chipotle peppers in adobo sauce (not the whole can)
2 teaspoons oregano
2 teaspoons cumin
3 cloves garlic, minced
1/3 cup chopped fresh cilantro
juice from 1 small lime
fresh pico de gallo or salsa
guacamole
Instructions
Trim meat of fat and strange gummy parts and cut into about 6 pieces. Rub the roast with the salt.
Place meat in a 4 or 6 qt slow cooker. Add undrained tomatoes, onion, chipotle peppers, oregano, cumin and garlic over the roast.
Cover and cook on low heat for 8-9 hours.
Remove meat from slow cooker, shred with a couple of forks and return to pot. Cook for an additional 20 minutes or so until heated through and flavor from the juices has incorporated into the meat.
Add cilantro and lime juice. Serve on a tortilla/lettuce wrap or over a bowl of veggie noodles, rice, or cauli rice.
Instant Pot Adaptation: Prep the beef and ingredients as directed and place in a 6 quart Instant Pot. Cook on Manual/Meat for 90 minutes. Allow the cooker to release all of the pressure on its own (It might take around 15 mintues) before releasing any steam manually.
90 minutes may seem like a long time, but I've cooked many roasts in an IP and those tough, beef roasts just need more time to loosen up. After the meat is shredded, just close the pot and let it sit for 10-15 minutes.
Notes
Nat's Notes:
1. If you're doing Whole30, La Morena chipotle peppers in adobo sauce is one brand that does not have sugar. It does have some soybean oil, though... If you're wanting to avoid soybean oil completely, just substitute 1-2 teaspoons of dried chipotle powder.
2. The leftovers we had were AMAZING on nachos.
Recommended Products
As an Amazon Associate and member of other affiliate programs, I earn from qualifying purchases.
This post may contain affiliate links. Any purchases made by using these links won't cost you any extra and helps keep my content free. These links may be Amazon links as I am part of the Amazon Associate Program.