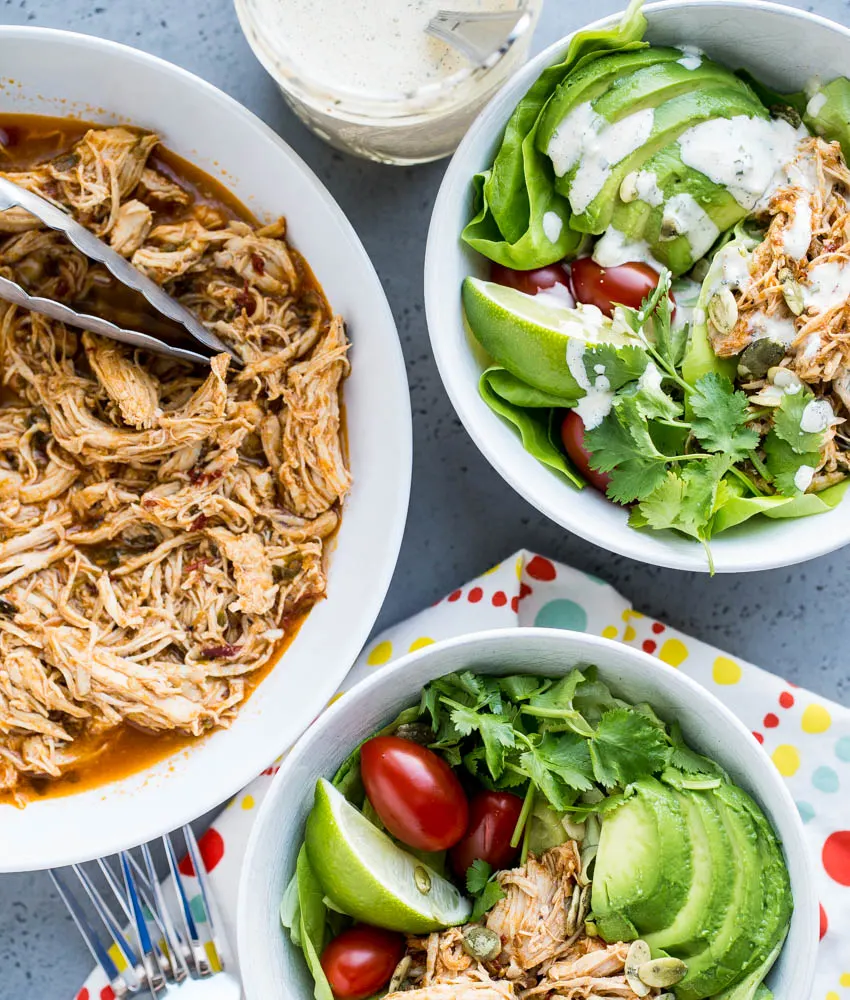 I realize that the Internet probably has enough Instant Pot shredded chicken recipes (especially for tacos), but I feel like it needs one more.
(Maybe more than that. I'm not promising this is the last shredded chicken recipe I'll ever post.)
This particular recipe is a tweaked version of one of the most popular recipes in my Instant Pot cookbook — The Big Book of Paleo Pressure Cooking.
Do you have a copy yet? Click over and get one because you won't regret it.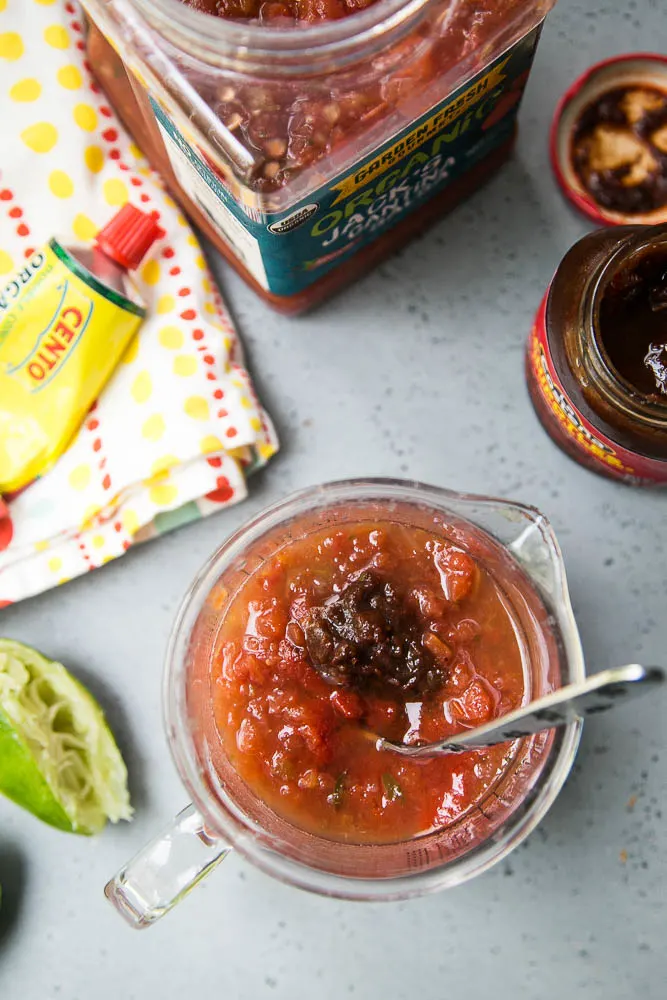 As far as Instant Pot recipes go, this one is super easy. Browning the chicken is optional and the chipotle salsa mixture that goes on top is super easy!
Did anyone else have "salsa chicken" as a kid? Basically a jar of salsa poured over a bunch of chicken breasts and cooked in a slow cooker.
It was one of our favorite meals when I was a kid, but as an adult I feel like it needed a little more pizazz.
What do you need to make shredded chicken for tacos?
All you need is…
Your favorite Tex-Mex inspired spice blend (more on that in a second)
Salsa (any kind)
Chipotle peppers (from a can of chipotles in adobo sauce) or dried chipotle powder
Tomato paste (just a little, to give the sauce more body)
Lime juice
Fresh cilantro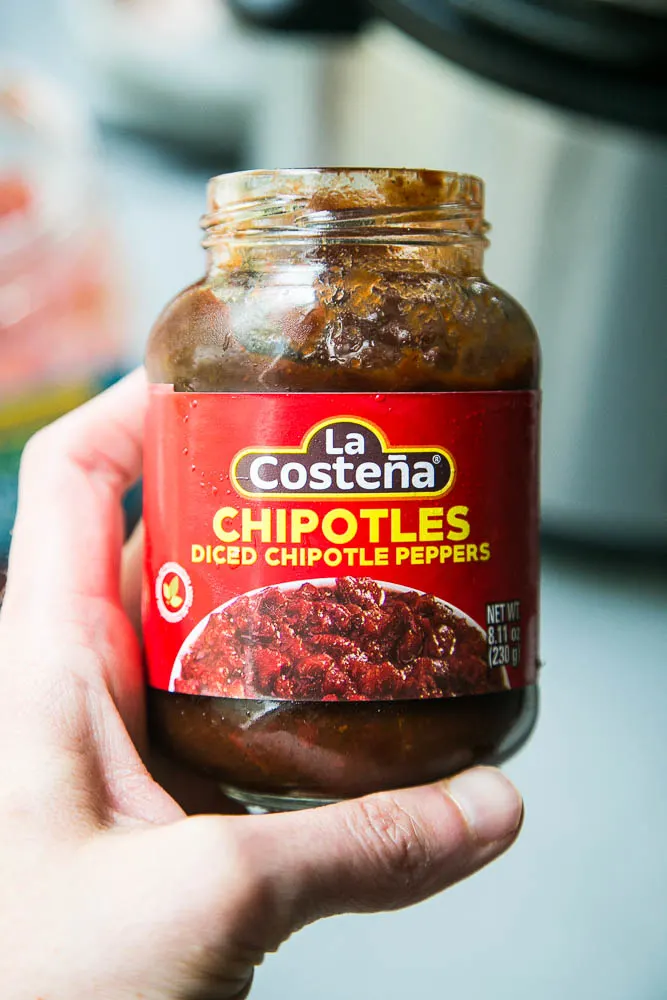 A Word About Chipotle Peppers
Can we pause for a minute to appreciate the brilliance that is PRE-DICED CHIPOTLE PEPPERS? When I saw these in the grocery store (Winco, if you've got one local!) I realized one of my deepest desires had been fulfilled without my having to ask.
Whole chipotle peppers in adobo sauce are kind of a pain. You open the can, use one pepper, and then need to figure out what to do with the rest of the peppers before they go bad.
You can always freeze the peppers in an ice cube tray — that's what I normally do. And then forget about them while you open a fresh can 4 months later. *facepalm*
The nice thing about the pre-diced ones is that they seem to have the seeds removed. Good news!
If you've made this shredded chicken recipe from my cookbook, you'll notice that I added some extra seasoning.
Believe me, it wasn't a scientific decision. I literally just wanted to make this chicken but was too lazy to pull out the cookbook, so I was relying on memory and improvisation — and ended up with a better version!
What kind of salsa should I use?
Short answer: Any kind
Long answer: For this recipe I prefer using fresher salsa — like the ones you find in the refrigerated section of the grocery store. You could use jarred salsa or even salsa verde!
What seasoning to use for taco chicken?
You can use any spice blend that has a Mexican or Tex-Mex slant.
For this I used my Chorizo Seasoning, but you could also use Homemade Taco Seasoning or my Sweet Potato Fry Seasoning.
Ways to Use Shredded Chicken For Tacos
Meal Prep: Making a batch of this shredded taco chicken over the weekend ensures that you have quick meals during the week.
Freeze It: If you're prepping even further ahead, know that this chicken freezes and reheats beautifully!
Feed a Crowd: Double this recipe to feed a bunch of people!
Take it Camping: I made a batch of this Instant Pot shredded chicken and took it camping. Everyone we went with loved it! We made foil packet tacos with it and threw them over the campfire!
If you like this recipe, try another one of my shredded taco meat recipes!
More Shredded Taco Meat Recipes on Perry's Plate
Instant Pot Green Chile Shredded Chicken — if you want to try a green chile chicken version!
Chipotle Copycate Barbacoa Beef is an easy way to get that tasty shredded beef they serve at Chipotle! Recipe includes instructions for Instant Pot and Slow Cooker!
Shredded Chipotle Beef is a slightly different from the barbacoa recipe with lots of chipotle flavor.
Instant Pot Green Chile Shredded Beef is another good home for a large jar of Hatch green chiles.
---
If you make one of my recipes, be sure to post it on social media and tag me at @perrysplate or #perrysplate so I can send you some love!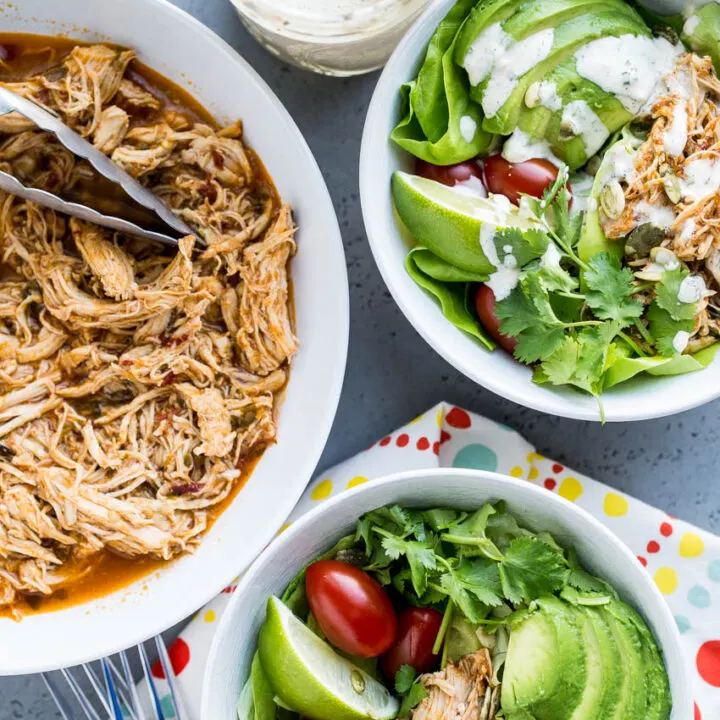 The Best Instant Pot Shredded Chicken for Tacos
Just a few ingredients are needed for this easy chipotle salsa shredded chicken! Taco Tuesday just got even more tasty.
Ingredients
3 pounds of boneless, skinless chicken breasts or thighs
1 Tablespoon tex-mex spice blend (see note)
1 1/2 cups salsa
1 chipotle from a can of chipotles in adobo sauce, minced
1 tablespoon tomato paste
1 juicy lime
1/2 cup chopped fresh cilantro
Instructions
Put the chicken in the insert pot of your pressure cooker and sprinkle your choice of tex-mex spice blend on top.
Whisk together the salsa, minced chipotle pepper, tomato paste, and the juice from 1/2 of the lime. Pour the mixture over the chicken.
Close the lid and the steam valve. Set the cooker to high pressure for 15 minutes. Let the cooker release steam on its own for 15 minutes, then manually release any remaining steam.
Remove the chicken from the pot and shred it with a couple of forks. Return the shredded chicken to the pot and stir in the cilantro and the juice from the other 1/2 lime.
Serve in tacos, on taco salads, rice bowls, add to soups, or throw some into your morning hash!
Notes
Nat's Note:
You can simply use Homemade Taco Seasoning in this or any other Tex-Mex style blend. I really love my Chorizo Seasoning in this! If you happen to have some, it's another use for that great blend.
Recommended Products
As an Amazon Associate and member of other affiliate programs, I earn from qualifying purchases.