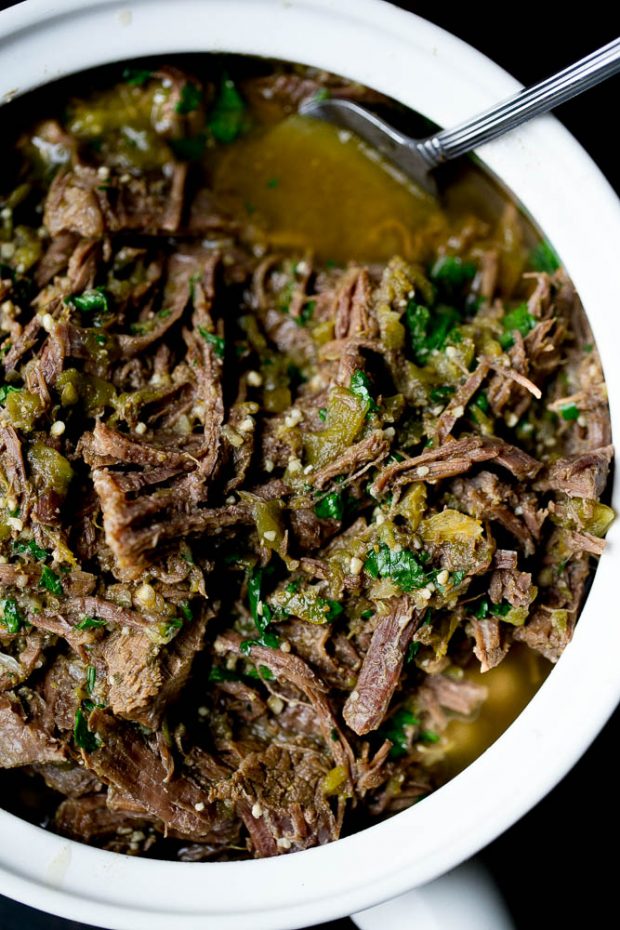 My goal for this recipe was to create an Instant Pot shredded beef recipe for taco night that didn't have any chopping involved.
Taco night has enough chopping and component prep as it is. I mean the guac? Shredding cheese? Chopping lettuce? Making ranch?
(Yes, ranch. Because 80% of the time we're actually eating taco salads around here.)
I wanted the star of the show — the taco meat — to NOT be high maintenance.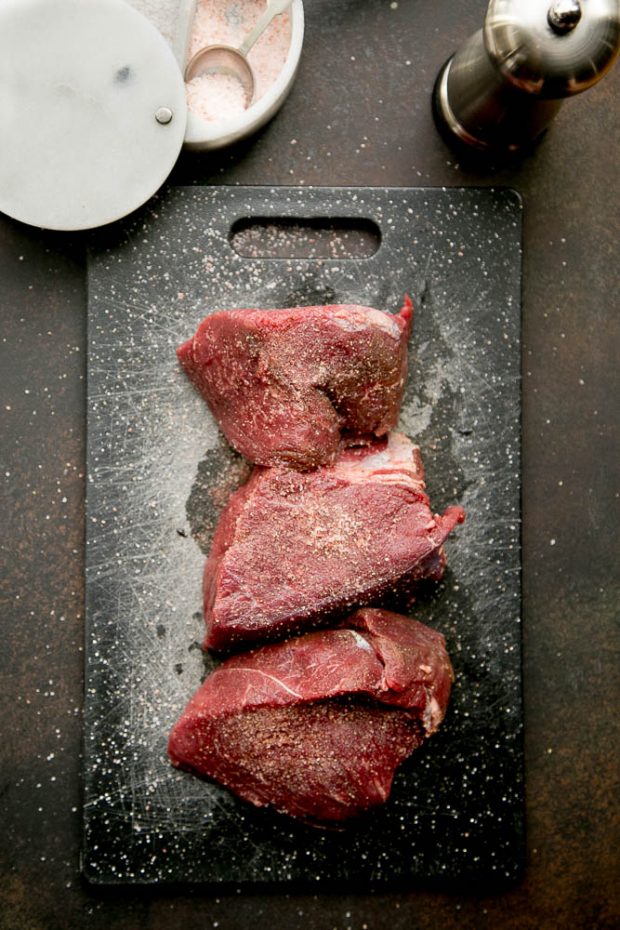 And I did it! In just 2-3 knife cuts. Which brings me to…
My Two Best Tips for Cooking Roasts in an Instant Pot
Cut your roast into roughly 1 lb chunks. This helps it cook more quickly and get more flavor into the meat. If you have a 3 lb roast, cut it into 3 pieces. Four pounds? Four pieces. You get the idea. It doesn't have to be exact, so put your kitchen scale away.
Let the Instant Pot release steam naturally ALL THE WAY. Or at least for 20 minutes, which is almost all the way. This allows the juices to redistribute through the meat before you pull it apart. It also helps it to be more tender.
PS. I have a cookbook with 150 pressure cooker recipes and LOADS of tips in it. Just throwing that out there.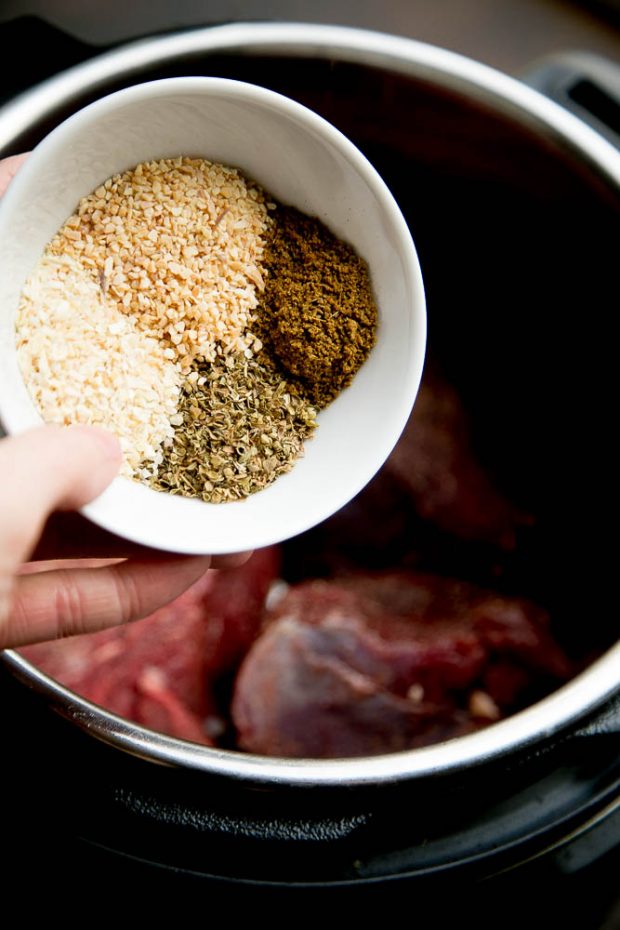 Most of the time I like to chop some onion and garlic to add to my taco meat, but restrained myself.
I realize that a lot of you despise chopping onions. (My mom included. I don't ever recall her chopping an onion when I was growing up.)
For this recipe I used dried minced onion and dried minced garlic. I like the flavors of these better than the powdered version, but if all you have is the powdered ones, use them.
(If you make my Everything Bagel Seasoning recipe, you'll have both the garlic and the onion on hand — and it's another use for them! Yay!)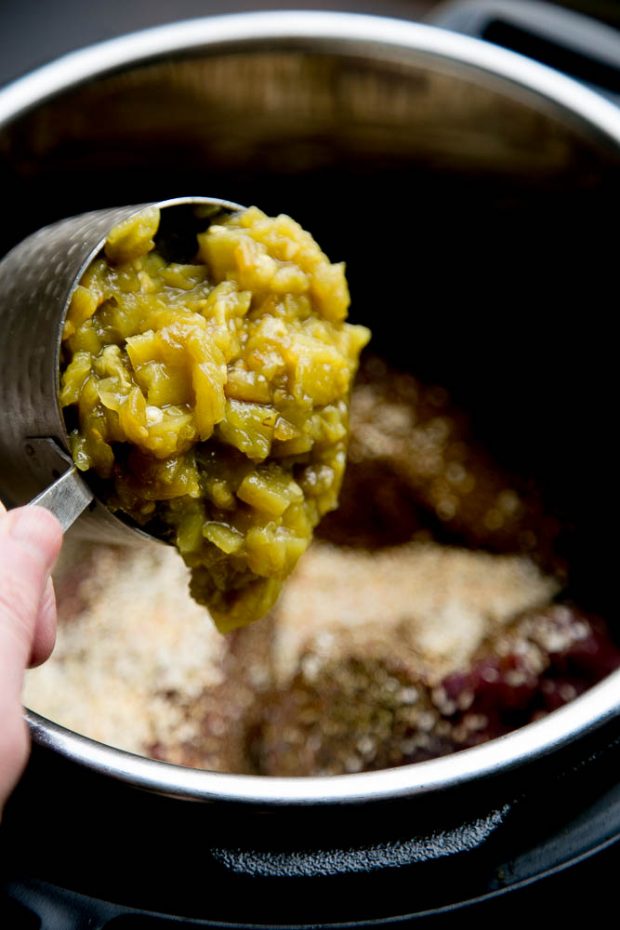 About Green Chiles
Or chilis. Or chilies. Or however you'd like to spell them. I side with Hatch chiles and spell them that way.
Are you a fan of green chiles? The fire roasted ones in the can or the hatch chiles in the big jars?
I started buying the 505 Southwestern chiles at Costco, and I might be in over my head. Those jars are BIG, and I didn't make it through the first jar I bought without turning them into a science project.
I'm saddened by that because I freaking LOVE these chiles. I'd put them in everything except they do have a little heat and my whiny offspring complain about that.
Anyway, put a big ol' cup full into the pot with the beef roast.
See? Still not chopping stuff.
By the way, I linked to more recipes using green chiles at the bottom of this post, so your giant jar of chiles doesn't end up with the same fate as mine.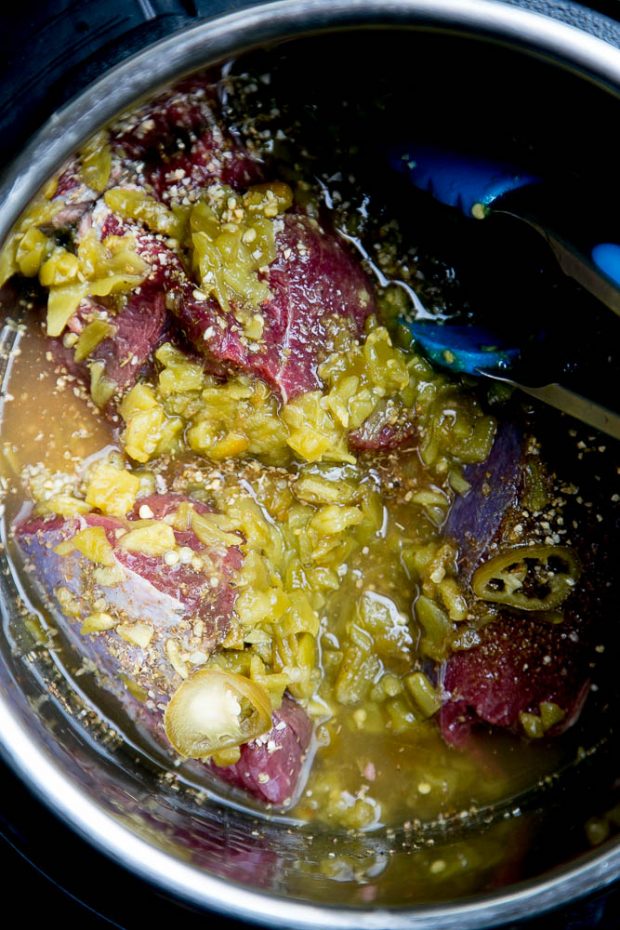 I also added some jarred pickled jalapenos to this taco beef for a little extra punch. The fermented jalapenos from Trader Joe's to be exact. They're pretty tasty.
No, you don't have to add them. They took the heat level of this beef a little too far for two of my kids, but Steve and I LOVED it.
Pour some broth in there and THAT'S IT.
It probably took me twice as long to write this post than it did to prep this beef. Maybe three times.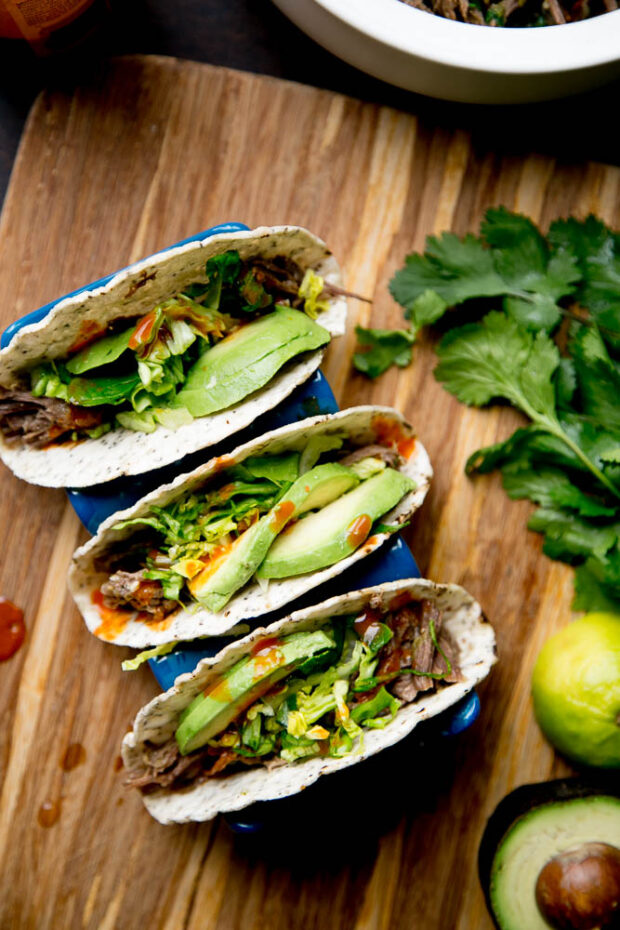 Oh, friends. FRIENDS. We made some tacos with the grain-free taco shells from Thrive Market. Have you ever had those? They're REALLY good.
(By the way, you can get 25% off your first order by using that link up there. Thrive Market is so fun.)
I love shredded taco beef so much.
Especially Instant Pot shredded taco beef because then I don't have to wait all day like you do with a slow cooker.
I also have recipes for Shredded Chipotle Taco Beef and Copycat Chipotle Barbacoa Beef if you're wanting more of a smoky flavor! And my Instant Pot Chipotle Salsa Chicken recipe is another great no-chop recipe for shredded taco meat.
Not a taco meat, per se, but my Gyro-Inspired Shredded Beef is also a versatile one for salads!
Can I make this shredded beef in my slow cooker?
Yep.
I put instructions in the recipe notes!
More recipes that use Green Chiles
Compiling this list made me realize that I have ZERO excuse for letting that jar of chiles go bad. Never again, I promise. Luckily they freeze well so I can split the big jar in to manageable portions!
This corn-free Green Chile Chicken Tamale Pie is my most recent green chile recipe — and that cornbread-like topping is made with a secret ingredient that isn't nut flour. :)
If your spaghetti squash needs a home, make a Green Chile Chicken & Spaghetti Squash Bake!
Green Chile Turkey Burgers with Guac-Ranch are super easy and my kids inducted them into our family's favorite dinner list. That's a big deal.
Here's the chicken version of this recipe! Slow Cooker or Instant Pot Green Chile Shredded Chicken.
Stacked Chicken & Green Chile Enchiladas are DELICIOUS, but a little more labor intensive than this easy shredded taco meat. They're also a nice home for leftover shredded chicken!
---
If you make one of my recipes, be sure to post it on social media and tag me at @perrysplate or #perrysplate so I can send you some love!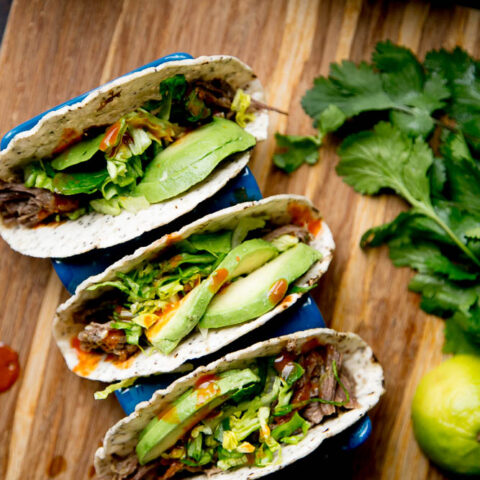 Instant Pot Shredded Beef with Green Chile
Total Time:
2 hours
10 minutes
This flavorful, quick-prep shredded beef is filled with green chile flavor! Use it in tacos, salads, and anywhere you need a punch of Latin-flavored meat.
Ingredients
1 3-5 pound beef roast
1 Tablespoon pink Himalayan salt or fine sea salt
1/2 teaspoon freshly ground black pepper
1 Tablespoon ground cumin
1 Tablespoon dried minced onion
1 Tablespoon dried minced garlic
1 Tablespoon dried oregano
1 cup diced Hatch green chiles (or about 2 4-ounce cans of fire-roasted green chiles)
2-4 Tablespoons jarred pickled jalapenos (or more for more heat)
1 cup water or any kind of broth
Juice from 1/2 lime
1/2 cup chopped fresh cilantro (optional)
Instructions
Cut your roast into roughly 1 pound chunks. If your roast is 3 pounds, cut it into 3 chunks. You get the idea. It doesn't have to be exact. Sprinkle the salt and pepper all over the pieces of roast and put them in the insert pot for your Instant Pot.
Sprinkle the rest of the seasonings on top, including the green chiles and jalapenos. Pour the water or broth into the pot as well. Use a pair of tongs to move the beef around and allow the green chiles to scatter a bit.
Close the lid, moving the steam release valve to "sealing", and set it for 90 minutes at high pressure. If your roast is over 4 lbs, cook it for 120 minutes.
Let the pressure cooker release steam naturally until the float valve goes down on its own.
Transfer the beef chunks to a large plate or platter and shred the meat. Return the meat to the pot with the juice and stir in the lime juice and cilantro, if using.
Serve the beef immediately with all your favorite taco fixings! It also freezes and reheats beautifully.
SLOW COOKER INSTRUCTIONS: You don't need to cut the roast into pieces if you prefer not to. Follow steps 1 and 2, placing the ingredients into your 4 or 6 quart slow cooker. Cook on low for 8-10 hours. Continue with step 5.
Notes
Nat's Note: If you'd rather use onion powder and garlic powder, reduce the amount to 1 1/2 teaspoons of each.
Recommended Products
As an Amazon Associate and member of other affiliate programs, I earn from qualifying purchases.