Thai Toasted Coconut Cashew Nuts – Great as a grain-free replacement for granola or eaten alone as a healthy snack!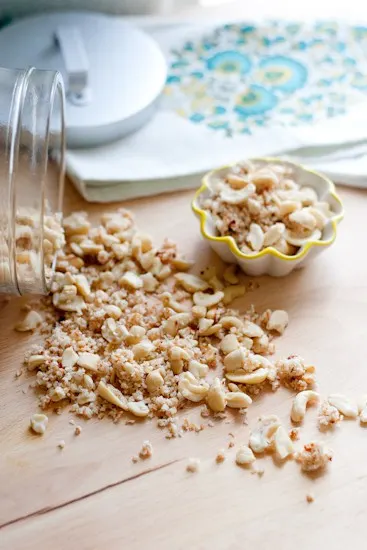 Well, hey! Long time no see! I have a recipe for you. A simple one, but really, really good one. Those are the best kind, aren't they?
In case you're wondering, we're doing well. This little boy of ours has us all wrapped around his increasingly chunky little fingers. He does OK at night so I don't feel like a zombie. And heck — I even took him to Indulge PDX (a food blogging conference put on by my lovely friend, Lauren at Lauren's Latest.) I feel like I got the kickstart I was looking for and I'm anxious to jump back into this blogging thing.
And I've missed chatting with you. Although if you follow me on Instagram, it's like we've been together every day.
So, I've been meaning to post this little snacky thing for several months.
Literally… I'm still eating the leftovers of a quadruple batch I made in November for a church dinner. Unfortunately I'm not lying. Also, we're not dead yet, so I suppose I'm personally testing the shelf life of this stuff.
You're welcome.
So what is it?
Coconut, cashews, honey, chili flakes. The first few times I had this was at choir practice at church. I'm usually the pianist — singing is not my forte, but eating the refreshments is. Our choir director made this yummy snack several times and I got the recipe from her. It's amazing. It's even better (and less messy) with those big chunks of shaved coconut.
It's like a grain-free granola with a hint of fire. I've been sprinkling it on fruit with a splash of almond milk lately and it's heavenly. You could also put it on ice cream with some caramel sauce (also heavenly). Or sprinkle it over melted chocolate and make some bark (we're getting more decadent here).
Or just grab a handful and put it in your mouth.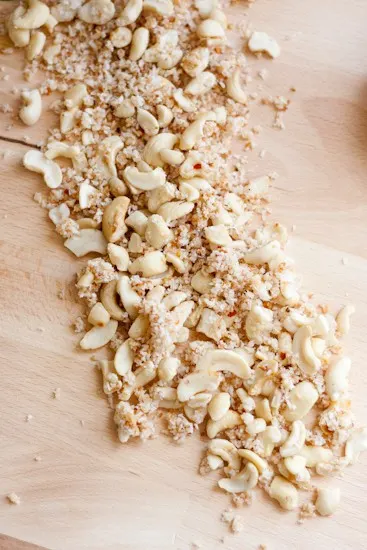 ---
If you make one of my recipes, be sure to post it on social media and tag me at @perrysplate or #perrysplate so I can send you some love!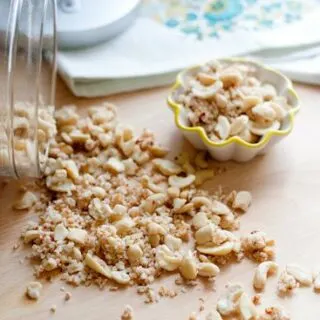 Thai Toasted Coconut Cashew Nuts
Thai Toasted Coconut Cashew Nuts - Great as a grain-free replacement for granola or eaten alone as a healthy snack!
Ingredients
1 Tablespoon coconut oil
2 Tablespoons raw honey
2 cups raw cashews
1 1/3 cups unsweetened shredded coconut (or coconut flakes)
Crushed red pepper flakes, to taste
Instructions
Heat the oil in a large wok or frying pan to medium-high heat. Stir in the honey. After a few seconds, add the nuts and cashews and stir-fry until they are golden brown.
Add the pepper flakes as well as salt and pepper, to taste. Toss until all ingredients are well mixed.
Spread onto wax or parchment paper to cool.
Notes
Nat's Note: I would start with 1/4 teaspoon of chili flakes and move up from there if you're leery of the spiciness. You can also use fresh red Thai chilis, seeded and chopped.
This post may contain affiliate links. Any purchases made by using these links won't cost you any extra and helps keep my content free. These links may be Amazon links as I am part of the Amazon Associate Program.