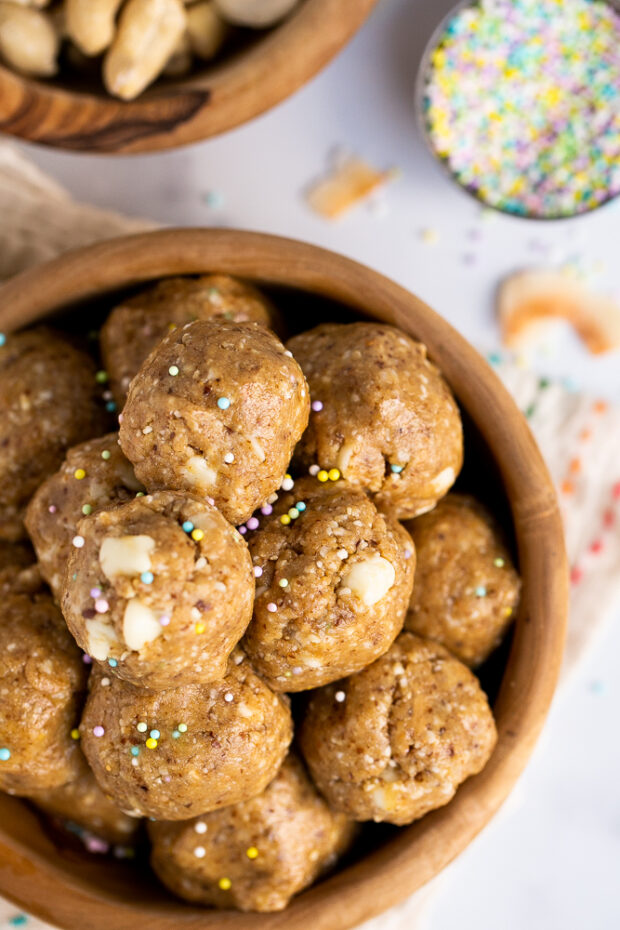 My favorite thing about these tasty little protein bites? (Besides the fact that they taste like birthday cake?)
The kids loved them. Well 3 out of 4.
But, the one who doesn't like them doesn't like any "healthy" treat I make. She has a super sensitive spidey sense for things that are trying to be a dessert, but don't actually have sugar or white flour in them.
Sometimes she humors me. And she didn't hate these. She just… mildly liked them. Ha.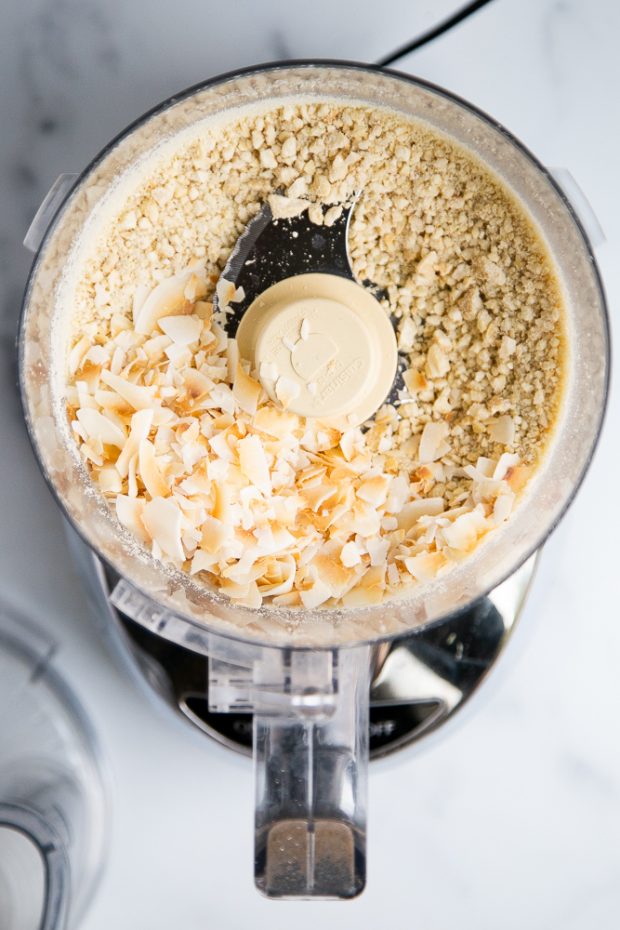 OK, there's another favorite thing…
These don't have almonds in them. Why is that a big deal?
Because last summer when I was doing my gut restoration program, I learned that almonds are a trigger for me. Nothing major or life-threatening, thankfully. Just skin flares and other annoying things.
I used cashews & cashew butter instead because the flavor is more mild. "Birthday Cake" is sometimes a difficult flavor to create when nuts are involved and cashews allow that flavor to shine.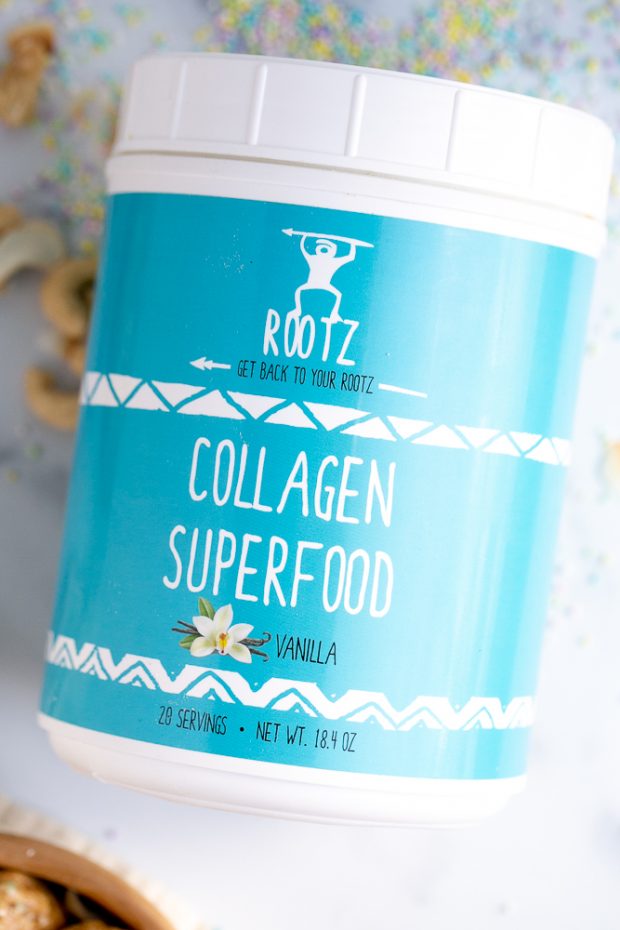 I also used a secret weapon — paleo-friendly vanilla protein powder.
Not just any, though. Some Rootz Vanilla Collagen Superfood powder.
Btw, this isn't a sponsored post. I just really love Rootz. It's one of the only protein powders I've found that doesn't hurt my stomach. I can't do whey protein and most vegan pea protein powders make me feel weird.
I've got a coupon code for you, too — use "perrysplate" to get 10% off anything on the site!
I recently tried their new collagen powders and LOVE them. This vanilla one smells amazing and isn't overly sweet.
I've used their chocolate protein powder in a couple of other recipes on my site. Have you tried my Paleo Protein Brownie Bites or Paleo Chocolate Banana Protein Waffles?
Delicious stuff right there.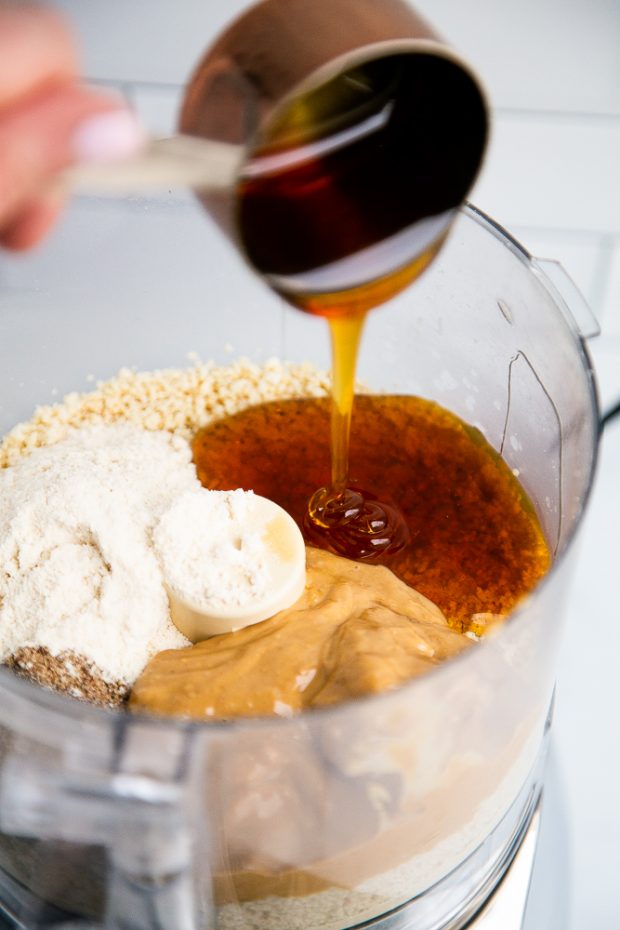 OK, back to the bites!
I'm anticipating a few substitution questions, so here you go…
Do I have to use protein powder?
Not necessarily. You'll be missing out on some flavor for sure, but if you'd rather not use it, add that same amount of either flax meal or more ground cashews.
Can I use another kind of nut butter?
Like I said, I used cashew butter in these because it has a really mild flavor to allow the vanilla and "cakey" flavors shine.
You can use almond butter or peanut butter in these, but those have a stronger flavor so the taste won't quite be the same. It'll still work and be delicious though. I mean, peanut butter doesn't ruin anything.
Can I use a different sweetener?
Sure! Another liquid sweetener like maple syrup would work in these protein bites, but you may need less of it since honey is thicker.
You can also use a dry sweetener like granulated monkfruit or coconut sugar, but you'll have to offset it with a little moisture. Try adding a tablespoon of water at a time until the texture is correct.
Is the flax meal necessary?
Not necessarily, but it'll affect the texture of the protein bites.
I like the flax meal because it helps to hold the balls together. Have you ever made a flax egg? Ground flax takes on a gelatinous texture when mixed with water. Same idea here.
You could also used ground chia if you like.
Do I have to toast the coconut?
No, but it adds flavor and makes the coconut a little more crispy.
I actually buy pre-toasted coconut from Thrive Market — Let's Do Organic brand. It's only $2.79/bag. (That link will get you $25 off your first order, too.)
You can also find the same toasted coconut flakes on Amazon, but a little more per bag.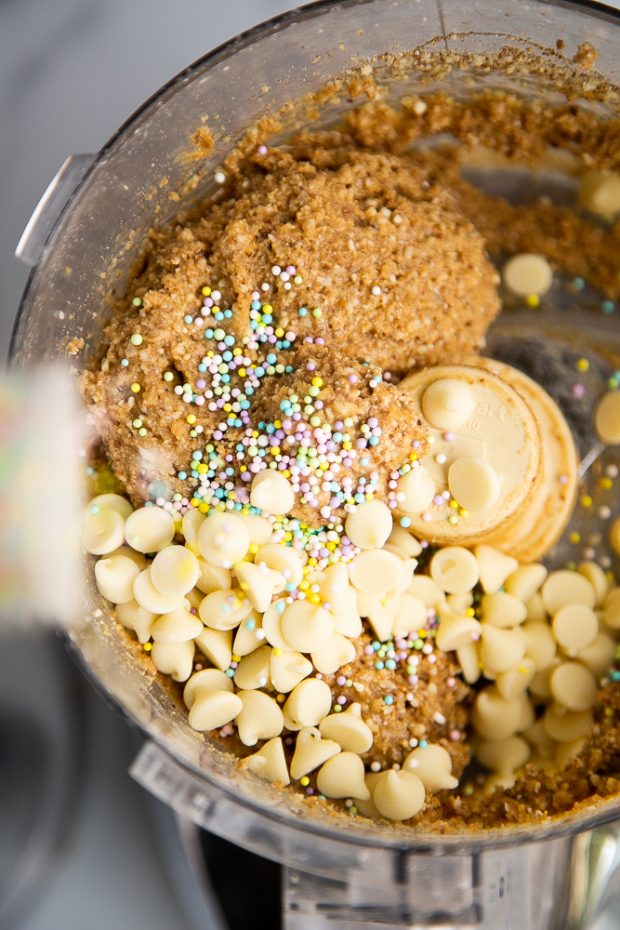 Now for the fun part.
To get a richer vanilla flavor, I used Lily's White Chocolate Baking Chips. They're stevia sweetened and mostly made with cocoa butter. They do have a little bit of milk in them, but it's such a small amount — 2-3 chips per protein bite?
If you're looking for dairy-free white chips, try Pascha Vegan White Chocolate Chips.
And yes, the sprinkles are optional, but they're so cute!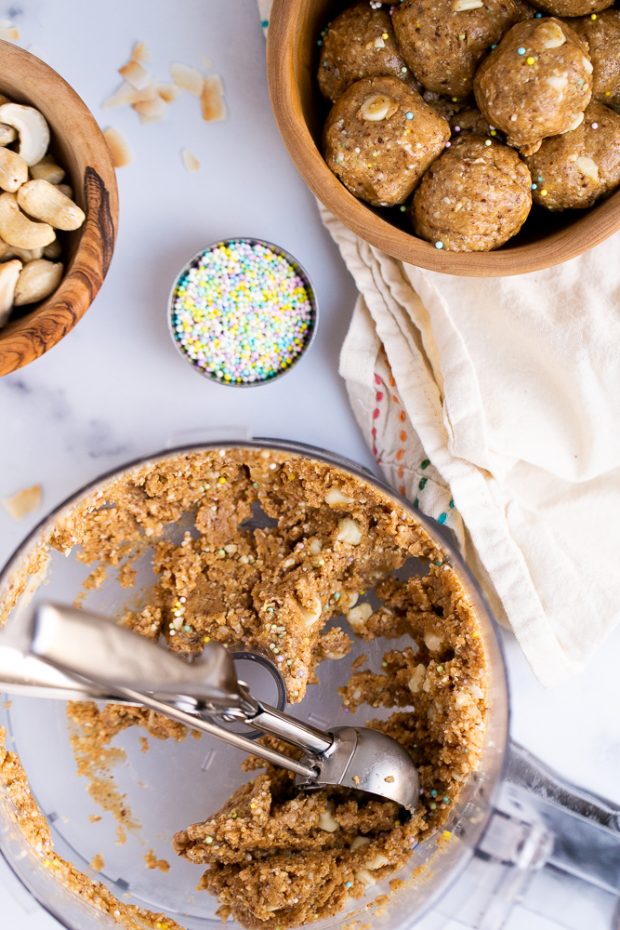 What if I don't have a food processor?
Buy one!
Not joking. I use my food processor more than almost any other small appliance that I have. Yes, more often than my Instant Pot. This Cuisinart food processor is the newer version of mine. They're great workhorses — this one has lasted longer than other brands I've tried.
Using a food processor makes these super easy, but you don't have to have one.
You can blend up the nuts in a blender and then transfer it to a mixing bowl to add the rest.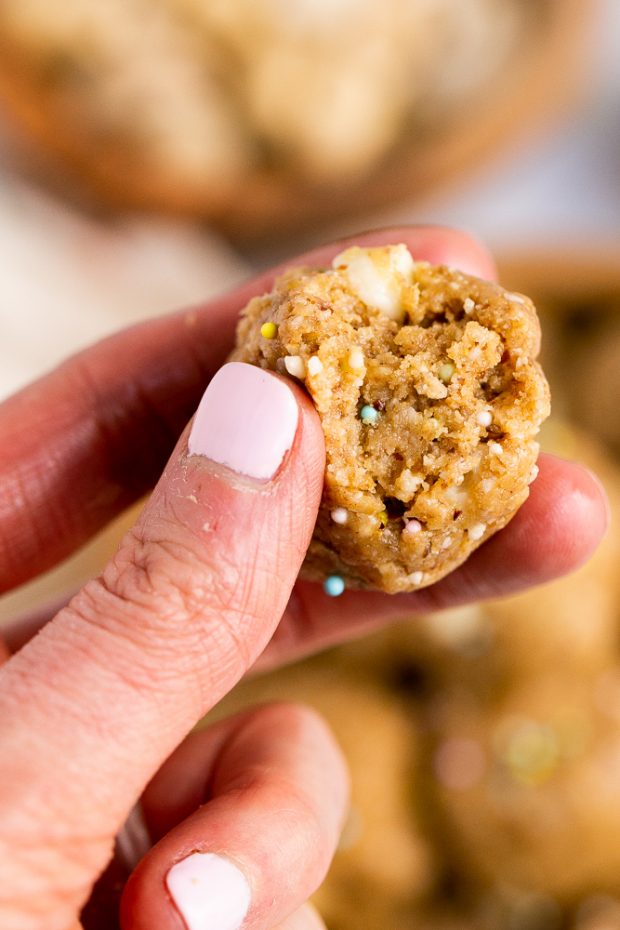 Seriously so good. A batch of these didn't last 24 hours!
If you make this recipe, be sure to post it to social media and tag me at @perrysplate or #perrysplate so I can send you some love!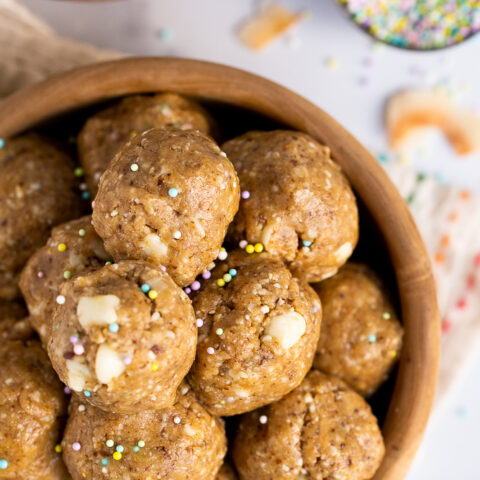 Paleo Birthday Cake Protein Bites
Additional Time:
15 minutes
These little protein bites are grain-free, primal, and naturally sweetened! You may want to double this batch -- they'll go faster than you think!
Ingredients
1 cup whole, raw cashews
1/2 cup unsweetened toasted coconut flakes
1/4 cup flax meal
1/2 cup paleo-friendly vanilla protein powder
1/2 cup cashew butter
1/3 cup honey
Pinch of sea salt
1/3 cup sugar-free white chocolate chips
1 teaspoon vanilla extract
1 teaspoon sprinkles (optional)
Instructions
Grind up the cashews in a food processor or blender until they're almost as fine as almond flour. Add the coconut flakes and pulse until everything is roughly the same size. If you're using a blender, transfer the nuts & coconut to a medium mixing bowl.
Add the flax meal, protein powder, cashew butter, honey, and sea salt. Pulse until everything is blended well and the mixture is thick and collects on one side of the workbowl.
Add the white chocolate chips and sprinkles. Pulse a few times until combined.
Chill mixture for about 15 minutes to make them easier to roll, if necessary.
Roll into 1 1/2-inch balls and put in a lidded container for storage. Store chilled for best flavor and texture.
Notes
Nat's Notes:
You can swap out the nuts and nut butter if you like, but cashews have a mild flavor that allows the "birthday cake" flavor to shine. Almonds and peanuts might overpower it.
You can use maple syrup in place of the honey -- just reduce the amount to 1/4 cup. You may also use a granulated sweetener like monkfruit or coconut sugar, but add a tablespoon full of water at a time until you get a stiff, but workable consistency for rolling into balls.
Recommended Products
As an Amazon Associate and member of other affiliate programs, I earn from qualifying purchases.