I'm crazy about this cozy, tex-mex squash soup! The bits of chorizo give it some heartiness and is perfect for a chilly fall evening.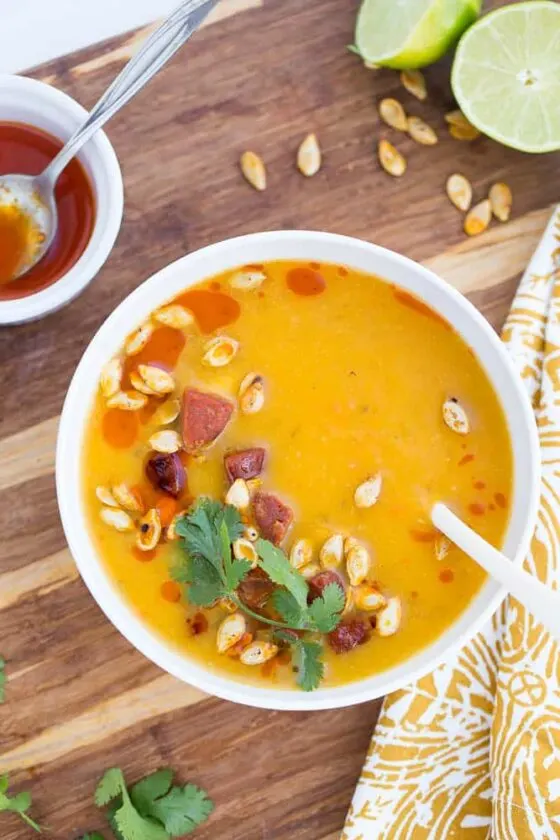 I could use a nice big bowl of squash soup right now.
I think my pie hangover is just about gone. I'm not sure what I was thinking making 11 pies.
(Yeah, I really did.)
I really love to bake, but I don't do it often, so when I have an excuse my eyes tend to be bigger than my stomach and my pent-up baking excitement explodes into a burst of butter, sugar, and flour.
Thus, making 11 pies for 13 people at Thanksgiving happens.
I did make them all gluten-free, though. Partly because I wanted a challenge. And partly because I knew I was going to eat a ton of pie and I'm picky about my wheat consumption these days.
In my defense, I wanted plenty of leftovers for a Gilmore Girls: A Year in the Life marathon on Friday with some friends.
Speaking of… thoughts about those new episodes? Drop a comment down there because I'd love to hear your take on it. (Spoilers welcome… just be careful when you scroll if you haven't seen them yet.)
Overall I really liked the new ones and it was like seeing old friends again, and I feel like I understood what the writers were trying to do with the ending, but.
But. But. Lots of buts and a couple things I REALLY didn't like. Sigh.
I didn't plan on talking your ear off about Gilmore Girls. (I could totally do that, btw.) I do have a recipe for you!
Right now I'm cleaning up my archives in an attempt to align all my recipes with the paleo/gluten-free focus of my blog. Some recipes I just took out.
Some I really loved and plan on paleo-izing or at least reworking them to make them gluten-free. One is this soup I posted several years ago.
It's a perfectly light autumn squash soup with a tex-mex spin.
The original recipe had corn and beans and a dollop of sour cream. I tweaked it and added sauteed chorizo, toasted squash seeds, and a drizzle of spiced oil (from sauteeing the chrizo). Dare I say this new version is even better?
By the way, if you'd rather use your Instant Pot to cook the squash, see my post on How to Cook Squash in an Instant Pot! (If it's small enough you don't even have to cut the squash in half.)SaveSaveSaveSave
---
If you make one of my recipes, be sure to post it on social media and tag me at @perrysplate or #perrysplate so I can send you some love!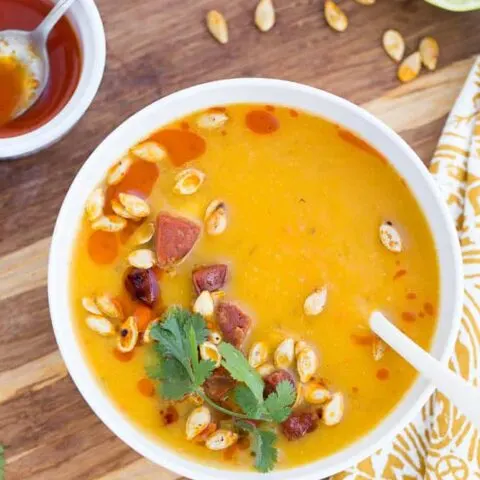 Azteca Squash Soup with Chorizo
Additional Time:
1 hour
10 minutes
Total Time:
1 hour
30 minutes
You can totally make this soup vegetarian by using vegetable stock and omitting the chorizo!
Ingredients
1 2 1/2 - 3 pound butternut squash
6 Tablespoons avocado oil, divided
1 medium onion, peeled and diced
3 celery stalks, diced
1 red bell pepper, diced
3 garlic cloves, minced
1 teaspoon ground cumin
1 teaspoon dried thyme
6 cups chicken stock
1 1/2 teaspoon sea salt
10-12 ounces fully-cooked chorizo or other spicy sausage, diced
1 lime
Chopped fresh cilantro, for serving
Instructions
Preheat the oven to 425 degrees F.
Cut the squash in half lengthwise and scoop out the insides, reserving the seeds -- if you'd like to toast them and use them for garnish.
Drizzle the inside of the squash halves with 1 Tablespoon of avocado oil. Lay them cut-side down on a baking sheet. Roast for 35-45 minutes until a paring knife easily pierces the squash. Let it cool until you're able to handle it, then scoop out the insides. Discard the skins and set the squash aside.
Meanwhile, prep the vegetables.
Heat 1 Tablespoon of avocado oil in a large pot over medium high heat. Add the diced onion, celery, and bell pepper. Cook, stirring occasionally, for 4-5 minutes until the onion begins to turn translucent.
Add the garlic, cumin, and thyme to the pot. Cook for another minutes.
Add the cooked butternut squash, chicken stock, and 1 1/2 teaspoon of sea salt to the pot. Bring to a low boil, and let it simmer for 15 minutes.
Blend the soup with an immersion blender until smooth (or use a blender if you need to). Stir in the juice from half the lime. Taste, and add more lime juice or salt if necessary.
Bring the remaining 4 Tablespoons of avocado oil to medium heat in a large sauce pan. Add the chorizo and pan fry for a few minutes it until heated through and slightly browned in spots. Remove the chorizo with a slotted spoon. Add the reserved squash seeds to the pan and cook them for 3-4 minutes until they're golden brown; remove them with a slotted spoon. Transfer the spiced oil to a small dish for serving.
Serve the soup with a couple spoonfuls of cooked chorizo, a drizzle of spiced oil, and a sprinkle of toasted squash seeds and fresh cilantro.
This post may contain affiliate links. Any purchases made by using these links won't cost you any extra and helps keep my content free. These links may be Amazon links as I am part of the Amazon Associate Program.