One-pan meals are my favorite for a busy weeknight! It's such a warm, cozy meal, rounded out with a green salad.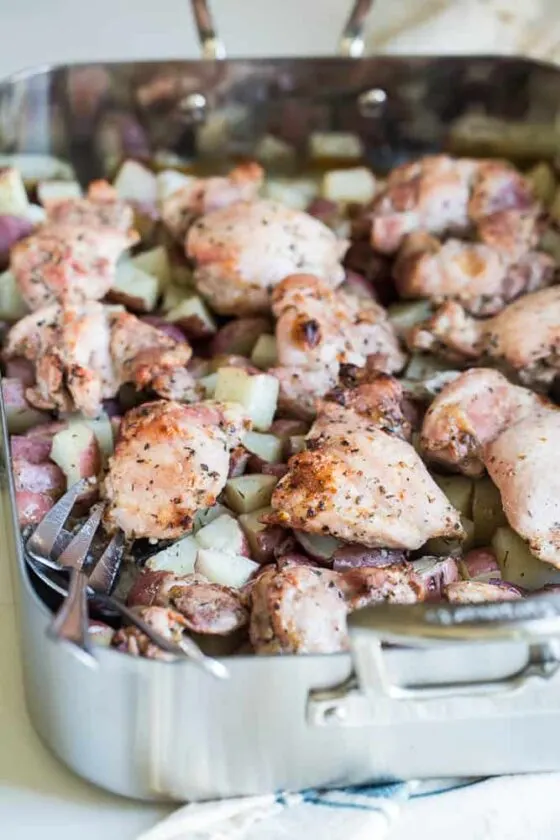 When November hits I get simultaneous feelings of elation in anticipation for the holiday season and feelings of impending doom.
Doom, as in "why didn't I get all of my Christmas shopping, projects, family pics, holiday blog posts, and my house deep cleaned in July?!"
Meanwhile in July, I make lists. Lists give me a false sense of accomplishment — like, if it's on paper it's practically done. I feel heaps better when I'm organized on paper, but actually doing all the things is exhausting. When it comes to projects, my eyes are way bigger than my stomach.
With Thanksgiving and Christmas right around the corner things are about to get crazy around here. I really try to keep things as simple as I can, but even 100 simple things on your to-do list can be maddening.
Enter: Easy weeknight meals. Over the next few weeks I'm working on some easy/fast paleo (and probably Whole30) dinners you can throw together during a busy schedule. Having healthy every day meals in between all of the indulgent social gatherings is a definite must. (And I'd rather not buy new pants.)
This particular recipe highlights the Homemade Greek Seasoning I just posted a few days ago! It's sooooo easy, guys. Just marinate the chicken in some seasoning, lemon juice, and avocado oil and throw it over some red potatoes and garlic and roast it. That's it.
We all know how amazing potatoes are when they cook in some chicken juices, right? *swoon*
Also…if you sprinkled some feta over this it would NOT be a bad idea.
If you love the flavors in this recipe, you should also try my Easy Greek Steak Kabobs with Homemade Tzatziki or my Mediterranean Ground Turkey Bowls.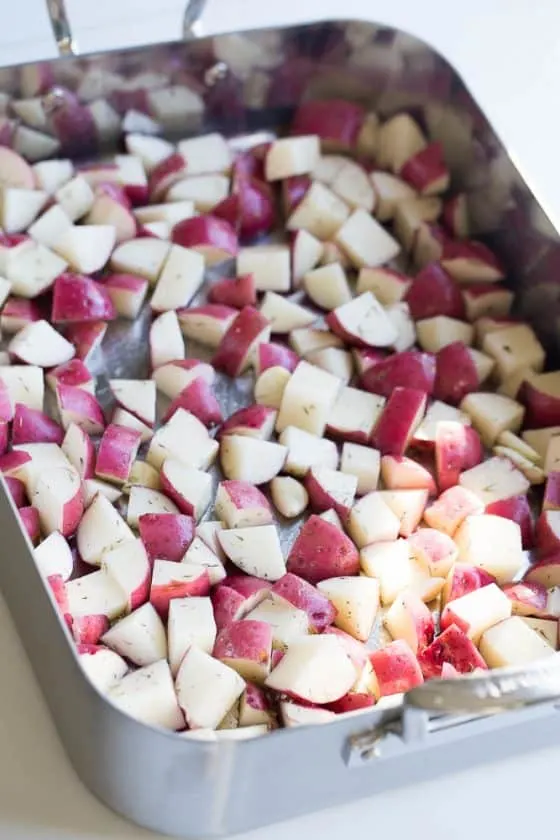 If you're looking for another easy, gluten-free one-pot meal, try this One Pot Chicken and Rice with Spring Veggies.
---
If you make one of my recipes, be sure to post it on social media and tag me at @perrysplate or #perrysplate so I can send you some love!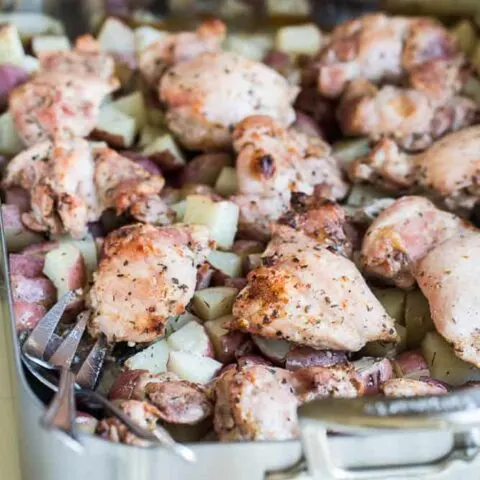 One-Pan Greek Marinated Chicken & Potatoes
One-pan meals are my favorite for a busy weeknight! I love prepping the chicken in the morning to have it ready to pop in the oven with the potatoes before dinner. It's such a warm, cozy meal, rounded out with a green salad.
Ingredients
3 pounds of chicken drumsticks or thighs
1/3 cup freshly squeezed lemon juice
4 Tablespoons avocado oil, divided
1 1/2 Tablespoon Homemade Greek Seasoning
1 1/2 teaspoons sea salt, divided
3 pounds of red potatoes, cut into 1-inch pieces
6 whole garlic cloves, peeled
1/2 teaspoon black pepper
2 sprigs of fresh thyme or 1/4 teaspoon dried
Instructions
Put the chicken in a large bowl. Whisk together the lemon juice, 2 Tablespoons of avocado oil, Greek seasoning, and 1 teaspoon of salt; pour the mixture over the chicken and toss it around to coat evenly. Chill for at least 3 hours and up to 18 hours.
Preheat the oven to 425 degrees F.
Place the potatoes and garlic cloves in a large roasting pan or rimmed baking sheet. Sprinkle the 1/2 teaspoon of salt, the black pepper, and thyme over the potatoes. Drizzle the potatoes with the remaining 2 Tablespoon of avocado oil. Lay the chicken over the potatoes.
Roast for 35-60 minutes, depending on the thickness of the chicken, until the chicken is cooked through and the potatoes are tender.
Serve.
Notes
Nat's Note: If you're flexible with dairy, then sprinkling some feta cheese on this is definitely not a bad idea.
This post may contain affiliate links. Any purchases made by using these links won't cost you any extra and helps keep my content free. These links may be Amazon links as I am part of the Amazon Associate Program.