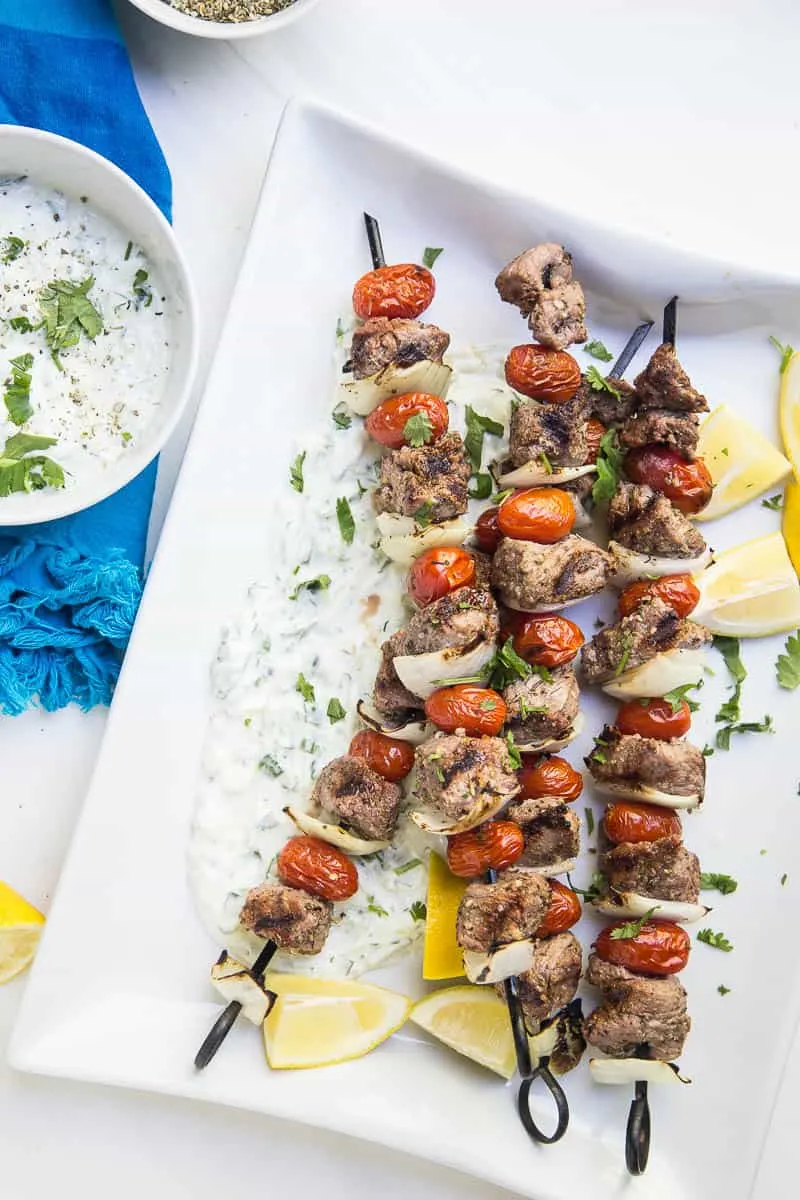 Ah, grilling season isn't over yet, friends. I think fall might be better for grilling anyway because it's not blazing hot outside while you're cooking stuff over a very hot fire. Sweaty, much?
Luckily, you can make these amazing beef skewers ANY TIME OF THE YEAR.
Plus, it's another reason to pull out the Homemade Greek Seasoning I told you to make a while back. (You did make some, didn't you? It's the king of marinade blends. Seriously.)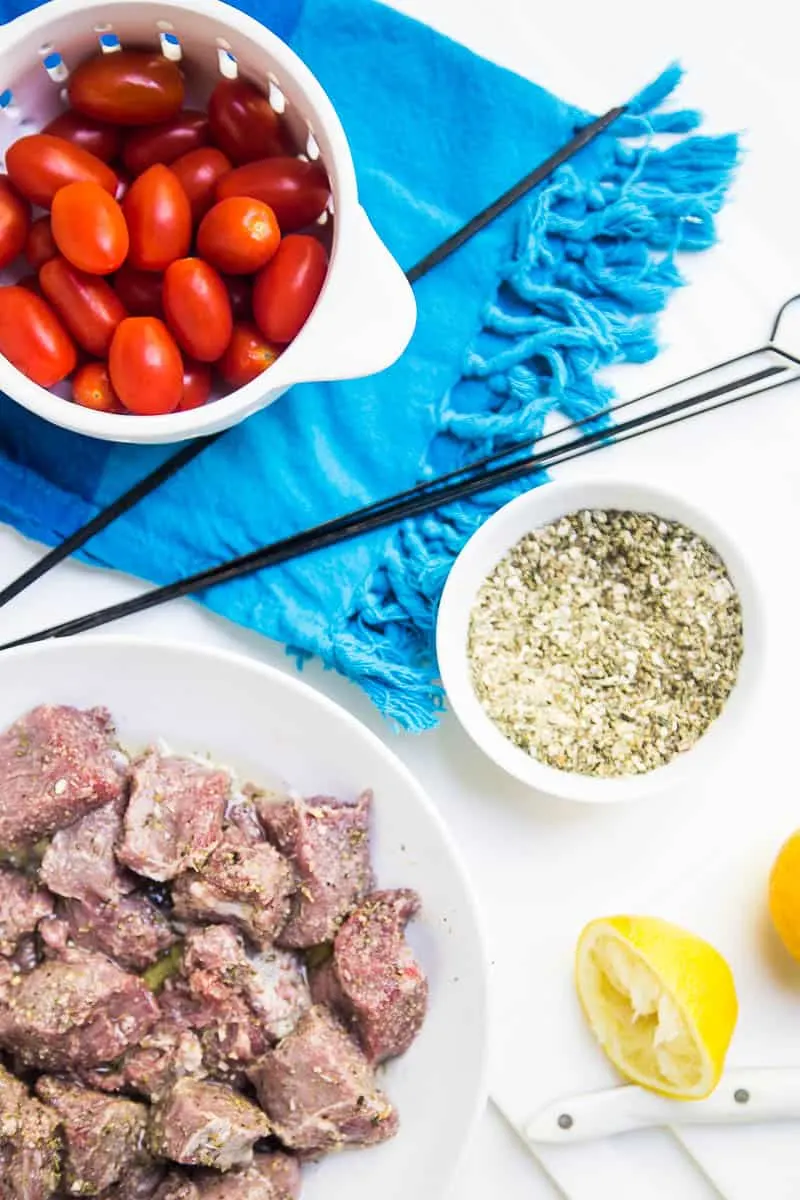 My 10-year-old daughter is a big fan of steak. The borderline-raw kind of steak that has red juices oozing out of it. I've never been able to meet her there, but I always cook some steak on the medium rare side. Just for her.
A couple weeks after I made and photographed these skewers, she was sniffing around in my spice cabinet and pulled out the oregano. After a sniff she goes, "Mom! This one smells like beef!"
At first I was confused because I don't usually put straight oregano on beef. Then I remembered I had used my Greek seasoning (which is heavy on the oregano) on those steak skewers (that she loved) and now she associates oregano with steak.
Food memories are fun, aren't they?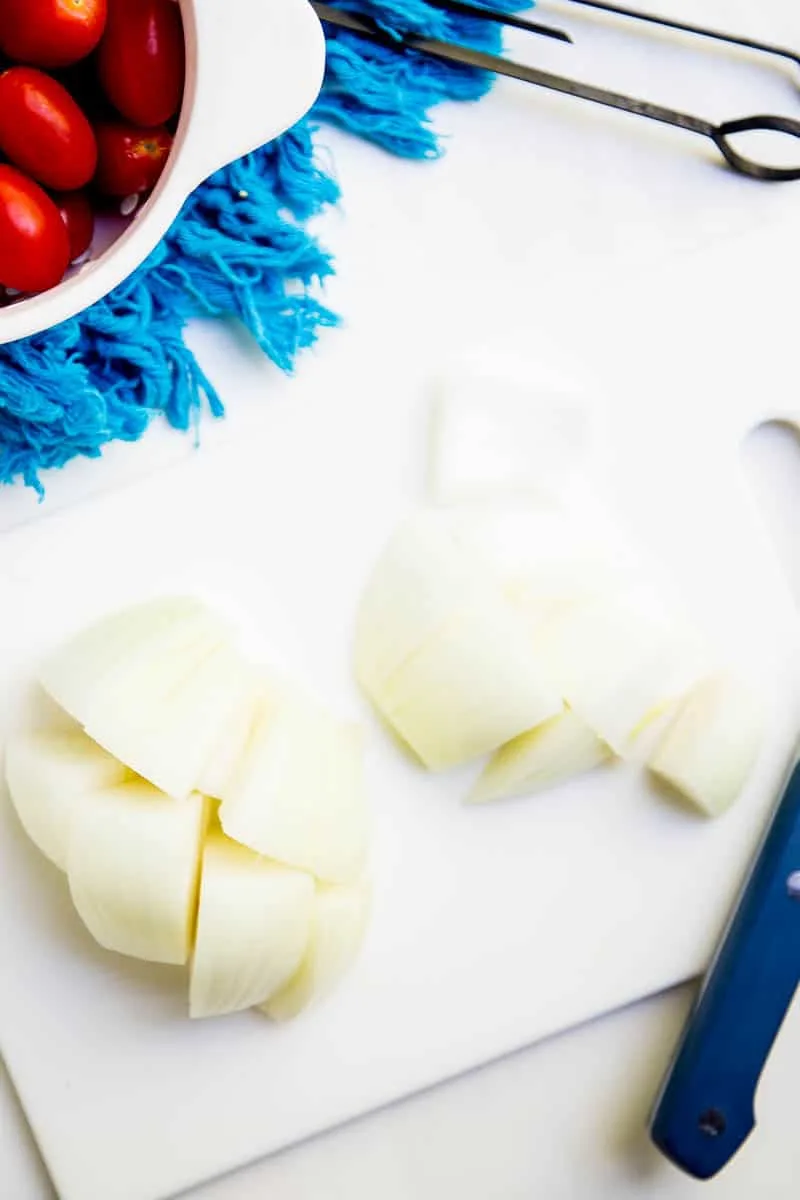 So, these skewers are super easy to make. You can also use any kind of quick-cooking grilling vegetables you like here.
I used grape tomatoes and onions, but you could also use zucchini, yellow squash, or bell peppers. Eggplant would be good, but slice it really thinly. Eggplant takes a little longer to cook. Crisp-tender eggplant is not something you want to eat. *shudder*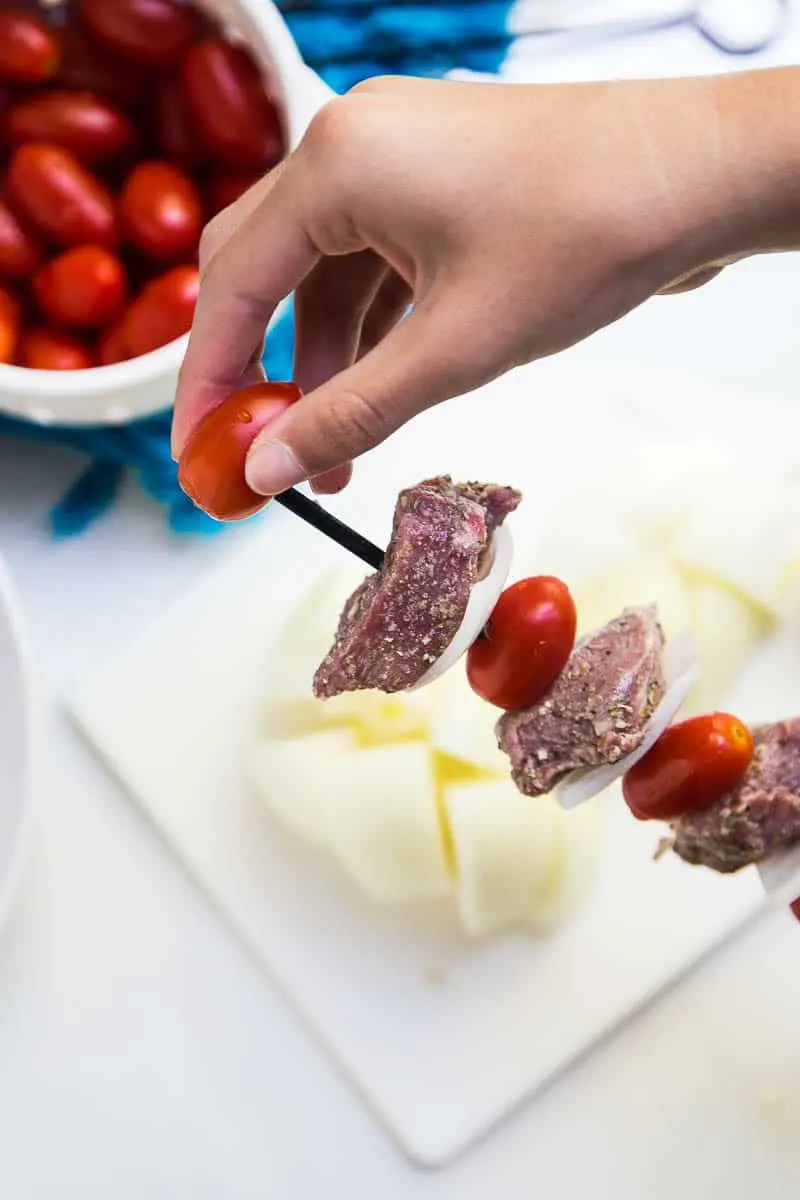 About the Greek Marinade for steak
The nice thing about this recipe is that the marinading time is quick — just 30 minutes at room temperature. There's a lot of lemon juice and garlic from the seasoning — it's a potent marinade.
You could also do a longer marinating if it's more convenient for you, but if you've got a really tender cut of steak (like pieces of filet) I wouldn't leave it longer than 3-4 hours or it'll get mushy.
Feel free to marinate the meat alone in a bowl or thread them immediately onto metal skewers (or soaked wooden skewers) and let them sit that way.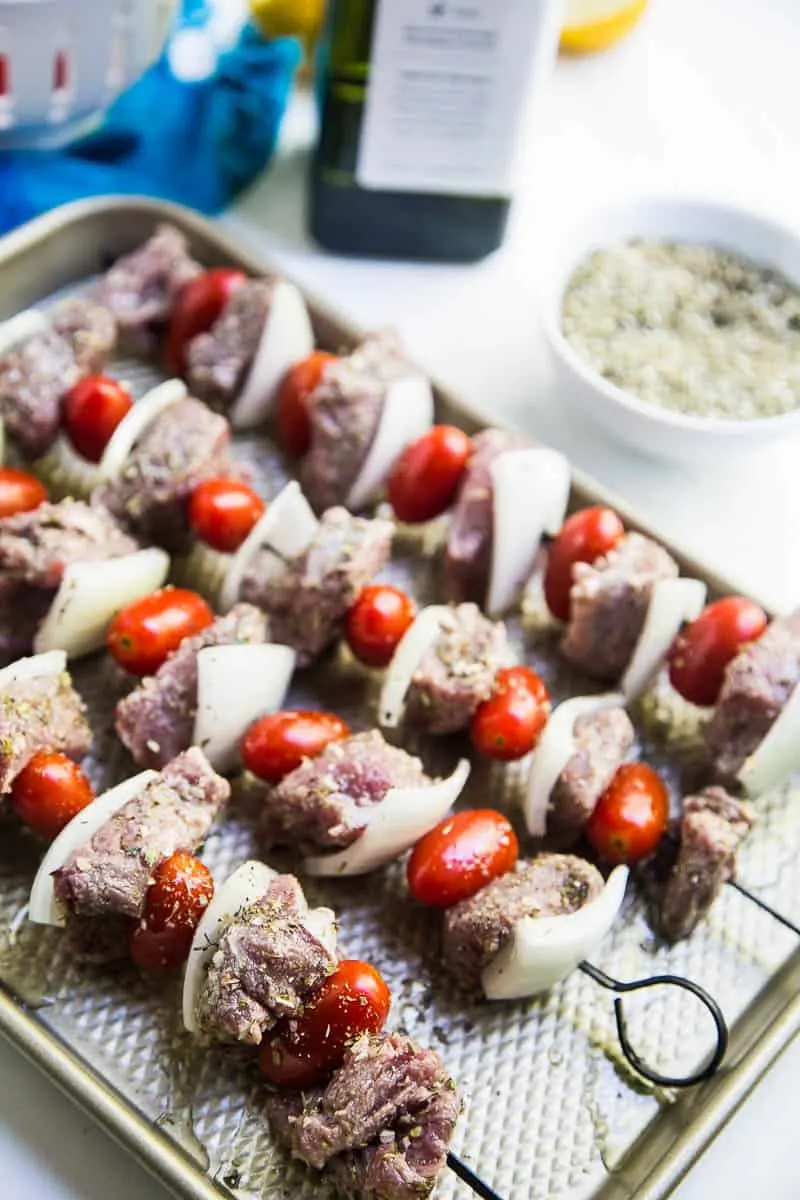 The Best Metal Skewers
Speaking of skewers, I really love these black metal ones I used for this recipe. They're my go-to ones. Here are some metal skewers on Amazon that are similar.
We also have some flexible wire skewers that are fun to use, too. They're also really long and you can snake them around other things on your grill to save space.
Double-pronged skewers are also good and keep the pieces of food from spinning on the skewer while you're trying to flip them.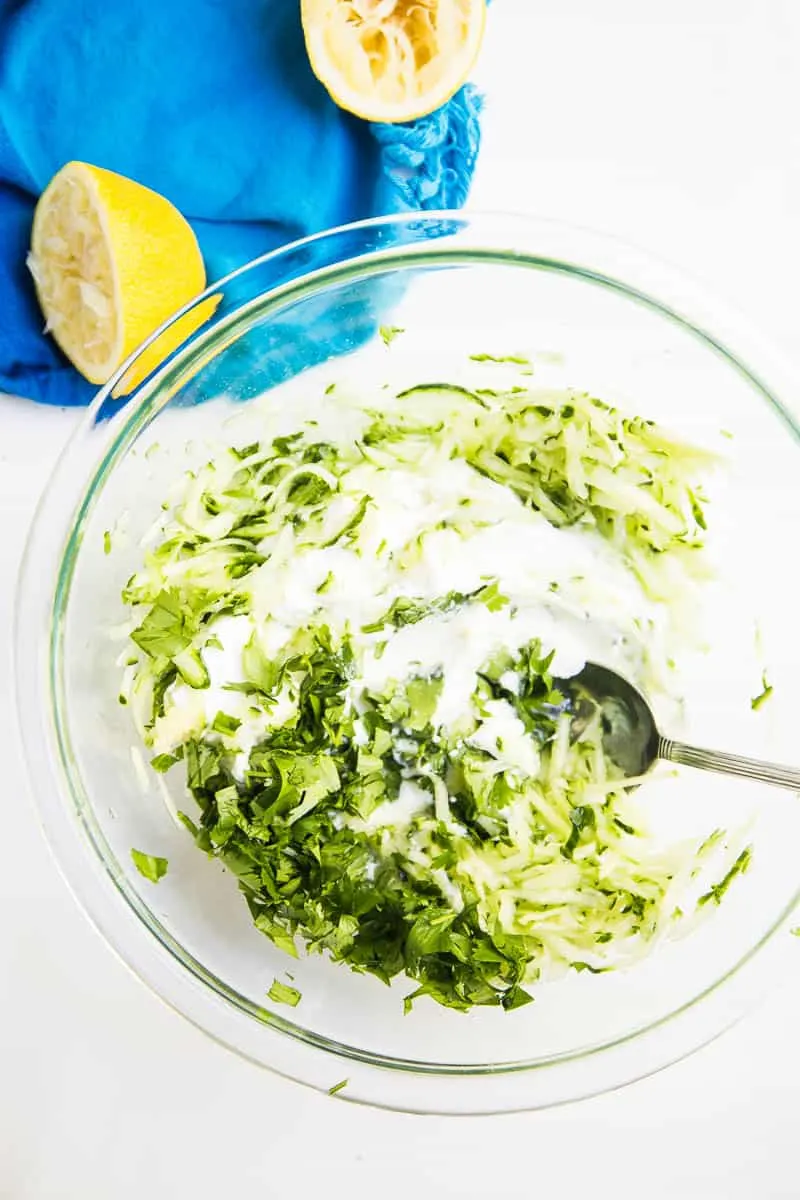 Ah, the homemade tzatziki sauce. Mmm. I love this stuff so much. So do my kids!
This version uses plain, unsweetened yogurt, but you can make it dairy free and use a combination of Homemade Mayo and coconut milk. Don't use store-bought mayo because it has a stronger flavor than homemade. And it makes the tzatziki taste weird.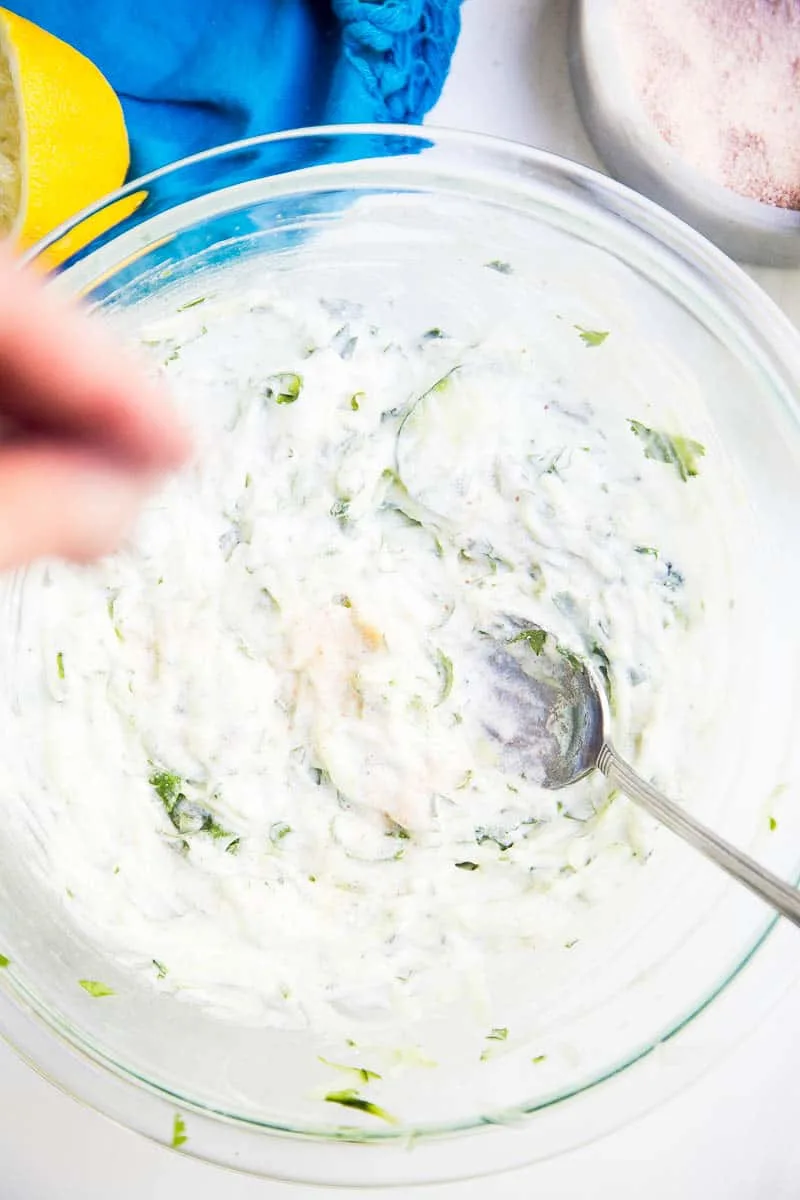 I like my tzatziki to have a strong cucumber flavor which is why I put a lot of shredded cucumber in it.
I find that shredding the cucumber lets more of the flavor release into the sauce. It's probably not "traditional" but by now you know that I don't really care. If it tastes better making it a non-traditional way, then…. why not do it?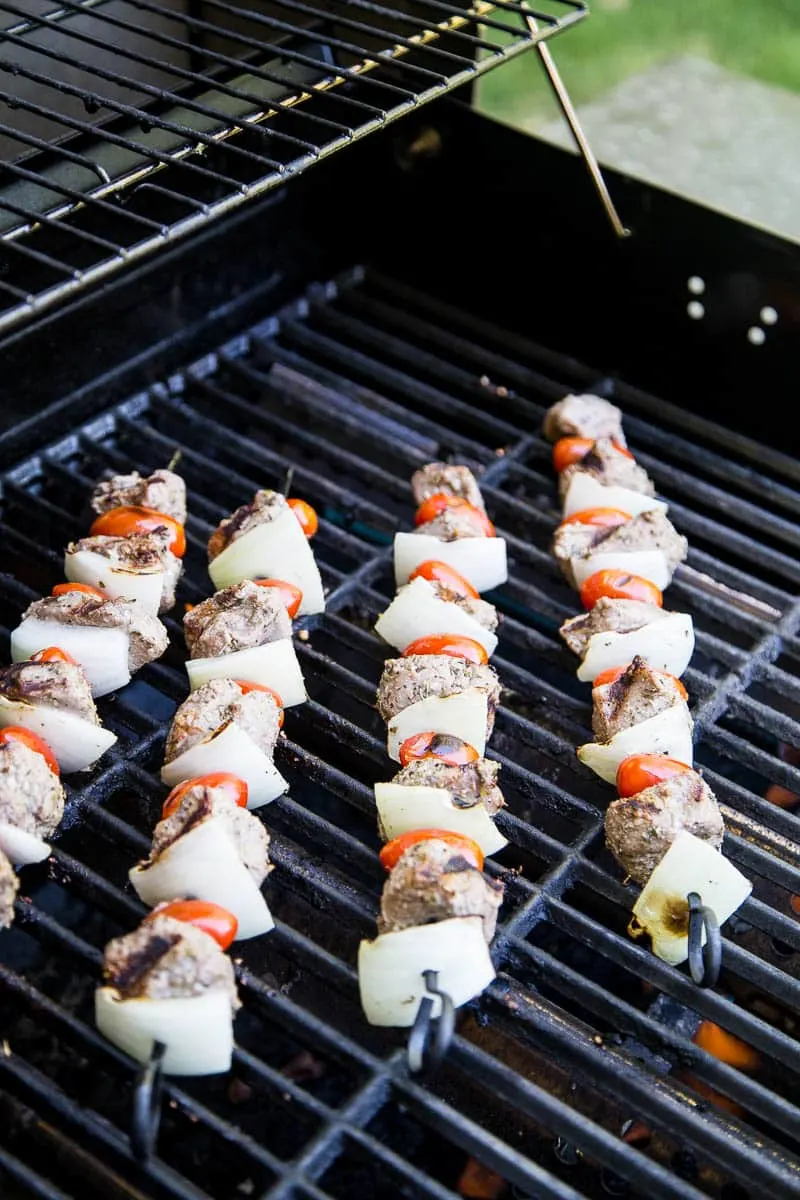 The nice thing about these skewers is that they cook really quickly.
The steak only needs a couple of minutes per side, and that's just enough time for the onions to get a little charred and softened and the tomatoes to blister and split.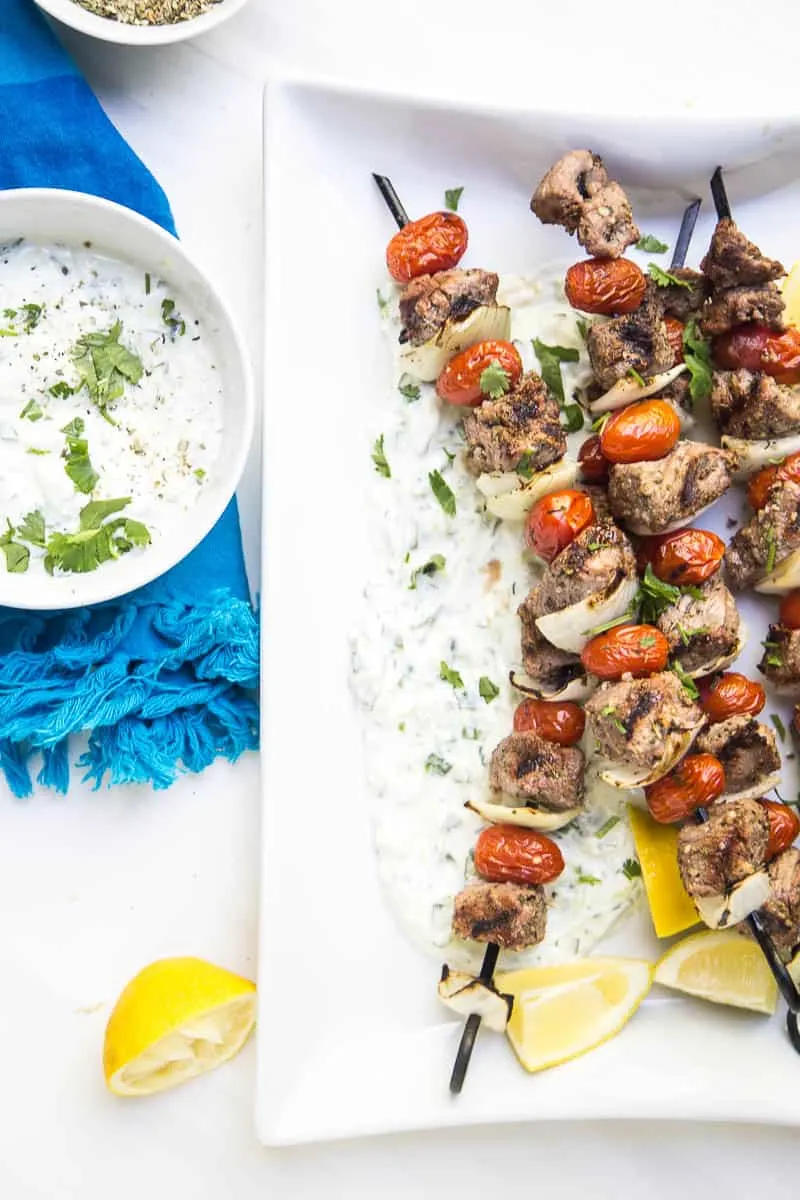 YESSSSS. Oh, man. This was one of our favorite meals this month.
What to serve with Greek Steak Kabobs
Here are a few ideas of how to serve these! Although, you could really eat it alone with the tzatziki….
Super simple — with steamed rice. Or on a bed of simple salad greens and use the tzaziki as a dressing.
Syrian Salad with Za'atar Vinaigrette would be FABULOUS with this.
Marinated Cucumbers — also fabulous. And really quick to put together ahead of time.
Make some wraps with my Paleo Zucchini Flatbread!
More Ways to Use Greek Seasoning
Make a double batch of my Homemade Greek Seasoning and use it in these recipes, too!
This One-Pan Greek Marinated Chicken & Potatoes meal was one of our favorites, too! And super easy to make.
For a quick weeknight meal, use my Greek Seasoning in these Mediterranean Ground Turkey Bowls!
---
If you make one of my recipes, be sure to post it on social media and tag me at @perrysplate or #perrysplate so I can send you some love!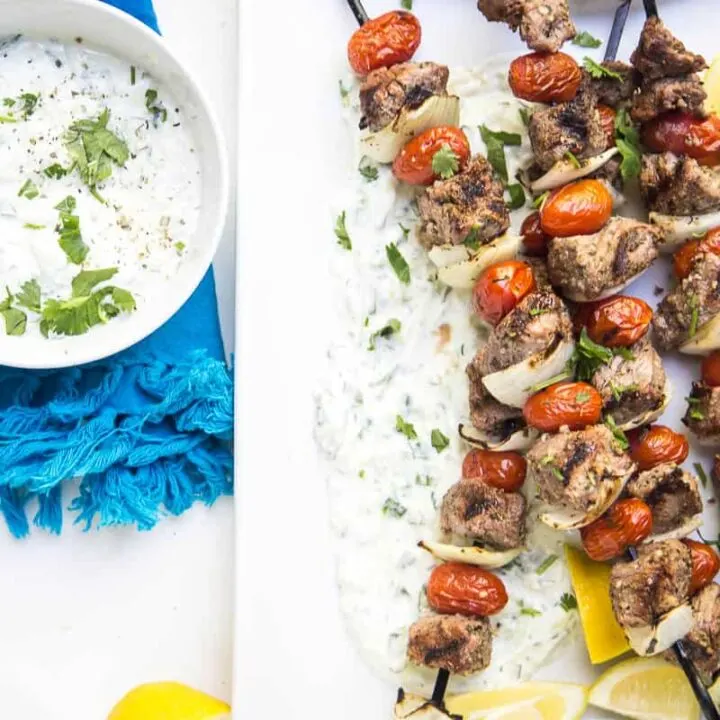 Easy Greek Steak Kabobs and Tzatziki
Additional Time:
30 minutes
I think Greek spices were made for beef. Seriously. These steak kabobs are beyond fabulous and only need about 30 minutes of marinating! There's also a dairy-free variation for the tzatziki, so check the recipe notes.
Ingredients
For the steak kebabs:
1-1/2 pounds steak, cut into 1 1/2-2 inch pieces
1/2 teaspoon sea salt
2 lemons
2 Tablespoon avocado oil, or other heat-safe oil
1 medium onion, cut into roughly 1-inch pieces
8-10 ounces cherry or grape tomatoes
For the tzatziki
1 cup full-fat, unsweetened plain yogurt (Greek or regular is fine)
1/2 of an English cucumber, grated or chopped small
2 garlic cloves, grated with a Microplane grater or minced finely
1/3 cup fresh chopped cilantro, plus more for garnish
1/8 teaspoon sea salt
Pinch of ground cumin
Instructions
Put the steak cubes in a medium bowl. Sprinkle them with 1/2 teaspoon of salt. To the steak, add the juice from 1 of the lemons, the Greek seasoning, and the avocado oil. Use your hands and mix everything so the meat is evenly coated. Set aside for 30 minutes at room temperature. (You can cover it if you like.)
To make the tzatziki, put the yogurt, cucumber, garlic, cilantro, sea salt, and cumin in a bowl. Add the juice from 1/2 of one of the other lemons and stir well. Chill, covered, until ready to use. Cut the remaining 1/2 lemon into a few wedges to use for serving.
Preheat the grill to high heat.
Thread the steak cubes, onion slices (you won't use the whole onion, just the largest slices), and tomatoes on metal skewers.
Lay the skewers on the hot grill grates and grill for about 8-10 minutes, until grill marks form and the meat is cooked to the doneness you prefer. The onions should be soft and slightly charred and the tomatoes should begin to blister.
Serve the skewers with tzatziki, a sprinkle of fresh cilantro, and a squeeze of lemon juice.
Notes
1. If you like, you can thread everything on skewers right after you toss the meat in the seasonings and they can marinate that way.