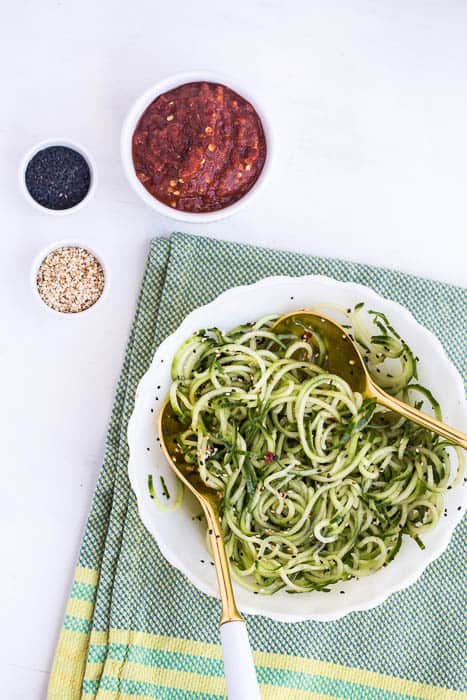 How's everyone feeling this morning? Candy hangover happening?
Every year I'm like, "I can totally live without candy. I don't even like candy that much." And then I pop a few Reese's which is my gateway to Snickers, Twix, and York. When I break out some Skittles I know I've gone off the deep end.
Yes, I eat candy sometimes. I'm afraid I unintentionally disillusion people because I run a mostly paleo blog. No, we're not 100% paleo all the time. I do eat candy (and other things) occasionally. More on Oct 31st. *cough*
And the next morning I'm craving a salad. Or something like these cucumber noodles. We eat Marinated Cucumbers a lot. It's one of my go-to side dishes if I'm needing more vegetables because the kids love them.
One day earlier this year when I was in the throes of recipe development for my book, I tinkered with the flavoring and made cucumber noodles instead of slicing them. LOVE!
They're a perfect side dish for an Asian-type dish like Five-Spice Roast Chicken, Five-Spice Steak with Ginger Butter (I guess I have a thing for five-spice. :)), Ginger-Garlic Salmon and they're f-a-a-a-abulous on Sushi Bowls. We've started having sushi bowl Sunday every week, and I'm always happy when I can pull out some leftover cukes.
Recipe is below!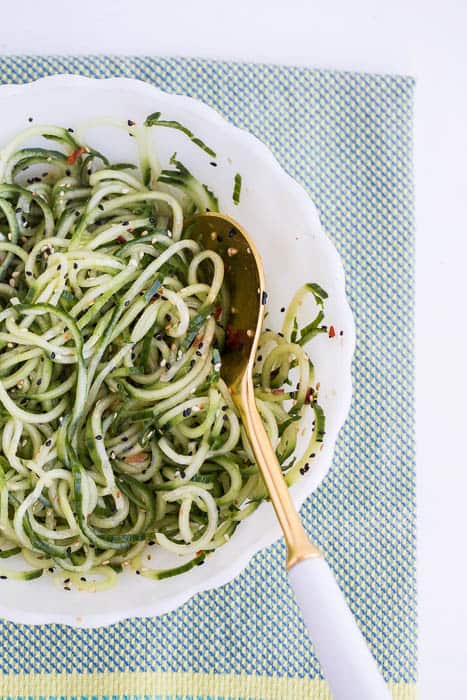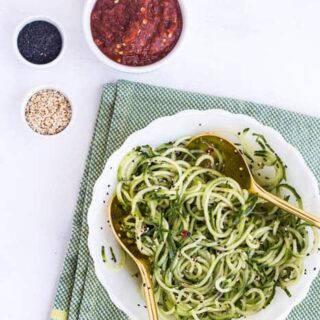 Sesame Marinated Cucumber Noodles
Yield:
Serves 4-5 as a side
A perfect paleo side dish for any Asian style main dish!
Ingredients
1 English cucumber, spiralized
1/4 cup rice vinegar
2 teaspoons sesame oil
1/2 teaspoon sea salt
1/2 teaspoon honey or coconut sugar
1-3 teaspoons Asian chili paste or sriracha
2 teaspoons sesame seeds (I used half toasted, half black)
Instructions
Place the spiralized cucumber in a serving bowl.
In a glass measuring cup combine the rice vinegar, sesame oil, salt, honey, desired amount of chili paste, and 1/4 cup of water. Mix it well, until the honey is incorporated into the dressing.
Pour the dressing over the cucumbers. Sprinkle the sesame seeds on top and toss to coat.
It's best to let it sit for 10-15 minutes before you eat it, but eating it right away is fine, too.
Notes
Nat's Note: If you're doing Whole30, omit the sweetener and check the ingredient list on your chili paste. If you're low-carb/keto, then omit the sweetener or change it to something low-carb, like Swerve.