We've been eating a lot of chicken and rice lately.
I found this chicken recipe in this month's issue of Bon Appetit, where it was featured in entire meal.
Rarely do I see an entire meal in a magazine and want to make all of it. They put things together for a reason, as I learned with this meal.
It was so good. All of it.
The chicken had just the right amount of spice, it was juicy, and it perfectly complimented the Ginger-Scented Rice and Snow Peas with Toasted Almonds.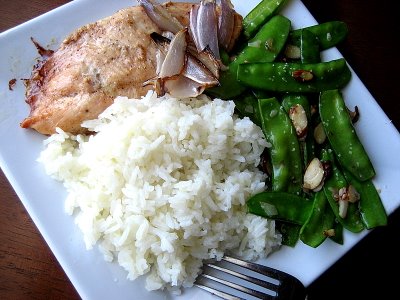 More recipes to use Chinese Five Spice
Chinese Five Spice isn't a super commonly used seasoning in my kitchen, but I do have a couple more recipes to use it:
Five Spice Steak with Ginger Butter is a spice-rubbed steak finished off with ginger compound butter. A FANTASTIC combination!
I love using Chinese Five Spice in my Egg Roll in a Bowl recipe, too!
---
If you make this recipe, be sure to post it to social media and tag me at @perrysplate or #perrysplate so I can send you some love!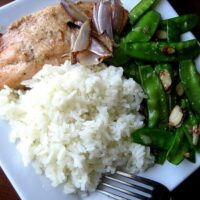 Five-Spice Roast Chicken
This is such a fun, exotic take on a roast chicken! It pairs so well with the ginger rice and sauteed snow peas I mentioned in the post.
Ingredients
4 garlic cloves, pressed
1 T coarse Kosher salt
2 T avocado oil
1 tsp Chinese five-spice powder
1 cut-up chicken (8 pieces; about 3 1/2 lbs)
1 large onion, peeled, cut into 16 wedges
Instructions
In a large bowl, combine pressed garlic, salt, olive oil, five-spice powder and mix well. Add the chicken pieces and turn to coat. Cover and chill at least an hour or overnight.
Preheat oven to 425 degrees F.
Arrange onion wedges in a 13x9x2 roasting pan. Place chicken, skin side up, over the onions. Roast until the chicken is cooked through, basting occasionally with pan juices, about 50 minutes.
Remove from oven and allow to rest for 10 minutes or so.
Transfer chicken and onions to a platter and serve.
Notes
Nat's Notes:
Honestly, dealing with a whole chicken, skin, bones, icky slimy parts and all freaks me out still. (I'm working on it.) I halved the recipe and used two large boneless, skinless chicken breasts - about 1.5 lbs total. If you use this type of chicken, reduce the amount of salt at least by half.
This was so good, I may venture out and disassemble my own chicken next time. Gulp.
You should be able to find Chinese five-spice powder either in the spice section or the ethnic food section of your grocery store.
Recommended Products
As an Amazon Associate and member of other affiliate programs, I earn from qualifying purchases.