Well, our week of indoor camping is over. If you could call it that. (I lost steam very quickly.) I'll report about our emergency preparedness exercise shortly. In the meantime, I've got a killer steak recipe for you! Also…
Take a gander at this beauty…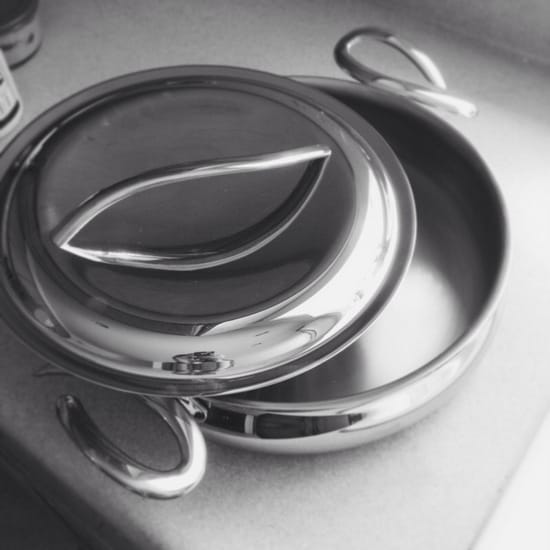 Isn't she sexy? (Yes, she.) Well, as sexy as a sauté pan can be. It's a 12-inch saute pan made by Nambe. I recently discovered them and really love the thought and design that goes into their kitchenware. Beautiful, beautiful stuff. The first couple of weeks I had her she sat on my counter and was simply admired. Partly because I didn't want to get her dirty. Partly because I had no idea where she was going to live.
I adore the handles and the curves in the side. Don't get me wrong. This is a hefty pot, not just pretty. Durable, too. It also has handy nubs in the lid for automatic basting. Stunning and smart. Quite a catch.
For this post I was going to share a steak recipe I've been working on and make the steaks in this pan, but ended up grilling them instead.
Hello, I had to. It was nearly 80 degrees outside.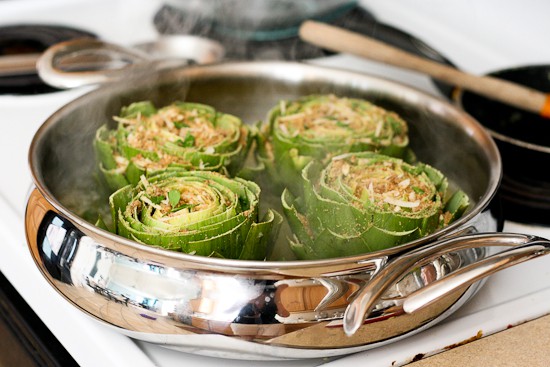 So instead she steamed four stuffed artichokes I made for a Clean Eating photo assignment.
Artichokes are so pretty, but so much work and so much gets thrown away. Tasty, but a lot of effort for such a small amount of food. (And admit it… just a vehicle for butter.)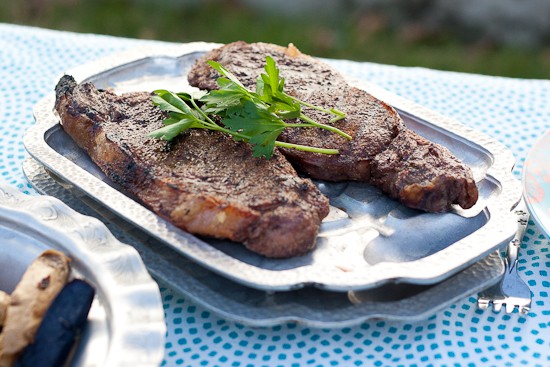 We also had steaks that night since it was a celebratory dinner of sorts. Celebrating the return of real food and the departure of dehydrated meal packets. (Truly a celebration.)
Let's chat about the steaks for a minute. I used a tenderizing technique found on Steamy Kitchen (thanks to my lovely friend Kathryn) that I use for every single steak I grill or pan-sear. I have zero tolerance for chewy beef, which is why I have so many beef slow cooker recipes. This technique not only tenderizes, but deeply flavors the meat as well.
Click over to the tenderizing by salting method to see the details. After salting and resting the steaks I sprinkles them with garlic, five-spice, and black pepper. A few minutes of grilling later I topped each steak with a pat of ginger compound butter… which is missing in the photo up there. I added it a few minutes later when I realized I had forgotten, but the steaks weren't hot enough to really melt the butter properly. So I ended up with this…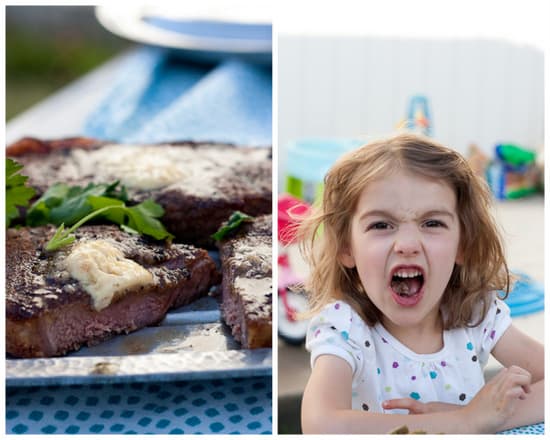 Meh. Don't let that gloppy butter fool you, though. Those steaks were some of my favorite we've ever had. (My sweet, little, carnivorous 4-year-old thought so, too.) Ginger butter rocks my world, guys. It's easy, too, just butter and… ginger. Remember when I made that herb butter for the roasted chicken? Same idea.
These steaks would be just as good seared in my new pan and finished off in the oven. I love pans that go from stovetop to oven. Except when I forget the handle is hot and grab it with my bare hands. (I've done that more times than I'd like to admit.)
Recipe for the steaks is below!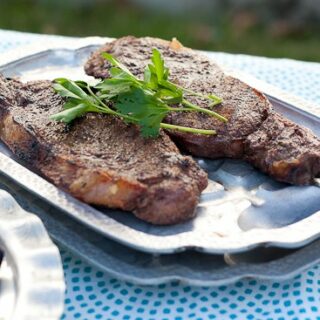 Five-Spice Steaks with Ginger Butter
I love the Asian flavors in this BOMB steak recipe -- the Chinese five-spice powder and the ginger butter that finishes the steak is such a steller combination!
Ingredients
For the steaks
2 New York strip steaks (or any cut you like)
salt
1/2 teaspoon garlic powder
1/2 teaspoon Chinese five-spice powder
1/4 freshly ground black pepper
For the ginger butter
3 Tablespoons softened butter
2 teaspoons finely grated fresh ginger
Instructions
(To use the tenderizing method I talked about, click the link within the post to read the details.)
Preheat your BBQ grill or stove-top (oven-safe) pan to medium-high heat. (If you're using a pan, also preheat your oven to about 400 degrees F.)
Combine the garlic powder, five-spice powder, and pepper in a small bowl. If you aren't using the tenderizing method, also add 1/4 teaspoon of salt. Rub the spice mixture on the steaks. I only rubbed it on one side, but you can do both if you like.
Place the steaks on the grill (or pan) spice-side down and let them cook, undisturbed for 3-4 minutes, until grill marks (or dark sear marks) form. Flip the steak and cook for another few minutes, until the steak is cooked to your liking. (We like them medium to medium well.) If you're doing it in a pan, you'll need to transfer the pan to the oven for several minutes. Transfer to a platter and cover to keep warm. Let the steaks sit for at least 5 minutes before slicing to retain their juices.
Meanwhile, combine the butter and ginger in a small bowl. Add a spoonful to each steak before serving. You can also make this ahead of time, wrap it up in wax paper, and store it in the freezer. It slices into "coins" nicely that way. (see the link within the post for photos)
Disclosure: I received a complimentary saute pan from Nambe. As always, opinions shared are 100% my own.