This is a rich and fluffy gluten-free, naturally-sweetened chocolate silk pie and the only dairy is grass-fed butter!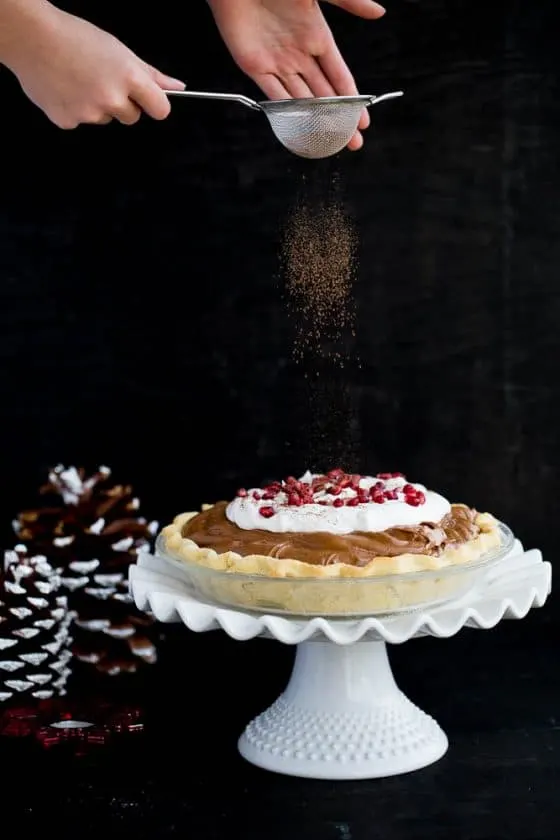 Oh, this pie. It's like a fluffy, fudgy plate of heaven.
What do I mean by "cleaned-up" chocolate silk pie? Well, for starters it's gluten-free. I used my Perfect Gluten-Free Pie Crust for this, and I swear, it's a match made in heaven. (More on that later.)
Also, it's naturally sweetened. I used coconut sugar in the filling and a little stevia in the coconut cream. I was afraid it would be a grainy mess, but it's actually smooth like buttah.
Speaking of buttah… It has buttah. Grass-fed buttah.
(Ok, I'll stop saying buttah. It's so fun though!) (You said it out loud, didn't you?)
I really wanted to make this pie completely dairy-free, and maybe I'll tinker with it later on, but for now it's not. We actually do OK with small amounts of dairy (mostly butter, cheese, and plain yogurt), so it's not something we have to avoid. Except for the baby, but he's allergic to a ton of things right now — I'm hoping he grows out of all of it.
That was a really long explanation that yes, it has butter, but that's the only dairy in the pie. And use grass-fed butter (like Kerrygold!) because it tastes amazing, and it comes from healthy cows.
So, yes "Cleaned up." Not paleo, but gluten-free and naturally sweetened. Sweets are sweets though, and I'm not claiming this pie is healthy, but it's probably a couple steps up from a regular chocolate silk pie. And your gluten-intolerant friends will thank you.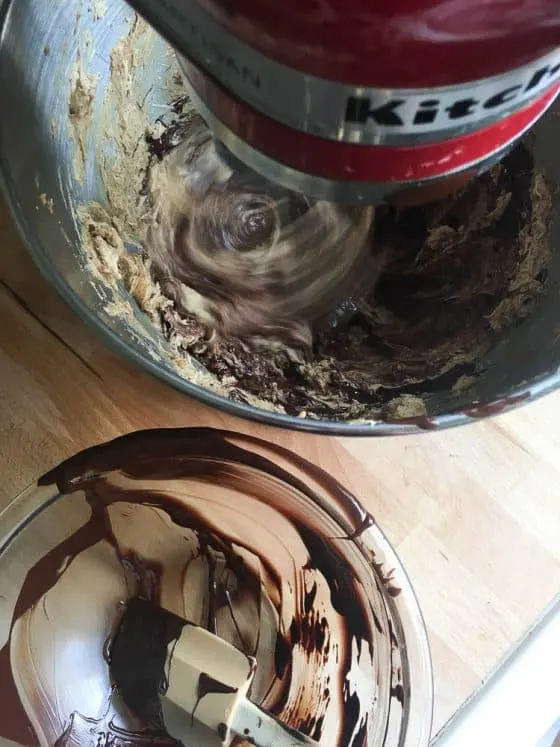 You might notice in the recipe that it uses raw eggs. This is what makes the texture so fluffy and smooth without using cream, and because I've never been one to avoid eating raw cookie dough (like, for my entire life) and we buy high-quality eggs, it's not a problem for me.
If it still makes you nervous, use pastured eggs.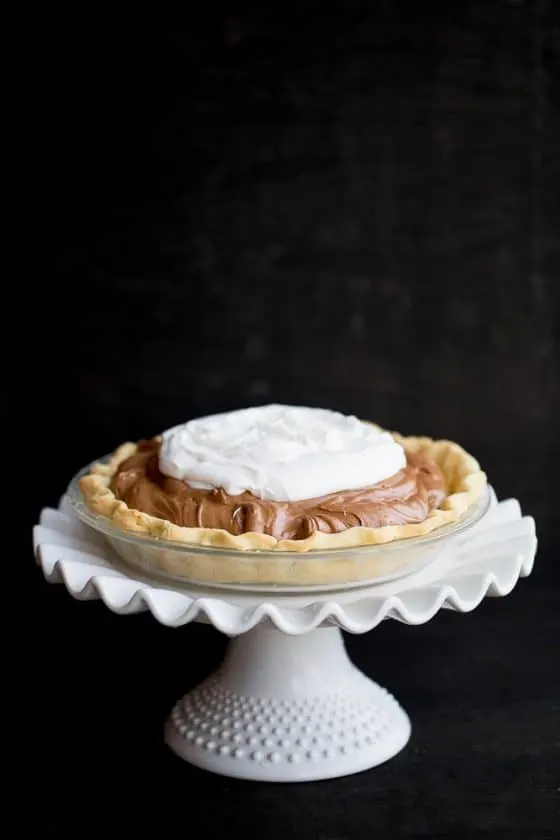 Also, I highly recommend using a stand mixer for this. It whips for a long time, and you'll be standing with a hand mixer for like, a half hour, to get the texture you need. And even then it might not quite be right.

Gorgeous, right? I've grown to love coconut cream, much to the chagrin of my kids. I'm still convincing them that it's an acceptable substitute for real whipped cream.
I have the baby convinced, but he's allergic to dairy anyway, and he loves everything I give him.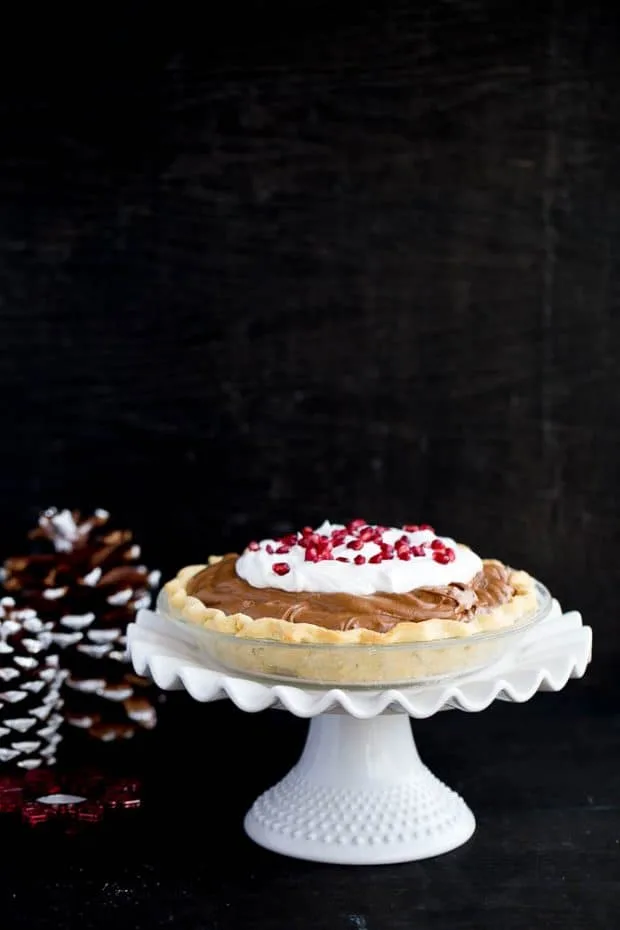 I had a few pomegranate arils in a bowl leftover from breakfast, and I'm so glad I sprinkled them on top! This isn't really a holiday-specific pie, but those little jewels add some Christmas twinkle.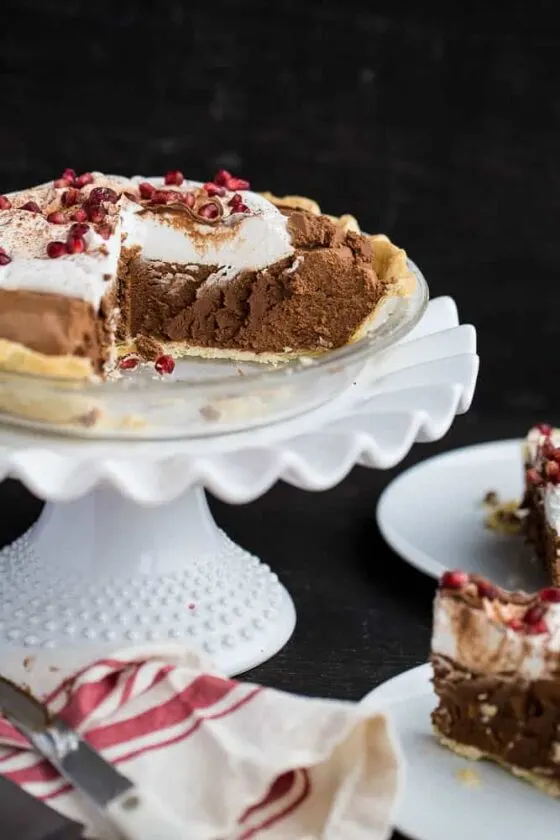 After chilling for a couple of hours it firms up and slices beautifully.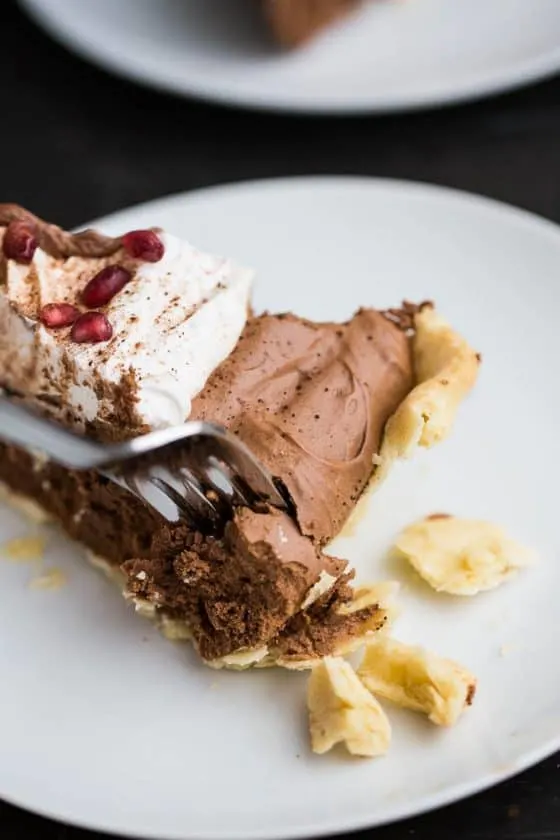 And can I brag about this crust for a minute? This pie sat overnight in the fridge and look how flaky it still is! The bottom is just as flaky, too. And look at those layers!
Seriously, whip one of these up for the holidays!
(It's rich though, so pace yourself. I realized this after I wolfed two slices and later felt like a pile of rocks was sitting in my stomach. #worthit)
If you're looking for another type of gluten-free chocolate dessert, try a Flourless Chocolate Cake like this one from Gluten Free on a Shoe String. This Vegan Chocolate Cake Recipe from Beaming Baker would be good for your vegan friends during the holidays and is gluten-free as well.
---
If you make one of my recipes, be sure to post it on social media and tag me at @perrysplate or #perrysplate so I can send you some love!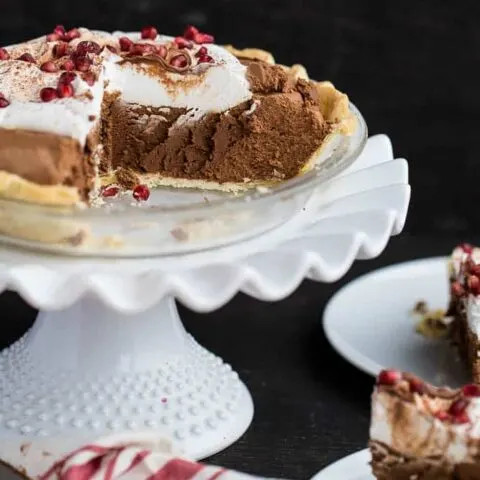 Cleaned-Up Chocolate Silk Pie
Additional Time:
1 hour
40 minutes
Here's a cleaned-up version of a chocolate silk pie -- naturally sweetened atop a gluten-free crust.
Ingredients
4 ounces high-quality unsweetened baking chocolate
8 ounces (2 sticks) of grass-fed butter, softened
1 1/2 cups coconut sugar
1 teaspoon vanilla extract
4 high-quality, fresh eggs
1 1/2 cups coconut cream (see note)
3-4 drops vanilla stevia or 1 Tablespoon pure maple syrup
Pomegranate arils and cocoa powder, for garnish (optional)
Instructions
Melt the chocolate using a microwave (30-second intervals) or a heat-safe bowl resting in a pot with 1-inch of water in the pot -- over medium-high heat.
Allow the chocolate to completely cool. Remove the bowl from the pot if using that method. It's really important that the chocolate is pourable, but room temperature.
Meanwhile, add the butter and coconut sugar to the bowl of a stand mixer fixed with the whisk attachment. (You can use a hand mixer, but you may not get the same results.) Whip the butter and sugar on medium-high speed for at least 3-4 minutes until it has lightened several shades of brown and is somewhat fluffy. Don't worry if the mixture is still grainy -- it'll all work out in the end.
Pour the melted and cooled chocolate and the vanilla extract into the bowl and continue to whip.
Add the eggs, one at a time, whipping for 5 minutes in between each addition. When you're done the mixture will no longer be grainy and it will resemble fluffy chocolate pudding.
Transfer the filling to the pre-baked crust. Smooth it out.
Transfer the hardened coconut cream to a bowl. Whisk well, to loosen it up. Add the stevia or maple syrup and whisk to combine. Use the cream immediately or cover and chill later. If it seems too runny, put it in the fridge for 10-15 minutes and it will firm up.
At this point you can add the coconut cream before chilling. Or you can wait and add it later, immediately before serving. The coconut cream will harden somewhat after being chilled.
Garnish the pie with a dusting of cocoa powder and pomegranate arils.
Notes
Nat's Notes:
You can either buy coconut cream or gather it from 2-3 cans of coconut milk. Either way you'll need to chill the cans of cream/milk for several hours to harden the cream and allow it to separate from the clear-ish liquid. Turn the can upside down when you open it, drain out the liquid (save it for smoothies!) and then scrape out the hardened coconut. If you use coconut milk you'll get about 1/3 cup of coconut cream per can, depending on the creaminess of your coconut milk.
SaveSaveSaveSave
This post may contain affiliate links. Any purchases made by using these links won't cost you any extra and helps keep my content free. These links may be Amazon links as I am part of the Amazon Associate Program.