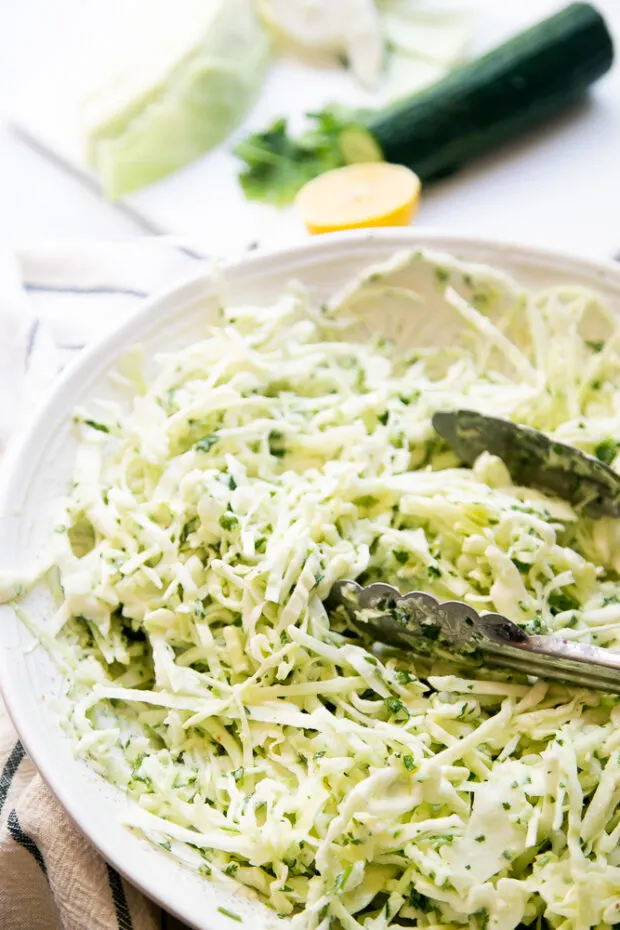 We eat a lot of cabbage slaw around here. Mostly the Southwest Cabbage Slaw that I posted years ago. (It's still a family favorite!)
I wanted to create another slaw that had a creamy dressing, but not heavy like a coleslaw.
This one is DELICIOUS. I'll show you how to make it (hint: dump and buzz the dressing!) and what to serve it with.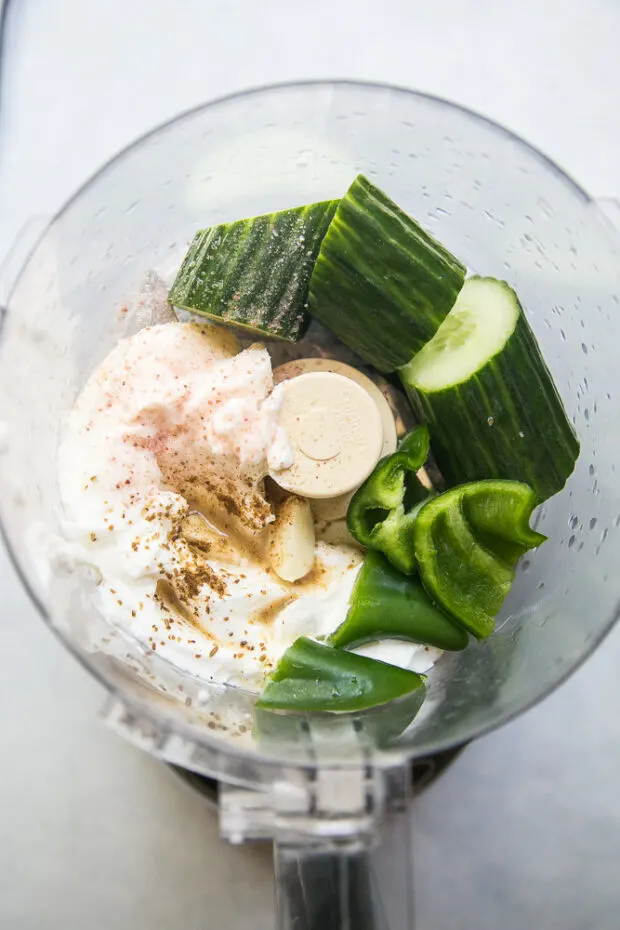 The dressing is cucumber yogurt based with a jalapeno, some garlic, lemon, and a pinch of cumin.
You can also add cilantro if you want. I did and it's a perfect addition. You can use fresh parsley if you don't like cilantro.
By the way, consider this another nudge to get a food processor if you don't already have one. Yes, you can use a blender for this, but sometimes it's harder to get a uniform blend with a blender if you're using thicker ingredients.
I have a little Cuisinart that I found at Costco several years ago. Here's a similar one on Amazon: Cuisinart 8-cup Food Processor.
My food processor has a permanent home on my kitchen counter and I use it at least 3-4 times a week.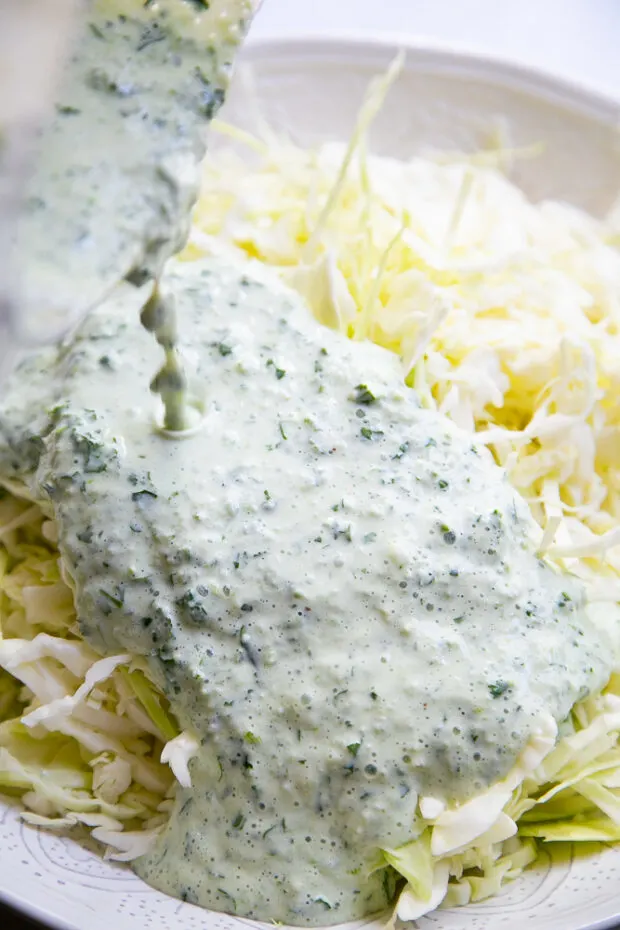 I also used the slicing blade on my processor to shred this cabbage.
Yes, you can slice it by hand if you need to.
I like that this dressing has some tiny minced pieces of cucumber and jalapeno to give it a little more texture and make the cucumber flavor more pronounced.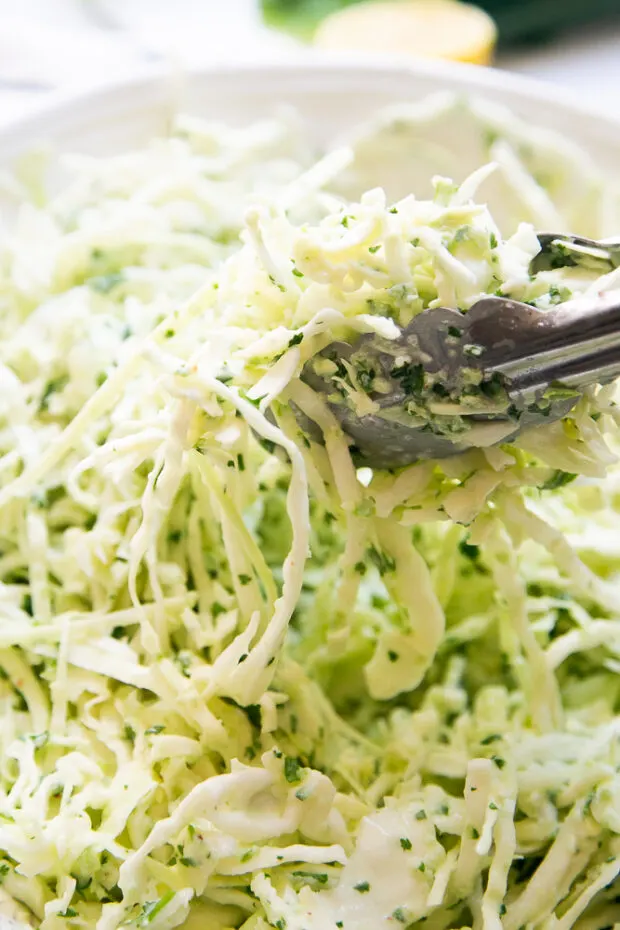 Toss the cabbage slaw with a big pair of tongs and you're ready to go!
Can I make this ahead?
Yep. I'd recommend eating it within 3 days because the cabbage starts to release moisture and it will make the dressing runny and pool at the bottom.
Another option would be to shred the cabbage, make the dressing and store them separately until you're ready to eat.
Can I make this Dairy-Free?
I haven't made this with a yogurt alternative, but if I were to do so, I'd get some dairy-free cream cheese (like Kite Hill) and use that in place of yogurt. You may need to add a little almond milk so it doesn't get super thick.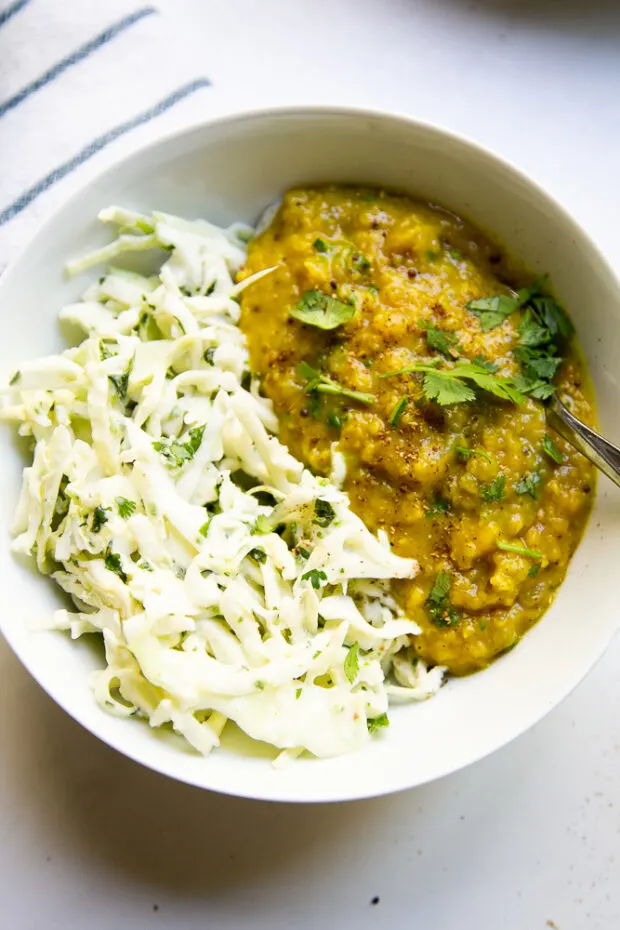 What do I serve with this cabbage slaw?
Lots of things! Grilled or roasted meats, anything that has a Latin, Middle-Eastern, or Indian influence would be good, too. Here a few things that would be particularly great:
Any kind of Indian-inspired curry, like the ones I have here: Perry's Plate curry recipes. The photo above shows it with my Easy Lentil Curry — I loved these two together!
Added to a taco with some pork carnitas (in my Pressure Cooker Cookbook!), Shredded Chipotle Taco Beef, Shredded Green Chile Chicken, or any taco meat, really.
With Easy Instant Pot Ribs or Pulled Pork!
It goes beautifully with Middle Eastern inspired meals like Harissa Roasted Salmon or Grilled Moroccan Chicken & Garlic Sauce.
As a base for a quick lunch salad with some tuna added to the top or some leftover Roasted Chicken. I did that the other day, actually, and it was delicious! Mmm.
---
If you make one of my recipes, be sure to post it on social media and tag me at @perrysplate or #perrysplate so I can send you some love!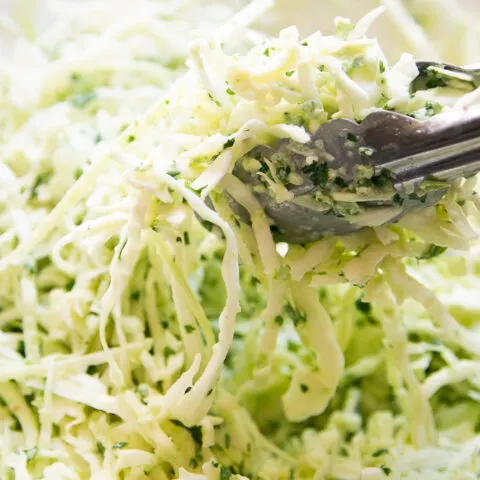 Cabbage Slaw with Cucumber Yogurt Dressing
This cabbage slaw is covered in a cucumber-jalapeno Greek yogurt dressing and goes beautifully with just about any Latin or Middle Eastern inspired meal.
Ingredients
1/2 medium or large head of cabbage
3/4 cup plain, unsweetened Greek yogurt
1/2 English cucumber, cut into 3 chunks
1 jalapeno, seeded and cut into large pieces
Juice from 1/2 of a lemon
1/2 teaspoon salt
1 clove garlic
pinch ground cumin
1/2 cup chopped fresh cilantro (about a handful)
Instructions
Core and shred the cabbage using the slicing disk on a food processor or slicing very thinly with a sharp knife. Put the shredded cabbage in a very large bowl.
Rinse out your food processor work bowl and add the remaining ingredients. You can also do this in a blender. Pulse and blend until the mixture is relatively smooth and no large chunks of cucumber or jalapeno remain.
Pour the dressing over the cabbage and toss with a pair of tongs until it's evenly coated in the dressing. Taste, and add more lemon or salt if you think it needs it.
Serve immediately or cover and chill for up to 3 days.
Notes
Nat's Note: If you use regular plain yogurt instead of Greek, reduce by 1/4 cup so the dressing isn't too runny.
Recommended Products
As an Amazon Associate and member of other affiliate programs, I earn from qualifying purchases.