This Instant Pot shredded chicken is flavored with red curry paste and paired with a sweet creamy slaw! Make a batch and prep your lunches for the week!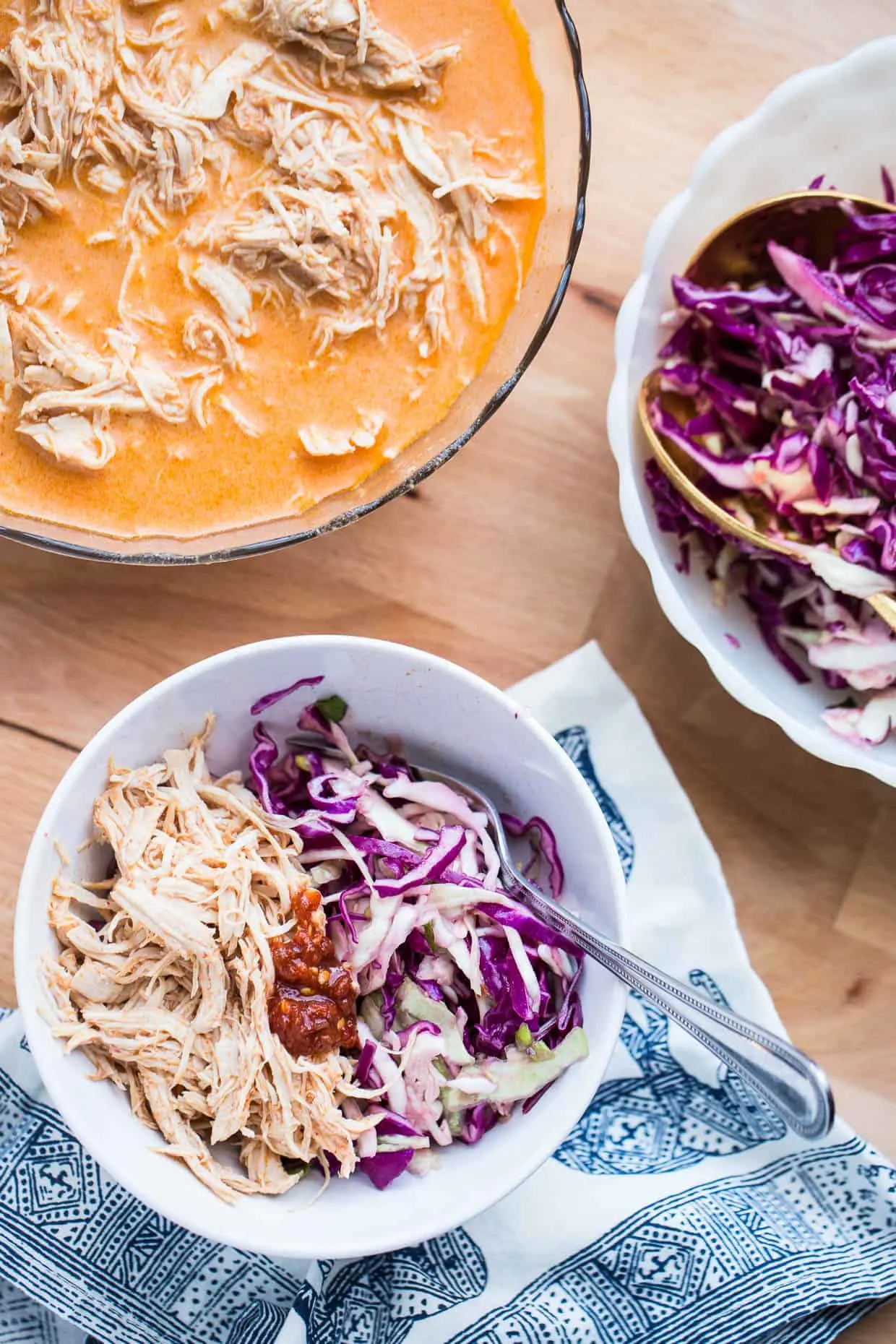 I've been craving Thai lately, but eating Thai in a restaurant is almost impossible on Whole30 because I'm willing to bet those sweet, creamy curry sauces aren't compliant.
But they're SOOOOO good. I think one of my first post-Whole30 meals is going to be Thai take out from the place around the corner.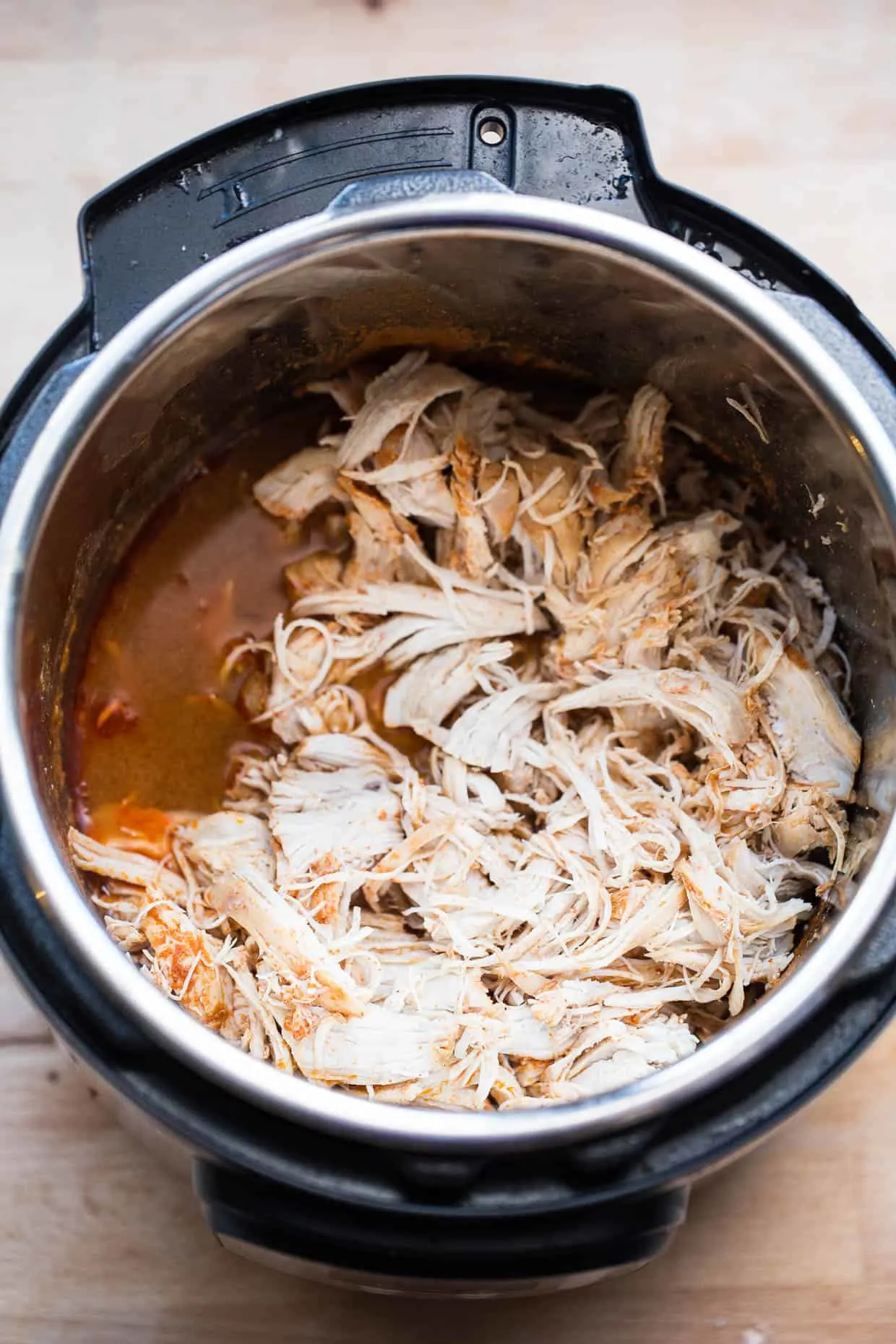 Meanwhile I'll just pull out my Instant Pot and whip up some of this red curry chicken. This is one of the easiest recipes — just throw some chicken and a few other ingredients into your pot. (Or slow cooker — don't worry, I added an adaptation in the recipe!)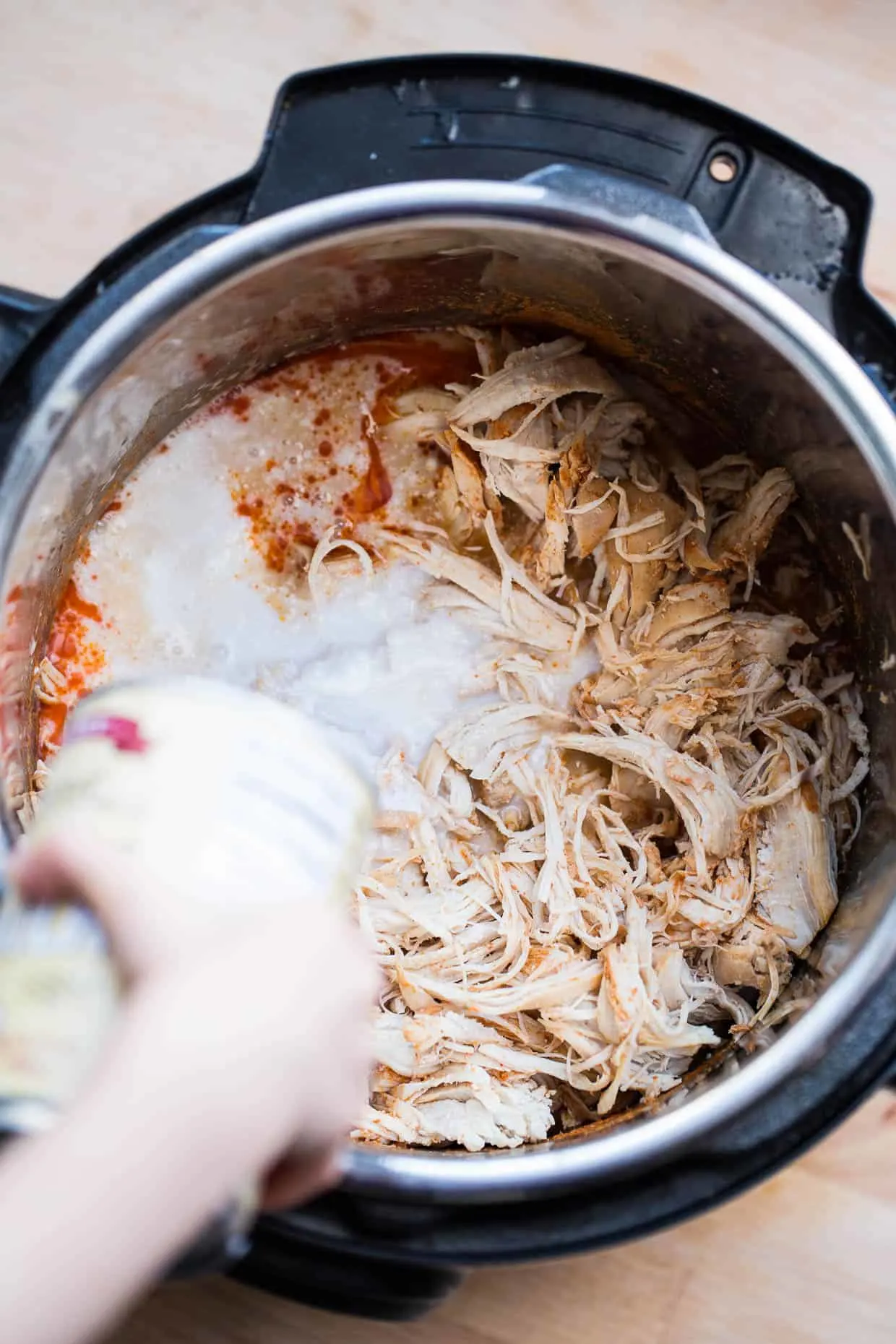 Thirty minutes later — BOOM. Shred it up and grab the nearest four-year-old to pour a can of coconut milk into the pot. Four-year-olds like that sort of thing.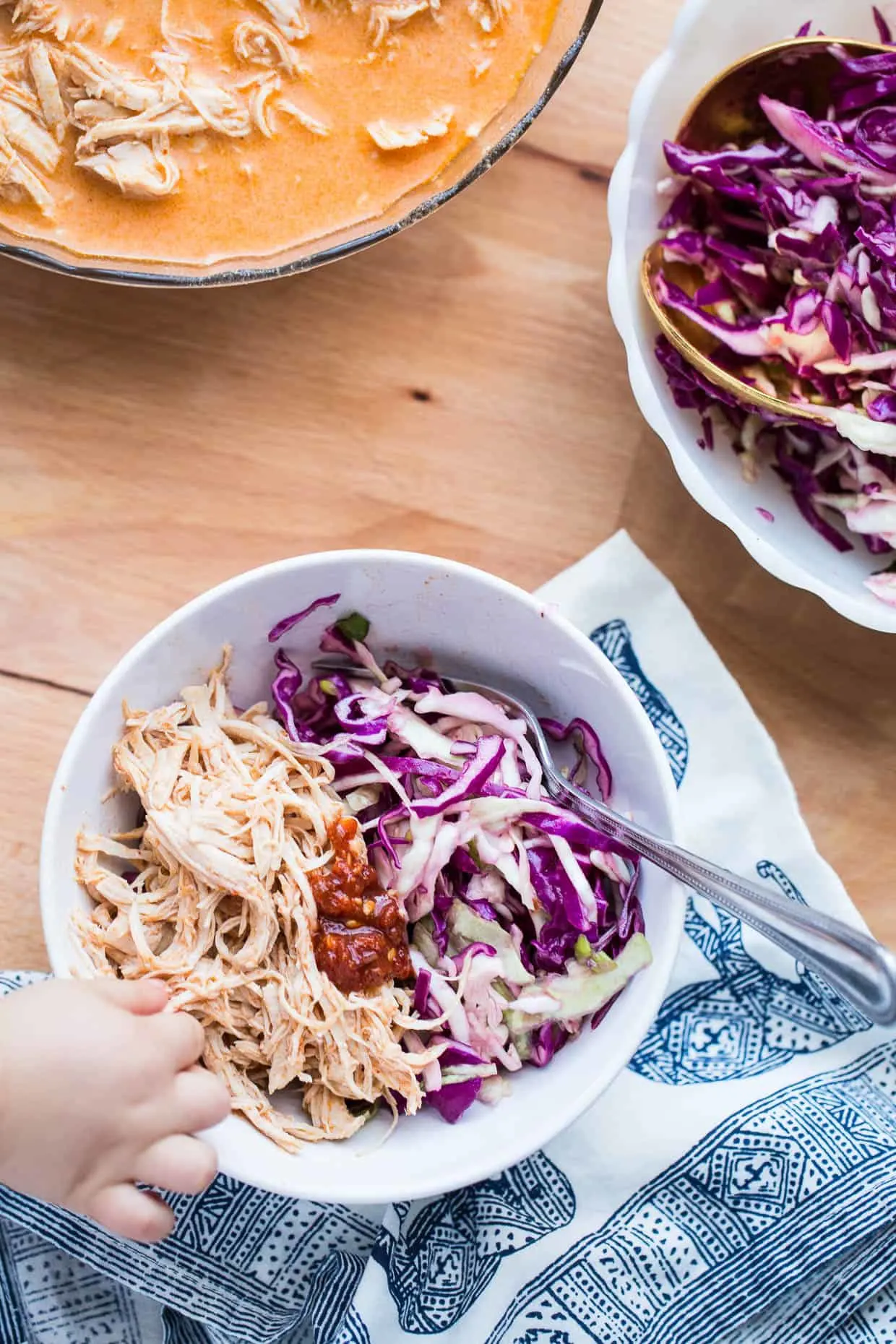 And the nearest one-year-old will try to poach it. Just a warning.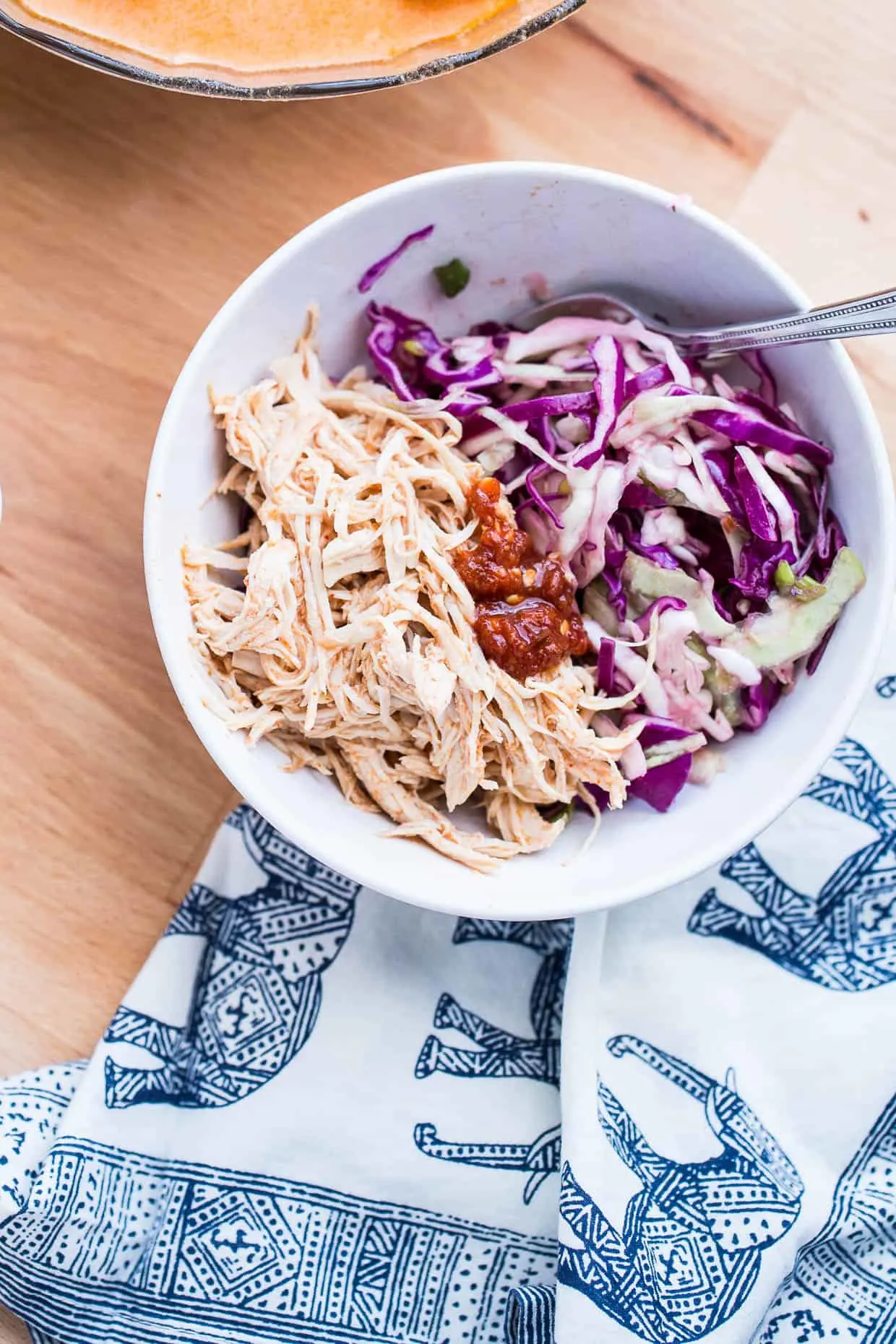 The slaw is a variation of my Southwest Cabbage Slaw with a slightly different flavor profile — a little on the sweet and spicy side. It's optional, but it's the perfect fresh accompaniment to the chicken!
If you like this recipe, try some of the other ones in the Thai Section of my recipe index!
---
If you make one of my recipes, be sure to post it on social media and tag me at @perrysplate or #perrysplate so I can send you some love!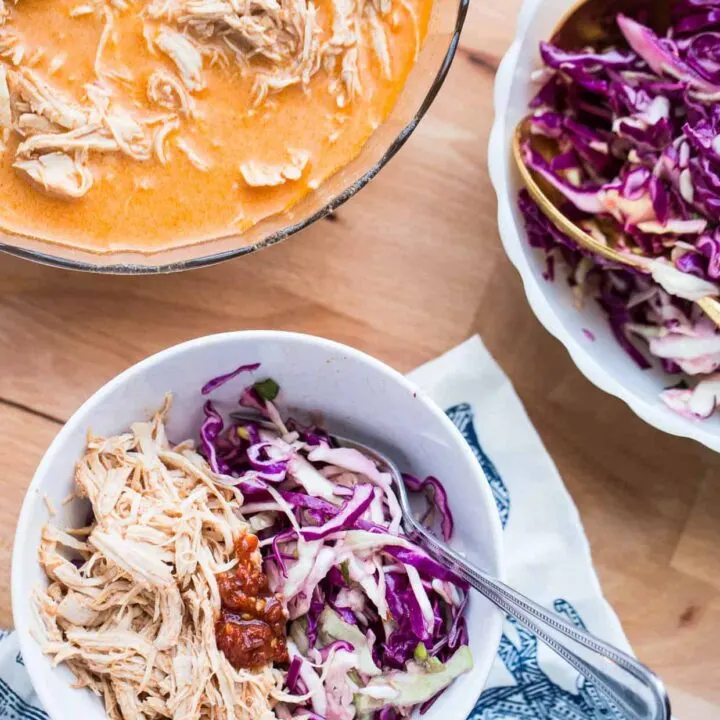 Instant Pot Shredded Red Curry Chicken & Sweet Thai Slaw
We never tire of this flavorful chicken and sweet slaw! It's a great make ahead meal option, too!
Ingredients
For the Shredded Red Curry Chicken:
3 pounds of boneless, skinless chicken thighs or breasts
3 Tablespoons red curry paste
2 Tablespoons coconut aminos
4 Tablespoons lime juice (about 2 limes), divided
1 Tablespoon fish sauce
1 teaspoon salt
1 13.5-ounce can of coconut milk
For the Sweet Thai Slaw:
1 medium head of cabbage, either green or red, shredded
3 green onions
2 Tablespoons lime juice (about 1 lime)
2 Tablespoons avocado oil
2 teaspoons honey
1 teaspoon fish sauce
1/2 - 1 teaspoon sambal oelek or Asian chili paste
1/2 teaspoon sea salt
Instructions
Place the chicken in the Instant Pot.
Whisk together the curry paste, coconut aminos, 2 Tablespoons of the lime juice, fish sauce, and salt. Pour the mixture over the chicken and move and flip the chicken around with a pair of tongs to coat it well.
Close the Instant Pot. Place the vent to "sealing" position, and set it on manual for 25 minutes.
Meanwhile, make the slaw by putting the shredded cabbage and green onions in a large salad bowl.
Whisk together the 2 Tablespoons of lime juice, avocado oil, fish sauce, honey, sambal oelek, and salt. Pour it over the cabbage and toss to combine. Chill until ready to serve.
When the chicken is finished cooking, you can either use the natural or quick stream release method. Shred the chicken inside the pot and stir in the coconut milk and remaining 2 Tablespoons of lime juice. Taste, and add additional salt, if needed. At this point you can also stir in a spoonful or two of sambal oelek if you'd like it to be spicier.
Serve the chicken over a bed of Sweet Thai Slaw alongside additional sambal oelek and lime wedges.
Notes
Nat's Notes:
If you're doing a round of Whole30, just substitute the honey with Date Paste or omit it completely.
SLOW COOKER VARIATION: Follow the first two instructions the same way, except use a 4-quart slow cooker. Cover and cook on low for 4-5 hours or on high for 2-3 hours. Shred and add the coconut milk and lime juice as directed.
Recommended Products
As an Amazon Associate and member of other affiliate programs, I earn from qualifying purchases.
This post may contain affiliate links. Any purchases made by using these links won't cost you any extra and helps keep my content free. These links may be Amazon links as I am part of the Amazon Associate Program.