Using freeze-dried strawberries (or any type of fruit!) give nut butter a rich strawberry flavor without making it mushy. Those little dried bits are like gold!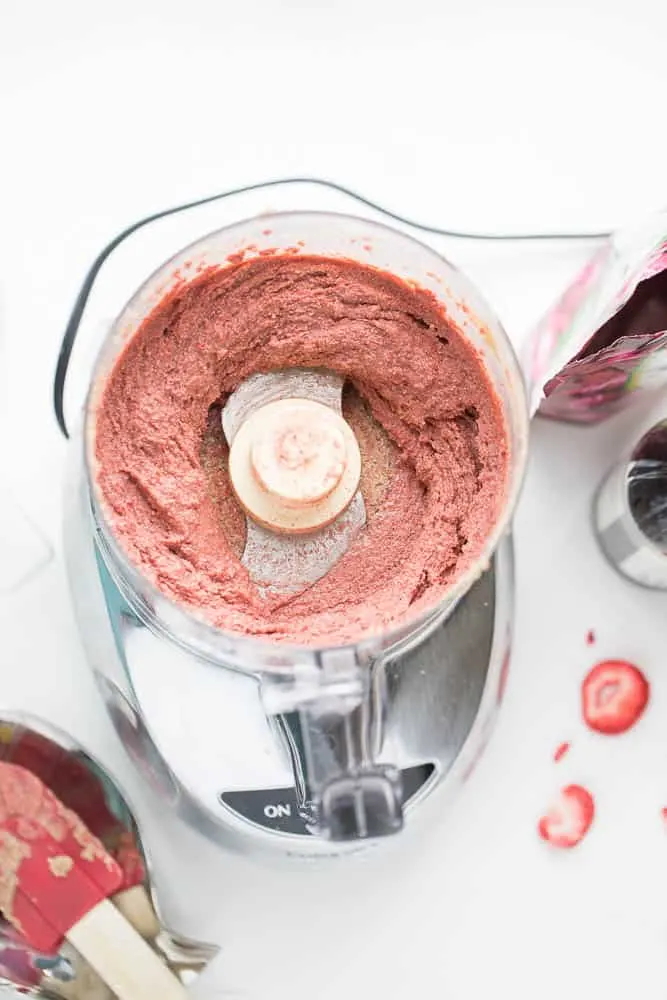 Freeze-dried fruit has been a secret weapon of mine for a while. It's the perfect way to add an intense punch of fruity flavor without turning whatever you're making into a pile of mush.
I use them when I make energy bites and when I'm making frosting to fill macarons. Freeze-dried raspberries make some AMAZING raspberry buttercream. Seriously.
But this is a healthy space, right? And we don't talk about things like macarons. Ok, maybe we do. I love those little sugar bombs.
During my Whole60 I had the idea to throw freeze-dried strawberries into some nut butter. It might have been the best idea I had in a while.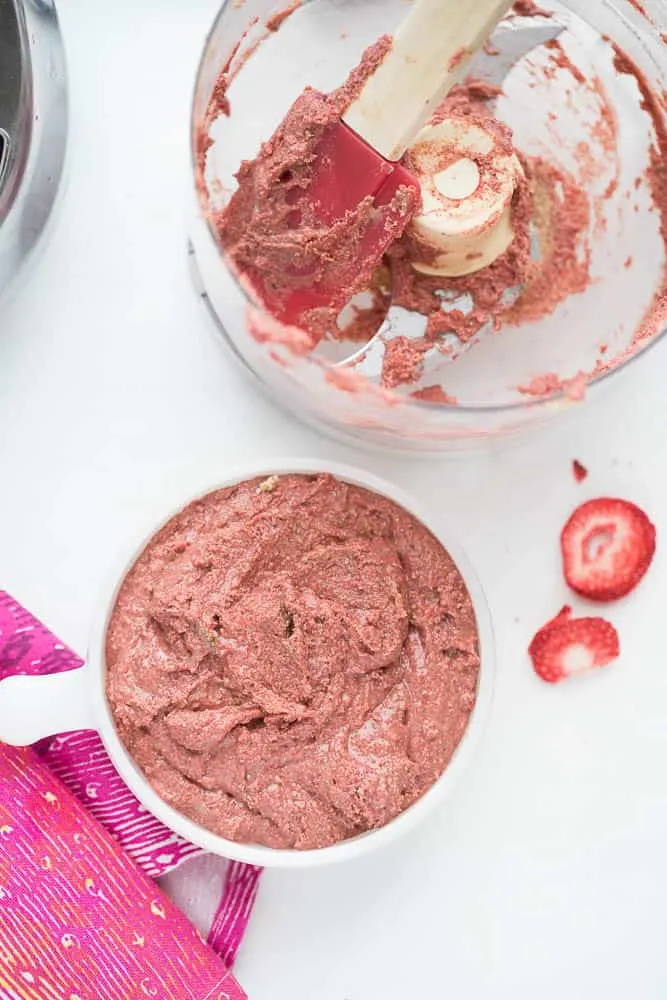 I'm a bit of a nut butter rookie, but I'm hooked already. I loved this combination of nuts, too. I started off with some almonds, but wanted some sweetness from pecans and some creaminess from cashews.
Vanilla adds a nice warmth, too.
I swear I could eat this entire batch in one sitting. I nearly did, too, finishing off a whole jar in one day. Yeesh.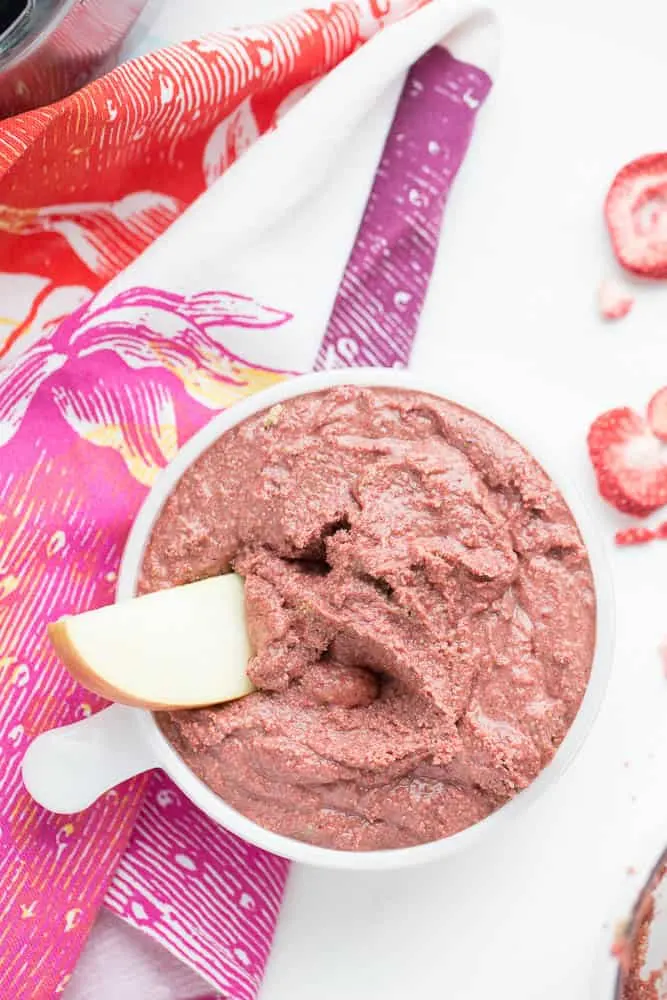 You can freeze-dried fruit in most grocery stores. I used to buy them at Trader Joe's but have noticed Target carrying them, too!
This strawberry nut butter + a pile of apple slices = heaven. Seriously. I'd turn down a lot of desserts to eat this.
And if you're curious, this is the food processor I have: Cuisinart Prep 9 Food Processor. It's by far my favorite I've had so far, and t's built so much better than others I've tried. I love this size, too. It's perfect for what I need.
Take some of this Strawberry Cream Nut Butter and make some Strawberry Nut Butter Truffles! You'll love them!
---
If you make one of my recipes, be sure to post it on social media and tag me at @perrysplate or #perrysplate so I can send you some love!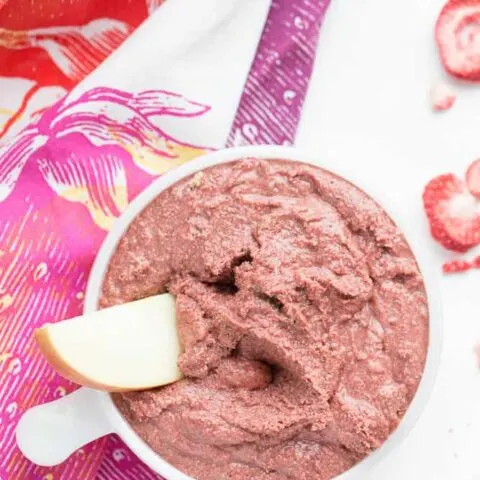 Strawberry Cream Nut Butter
Using freeze-dried strawberries (or any type of fruit!) give nut butter a rich strawberry flavor without making it mushy. Those little dried bits are like gold!
Ingredients
1 cup raw almonds
1 cup raw cashews
1 cup raw pecans
1/2 teaspoon sea salt
1 - 1.25 ounce package of freeze-dried strawberries
1 teaspoon vanilla extract or the seeds from 1 split vanilla bean
3-4 drops of vanilla stevia (optional)
Instructions
Place the nuts in a large skillet and toast them over medium-low heat until they're fragrant and start to develop golden brown spots, about 10-15 minutes. Set the nuts aside and let them cool off completely.
Place the toasted nuts in the work bowl of a food processor and pulse them until they're finely minced. Run the processor for 8-10 minutes until the nuts break down and begin to get creamy. You may have to scrape down the sides of the bowl a couple of times. It may not seem like the nuts will turn into nut butter, but keep going. Eventually the nuts will release their oils and it will all become creamy and spreadable.
Add the freeze-dried strawberries, vanilla, and stevia to the nut mixture. Pulse until the strawberries are broken down and everything is smooth and creamy again.
Transfer the nut butter to a lidded container and store at room temperature.
Notes
Nat's Note: To make this Whole30 compliant, use a vanilla bean pod instead of the extract and do not add the stevia.
Disclosure: This post contains an Amazon affiliate link. Any purchases using this link don't cost you any extra and provide Perry's Plate with a few pennies to keep the lights on.