You haven't lived until you've tried this Loaded Roasted Chile Guacamole filled with charred, spicy peppers. It's the king of guacamole.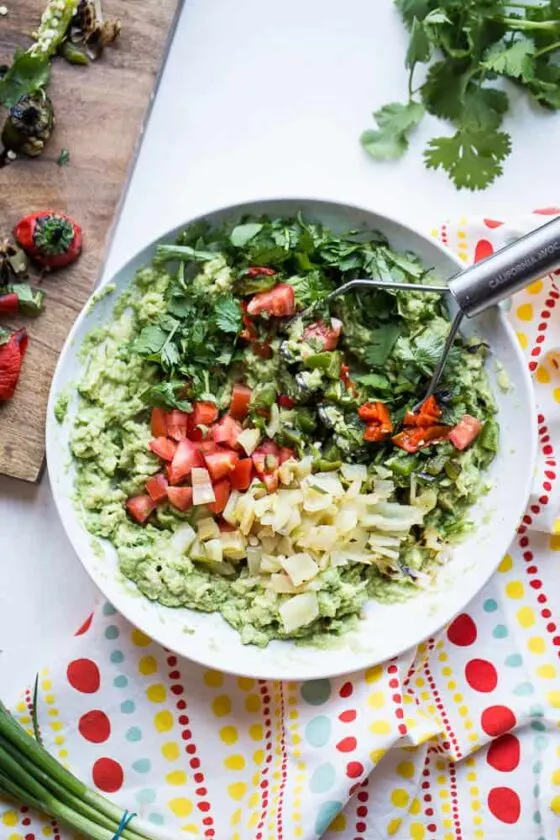 Hey, there.
Baby's due in a little over a week, and all I've wanted to do lately is sit on the couch with a big bowl of something. What that "something" is changes by the hour. Sometimes it's watermelon. Or fresh pineapple. Or ice cream. Or THIS guacamole and a big bag of chips.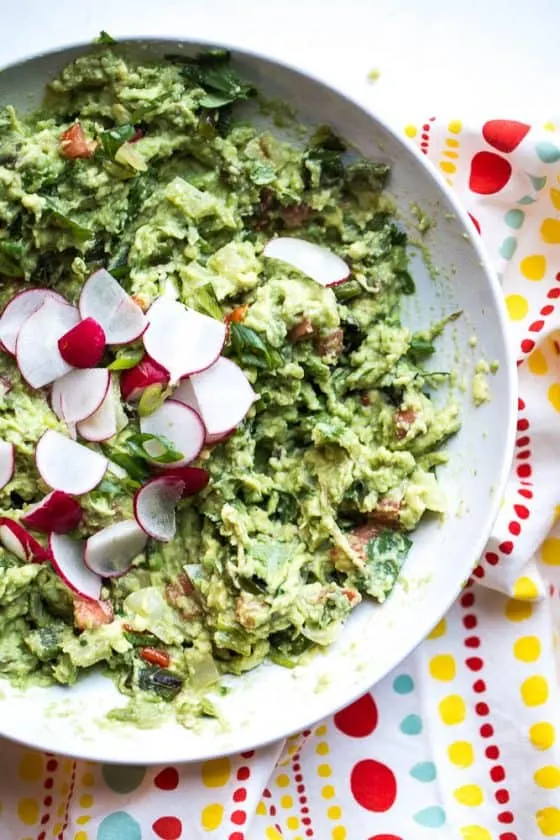 I heart guacamole a whole bunch. I love both my classic version and my lazy version. When I tried this chunky, roasted chile guacamole, I knew it wasn't going to last long when the rest of the family started eating on it.
When I shopped for chiles this last time my grocery store's selection was abysmal. Usually I can get some New Mexico or poblano chiles, but all they had was jalapenos and yellow chiles. I grabbed two yellow chiles, two jalapenos, and a red jalapeno.
Roasting the chiles tames their heat, but not completely. This was a lot spicier than I had intended, but it was SOOO good. I'm pretty sure it hit my threshold of heat — my nose runs a little, but I'm not in any pain yet. And I can still taste my food.
You can totally customize it and make it as spicy as you want. If you want a more mild chile, use New Mexico chiles or even bell peppers.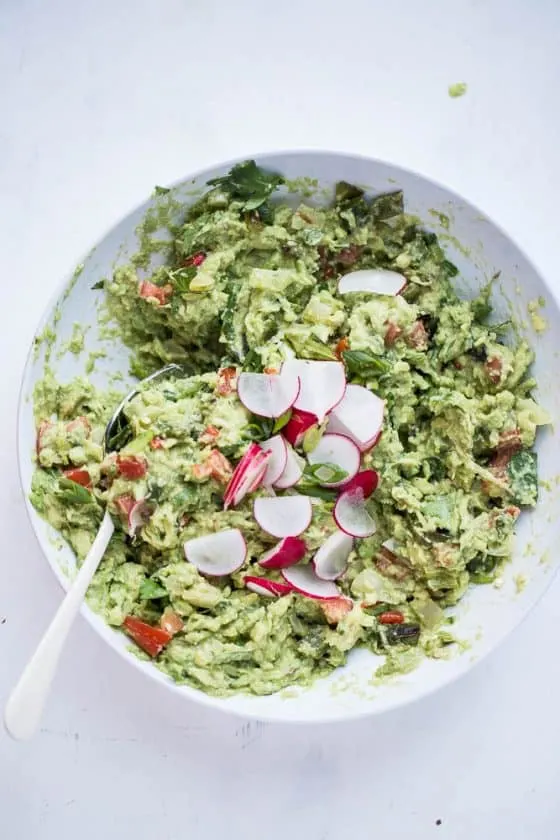 This did not last long. I totally should have stashed this one in the back of the fridge for an afternoon "snack" the next day.
If you're feeling ambitious, whip some of this up and eat it with some Chile-Lime Fish Taco Bowls or in a taco with Slow Cooker Chipotle Shredded Beef!
---
If you make one of my recipes, be sure to post it on social media and tag me at @perrysplate or #perrysplate so I can send you some love!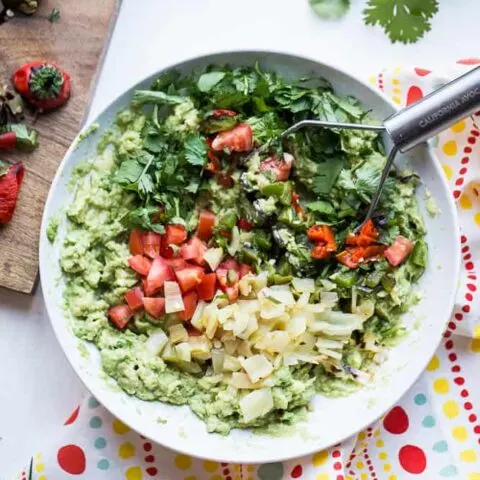 Loaded Roasted Chile Guacamole
You haven't lived until you've tried this Loaded Roasted Chile Guacamole filled with charred, spicy peppers. It's the king of guacamole.
Ingredients
3 large or 5 small fresh chiles (any kind)
1 medium lime
3 medium ripe avocados, pitted and peeled
3 green onions, chopped
1/3 cup chopped fresh cilantro
1/4 tsp ground cumin
salt
1/2 cup medium-diced fresh tomato
2 radishes, sliced
fresh veggie sticks or veggie chips, for serving
Instructions
Roast chiles under an oven broiler, on a grill, or directly on a gas burner. Turn occasionally until outside of pepper is covered in black, charred spots. This should take 8-10 minutes.
When chiles are roasted, place in a bowl, cover, and set aside to steam for a few minutes. When cool enough to handle, peel, seed, and chop the chiles. (The skin should be easy to remove if you make sure to let them steam.)
Zest and juice the lime into a medium bowl. Add avocado and coarsely mash.
Stir in the scallions, cilantro, cumin, and salt. Season to taste with salt and lime juice. Fold in the tomatoes and roasted chiles.
Transfer to a serving bowl and top with sliced radishes.
This post may contain affiliate links. Any purchases made by using these links won't cost you any extra and helps keep my content free. These links may be Amazon links as I am part of the Amazon Associate Program.