This golden milk has a twist of chai spices and collagen protein for some extra goodness. It's full of warming spices and is perfect for a chilly night.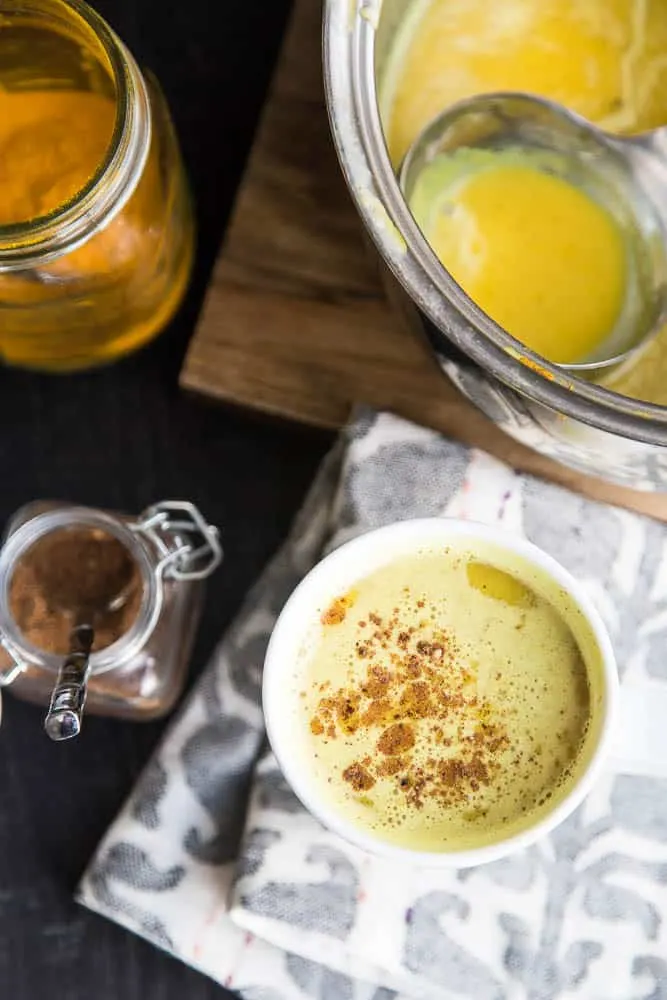 This post is sponsored by Bulletproof, and I received complimentary product as well as monetary compensation. All opinions shared are my own, as usual.
I feel like golden milk is all the rage right now, so I wanted to jump in while it's still the rage. Normally I warm up to trends a few years late. Like how I refused to wear flare jeans until 2000. And skinny jeans until 2014. Don't even get me started on winged eyeliner. I'm pretty good with my hands, but I think it takes a whole other level of precision to pull that off.
So, golden milk… where were we?
Golden milk is warmed milk with turmeric (and sometimes other spices) added to it. Turmeric has anti-inflammatory properties, so obviously we want to be drinking this daily, no?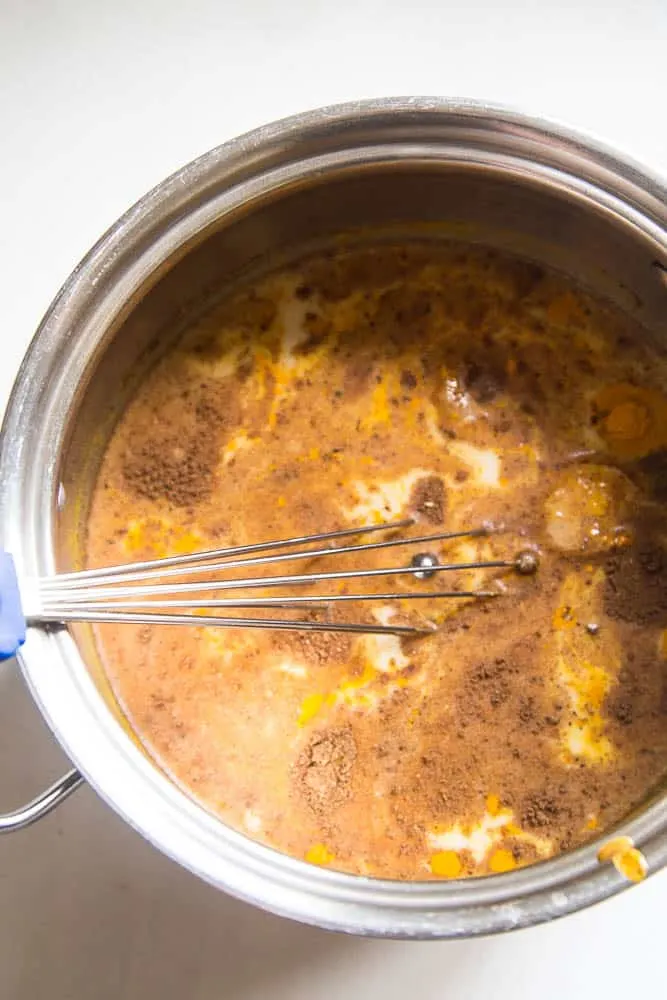 I decided to put a couple of spins on my golden milk by adding a couple of special things. First, my Homemade Chai Spice Blend. I'm kind of nuts about chai spices right now. (Like I said… late to the game. Isn't chai, like, sooo 2016?)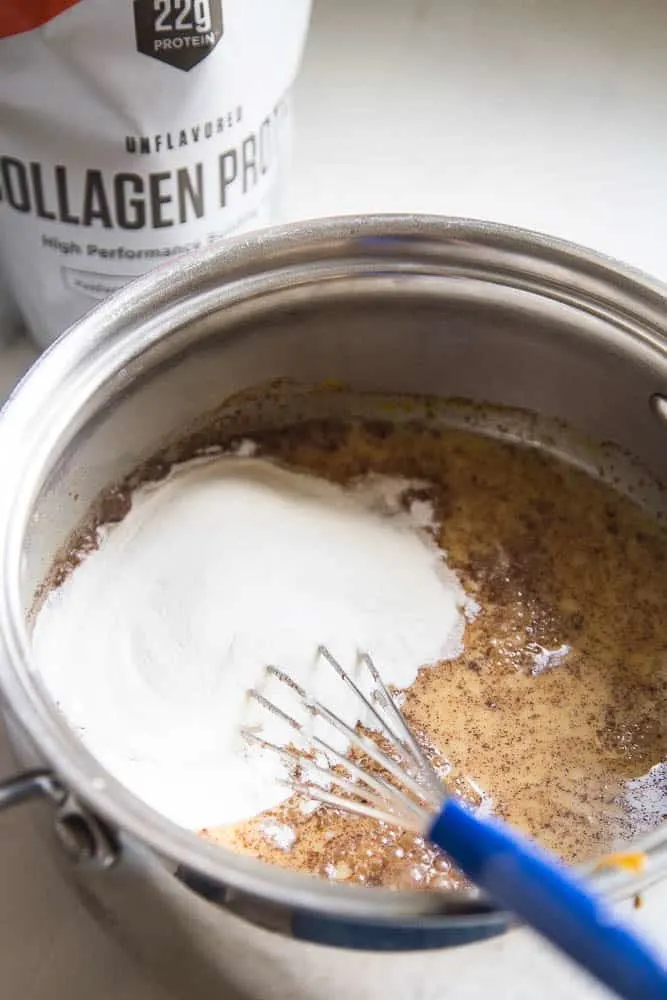 Second, I added some collagen protein powder. I really like Bulletproof Collagen Protein Powder because it comes from pastured, grass-fed cows. (You know how I feel about pastured animal products!)
It also it mixes into just about everything really easily without clumping. And you can heat it up without hurting its nutritional quality. Oh, and it's flavorless.
This isn't the same thing as whey protein or other kinds of protein/meal-replacement powders. While those are nice to use sometimes, I don't always want the flavor of the protein powder in whatever I'm making. I feel like collagen protein is more versatile that way.
So, why collagen? Um, AWESOME HAIR. AWESOME NAILS. AWESOME SKIN. (I've got your attention now, right?) It also helps with muscle recovery after workouts. Mostly I like it because it reduces wrinkles. #priorities
Normally we get natural sources of collagen in our diet by eating/sipping bone broth, organ meats, whole fish soups, etc, Chances are we aren't doing that daily, so adding a little collagen powder to drinks, sauces, smoothies and other things we eat often is a good way to get more into our diets.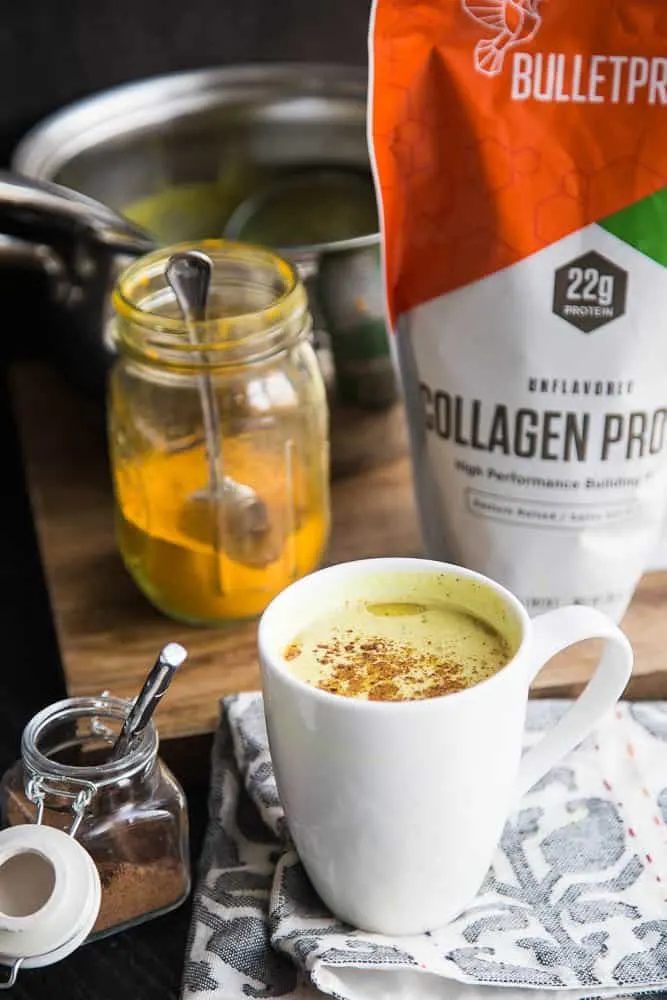 So, lots of good things going on here. One of the most important things you need to know? It tastes like Christmas in a cup. (According to my bestie.) Or maybe Halloween in a cup? I'd totally be up for drinking this while my kids are sipping on cider or hot chocolate. And maybe I can convert one of them to ride the golden milk train with me. (They're reluctant passengers sometimes.)
If you want to learn more about Bulletproof and snag some collagen protein, check out their website!SaveSaveSaveSaveSaveSaveSaveSaveSaveSaveSaveSaveSaveSaveSaveSaveSaveSaveSaveSave
---
If you make one of my recipes, be sure to post it on social media and tag me at @perrysplate or #perrysplate so I can send you some love!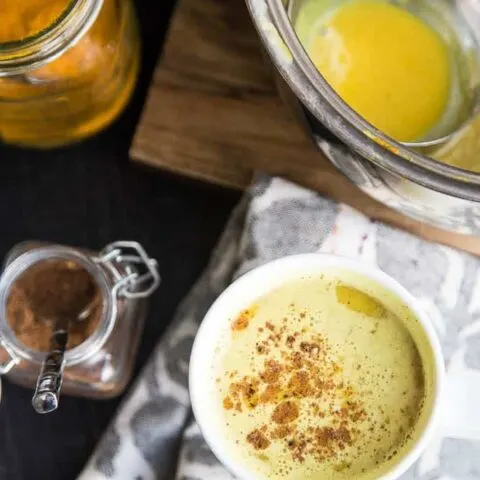 Chai-Spiced Golden Milk
This golden milk has a twist of chai spices and collagen protein for some extra goodness. It's full of warming spices and is perfect for a chilly night.
Ingredients
3 cups of unsweetened almond milk or coconut milk (drinkable, from a carton)
3-4 Tablespoons pure maple syrup, honey, or the equivalent in stevia, to taste.
1 Tablespoon coconut oil
1 1/2 teaspoons turmeric
1 1/2 teaspoons Homemade Chai Spice Blend
2 scoops of Bulletproof Collagen Protein Powder (about 1/4 cup)
Generous pinches of sea salt and black pepper
Instructions
Whisk all of the ingredients together into a medium saucepan and heat over medium-low until the mixture is steamy, but not boiling.
Remove from the heat and let it sit and cool for a few minutes so the flavors can blend together well.
Whisk before serving as the spices tend to settle at the bottom of the pot.
Notes
Yes, black pepper and coconut oil. They both help with the absorption of the turmeric since it is fat-soluable.
This post may contain affiliate links. Any purchases made by using these links won't cost you any extra and helps keep my content free. These links may be Amazon links as I am part of the Amazon Associate Program.