Breakfast salad? Salad for breakfast? Absolutely, yes. It comes together in a snap with some tender smoked salmon, hard-boiled eggs, and fresh herbs!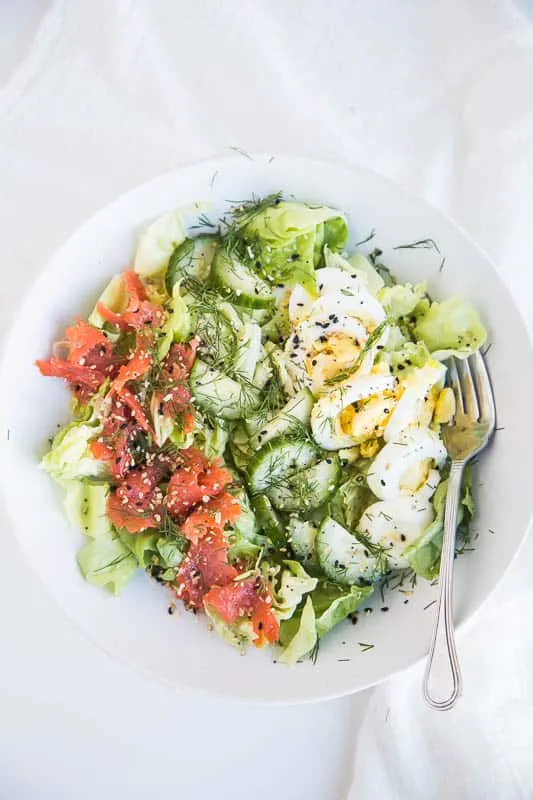 I feel like it's not the right season for breakfast salad — or this salad in particular. It feels so springy to me, but maybe that's why it would be a perfect November breakfast to balance out all of the heavier, sometimes indulgent dinner.
However, waiting until AFTER Halloween season to start watching Stranger Things probably wasn't a good choice. Talk about ruining all of my fuzzy, grateful November feels this year.
I'm actually watching it as I write this post (NANCY!!! WHY ARE YOU CLIMBING INTO THAT NASTY TREE HOLE?!) If I have my laptop open and I'm only paying 72% attention to the show, I don't get freaked out quite as much.
Also, the lights must be on. And Steve sits next to me.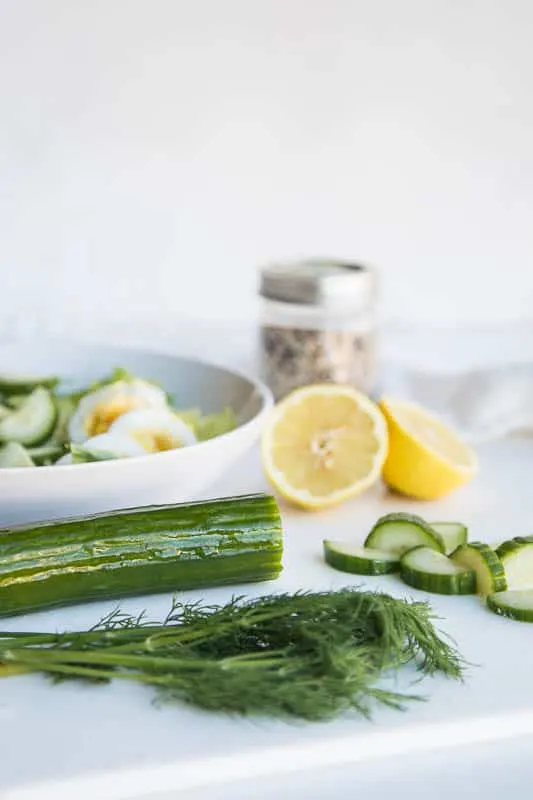 OK, happy thoughts.
I think it's the fresh dill and the squirt of lemon juice in this that makes me think of spring. Cucumbers remind me of summer, and smoked salmon reminds me of Christmas because I always buy a big package of it to add to our giant Christmas Eve snack plate dinner.
Basically I'm all over the calendar with this one.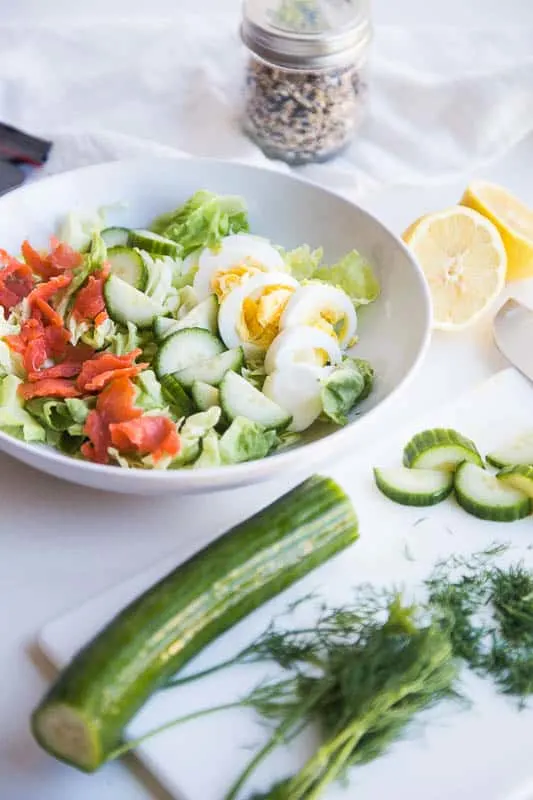 Really, though, you an use whatever random fridge tidbits for this salad — shredded carrots, bell peppers, sunflower seeds, pepitas, sauerkraut, leftover cooked protein,
When I said 5-MINUTE breakfast salad, there's an assumption that you've got a few things prepped. I used butter lettuce for this because it's more tender than the Romaine I typically use. For some reason butter lettuce appeals to me more in the morning — maybe I need to gently ease into my vegetables for the day?
For toppings I usually have some sort of protein, hard-boiled eggs, fresh lemons, and a cucumber I can chop up at the very least. I happened to have smoked salmon because #babylukedanes grabbed it out of the refrigerated section at Trader Joe's and threw it into our cart. How could I say no to that? Boyfriend has good taste.
The point of this is to throw it together fast. Heck, I don't even make an actual vinaigrette. If you have a prepared one that you like, use that! Or some Paleo Ranch. I was out of ranch, so I squeezed some lemon juice and drizzled some extra-virgin olive oil all over the whole thing.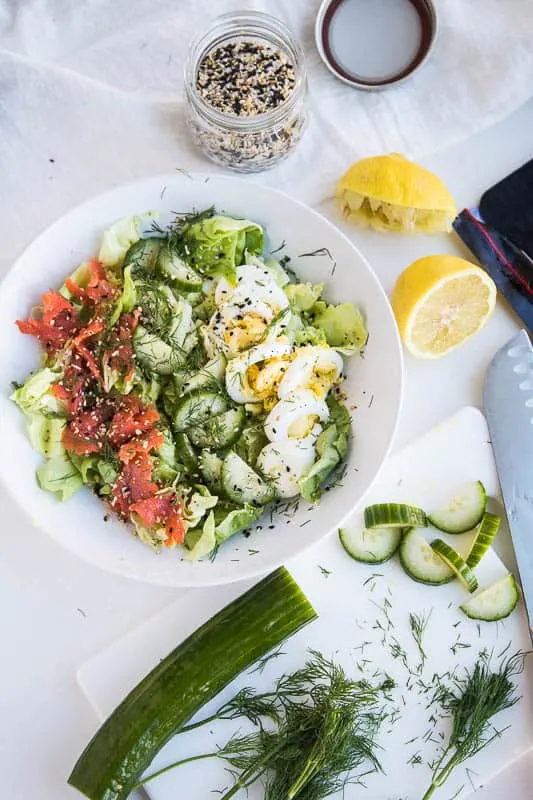 Oh! And I always have some Everything Bagel Seasoning! I was happy to have another use for that. It's seriously good on everything. Go make a jar and sprinkle some on your breakfast salads, avocados, hard-boiled eggs. . .
Also, I apologize for those who need precise recipe measurements to avoid getting twitchy. This is truly and grab, sprinkle, squirt, and drizzle kind of deal.SaveSaveSaveSaveSaveSaveSaveSaveSaveSave