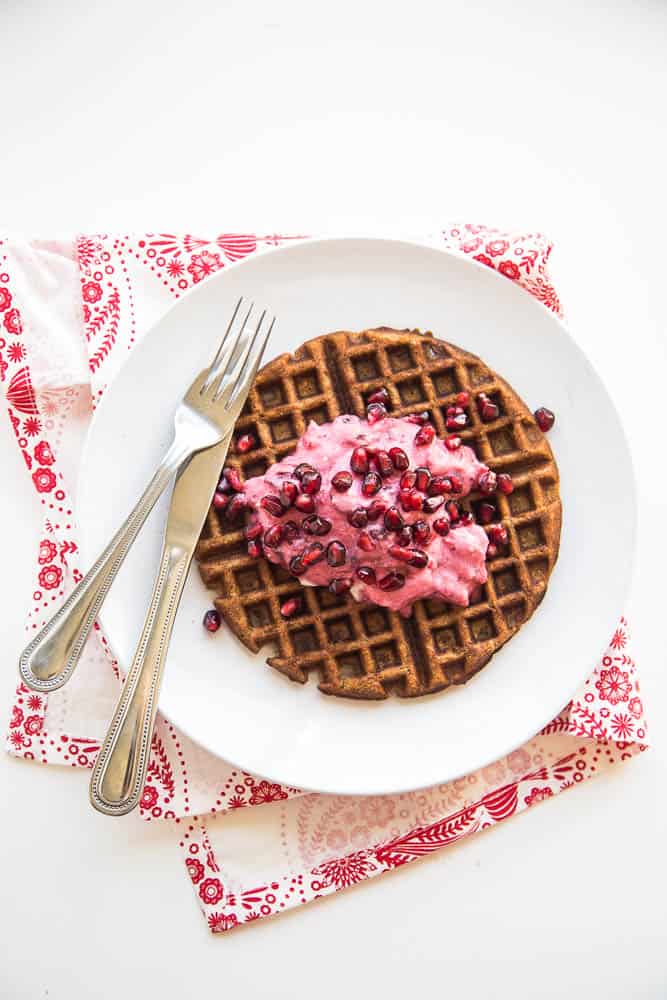 Yeah, I know. The fifth chai recipe in just a few weeks. What can I say? I'm obsessed! When I made these paleo gingerbread waffles using my Homemade Chai Spice Blend, I was surprised how close it came to traditional gingerbread spices! You still get that familiar taste of ginger, cloves, and cinnamon with a little bit of something extra — that you can't put your finger on, but you love it.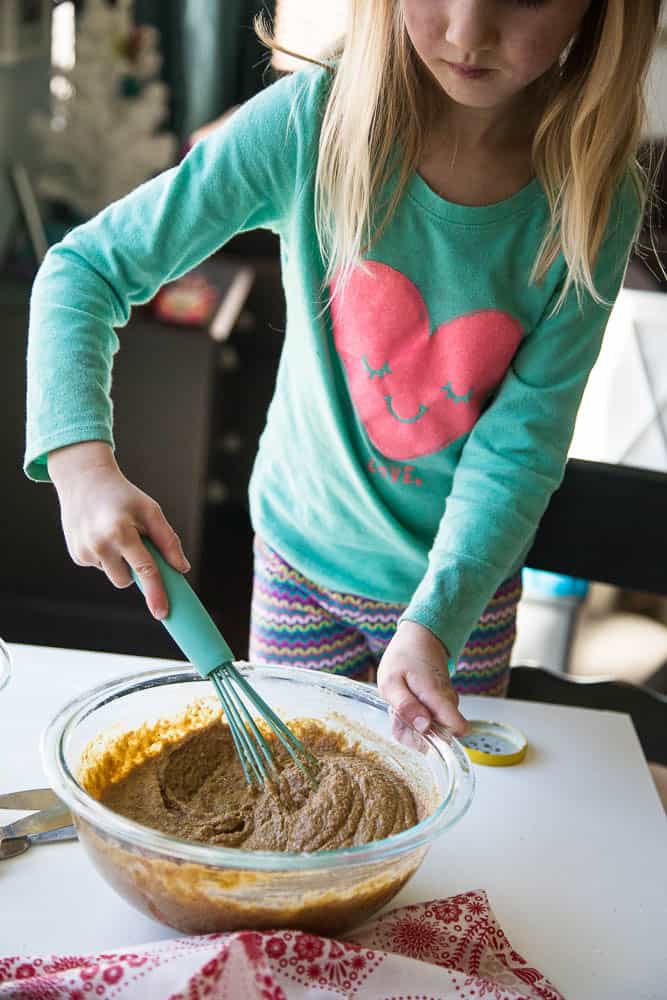 My 5-year-old was home from school that day so I put her to work. I can't believe how lanky she's getting. Those arms, man. And it still surprises me how fair she is since I'm rather dark and my husband is a quarter Mexican with jet black hair and olive skin — the only blonde-haired, blue-eyed member of our family. Our little ball of recessive genes.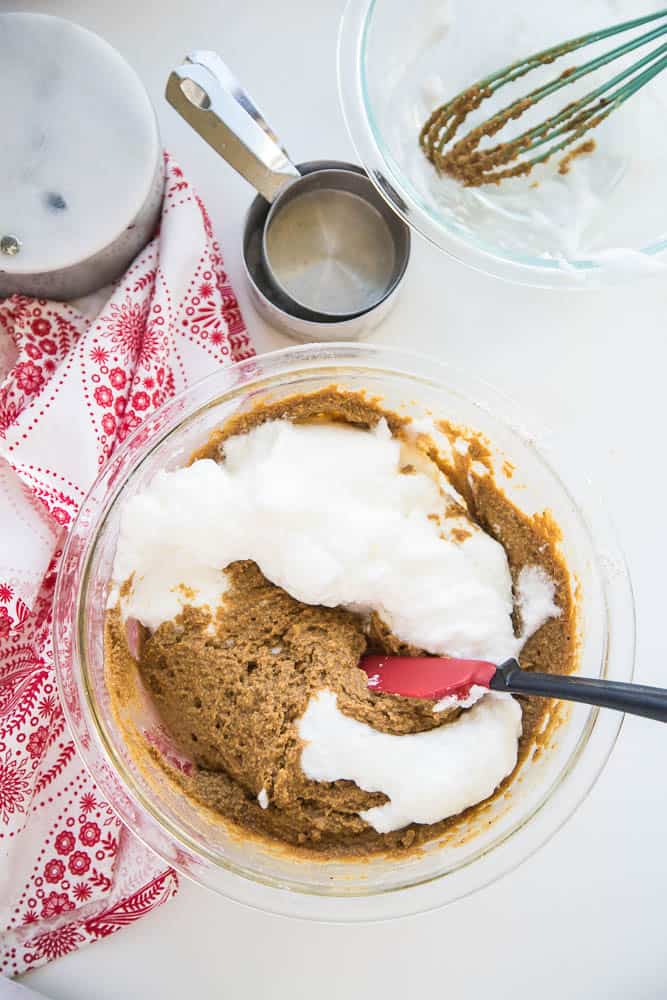 OK, don't hate me for this, but splitting the eggs and whipping the egg whites separately is really the best option for waffles. If you REALLY don't want to do it, you can just put them in whole, but I feel like the waffles are floppier that way and don't have as much fluff.
Also, I can usually get an extra waffle or two out of the batch because whipped egg whites creates more volume in the batter.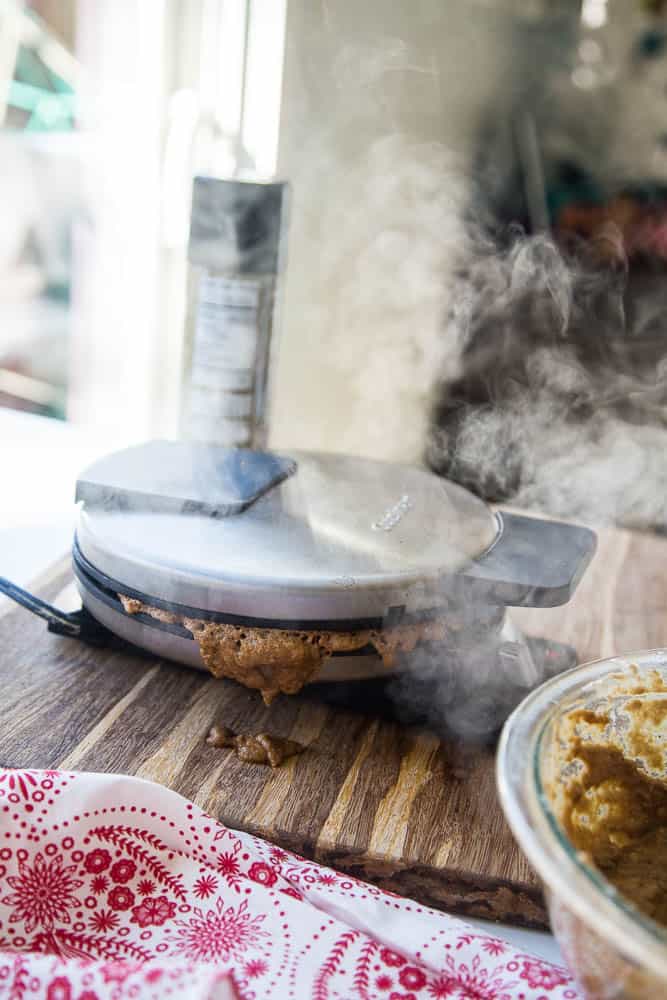 I swear, I've been making waffles for most of my life and almost every batch will have at least one waffle that spills out the sides. *facepalm*
I don't know why I keep overestimating my waffle iron's capacity. We were gifted a Belgian waffle iron when we got married that lasted about a decade. When it died I replaced it with a traditional waffle iron. (this Cuisinart waffle iron which is inexpensive and gets the job done. I would love to spring for this double Belgian waffle iron, but…. storage space.)
It took me a while to get used to putting half as much batter in my new iron. Overfills ALL. THE. TIME. And a few years later I'm still doing it. Can anyone relate or am I just destined to have a crusty waffle iron my whole life?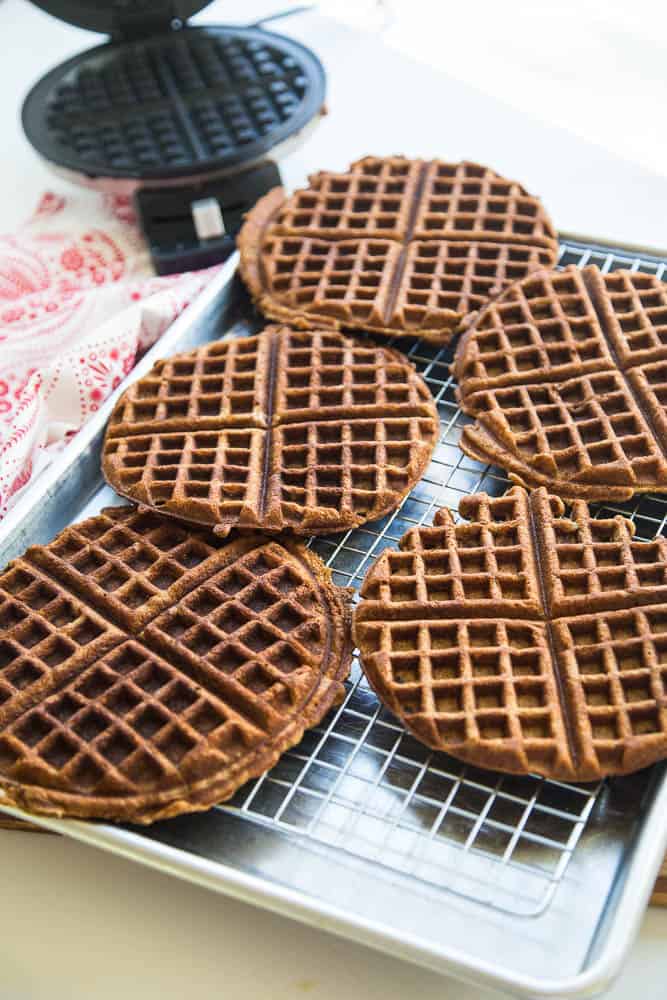 Want to know a secret? Don't stack your waffles. It'll make them soggy faster.
Put them on a wire rack on a cookie sheet, and try not to overlap them too much. Then put them in your oven on the warming setting. It'll keep some of that fresh-from-the-iron crispness.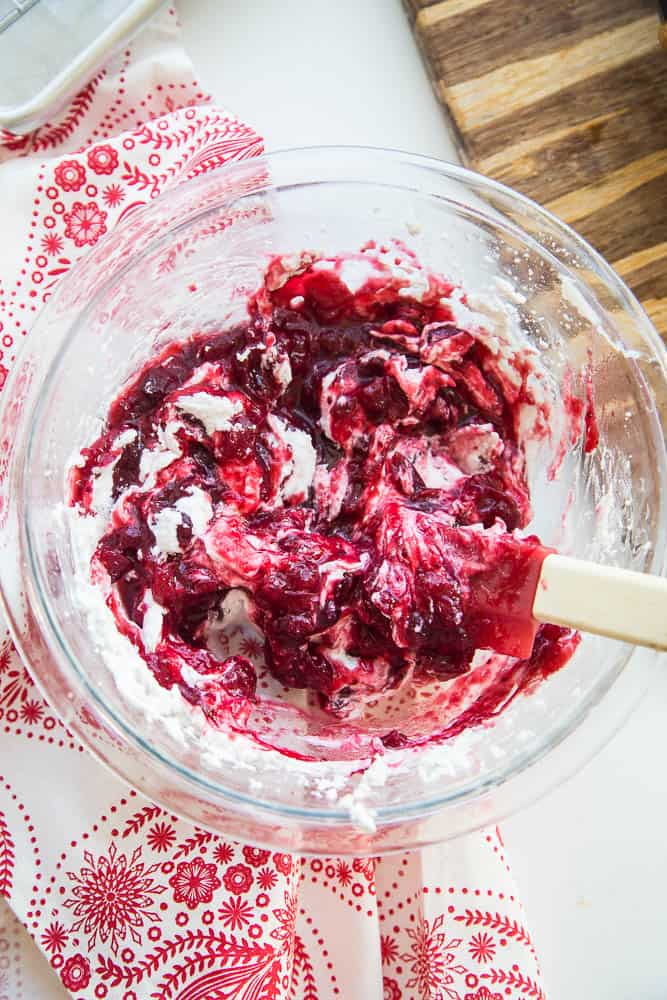 No, this isn't leftover cranberry sauce from Thanksgiving. (Our leftovers went the way of Paleo Orange Cranberry Bars. Twice.)
I actually bought more cranberries (At Costco. *Facepalm* Triple batch it is!) to make some paleo Wassailed Cranberry Sauce so I could put it on these waffles. It was a round about way of getting what I wanted, but it was worth it!
And now I have over a quart of extra cranberry sauce for something else. But if we're being honest here, it'll probably end up on a couple more batches of these paleo gingerbread waffles.
I mixed the cranberry sauce with some whipped coconut cream to make a creamy sweet-tart topping for my waffles. If you can handle some dairy, I highly recommend using real whipped cream.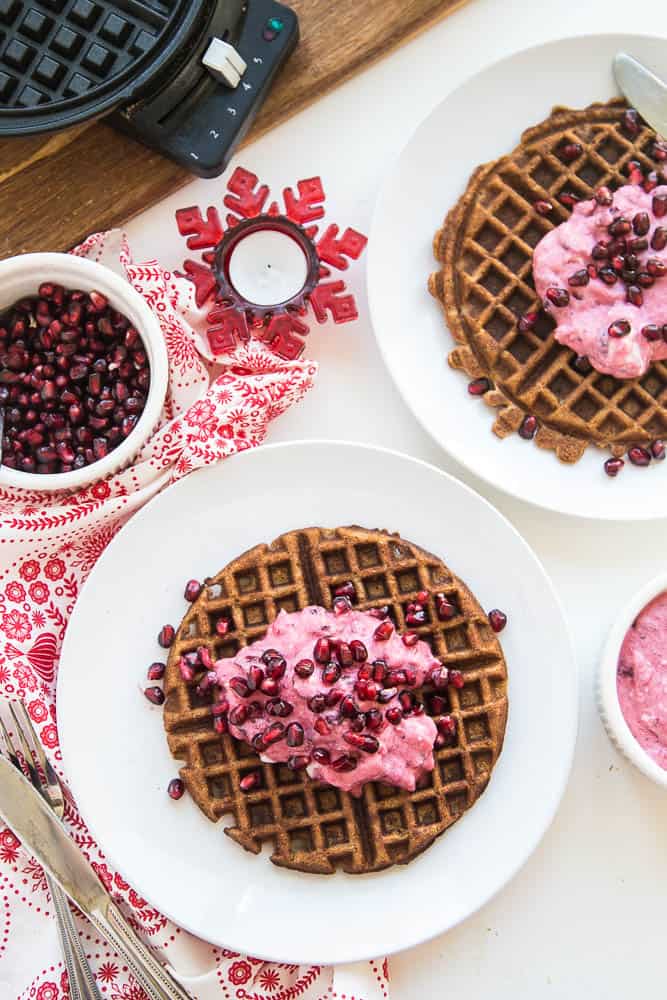 A sprinkle of pomegranate arils was the perfect touch!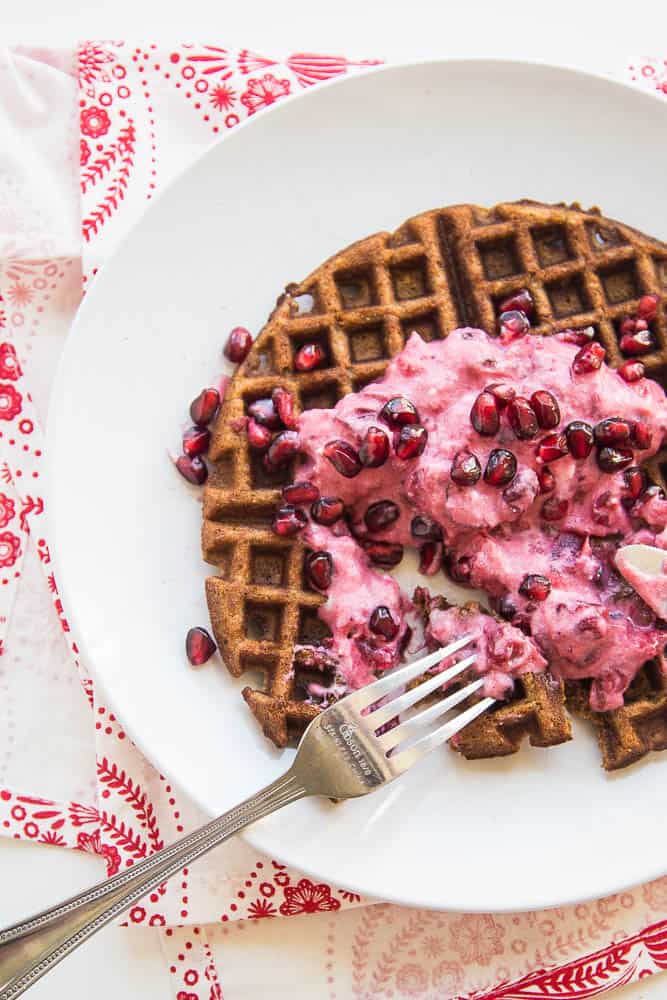 These waffles are on the sweet side because I was anticipating a more tart topping. If you decide to serve them with something sweeter you can hold back on the sweetener in the waffle batter.
Or not. #Christmastime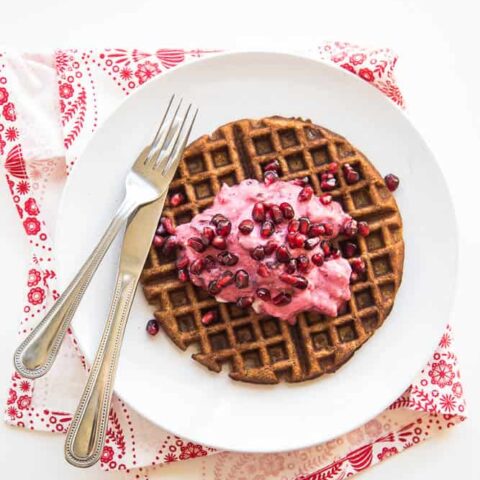 Chai Paleo Gingerbread Waffles with Pomegranate & Cranberry Cream
Yield:
Makes 6 round waffles
These aren't ordinary paleo gingerbread waffles -- chai spice gives them a familiar flavor with a hint of something interesting. And cranberry cream? *Swoon*
Ingredients
1 cup tapioca flour
1/2 cup blanched almond flour
1/2 cup coconut flour
1 Tablespoon Homemade Chai Spice Blend
6 Tablespoons coconut sugar or preferred dry sweetener
1 teaspoon baking soda
1/2 teaspoon sea salt
3 eggs, separated
1 cup unsweetened almond milk
1/2 cup unsweetened applesauce
1/3 cup molasses
1/2 cup melted coconut oil
1 cup prepared cranberry sauce
1 cup coconut cream, whipped (see note)
Arils from 1 large pomegranate
Instructions
In a large mixing bowl, whisk together the flours, chai spice, coconut sugar, baking soda, and salt.
Separate the eggs, putting the yolks into the bowl with the dry mixture and the whites in a separate, smaller bowl. (Don't mix in the yolks quite yet.)
To that bowl, add 3 eggs, applesauce, molasses, almond flour, and coconut oil. Mix it together only after you have added all of the wet ingredients.
Whip the egg whites using an electric hand mixer until soft peaks form.
Add the whites to the batter and GENTLY fold them in using a rubber spatula, scraping from the bottom and folding the batter over. The batter will be fluffy and aerated when you're done.
Cook the waffles in a heated waffle iron sprayed with non-stick spray (I like coconut oil spray) according to the manufacturer's directions.
Clean off your beaters and then use your hand mixer again to whip the coconut cream, if it's hard. Beat until it's smooth and soft. Stir in the cranberry sauce and set it aside until ready to use.
Serve the waffles with a dollop of cranberry cream and a sprinkle of pomegranate arils.
Notes
Nat's Notes:

1. You can find canned coconut cream in some grocery stores or online. If you have trouble finding it, you can use the separated cream from 2-3 cans of chilled coconut milk.

2. If you put the cranberry cream in the fridge for a while before eating it will harden again. I recommend just letting it sit out if you plan on eating soon. Or prepping it immediately before eating.

Disclosure: This post contains Amazon affiliate links. Purchases made by using these links doesn't cost you any extra and helps to keep my content free.
SaveSave
SaveSave
SaveSave
SaveSave
SaveSave