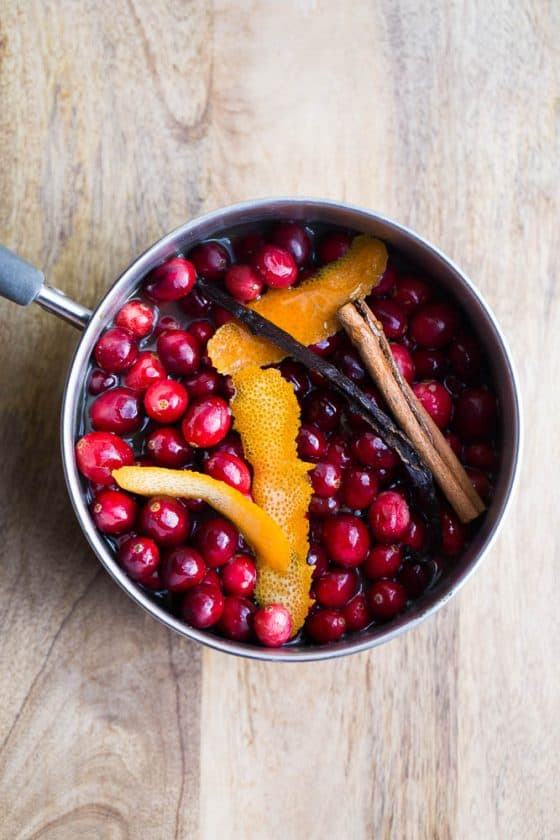 I think if I was forced to choose between hot chocolate and wassail, I'd choose wassail. I love the blend of cider and citrus and spices. It reminds me of Christmas and makes me super happy.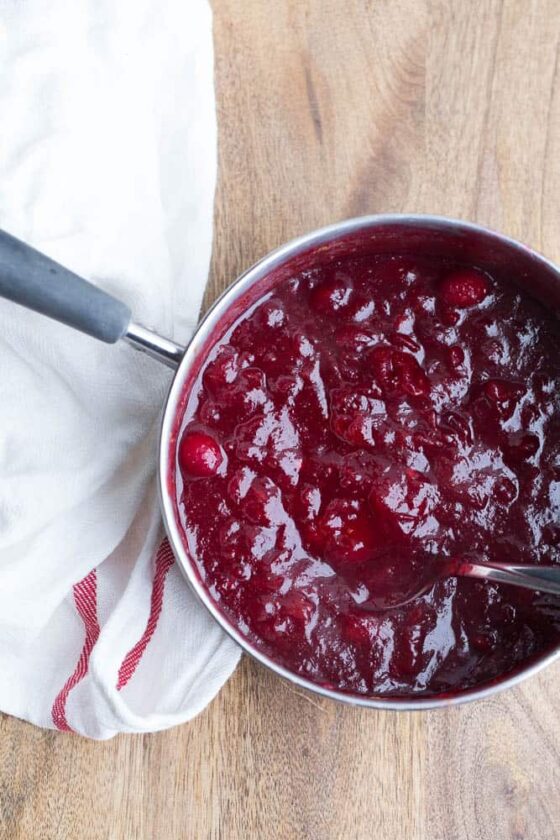 I'm sure I'm not alone in this, but I never liked cranberry sauce until I tried a homemade version. It was like the difference between eating pre-packaged jello cups and my grandma's jam. So, not competition at all. Those wassail-y flavors blend so well with these tart cranberries and this sauce is so swoon-worthy. I love how it thickens up on its own, too.
This takes literally 5 minutes to throw into a saucepan — unless you have some technical difficulties using a vegetable peeler. Or scoring a vanilla bean. (I get it. I have those days, too.) I still don't like cranberry sauce on turkey. Rolls, yes. Pancakes, yes. Maybe ice cream, too, but I haven't ventured that far yet.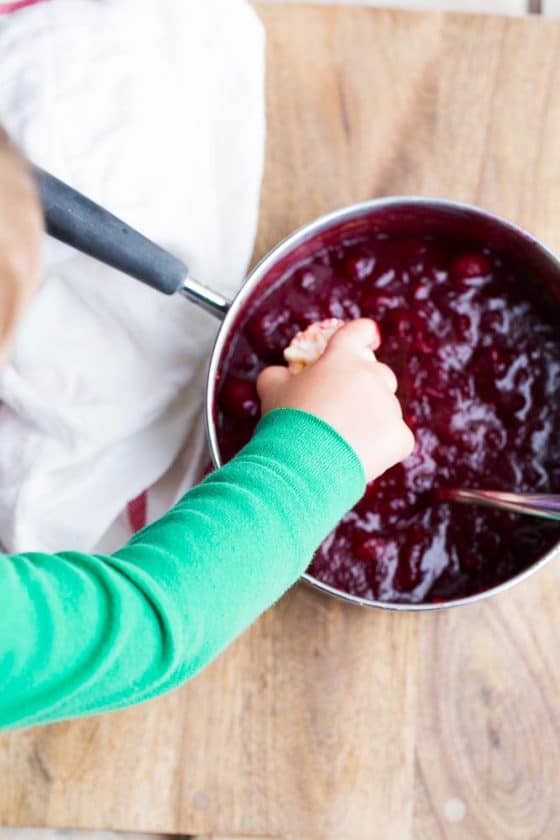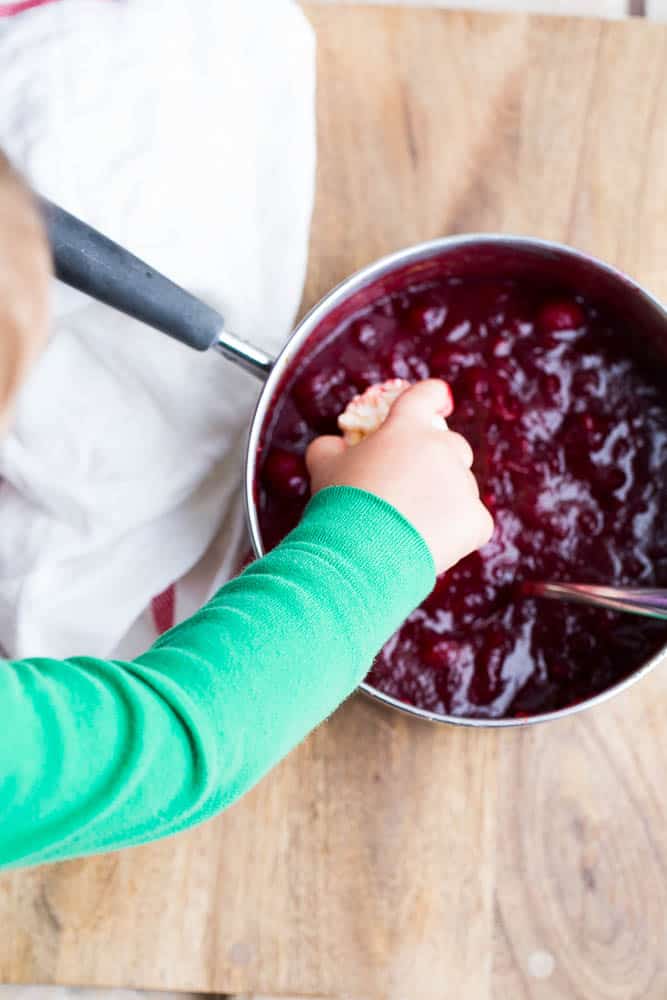 Have you ever tried it on a "lee-lee"? (Toddler translation: rice roller snack or a rice "rolly")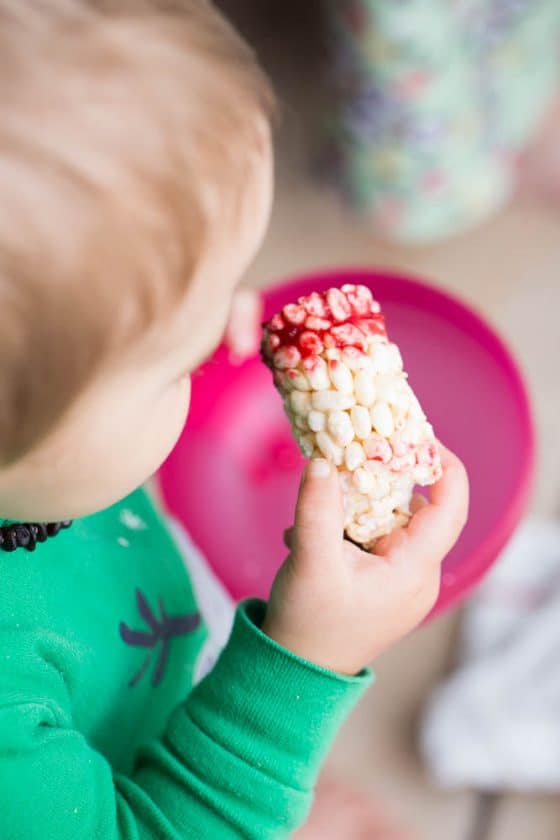 I hear from a very good source that it's good.
And if you happen to have leftovers (which would only happen if you didn't have toddlers and rice rollies I'm assuming?) you NEED to try my Paleo Cranberry Orange Bars. Or my Chai Paleo Gingerbread Waffles with Pomegranate & Cranberry Cream!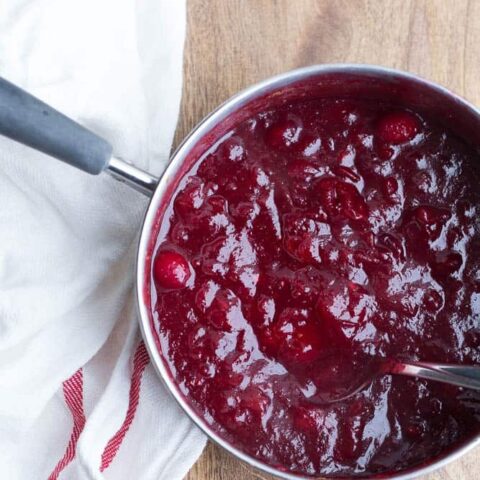 Wassailed Cranberry Sauce
Ingredients
12 ounces of fresh cranberries
1/2 cup unsweetened apple cider
1 cinnamon stick
1 orange
1 vanilla bean
6 Tablespoons pure maple syrup or honey
Instructions
Place the cranberries and cider in a small sauce pan and turn the burner on to medium heat.
Using a vegetable peeler, peel off 3 strips of the orange zest and put the strips into the saucepan. Cut the orange in half and squeeze half of the juice into the pan, too, about 1/4 cup.
Use a sharp knife to cut open the vanilla bean lengthwise, then use the back of the knife (the blunt edge) to scrape out the black seeds. Put the seeds and the pod into the pan along with the maple syrup.
Bring to a low boil, then reduce the heat and let it simmer for 35-45 minutes until the cranberries have cooked down and become saucy and thick and the flavors have incorporated throughout the sauce.
Taste, and add a little more sweetener if you think it needs it. I used 8 Tablespoons total.
Remove from the heat and let it cool before transferring it to a lidded container. Chill until ready to use.
Notes
Nat's Note: You can use 1 teaspoon of vanilla extract in place of the vanilla bean if you like.

Save
Save
SaveSave