Spiralized Butternut Squash Breakfast Bake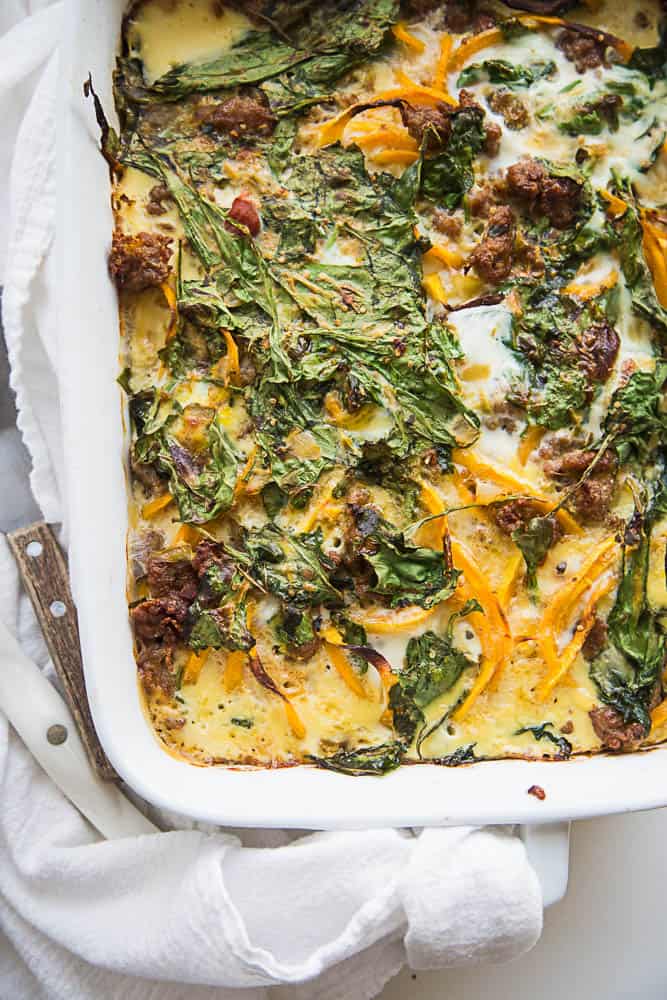 Hello, friends! I took a little time off to recover from Christmas, and we made a last-minute trip to Utah to attend a funeral. Needless to say, I'm really happy that school resumed this week and we're back into our regular routine. AND I've got some new I'll be sharing shortly.
Let's talk about this breakfast bake! I've made it a couple of times — even froze it once and it did great! My favorite part is the spiralized butternut squash.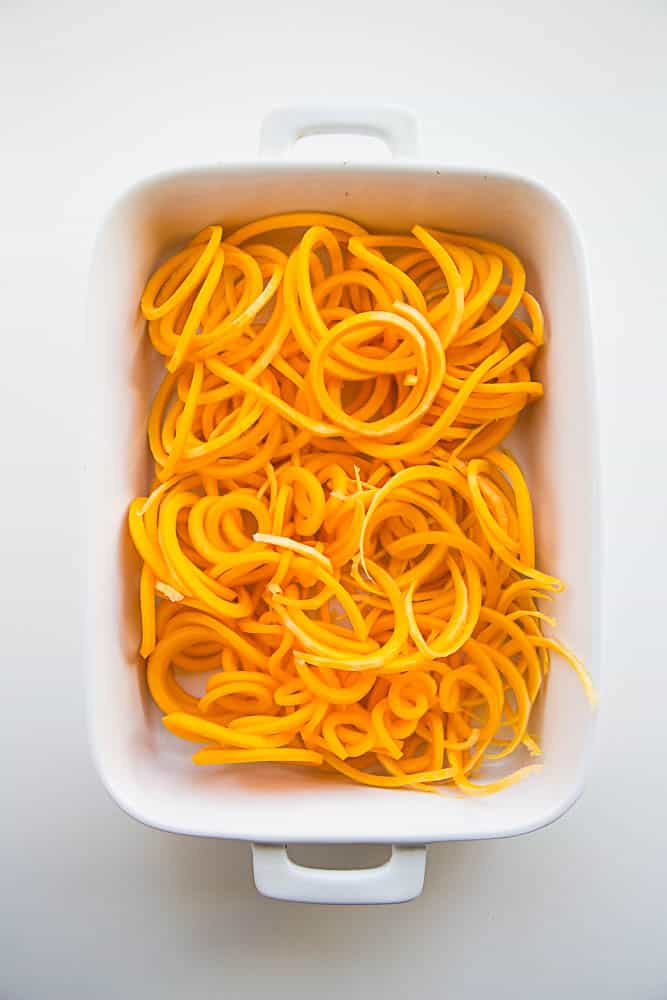 Aren't these the prettiest veggie noodles you've ever seen? I prefer butternut noodles over zucchini noodles because they're heartier and less watery than zucchini noodles tend to be. Plus, look at that color.
Would I lose any credibility if I admitted that I make a lot of my ingredient choices based on color coordination? Or just color in general?
By the way, if you don't have a spiralizer, grab one! Especially if you're going to be venturing into a paleo or low carb/keto lifestyle. Or just looking to add more vegetables to your diet. Or more orange noodles.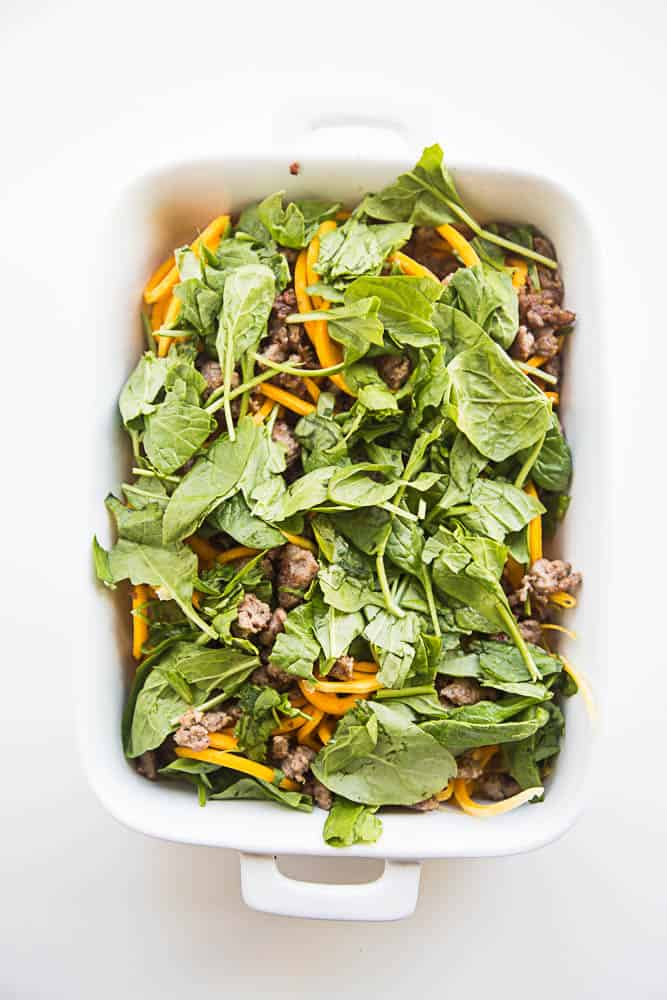 This is really easy to throw together, too. Just spiralized butternut squash, cooked & crumbled breakfast sausage, and a few handfuls of torn baby spinach.
If you've been around here for a while you may know that I like to throw handfuls of spinach into random stuff. It's my go-to if I think a recipe needs more veg. Plus my kids are (usually) ok with bits of green in their food.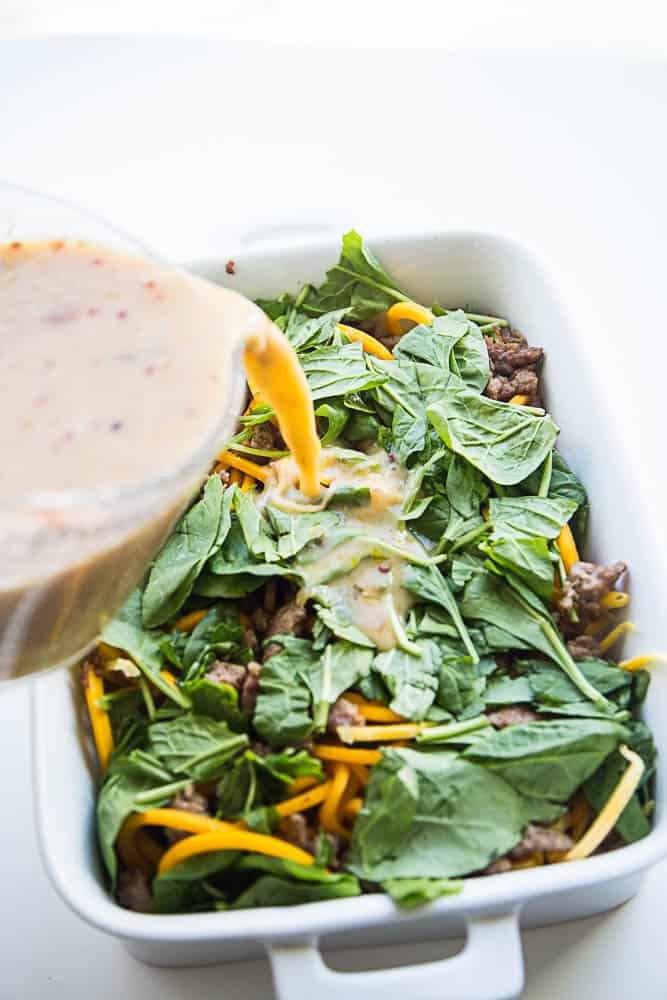 Like other breakfast bake an eggy mixture gets poured all over. This one also has almond milk, salsa verde, and some spices.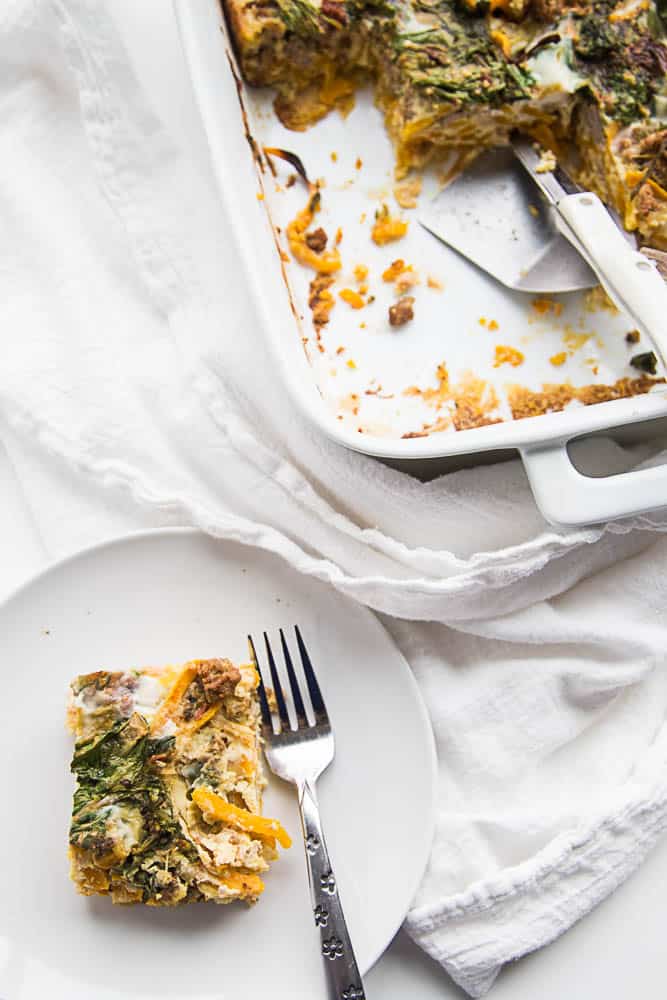 This could potentially be Whole30 compliant, too! Finding bulk breakfast sausage that's Whole30 compliant might be next to impossible. If you can't find it, use ground pork or turkey and blend it with some spices — ADD SPICES.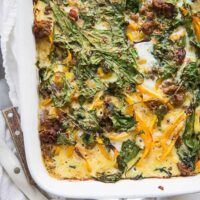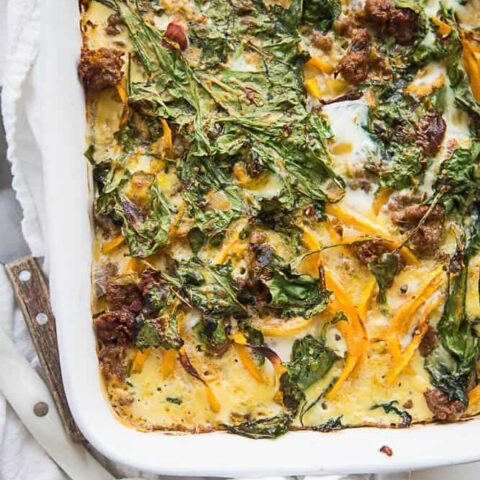 Spiralized Butternut Squash Breakfast Bake
Yield: Serves 12
Prep Time: 20 minutes
Cook Time: 1 hour
Total Time: 1 hour 20 minutes
This tasty breakfast bake start off with spiralized butternut squash and is packed with flavor -- sausage, southwest spices, and some salsa verde.
Ingredients
1 pound bulk breakfast sausage
1/2 of a large butternut squash, spiralized (The long, straight half. Not the round, hollow end.)
2 large handfuld of torn baby spinach
1 cup jarred salsa verde
9 eggs
1 cup of almond or coconut milk (see note)
1 1/2 teaspoon sea salt
1 teaspoon onion powder
1 garlic clove, minced
1/2 teaspoon smoked paprika
Instructions
Preheat the oven to 375 degrees F.
Cook the sausage in a large skillet over high heat until cooked through and crispy in spots, breaking up the meat in to small pieces as it cooks.
Prepare a 9x13" baking dish with nonstick spray. Place the spiralized squash in the pan. Sprinkle the sausage and spinach over the top.
In a large bowl or measuring cup, whisk together the remaining ingredients. Pour it evenly over the meat and vegetables in the baking dish.
Bake for about 60 minutes, uncovered, until everything is cooked through and there aren't any more goopy egg spots on top. (You know what I'm talking about, right?)

SaveSave