Making homemade chicken breakfast sausage was a revelation to me. It's hard to find good quality breakfast sausage without additives or extra… "stuff"
It's a perfect addition to scrambles, omelets and breakfast bowls! Speaking of breakfast bowls . . .
There are a few things I could eat every day:
Variations on taco salad.
Really great pizza.
Breakfast bowls.
What do I mean by breakfast bowls? Any combination of hash browns, roasted vegetables, homemade breakfast sausage, bacon, eggs (fried/scrambled/whatevs) and something creamy like avocado or a dressing of sorts. Oh, and hot sauce. Always hot sauce.
(Or, if we're talking sweet breakfast bowls, I love variations on chia bowls like in this recipe – Beet Brownie Bowls. But lately I feel a lot better — and less munchy during the day– if my breakfast is savory.)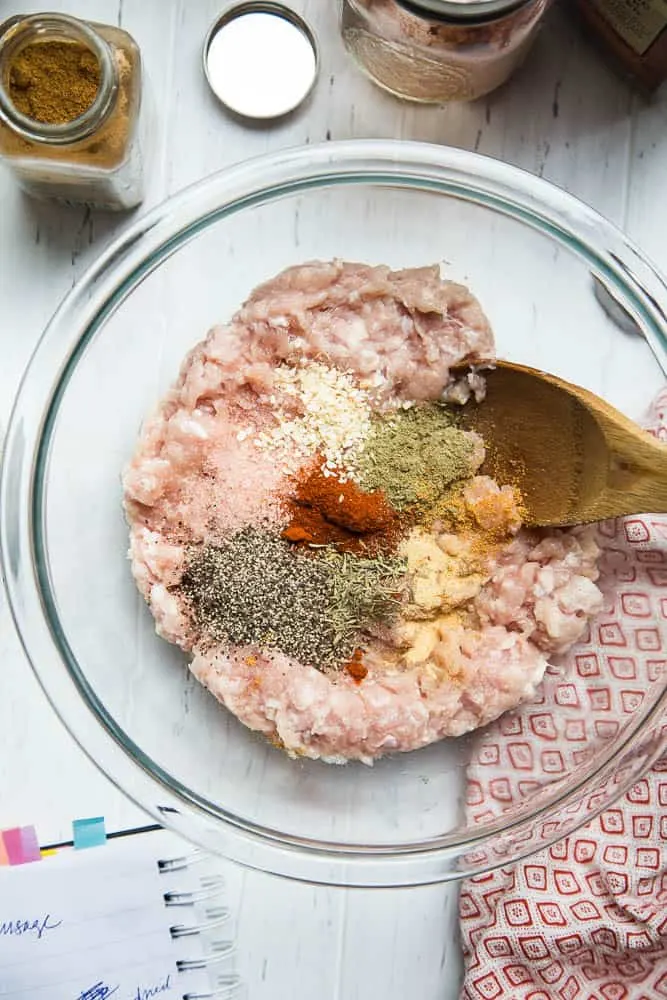 Let's talk homemade chicken breakfast sausage.
I can't remember when it was exactly that I realized you could easily make your own breakfast sausage (or any sausage, really) at home. I think it was when we started getting ground meat from a local university's farm and the ingredients were literally, "pork, red pepper, thyme, salt".
Guys, sausage is just ground meat and seasonings. (It reminded me of when I realized you could make homemade taco seasoning. *mind blown*) Putting it into casings is a whole other project (one I have zero interest in).
I'm talking about the crumbly bulk sausage or sausage patties. Smoked sausage is a little different, though. I'm trying to manifest a Traeger into my life. If you have one — you can really take your sausage making to a new level.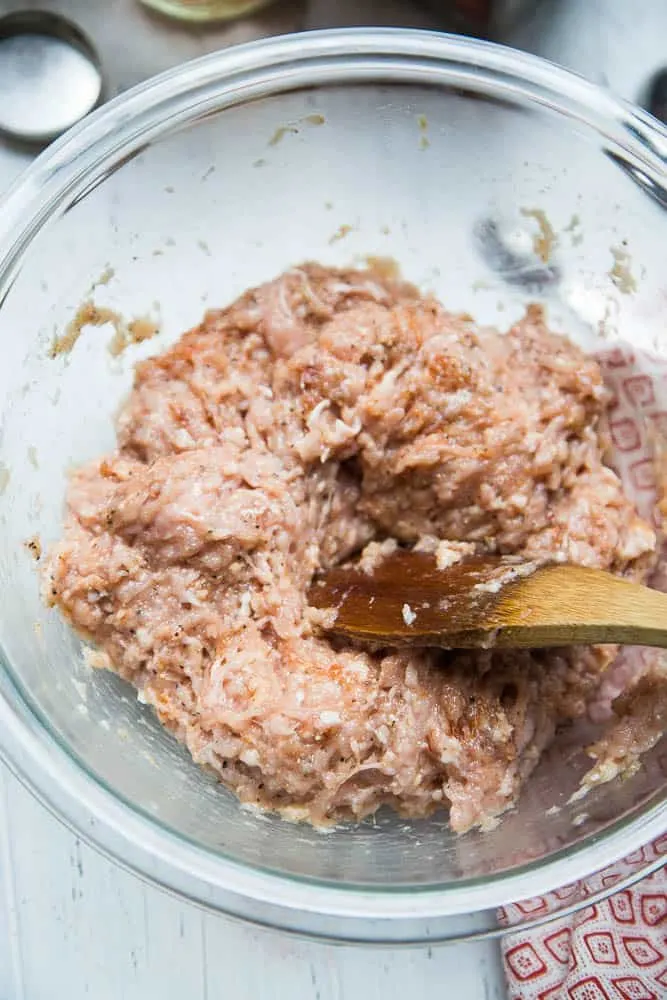 I found some organic ground chicken at Costco for this, but you could use ground turkey or ground pork. Personally, I find ground turkey too dry and ground pork too greasy, so I like to combine them. Ground chicken doesn't seem to be quite as dry to me.
Beef has too strong of a flavor, I think. And might be too heavy for breakfast. Or not? Don't people eat steak and eggs for breakfast? I've never had a desire to eat a steak for breakfast.
The seasonings in this sausage are basic ones found in a breakfast sausage, but the secret I found is using a lot of black pepper. That's what gives it some spunk and "sausagey" taste. Feel free to play with this, too, and change up the seasoning to your liking. You could also add a pinch of ground or whole fennel seeds if you have some on hand.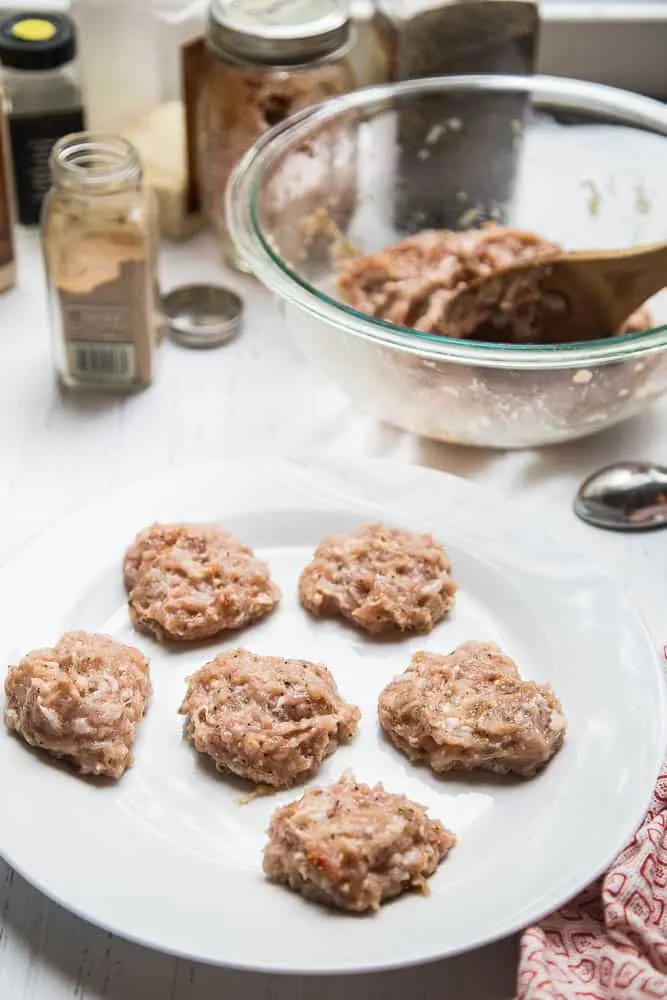 You can make these into patties, too! Ground chicken is more sticky and trickier to form into patties, but totally doable.
It might make it easier to refrigerate the meat for a bit before forming them.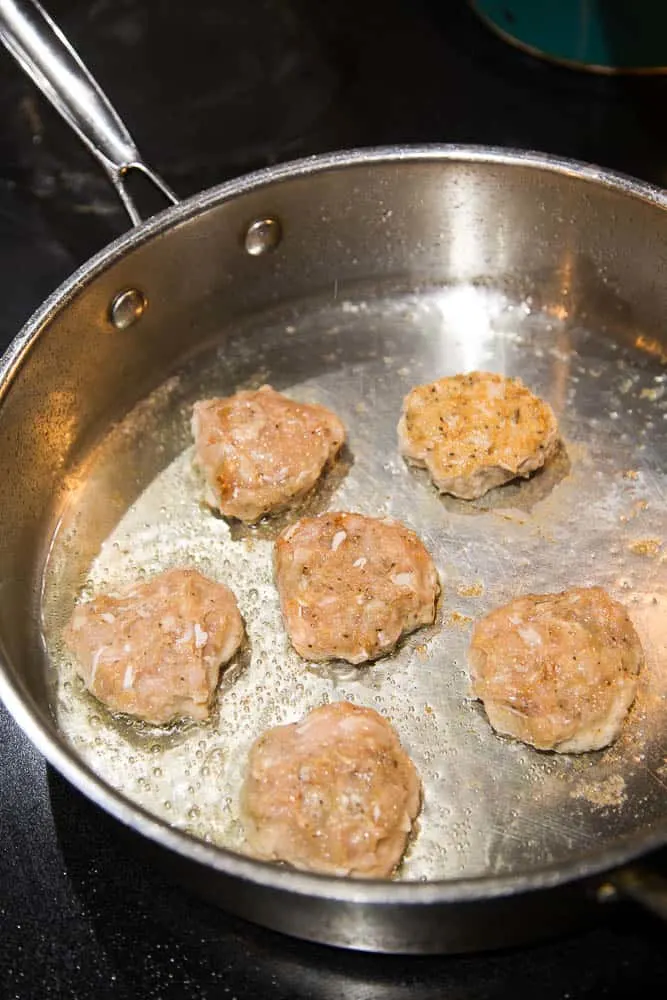 These homemade chicken sausage patties are AWESOME for meal prep. Just cook them, then freeze them to use later. They reheat beautifully.
Non-stick skillets are fine, but mine has seen better days and needs to be replaced.
I like GreenPans the most. I have a couple of 8″ pans and this 10″ and 12″ set of pans. The bigger ones I replace every other year. The smaller ones seems to last longer and are my favorite pans for making crepes.
I used my big stainless skillet to cook these patties. If you have trouble with meat sticking to stainless pans, here are a couple of tips:
Tips for cooking meat in a stainless steel pan:
Use enough oil. I know a lot of us are still stuck in the fat-phobic mindset of 30 years ago, but you need enough oil to lightly coat the whole pan. You don't have to have an inch of oil in there.
Make sure the pan is really hot before you put the meat in. Whatever oil or fat you use should start rippling subtly. Not smoking, though.
Don't touch the meat after you put it in the pan. At least for a few minutes. During that time the meat will form a little crust on the bottom. You want that crust. It allows you to move the meat without it sticking. And that caramelization is super tasty.
If stuff sticks anyway, just keep cooking and flipping, adding a little more oil if you need it. If it gets ridiculous, add a little broth or water to the skillet and stir it around with a spatula to loosen stuff from the pan.
OR you could toss all the meat in the pan and cook it loose. This is what I prefer. And I like to cook it for a long time so there are a lot of crispy, caramelized bits.
And that's it!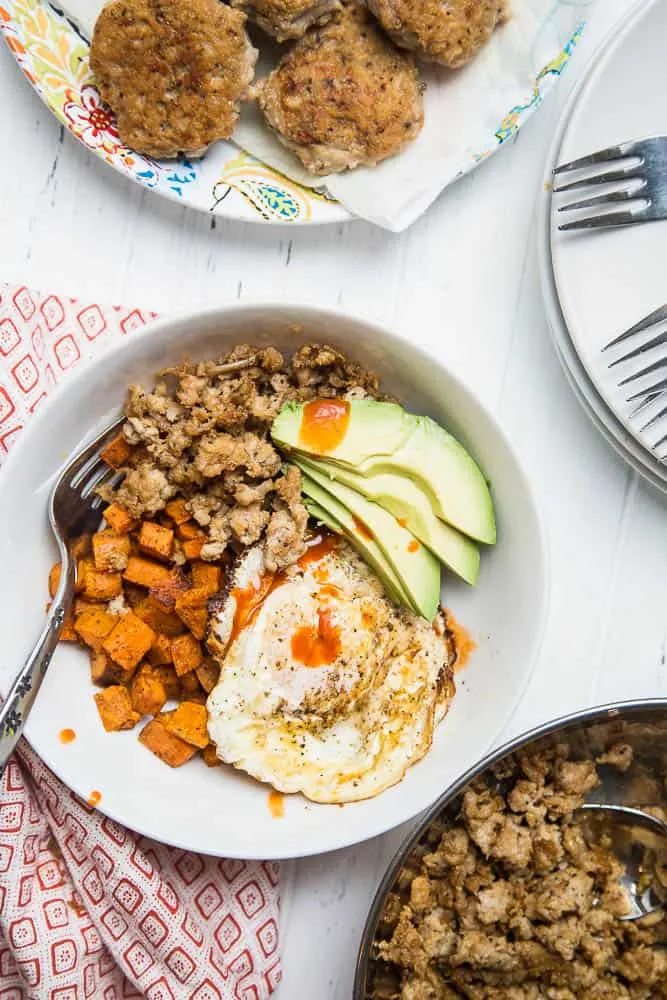 Easy, right? In that bowl up there I added some roasted sweet potatoes tossed in my Sweet Potato Fry Seasoning, a runny egg, part of an avocado, and a few shakes of Chalula hot sauce. Steve likes putting sauerkraut on his, too. I do, too, sometimes. But most mornings I'm not ready for sauerkraut that early.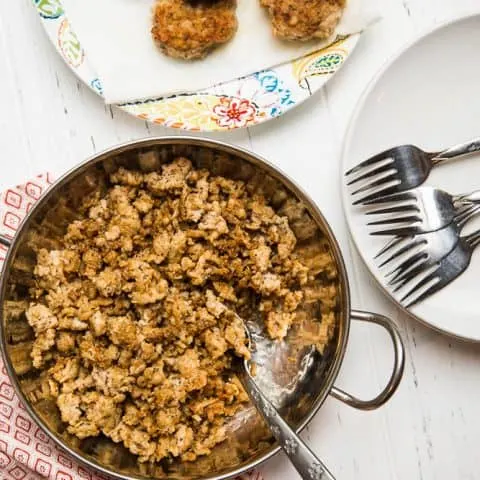 Homemade Breakfast Sausage
Yield:
Makes about 3 cups
Making your own homemade breakfast sausage is just as easy as making taco meat! It's perfect for meal prep -- cook it loose or in patties for meals during the week. It even freezes well!
Ingredients
1 1/2 pounds ground chicken (or turkey or pork or a combo)
1 1/2 teaspoon sea salt
1 1/2 teaspoon black pepper
1/2 teaspoon paprika
1/2 teaspoon dried minced onion (or 1/4 teaspoon onion powder)
1/4 teaspoon garlic powder
1/4 teaspoon dried sage
1/4 teaspoon dried thyme
Pinch (or more) of cayenne pepper
Instructions
Put the ground meat into a mixing bowl. Add the spices and use your hands to incorporate the seasonings throughout the meat. Try not to squish the meat in your fists or it'll get mealy. Just gently use your fingers to toss it around.
Heat a skillet to medium-high heat and cook the meat, breaking it up with a spatula until it's crumbly and coated with caramelized edges, about 20 minutes.
Serve with your choice of breakfast goodies.
Notes
Instructions for making patties:
Form the seasoned, raw meat into 12-14 1 1/2-2 inch patties and put them on a plate.
Heat a skillet with enough oil (I use avocado oil) to lightly coat the pan. Make sure the pan is really hot before the patties go on.
Cook half of the patties at a time, leaving them untouched for the first 2-3 minutes until a crust forms on the bottom. Flip and continue cooking them until they're cooked through and firm when you press the centers.
Transfer to a plate and continue cooking the rest of the patties, adding a little more oil, if needed.
Disclosure: This post may contain Amazon affiliate links. Purchases made by using these links don't cost you any extra and helps to keep my content free.