My husband ate a few spoonfuls of this Keto Roasted Tomato Jalapeno Cheddar Soup and declared that it tasted like queso. I completely agree. It comes together so quickly and easily — perfect for a weeknight.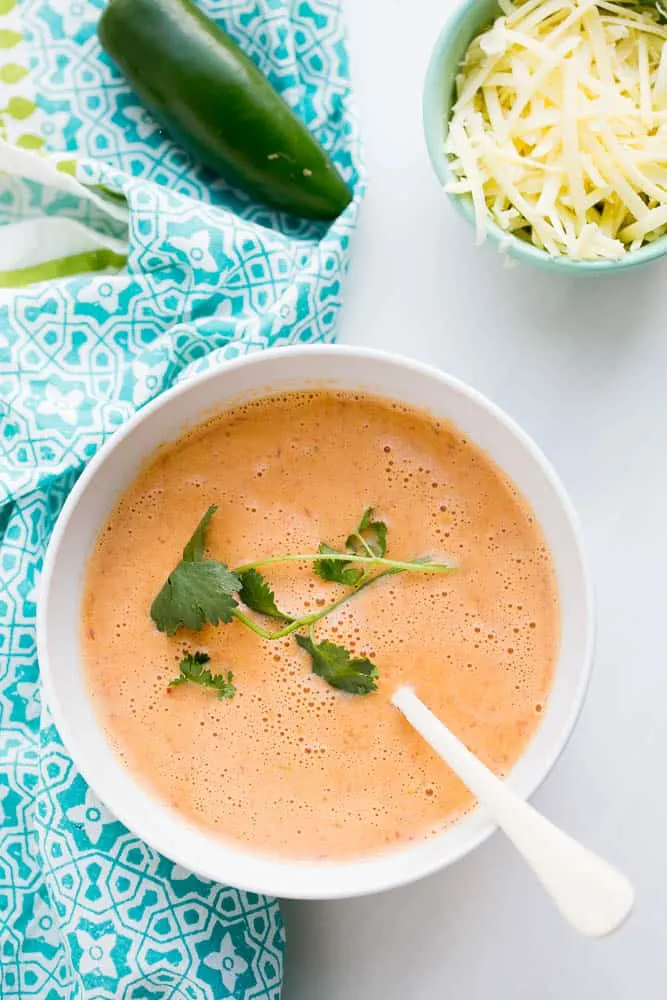 I've got a great little soup for you today that my husband decided tasted like queso. I'm not above eating queso with a spoon, but when it's in soup form, it's more socially acceptable.
This is the Roasted Tomato Jalapeno Cheddar Soup from Carolyn Ketchum's new book, Easy Keto Dinners. Do you follow Carolyn over at All Day I Dream About Food? She's basically the keto/low-carb headmistress and her site is full of great recipes if keto is your thing. Remember those White Chocolate Raspberry Fat Bombs I posted last fall? She's the mastermind behind those, too.
This jalapeno cheddar soup is easy to put together — just roast some vegetables in a pan and then blend them up with broth, cream cheese, and some grated cheddar. Heck, I'd even eat this in the middle of the summer — especially with perfectly ripe tomatoes.
Luckily you don't need perfectly ripe tomatoes for this soup to be tasty because roasting and caramelizing them turns mediocre tomatoes into pretty decent ones.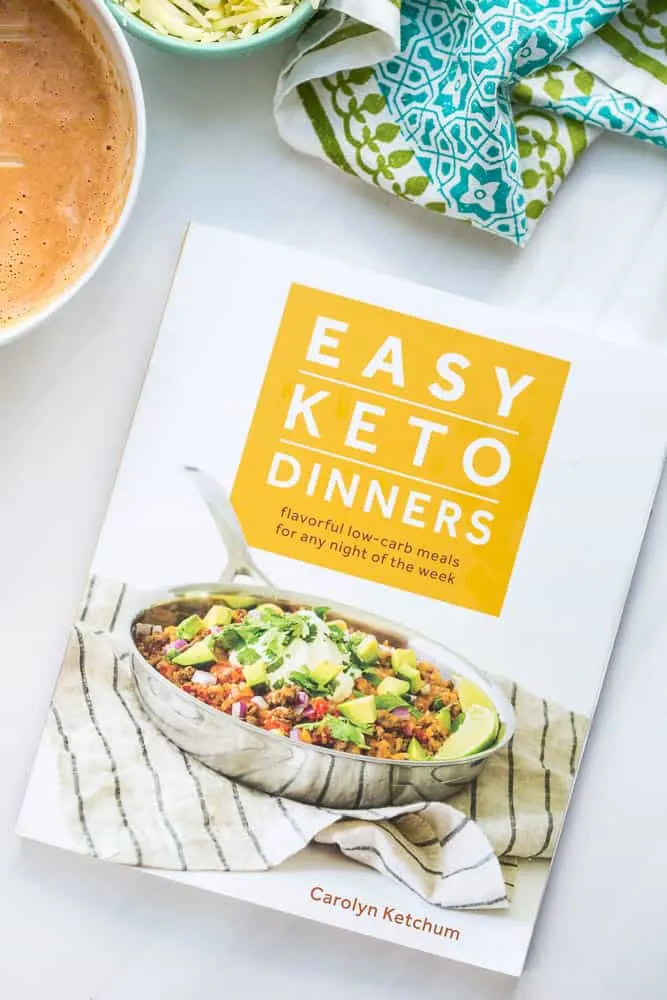 All of the recipes in Easy Keto Dinners are easy (duh) and have easily accessible ingredients.
I've got my eye on a few more recipes, too, including Bacon, Spinach, Feta Chicken, Smoked Salmon Chowder, and something called a Rueben Skillet.
I'm able to tolerate some dairy, which is why I love Carolyn's recipes. Not everyone can, though, and a lot of them can easily be made dairy-free with some substitutions.
If you don't have plans for Cinco de Mayo yet, you can grab the handful of ingredients and make this soup! Carolyn suggested adding some crumbled, cooked sausage (chorizo! *drool*).
Grab a copy of Carolyn's book and head over to her site for more keto recipes!
---
If you make one of my recipes, be sure to post it on social media and tag me at @perrysplate or #perrysplate so I can send you some love!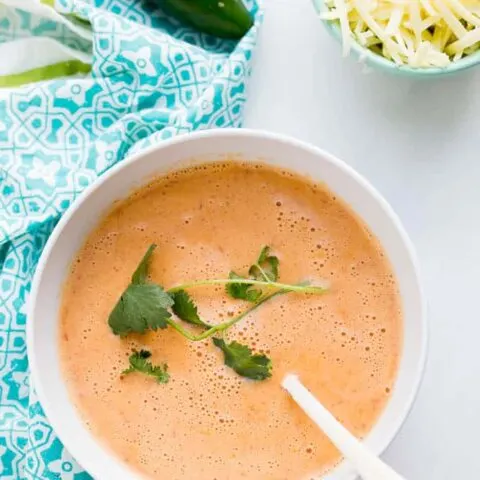 Keto Roasted Tomato Jalapeno Cheddar Soup
My husband ate a few spoonfuls of this soup and declared that it tasted like queso. I completely agree. It comes together so quickly and easily -- perfect for a weeknight.
Ingredients
2 pounds fresh tomatoes, coarsely chopped
2 jalapeno peppers, cut in half (seeded, if desired)
2 cloves of garlic, peeled
1/4 cup avocado or coconut oil
Sea salt and black pepper
4 cups vegetable or chicken broth
4 ounces full-fat organic cream cheese (1/2 cup)
2 cups shredded organic cheddar cheese (about 8 ounces)
Instructions
Preheat your oven to 400 degrees F.
Spread the tomatoes, jalapenos, and garlic cloves on a rimmed baking sheet or a 9x13 glass or ceramic baking dish. Drizzle the oil over the top along with a few generous sprinkles of salt and pepper. Toss well to combine.
Roast for 30 minutes, until the tomatoes have begun to caramelize. Transfer to a large saucepan set over medium heat. Add the broth and bring to a simmer.
Add the cream cheese and stir until melted. Use an immersion blender to puree the soup until smooth. Alternatively, you can puree the soup in batches in a blender or food processor and then return it to the pot.
Add the shredded cheese, a handful at a time, and stirring in between additions to allow each handful of cheese to melt.
Serve with an extra sprinkle of cheese, if desired.
Notes
Nutritional info per serving:

Calories 292 | Fat 26.1g | Protein 11.3g | Carbs 8.3g | Fiber: 1.5g
This post may contain affiliate links. Any purchases made by using these links won't cost you any extra and helps keep my content free. These links may be Amazon links as I am part of the Amazon Associate Program.