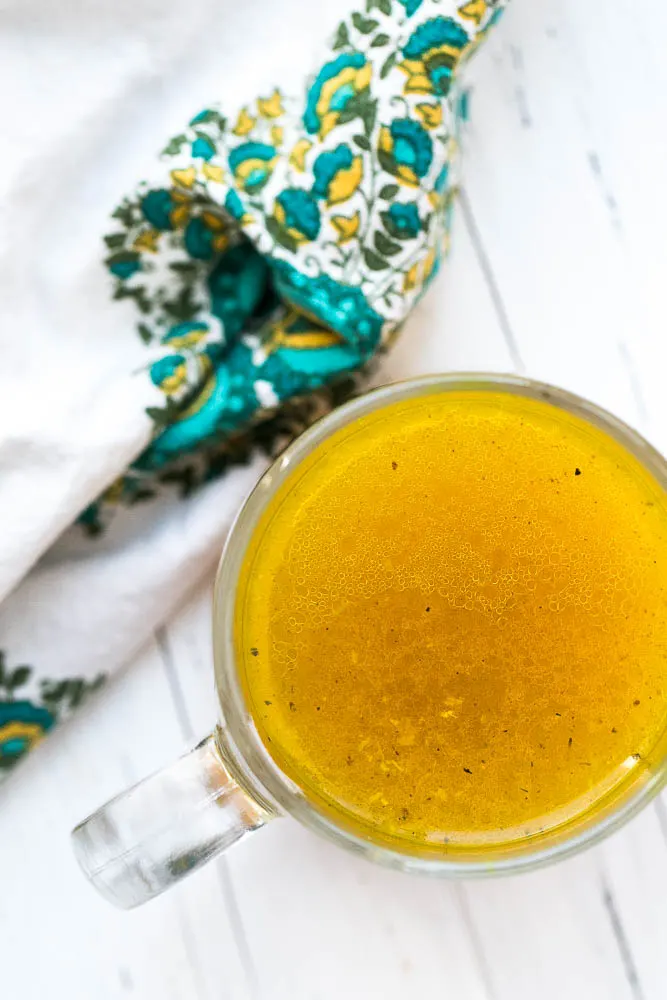 What a difference a couple of weeks make, right?
Suddenly we're all at home trying to social distance ourselves and stocking up on pantry staples.
For good reason, though, right? I'm all about flattening the curve. And keeping our immune systems strong!
If, by chance, we do get sick, this is my go-to cup of cozy.
It soothes sore throats, tempers coughs, and has a TON of health benefits.
Seriously — google all of the ingredients!
Bone broth, garlic, ginger, lemon, turmeric, and apple cider vinegar all have amazing nutritional properties!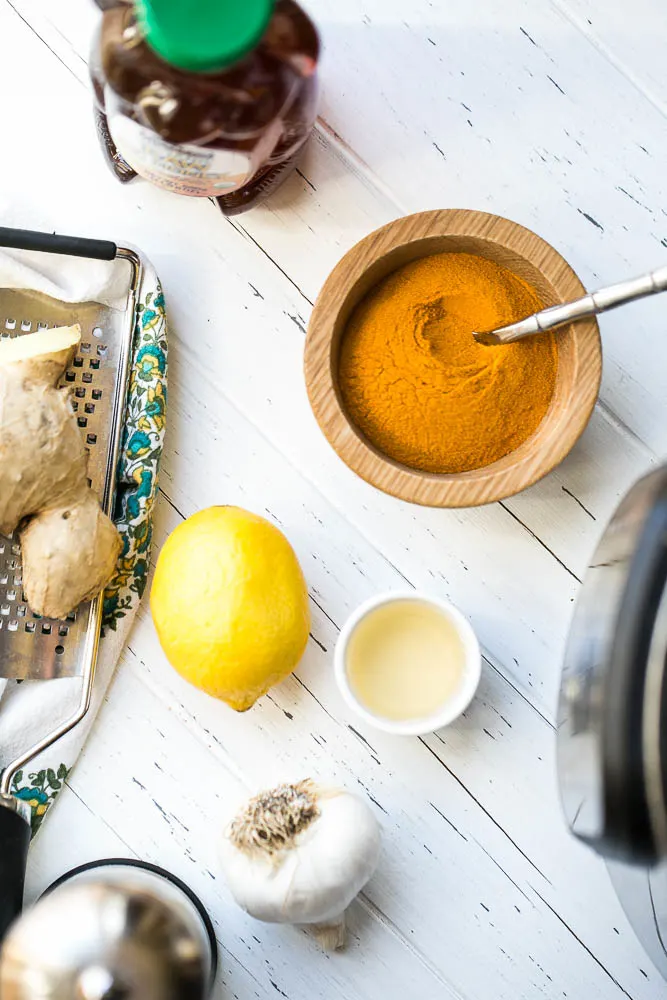 If you have my most recent cookbook, The Big Book of Paleo Pressure Cooking, you might recognize this as the "Turmeric Detox Broth".
I gave it a name change and decided to post it here because it's NEEDED right now.
I wanted ALL OF YOU to have another recipe up your sleeve to combat this crud that's going around.
And it's super tasty. It like the best bone broth ever. Truly.
It's also more effective than cough drops at keeping a cough at bay.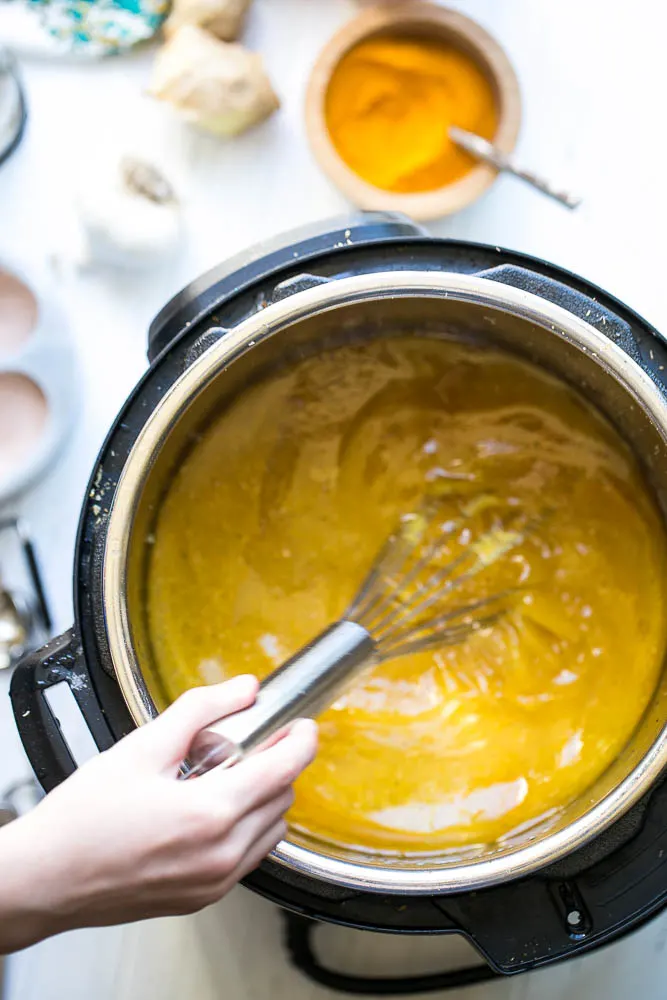 You can make this in your Instant Pot or on the stove! It just needs to simmer for a few minutes to get all of those flavors happily mingling.
Can You Make Bone Broth in an Instant Pot?
Yes. Absolutely.
I highly recommend making your own bone broth for this recipe.
I have an awesome tutorial right here: Instant Pot Chicken Bone Broth.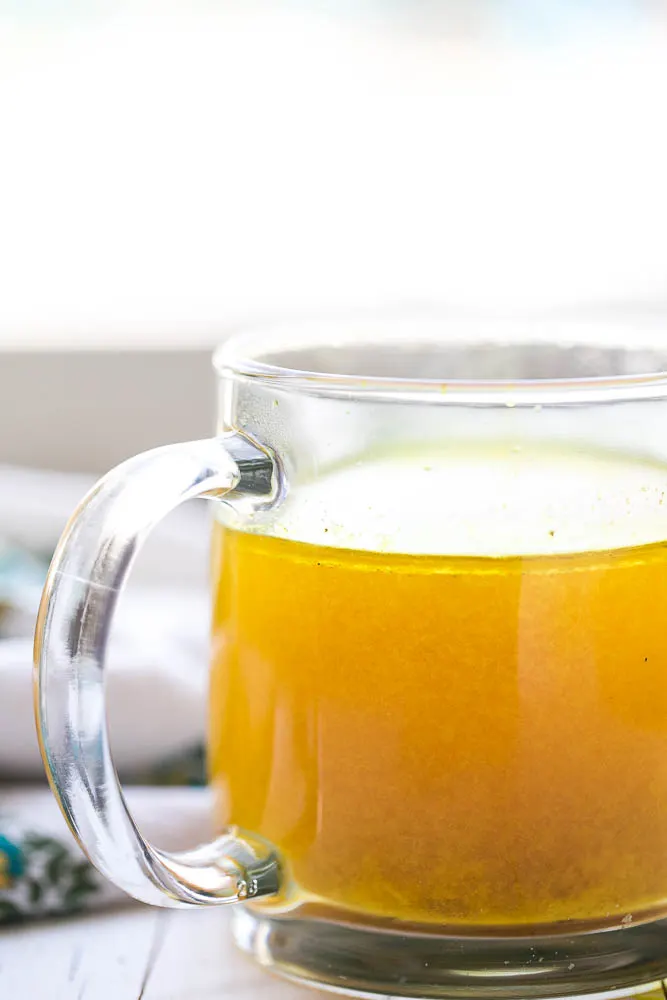 Can You Freeze Bone Broth?
100% YES.
And you can freeze THIS bone broth, too.
It's nice to have a stash of this going into the cold and flu season to pull out when you're not feeling well.
Or when you're quarantined and coughing your head off.
Hopefully it doesn't come to that and we stay healthy and well!
What are you doing to stay healthy and sane these days?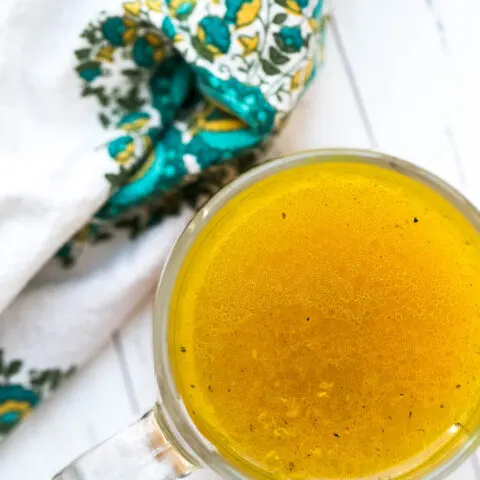 Turmeric Immunity Broth
Ingredients
2 quarts high-quality chicken bone broth
4 teaspoons apple cider vinegar
1 Tablespoon finely grated fresh ginger
1 Tablespoon freshly squeezed lemon juice
2 teaspoons ground turmeric (or 1 Tablespoon grated fresh turmeric root)
1/2 teaspoon minced or grated fresh garlic
1/2 teaspoon sea salt (see note)
Generous pinch of black pepper
Pinch of cayenne pepper
Raw or manuka honey, for serving
Instructions
Put all of the ingredients (except for the honey) into the insert pot of your Instant Pot. If you don't have an Instant Pot, you can put them into a medium sized pot on the stove.
Seal the pressure cooker, making sure the steam valve is set to "sealing" and set it for high pressure for 1 minute.
Alternately, you can simmer the mixture on the stove for 15-20 minutes.
When it's finished, wait a few minutes before releasing the steam in case any decides to splatter out of the steam valve.
Taste, and add more salt if you think it needs it.
Ladle into mugs and serve hot with a drizzle of honey if you like.
Notes
Nat's Note: The salt content will depend on whether your bone broth is salted. For unsalted broth, 1 1/2 teaspoons of sea salt works well. For unsalted, I'd add 1/2 teaspoon and the taste before adding more.
I highly encourage you to make your own bone broth -- especially if you have an Instant Pot. It's so easy. Check out my tutorial here: Instant Pot Chicken Bone Broth.
Recommended Products
As an Amazon Associate and member of other affiliate programs, I earn from qualifying purchases.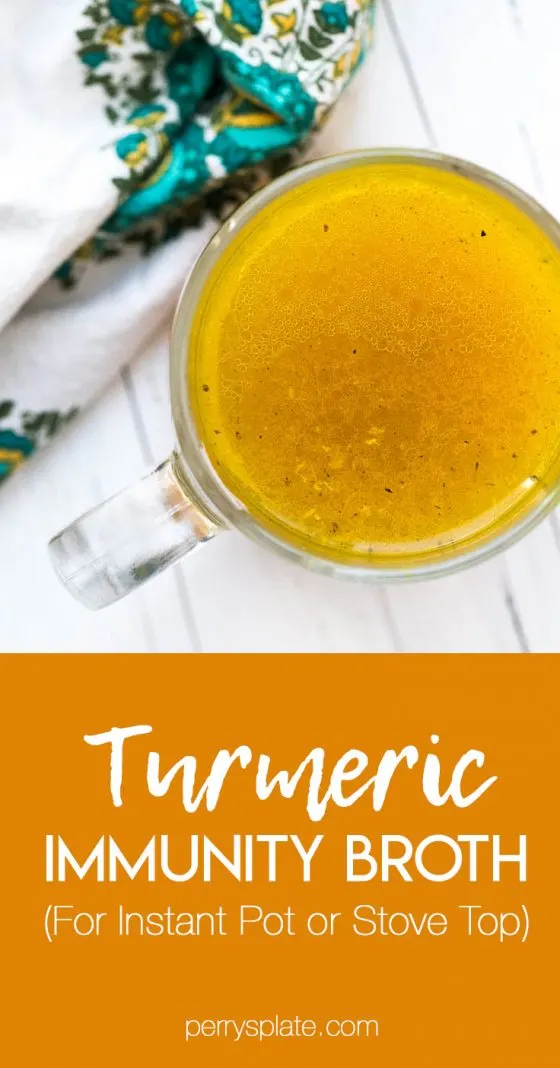 Disclosure: This post may contain Amazon affiliate links. Purchases made by using these links don't cost you any extra and helps to keep my content free.