This is a southwest version of our favorite chicken soup for Instant Pot! We loved it with a splash of cream, but you can keep it dairy free if you like.
This Southwest Chicken Soup is a variation on our family-favorite Cold Remedy Chicken Soup. (Which is also fantastic.)
My kids get ridiculously excited when I make it that regular paleo chicken soup — without noodles, even! They jump up and down and declare (once again) it to be on the "favorite dinner list" — a mental list our kids have of the dinners they like the most. (It used to be a physical list until the list, and the planner it was tucked into, was left in a Costco cart never to be seen again.)
I included a version of that chicken soup recipe in my paleo slow cooker cookbook, and now I make it in my Instant Pot pressure cooker. One day I felt like making chicken soup, but wanted a southwest-ish version instead. I tossed some stuff into my pot and hoped for the best knowing that my "purist" children might complain.
They don't like it when I mess with their favorites. BUT I LIKE MESSING. MESSING IS MY FAVORITE.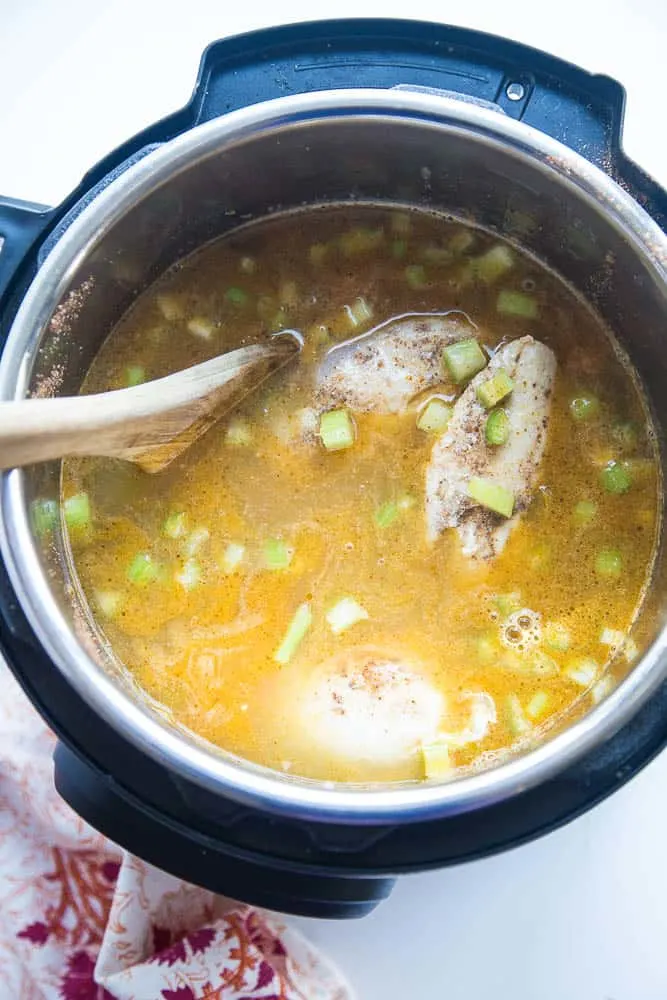 Luckily they LOVED it. This version made it to the exclusive favorite dinner list, too, and I was happy to have another version of chicken soup for Instant Pot!
The only seasoning I used in here was my Sweet Potato Fry Seasoning. I've talked a lot about this blend because it's one of my favorites. It's super easy to make (I'm 99.9% sure you already have the ingredients — chili powder, garlic powder, ground cumin, and salt.) and I keep a mason jar of it in my cupboard all the time.
I always put it on our sweet potato fries, sometimes I use it for other roasted vegetables or as a quick dry rub if I need to season some chicken for grilling. It's super versatile.
If you don't feel like making a jar of it, I included measurements for the seasoning in the notes of the recipe below. Don't worry — there are only 4!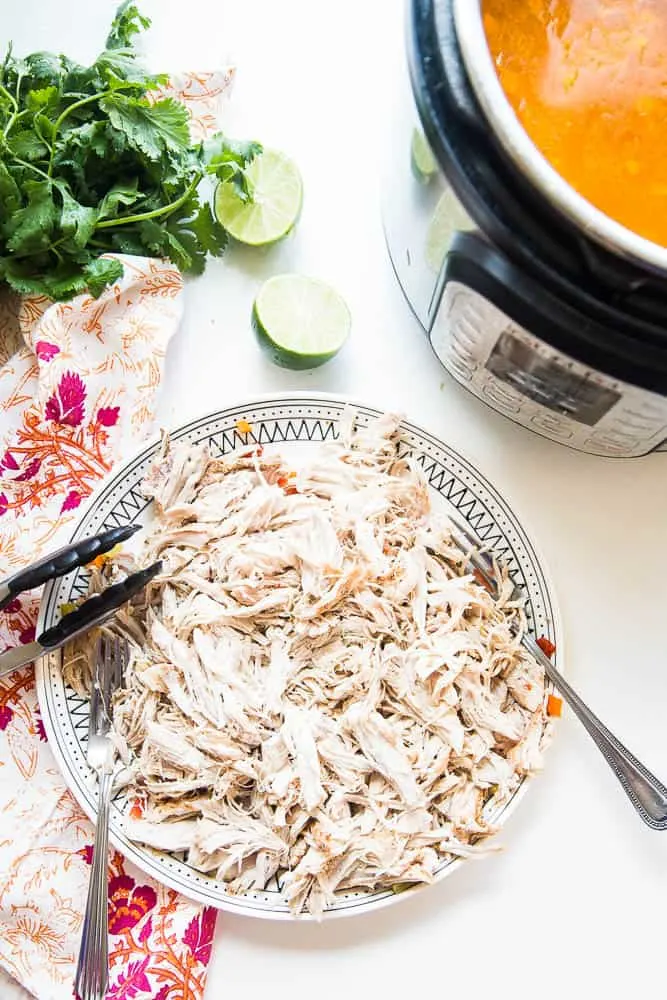 I used boneless, skinless chicken here, but you could totally use chicken thighs or any bone-in chicken (just remove the chicken bones when you shred it — probably self-explanatory, but you never know…)
I prefer shredded chicken over cut-up chunks, so I usually put my chicken pieces into the pot whole, shred it up, and stir it back in to let it soak up some of that yummy spiced chicken broth.
Speaking of…. if you've ever made the Cold Remedy Chicken Soup in my cookbook (the favorite chicken soup I talked about earlier), you may have noticed that I left out the instruction to shred the chicken. I really didn't expect you to ladle whole chicken breasts into your bowl. *facepalm*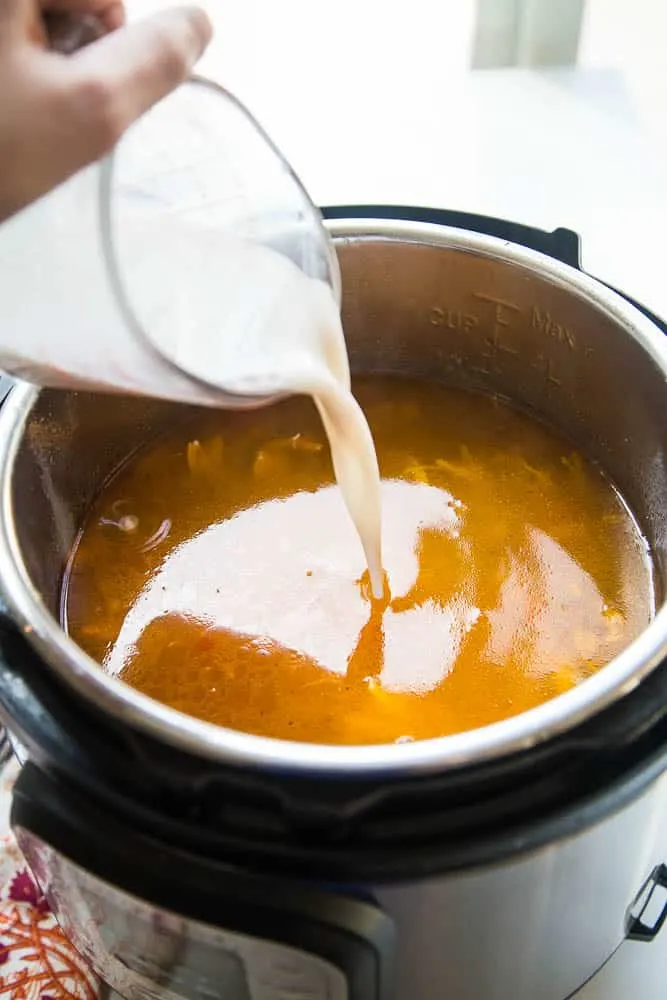 Anyway… where was I?
This recipe has the usuals — onions, garlic, carrots. You could add a can of diced tomatoes for some color, if you like. Or even a can of drained black beans if you eat legumes. (We do occasionally.)
I also loved the addition of almond milk to it a little creamy. You can just add more broth earlier in the recipe if you'd like it to stay brothy.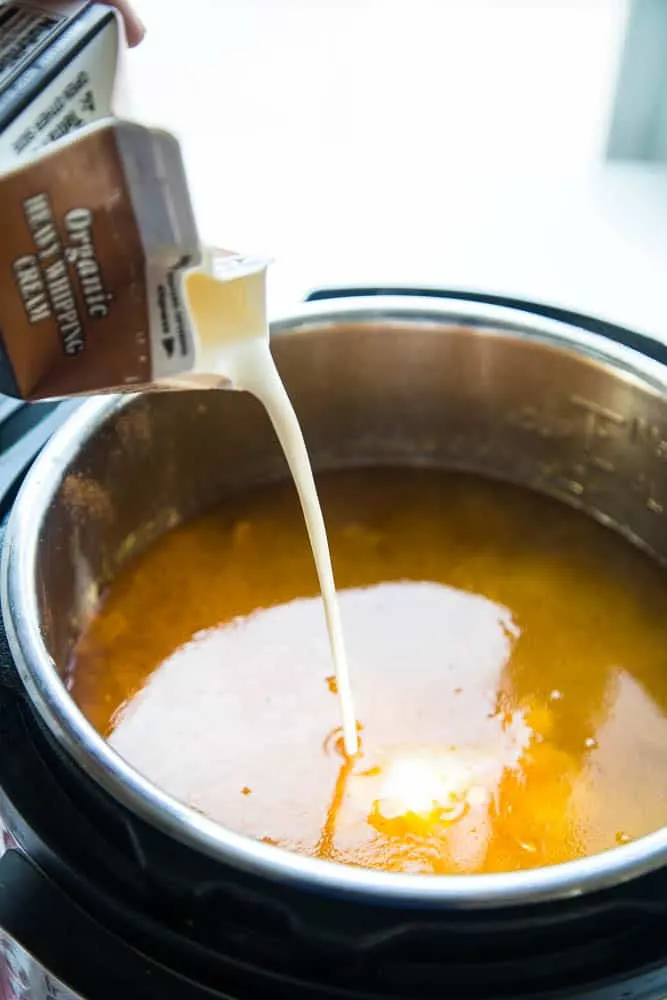 Whoops! How did that happen?
Heavy cream is optional, of course. But it was pretty darn tasty. And while we're on the topic of adding dairy — some shredded pepper jack cheese and sour cream isn't a horrible idea, too, if you can tolerate some dairy. This recipe will truly please everyone!
Even the low-carb/keto camp. (You may need some extra heavy cream and cheese for them.)
I think you knew this was coming, right? Anything with "Southwest" in the title has fresh lime juice. That should be a given.
If there is ever a lime shortage in the world, I think I'd cry.
I've heard that fresh limes are much more expensive and not nearly as juicy up in the northeast part of the U.S. I feel for you guys. Really. One of the factors in deciding where I'd live forever depends on my proximity to Costco, how many months out of the year hit 90 degrees (3 is plenty, thx), and availability of avocados and fresh limes.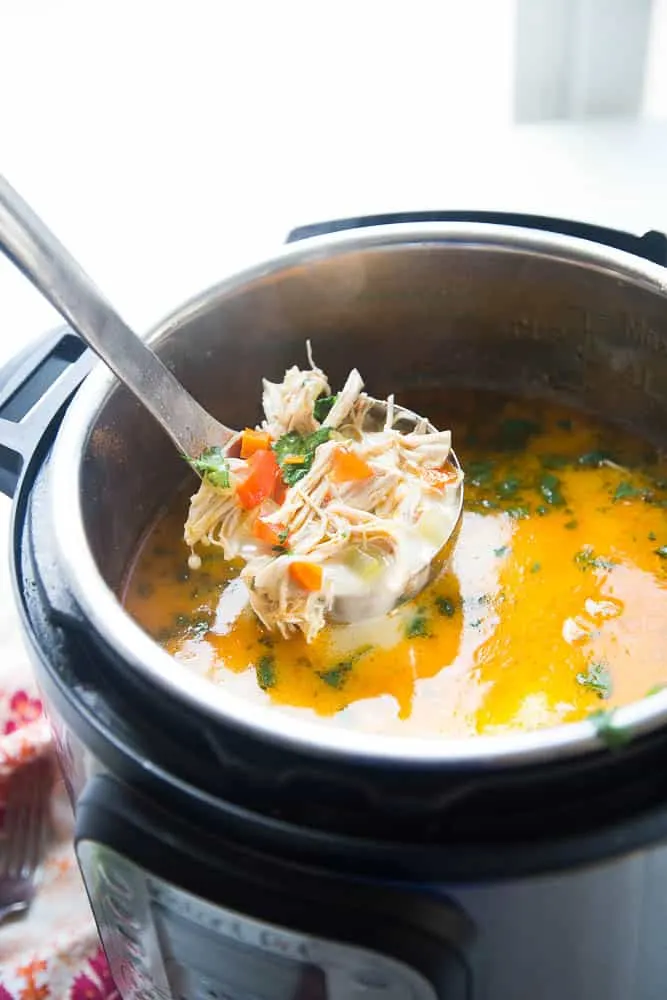 And, finished!
Because this soup doesn't have any pasta or rice, it freezes well! It's also a super cozy, yet still healthy, comfort food meal you could take to a new mama or a neighbor who just moved in. Or someone you love who REALLY needs some love.
Or just invite a few friends over for games and soup.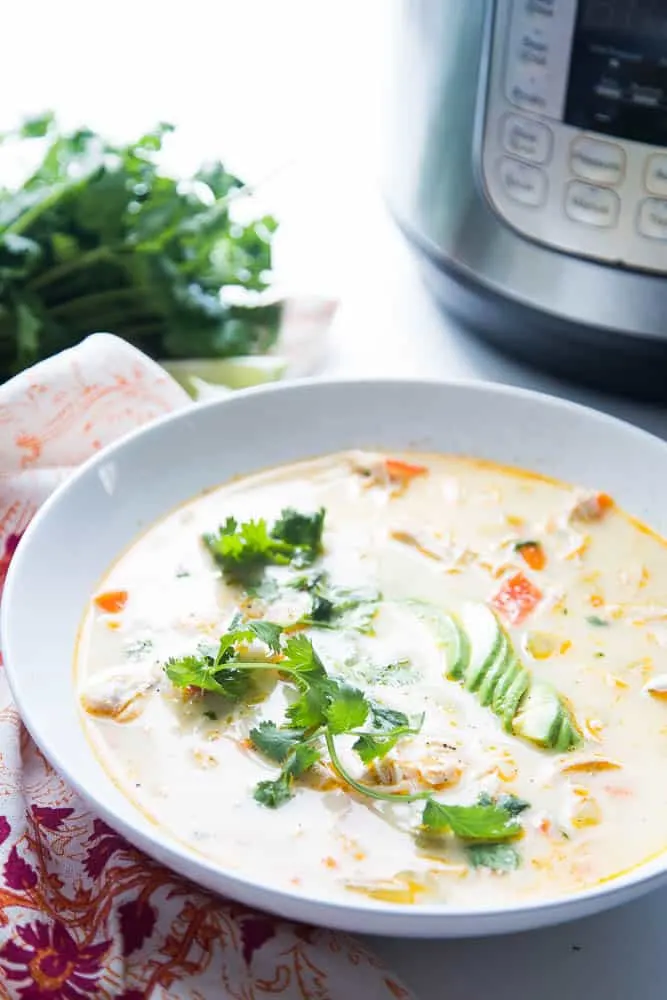 I loved this with some sliced avocado, fresh cilantro, and a few shakes of hot sauce, too. I really love extra garnishes like that. It makes dishes turn out even more amazing and give it that little extra punch of flavor. This soup is no different!
Even More Chicken Soup Recipes
Speaking of chicken soup and chili recipes. Did you know I have more on my site and in my cookbooks? I linked to the ones on my site below. I also have SIX chicken soup/chili recipes in my Crock Pot cookbook, The Big Book of Paleo Slow Cooking and FIVE in my Instant Pot Cookbook, The Big Book of Paleo Pressure Cooking.
If you don't have those two books, you're seriously missing out. So many of our family favorites are in there and LOADS of recipes you can meal prep with!
Here are a few more I've got on Perry's Plate:
Instant Pot Chicken Tomatillo Soup — This is a fairly new one! A fun riff on chicken tortilla soup, but paleo/Whole30/low-carb friendly. Lots of bright, citrusy flavors from limes and tomatillos.
Leftover Chicken Fajita Soup — When you make the Best Chicken Fajitas of your life, (There's no "if" here. Please do it.) make extras to save and whip up this super fast and AMAZING soup.
Thai Coconut Curry Soup (Chicken Khao Soi) — This is a Thai-style chicken soup with a creamy coconut curry base. I loved this with cooked spaghetti squash in place of rice noodles!
Cold Remedy Chicken Soup — Here's that original soup link again. It still cracks me up how much my kids love this soup. I mean, I love it, but it really is just a super cozy, tasty basic chicken soup. I do add a few special ingredients to boost the flavor, and they double as immune boosters during cold and flu season.
If you're looking for another quick Instant Pot soup, this meat-free Instant Pot Potato Leek Soup from Vegetarian Mama looks so easy and delish!
---
If you make one of my recipes, be sure to post it on social media and tag me at @perrysplate or #perrysplate so I can send you some love!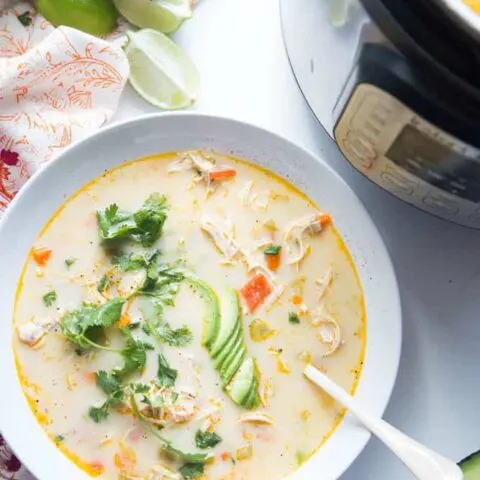 Creamy Southwest Chicken Soup for Instant Pot
This is a southwest version of our favorite chicken soup for Instant Pot! We loved it with a splash of cream, but you can keep it dairy free if you like.
Ingredients
4 Tablespoons of ghee or avocado oil
2 - 2 1/2 pounds of boneless, skinless chicken breasts or thighs (about 3 large breasts)
1 Tablespoon + 1 teaspoon Sweet Potato Fry Seasoning (see note)
1 large onion, diced
4 medium carrots, diced
4 celery stalks, diced
2 bell peppers (any color), diced
2 4-ounce cans of diced green chiles
6 cups chicken broth
1/2 teaspoon sea salt
1 cup almond milk
1/2 cup heavy cream (optional -- you can use more almond milk if you like)
2 Tablespoons freshly squeezed lime juice, plus additional limes for serving
a handful of fresh chopped cilantro (about 2/3 cup), plus more for serving
Sliced avocado and hot sauce, for serving
Instructions
Turn your Instant Pot on to the Saute mode. When it beeps, add the ghee/oil to the pot.
Sprinkle 1 teaspoon of the SPF seasoning on the chicken. Add the chicken to the pot and let it sit, undisturbed for 3-4 minutes, flip and sear the other side until golden brown. You don't have to cook them all the way through. Remove the chicken from the pot and set aside.
Add the onion, carrots, celery, and bell peppers to the pot. Cook, stirring to scrape up any bits the chicken left behind. Put the chicken back in the pot with the green chiles, chicken broth, 1 Tablespoon of SPF seasoning, and 1/2 teaspoon of salt. Put the lid on the pot and seal, making sure the vent it set to "sealing".
Cancel the Saute setting and set the Instant Pot to Manual mode for 20 minutes. Let the steam naturally release for 5 minutes, and then flip the vent switch to finish releasing the steam manually.
When the lid unlocks, remove it. Remove the chicken, shred it, and stir it back into the pot.
Stir in the almond milk, cream (if using), lime juice, and cilantro. Let it sit for 5 minutes or so.
Serve with sliced avocado, hot sauce, lime wedges, and additional cilantro.
SLOW COOKER: Sear the chicken in a skillet on medium-high heat as directed. Add the first 4 vegetables to the skillet and saute for 2-3 minutes. Use a little chicken broth to deglaze the pan if you need help getting those browned bits off the pan (that's flavor!) Transfer the vegetables, chicken and everything through step 3 to a 6 quart slow cooker. Cook on low for 5-6 hours or on high for 2-3 hours. Shred the chicken, then stir in the remaining ingredients as directed in step 6. Serve.
STOVETOP: Sear the chicken in a large soup pot (at least 5-6 qt) over medium-high heat. Continue with the instructions and after you add the remaining ingredients to the pot (through step 3), bring it to a boil, then reduce heat to low and let it simmer gently, covered, for 40 minutes. The chicken might not shred as easily using this method so you may have to cut it into chunks. Add the remaining ingredients in step 6. Serve.
Notes
Nat's Notes:
My Sweet Potato Fry Seasoning is simply equal amounts of chili powder, garlic powder, ground cumin, and sea salt. For this recipe, combine 1 teaspoon of each seasoning together and use as the recipe indicates. I recommend keeping a mason jar of this stuff in your cupboard, though. You can use it for so many things -- sweet potato fries, roasted vegetables, dry rub for grilled meat...
Recommended Products
As an Amazon Associate and member of other affiliate programs, I earn from qualifying purchases.
Disclosure: This post contains Amazon affiliate links. Purchases made by using these links doesn't cost you any extra and helps to keep my content free.