Our Favorite Herbal Teas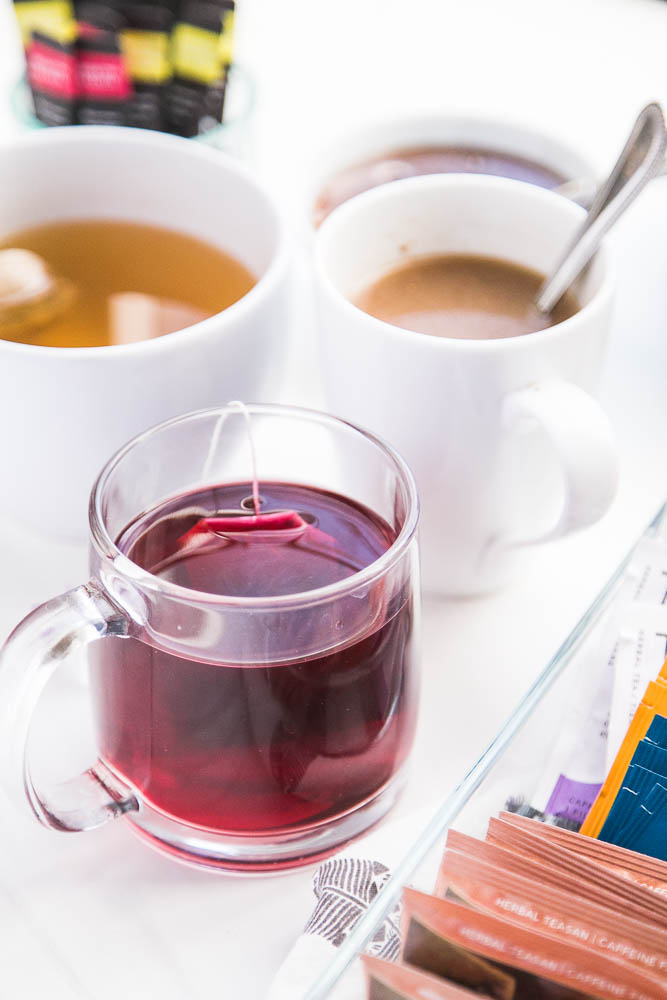 I'm such a tea junkie.
I should preface this by saying that I don't actually drink black or green tea for religious and personal reasons. So I guess I'd technically be called an herbal tea junkie.
After living in different parts of Europe for about 2 years in my 20s, I fell in love with all of the flowery, fruity herbal teas that we drank. They're much more into tea over there.
Steve and our kids love herbal tea, too.
I wanted to share some of our family's favorite herbal teas with you! We drink it when we're sick, when it's cold and snowy (and I feel like they've had their fill of hot chocolate lol), in the morning with breakfast, or whenever we get the urge.
All of these are relatively easy to find, too — I got all of the ones shown below at the grocery store (except for Pique teas).
This isn't a sponsored post, but I did include some affiliate links. I don't anticipate you'll want to buy 6-packs of them, but seeing the description on Amazon will allow you to have a good look at them.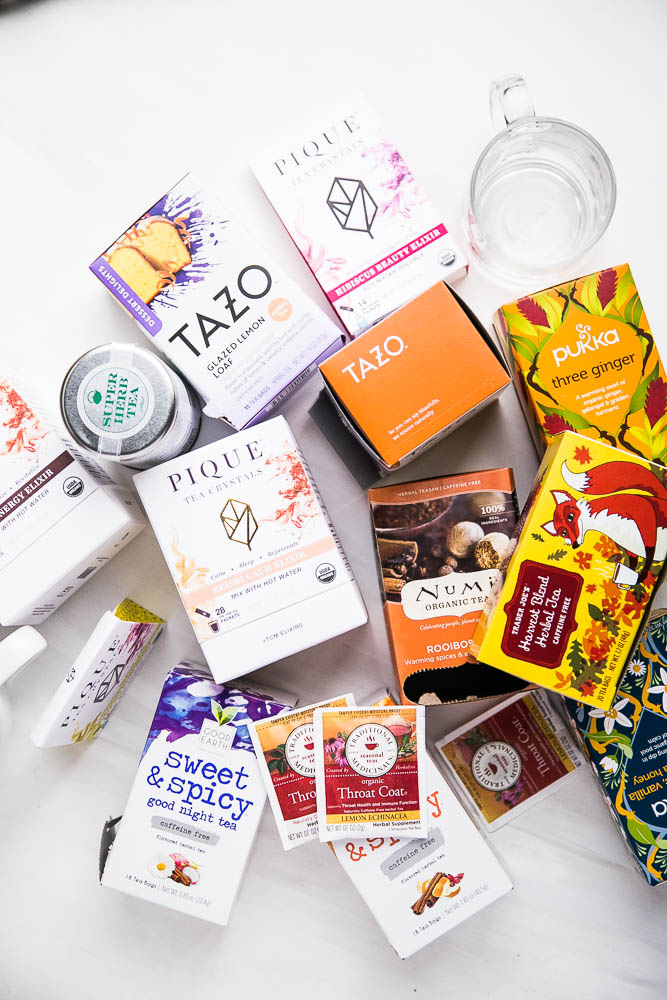 As I emptied the tea shelf in the cupboard I noticed that I like different types of tea for different reasons. And I'm partial to certain brands over others.
(Sorry Celestial Seasonings and Bigelow. You just don't do it for me.)
This isn't an exhaustive list. I've tried other brands and flavors over the years and liked them, but there are some that I keep going back to.
Is Herbal Tea Really Tea?
Well, no.
If you want to get technical, what's typically called "herbal tea" is actually an herbal infusion. Herbal infusions aren't made with tea leaves used to make other kinds of tea (green, black, oolong, etc.).
Herbal teas are also caffeine free, which I like.
I'll just call them teas for the sake of consistency.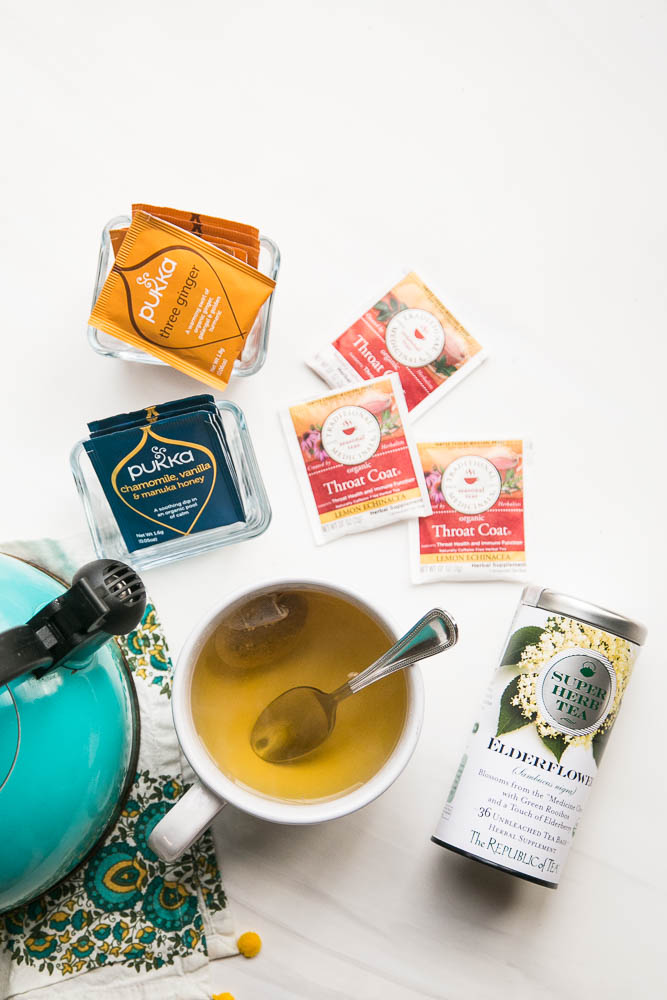 The Best Herbal Teas for When You're Sick
Cough/Cold/Sore Throat: Throat Coat by Traditional Medicinals. HANDS DOWN. I tend to get some wicked coughs when I'm sick, and I REALLY dislike cough drops. (Barf) Filling my 30oz Yeti mug with Throat Coat (2 tea bags!) works much better than cough drops. And the mug keeps it warm for like 8 hours. It's also the only tea that I don't mind drinking unsweetened.
All of our kids love it, too.
Upset Stomach/Vomiting: Any tea with ginger, chamomile, or peppermint because they both soothe upset stomachs well. I particularly like Tazo Organic Spicy Ginger and Pukka Three Ginger (this one has a little turmeric in it, too). I don't normally like straight chamomile tea, but Pukka Chamomile Vanilla & Manuka Honey is really, really good.
General Blah: I love elderflower tea for general blah-ness. Or for nighttime coziness. Or to take to work first thing in the morning. I tend to drink it all the time. The taste is hard to describe, but has a sweet floral flavor. But not too florally.
I fell in love with elderflower tea while I lived in Austria (Europe has amazing teas). Until recently I couldn't find any that I liked until I tried the Elderflower Tea from Republic of Tea. (I got mine from Thrive.) This one will get reordered over and over.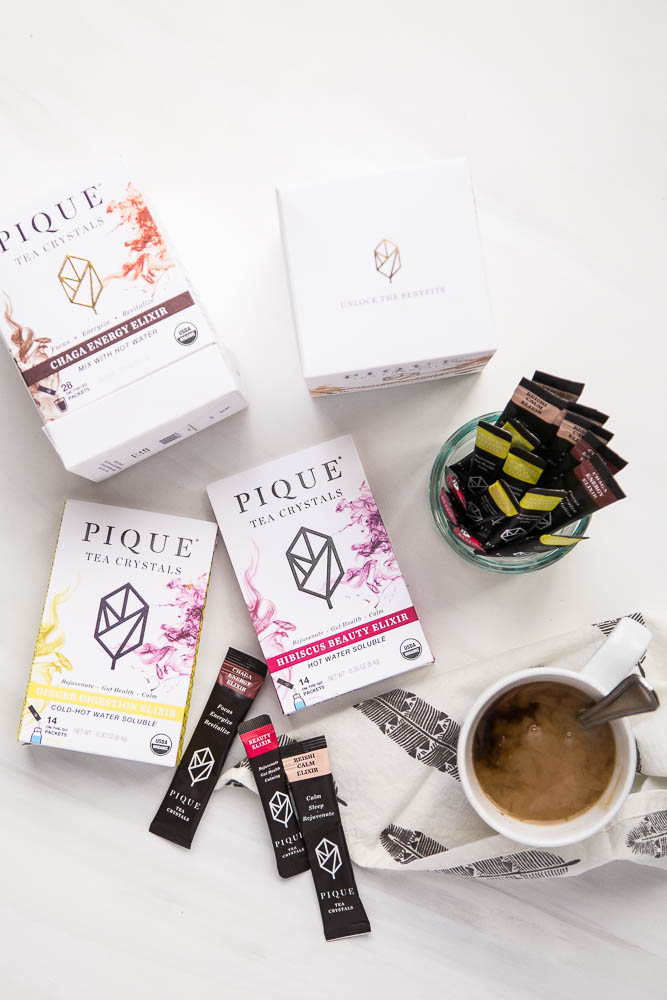 The Best Herbal Teas for Wellness
Last year I received some samples from Pique. (By the way, this isn't a sponsored post, but my Pique links are affiliate links.)
Pique offers organic, premium tea that is well-sourced and goes through a triple toxin screening for pesticides, heavy metal, and toxic mold. They brew it on low temps for up to 8 hours, keeping all of the naturally occurring antioxidants and phytonutrients in tact. They end up with a super concentrated blend and then crystallize it.
What's the deal with the crystals?
Well, most Pique teas can be made with cold or warm water and without steeping!
I've taken them with me when I travel, too. I tried all of their caffeine-free teas and my favorites were these:
Reishi Calm Elixir: This one is made with reishi mushrooms. It has an earthy flavor (like the Chaga Energy Elixir which is also mushroom-based). I added some sweetener and a splash of almond milk (or cream) and it tasted somewhere between coffee and chocolate. It's delicious — especially at night.
Hibiscus Beauty Elixir: This one reminded me of Tazo Passion tea (more about that later!). I really love this one cold, too.
I really love Pique tea and how they take super great care around the quality of their teas. They're more expensive than teas you find at the store, but they're worth it if you're a tea lover.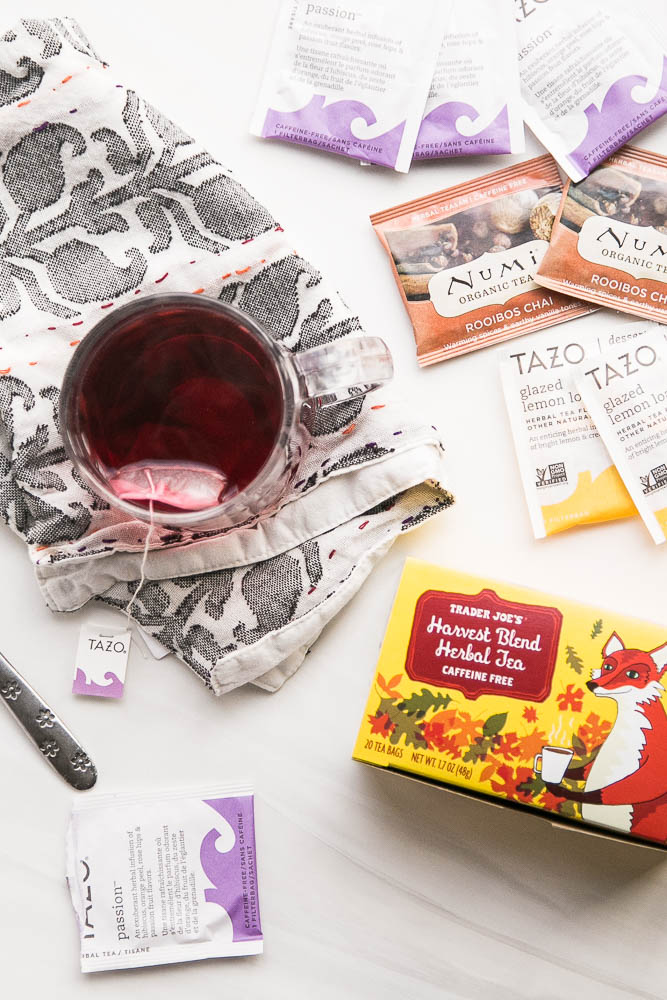 My Favorite "Treat" Herbal Teas
I'm a nighttime snacker. During my rounds of Whole30 when I'd feel that snacky feeling coming on, I'd either grab a LaCroix or make some tea. Unfortunately, I'm not a huge fan of unsweetened tea, but some teas naturally taste sweeter than others.
Some of my favorite "treat" teas are below:
Numi Rooibos Chai — I was so excited to find this one because being an herbal-only tea drinker meant I was missing out in a whole world of Chai — that blend of exotic spices in the famous black tea. I found this and FELL IN LOVE. So much that it inspired me to make my own Chai Spice Blend. Numi also has some fun turmeric blend teas.
Tazo Passion Tea — This is the base of those famous "Pink Drinks" (Google it.) It's super tart and citrusy and florally all at the same time. I made popsicles out of this one summer!
Tazo Glazed Lemon Loaf — Lemon cupcake in a mug. Truly.
Trader Joe's Harvest Blend — This is such a yummy fall blend — notes of apple and cinnamon and cloves. Mmm. Trader Joe's often has fun seasonal teas, including loose teas.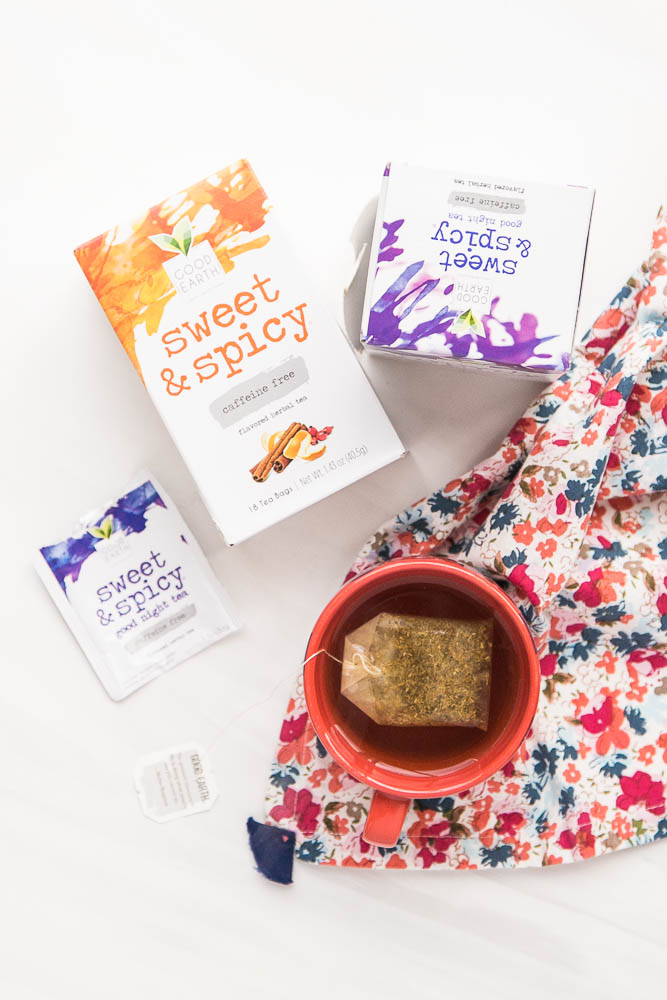 Our Kids' Favorite Herbal Tea
Good Earth Sweet & Spicy and Good Night Teas are my kids' favorite teas. (Aside from Throat Coat, that is.)
They're super flavorful — lots of cinnamon and baking spices here — and have a natural sweetness to them so you don't need to add much, if any, sweetener.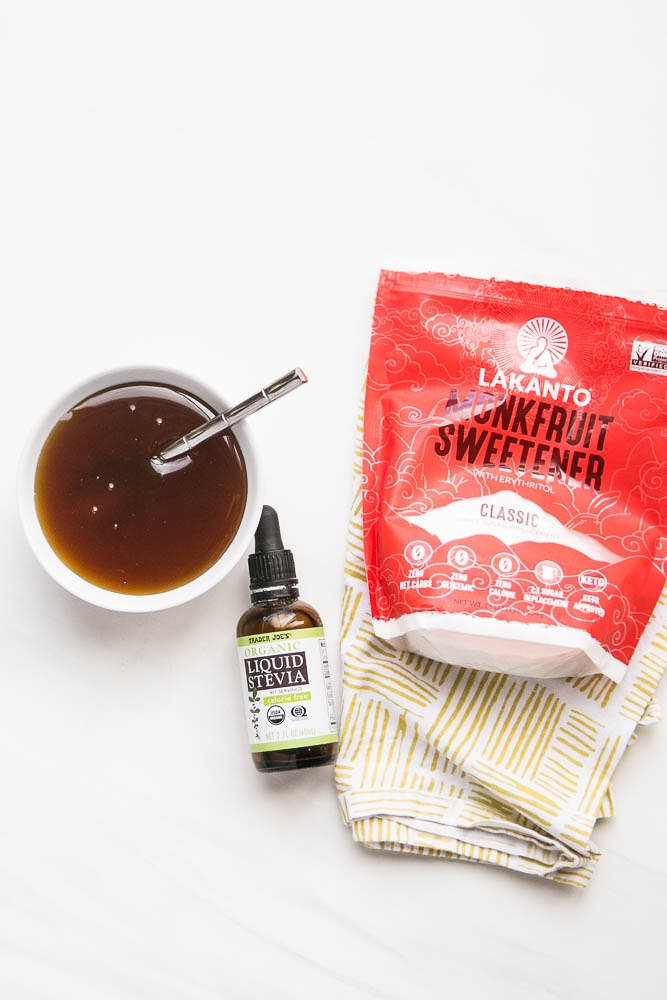 Natural Sweeteners for Herbal Tea
Stevia: My go-to tea sweetener is a few drops of liquid stevia. Most of the time I buy it at Trader Joe's. I love SweetLeaf Vanilla Cream Stevia, too. I don't use stevia in many other places. A lot of people don't like the after taste of Stevia, but I don't really notice it in tea.
Low-Carb Sweetener: Lakanto Monkfruit Sweetener is a monkfruit/erythritol blend and it's my go-to for something low-carb. It works wonderfully in tea as well.
Raw Honey: I do love a dollop of honey in my tea occasionally. This is what my kids most often use, although, they do need some monitoring — otherwise they end up with a mug of liquid candy. Lol.
Coconut Sugar: This is another tasty option. I like coconut sugar because it has caramel notes like brown sugar does.
My Favorite Tea Mugs
Now for the vessels.
Small
Small Stackable Coffee Mugs — When we moved into our first home, one of Steve's patients gave us a housewarming gift — a set of stackable mugs. I'm pretty sure they're technically coffee mugs and were much smaller than our regular mugs.
I wondered what I'd do with them until I realized they were the PERFECT size for hot chocolate for my kids! Five-year-olds don't need a 14-ounce mug of hot chocolate, am I right?
Those 8.5oz mugs filled about halfway were the perfect amount for little ones. They have ALLL different colors and patterns at World Market, but for some reason I could only find white ones online.
Medium
Simple Modern 12oz insulated tumbler — Yes, that's wine tumbler up there, but it's PERFECT for tea. I actually stopped using regular mugs because 80% of the time I'd make a mug of tea, set it aside to cool and completely forget about it for 2 hours.
I only use an insulated tumbler. Because if I forget about it for a few hours, IT'S STILL WARM.
Large
Contigo 16oz AutoSeal insulated travel mug — I LOVE Contigo water bottles. The auto-seal ones are the only water bottles I've ever had that don't leak. I had the large ones for a long time (Until I left a few in airports last year. Sob.) but saw these smaller ones at Costco a while back.
I give them to my kids with Throat Coat tea when they're sick and living on the couch all day. And they don't spill everywhere. They're the best.
Extra-Large
Yeti 30oz Rambler insulated tumbler — This is the biggie. Like I said, I fill this with tea when I'm sick or have a nasty cough so it'll stay warm and last me half the day.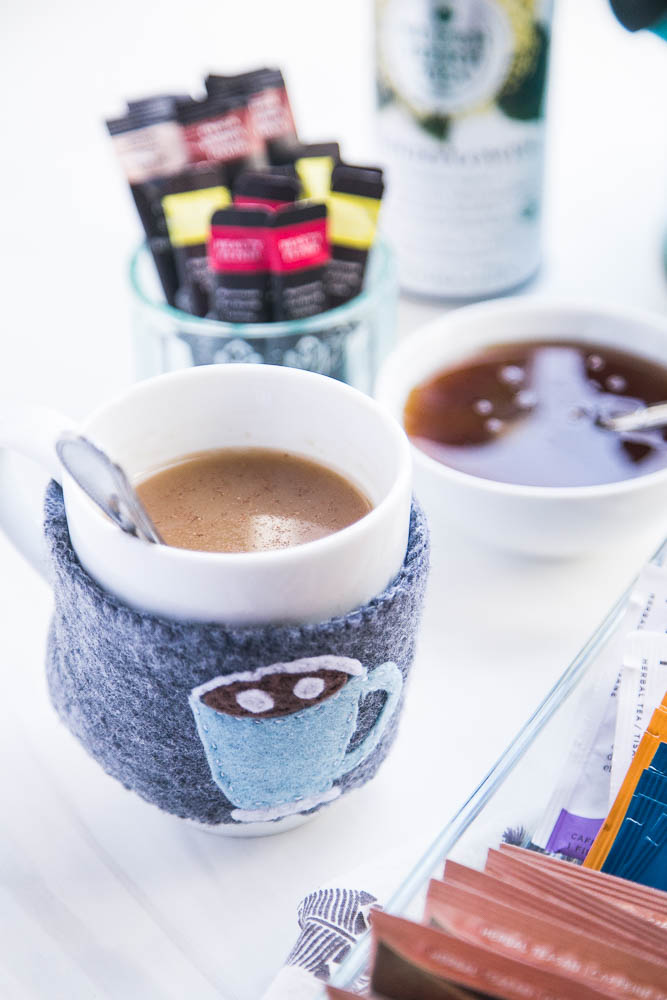 More Tea Accessories
Mug Cozy: Isn't that little mug cozy the cutest? My 12-year-old made that in her Family Consumer Science class last year. I love the ones that look like knitted sweaters. *gush*
A Cute Tea Kettle: I have this Aqua Tea Kettle from World Market. By the way, World Market has SO many cute tea accessories. (Also not a sponsored post from WM, but man, I love that store.) I have my eye on one of these Japanese Cast Iron Kettles.
Loose Tea Strainer: I used to have those metal balls on a chain, but the clasps would come undone and dump loose tea in my water. Steve got me one of these Snap Ball Tea Strainers. I love it way more.
Every few months I find another herbal that I love. I may need to expand my allotted cabinet space.
Just in the time it took me to photograph and write this post, I discovered another Trader Joe's tea — Red Refresh. It's fruity with a little hibiscus and I can't wait to make some iced this summer!
Do you have a favorite herbal tea? Leave me a comment and let me know!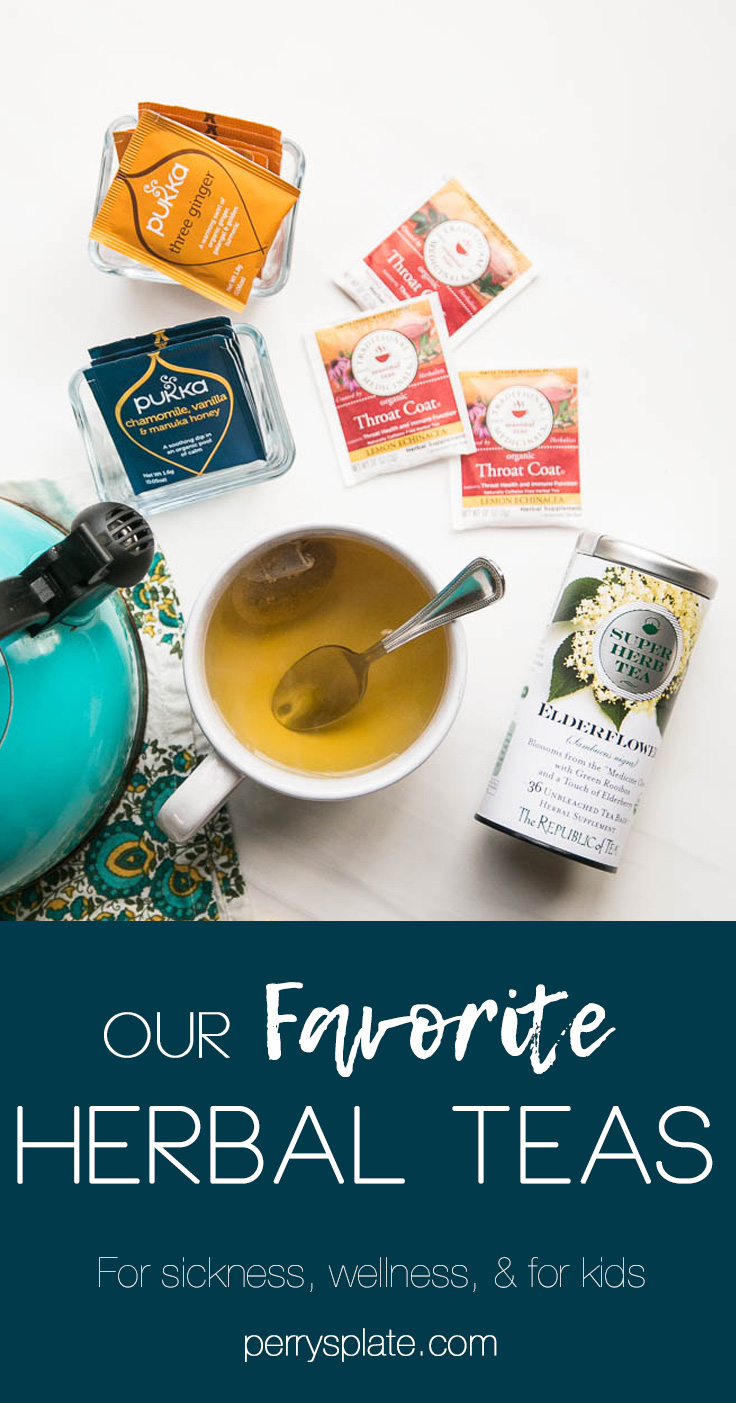 Disclosure: This post contains Pique and Amazon affiliate links. Purchases made by using these links don't cost you any extra and helps to keep my content free.