Putting together a healthy charcuterie for the holidays is easy. And so is this classic cheese fondue that's non-alcoholic and kid-friendly. It's our family's favorite Christmas Eve tradition!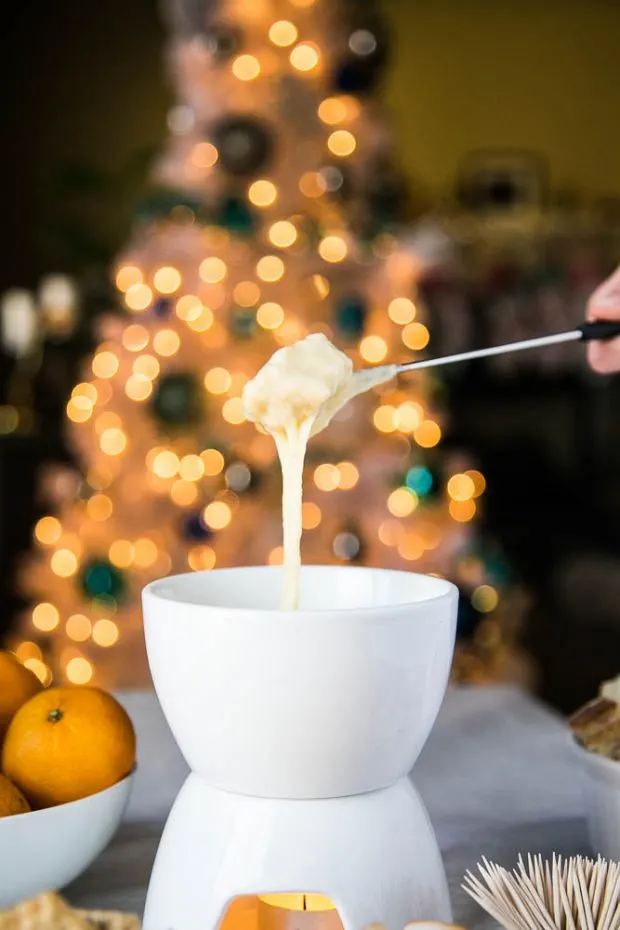 One of the reasons why I love Christmas is that there isn't any hard, fast "rule" for what you eat.
Before we started having cheese fondue and a charcuterie board for Christmas Eve, our Christmas tradition was battered & fried fish tacos (long story, but know my grandma was mortified when I told her we weren't having turkey).
Then the kids got older and started having opinions. They decided fish tacos weren't their thing (sob), and Christmas got increasingly busier the older they got, so I wanted something easy and simple for our Christmas meals. If you didn't know — battered & fried fish tacos are a lot of mess and a lot of work.
We eat a LOT of snack plates and thrown together charcuterie platters during the year, but when Christmas rolls around, I get out the BIG platter and make it more special with fondue.
The kids LOVE it and it's a healthy meal to balance the onslaught of sugar cookies, eggnog, and stocking candy. And you can wrap it up and easily pull it out later for snacking.
I'll show you how to put together a healthy charcuterie board that kids will love and an EASY recipe for cheese fondue. (Psst. It's non-alcoholic!)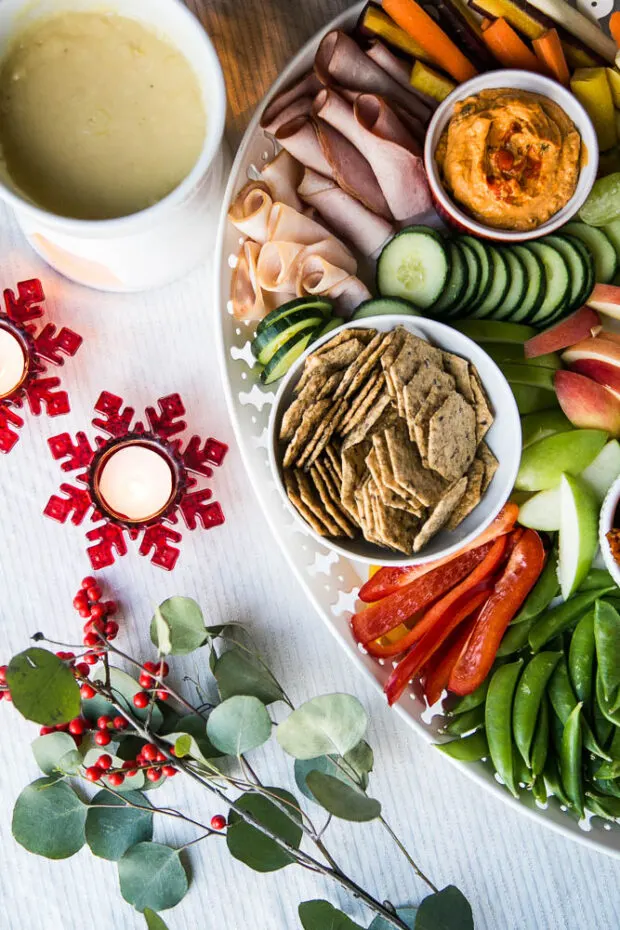 How to make a healthy charcuterie board for kids
Choose healthier bread, chip & cracker alternatives
A charcuterie board without some kind of chip or cracker for dipping is just a meat & veggie tray, right? Dippers are ESSENTIAL and kids LOVE to dip things!
Find some healthier dippers like homemade sourdough bread cubes, veggie chips, grain-free tortilla chips, and gluten-free seed crackers.
Let's get back to charcuterie building.
Choose veggies & fruit they like
This will 100% depend on your kids. My kids happen to like most of their vegetables in raw form, so I can put a variety of things on here and they'll eat it. If your kids only like baby carrots and grapes — put baby carrots and grapes. And maybe one or two things that are new or unfamiliar or happen to be in season — like pomegranates and mandarines.
I've learned that if you just set out a platter like this and walk away, they'll get curious enough to try new things. Or sometimes they'll eat all the crackers and run off. Raising healthy eaters takes a lot of time and patience. Ha.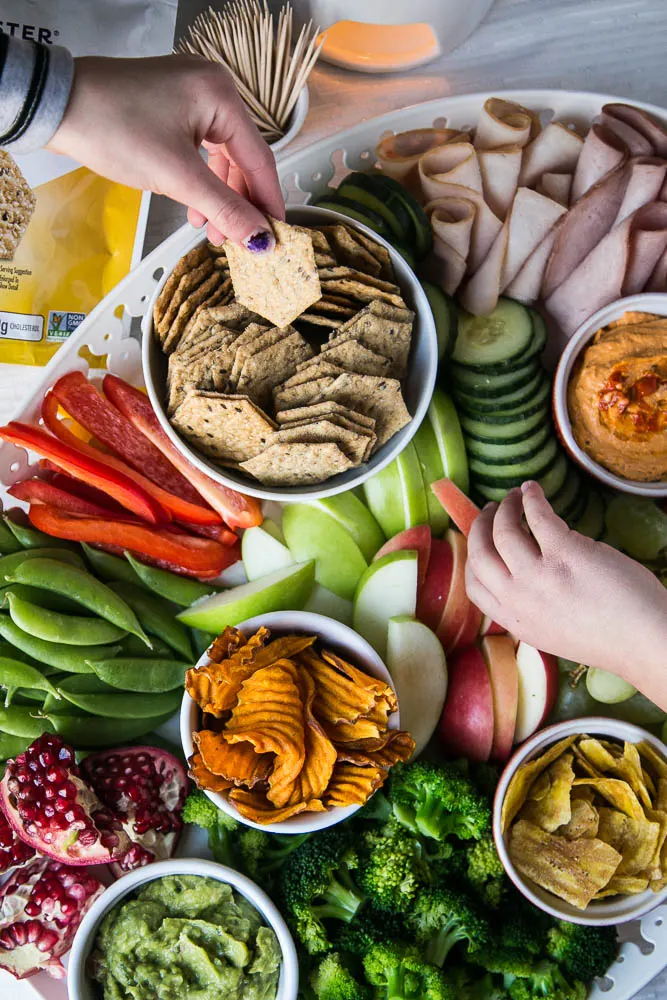 Add some protein
To round out a healthy charcuterie board, add some protein! For this platter I cut slices of ham and turkey in half and rolled them up. I also added some protein-rich hummus and…. cheese fondue has quite a bit of protein, too.
You could add hard-cooked eggs, cheese cubes (if fondue isn't their thing), beans or a bean-based dip.
Use different kinds of dips
Dips are the fun part! Have fun with this and get 2-4 different kinds for them to try.
Sadly my kids aren't huge ranch eaters, so I usually put out guacamole, hummus, and maybe one dairy-based dip. For our Christmas Eve charcuterie, I usually buy the creamy jalapeño artichoke dip I'm addicted to.
Or some kind of thick ranch-based dip. Mostly for me. I'm a ranch kid.
Tips for assembling a healthy charcuterie board
Now that you've got your ingredients, start assembling! There aren't any hard, fast rules for this, but here are a few tips I've found to be helpful:
Put the dips and crackers/chips in small bowls or ramekins. This keeps things neat and you avoid soggy chips if they've been sitting next to something moist for a couple of hours. It also helps to contain the dippers and make them look nicer so they aren't sliding around the platter.
It helps to put the containers on there first and arrange the rest of the food around them.
Be aware of what the components are touching — don't put things together that would adversely affect their taste. Like, pomegranates shouldn't be rubbing up next to the ham and turkey. That kind of thing.
Let's talk about fondue now.
By the way, those Crunchmaster® crackers are delightful dipped in cheese fondue. Typically bread cubes are served with fondue, but crackers and chips do just as well!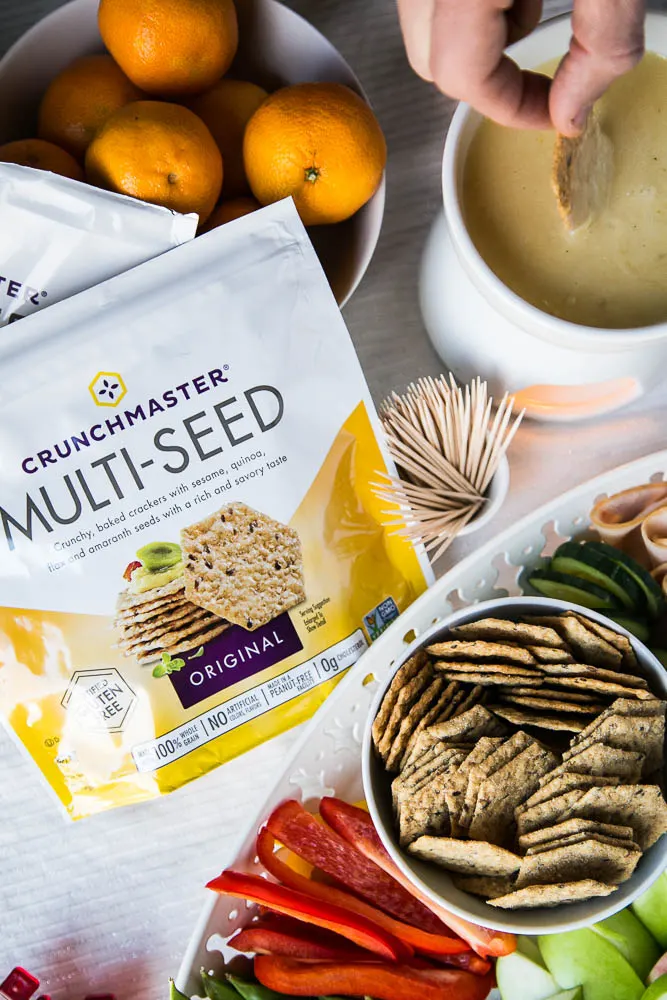 What kind of cheese is good for fondue?
Classic cheese fondue is made with gruyere and maybe Swiss cheeses, but you can use any other cheese as long as it melts well. Gouda, fontina, and Monterey Jack are good ones. (Psst. Gruyere and fontina are both types of Swiss cheese — did you know?)
Mozzarella melts well, too, but it's incredibly stringy, so I wouldn't recommend using it.
Do I need a fondue pot?
It's best to have a pot with a heat source to keep the fondue warm. It keeps it from clumping as it cools. If you don't want to buy a fondue pot, you'll have to put the pot back on the stove periodically to keep the fondue warm.
If you anticipate having fondue nights throughout the year, then investing in a fondue pot would be a good choice! There are several different kinds — electric, gas-heated, and candle-heated. I have an electric one (but borrowed a candle-lit one from a friend for this post).
I linked to a couple different kinds of fondue pots in the recipe card (including the electric one that I own). You can use any of them for chocolate fondue as well. (We sometimes do chocolate fondue on Christmas Eve, too! Or on Valentine's Day.)
You could also use a small slow cooker!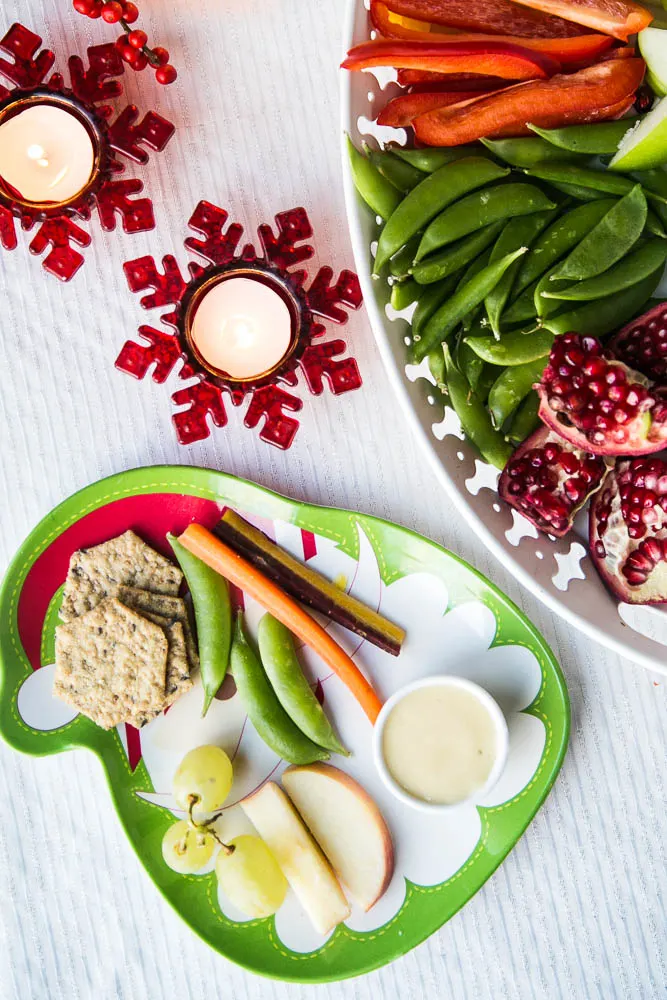 Tips for serving fondue to small children
Fondue nights are fun, but the thought of small children waving sharp sticks with hot, stringy cheese-covered objects around makes me nervous.
For kids under the age of 5, I fill a very small bowl with cheese and set it on their plate for them to dip. This also works if you're doing fondue for a lot of people and sticks wouldn't be practical.
Good luck with your charcutering and fonduing!
---
If you make one of my recipes, be sure to post it on social media and tag me at @perrysplate or #perrysplate so I can send you some love!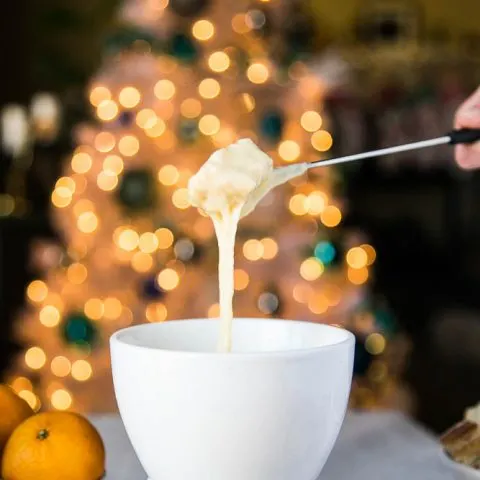 Easy Cheese Fondue (Non-Alcoholic)
Yield:
Makes about 3 cups
This easy cheese fondue recipe is non-alcoholic and kid-friendly! Serve it alongside a healthy holiday charcuterie for a fun Christmas Eve meal.
Ingredients
8 ounces grated Gruyere cheese (about 2 cups)
8 ounces grated baby swiss cheese (about 2 cups)
2 tablespoons tapioca starch or arrowroot starch
1 whole garlic clove
1/2 cup chicken broth
1/2 cup apple cider
2 teaspoons lemon juice
pinch of salt and black pepper
Instructions
Put the grated cheese in a medium bowl and sprinkle the tapioca starch over the cheese. Toss to coat the cheese evenly. (Don't skip this step. The starch keeps the cheese from clumping and makes the fondue smoother and thicker.)
Cut the garlic clove in half and rub the cut side all over the inside of the pot or bowl in which you plan to serve the fondue.
Put the broth and cider in a medium saucepan and heat it to simmering. Reduce heat to medium-low until the liquid is no longer bubbling, but steamy and hot.
Begin adding the cheese to the pot a little at a time by grabbing a small handful and sprinkle it into the hot liquid while stirring with the other hand in a figure 8 motion.
Continue gradually adding handfuls of cheese (after the previous handfuls have completely melted) until all of the cheese has been added and the fondue is thick, stringy, and relatively smooth.
Remove from the heat and stir in the lemon juice, salt, and pepper. If you'd like a stronger garlic flavor, use a microplane grater and grate 1/2 of the garlic clove into the pot.
Pour the fondue into the bowl of a fondue pot or desired serving dish.
Serve with your choice of dippers.
Recommended Products
As an Amazon Associate and member of other affiliate programs, I earn from qualifying purchases.