A smoked salmon charcuterie board makes the perfect appetizer (or meal!) during the holidays! Here are some tips for creating a smoked salmon board that everyone will love whether it's a fancy brunch, a cocktail party, dinner parties, or Christmas Eve with your family. It makes a beautiful presentation and it's a great way to please everyone in your group because it's so customizable!
I'm excited to share this smoked salmon board with you. Charcuterie boards (or meal boards… basically anything served on a large wooden tray. ha) make the most delicious meals.
I didn't think smoked salmon would be their thing, but 3 out of 4 INHALED it so quickly I had to set some aside for Steve for later.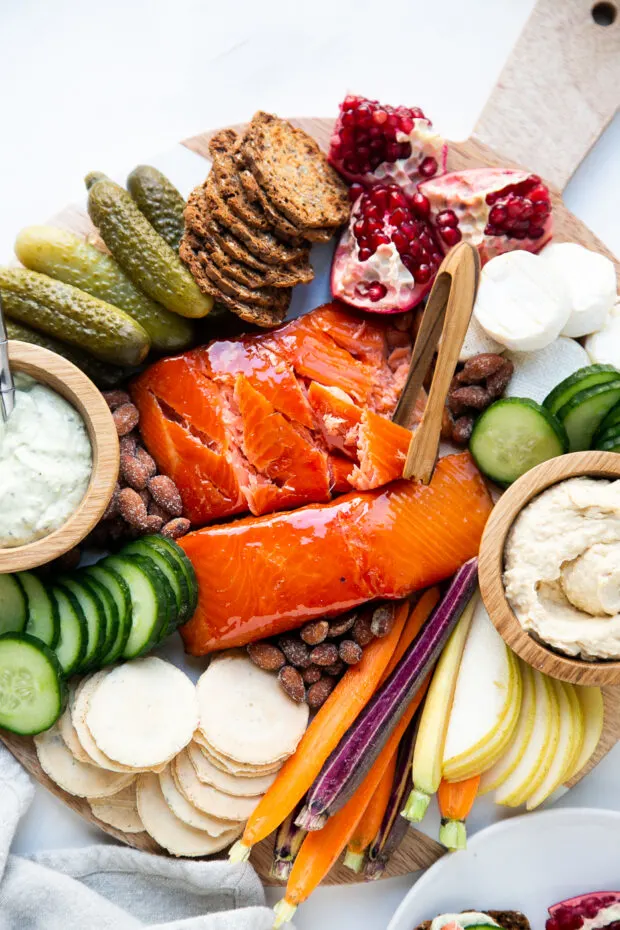 Start off with smoked salmon. A little goes a long way, so don't feel like you need 4 pounds for your party.
Or if you're smoking your own salmon, get some really fresh salmon. I got some salmon from Catch Sikta and smoked it myself, but they all sell pre-smoked salmon and other fish which is totally delicious, too. They have the best quality fish, and it's always super fresh.
Here's my EASY tutorial on How to Smoke Salmon. Getting all of those smoky flavors into salmon is easier than you think. I hope you have a pellet grill (like a Traeger or a CampChef)!
What to serve with smoked salmon
Traditional foods that go well with smoked salmon are cream cheese, red onion, lemon juice, fresh dill, and black pepper. Things that are creamy, herby, and acidic/briny compliment smoked salmon really well.
Don't be limited to just those things, though. When you're creating a charcuterie or snack board you can add lots of different things. Things that are creamy and briny make great options. You can find everything you need at the grocery store.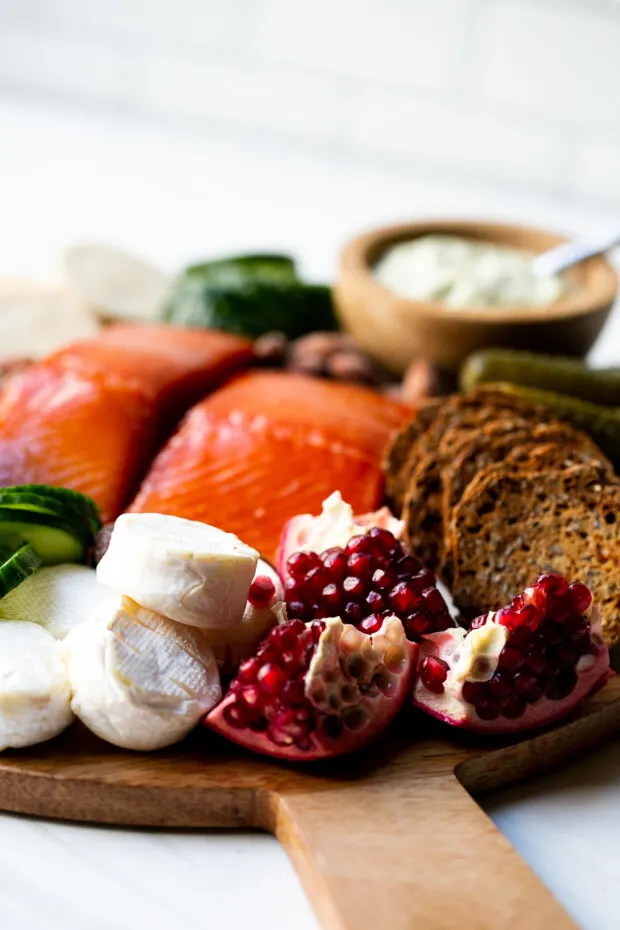 Here's what I put on my board:
Mini Brie bites (from Trader Joe's)
Two kinds of crackers
Two kinds of dip (a sour cream based Green Goddess dip & hummus)
Carrot sticks
Sliced Cucumbers
Dill Pickles
Sliced Pears
Pomegranate wedges
Spicy Dill Pickle Almonds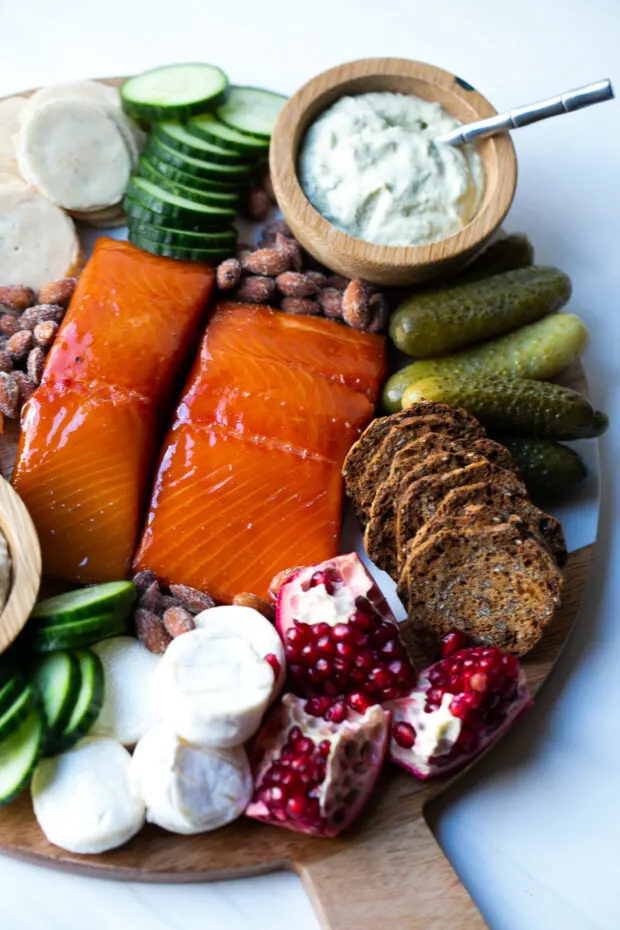 Tips for creating a meal board:
Add something creamy
Soft cheeses and creamy dips are always a great choice to add some richness to a charcuterie. Creamy cheese and spreads like crème fraîche are always a good thing, too. I'd go as far as to say that adding salmon dip wouldn't be a bad thing. More is more during the holidays, right?
There are even dairy-free options for dips and cream cheese now!
Add something crunchy
I always add 1-2 kinds of crackers for building a little salmon crostini. Small sourdough bread toasts, pretzels, bagel chips, and slices of rye bread are a fun choice. Nuts and veggie sticks work well, too. Just cut them into small pieces.
Add something fresh
Fresh fruit, vegetables, & fresh herbs give your meal board a fresh look. I've found also, that if I put fresh veggies and fruit out along with the more indulgent things (like cheese & crackers) my kids eat more veg. A little counterintuitive, but it works.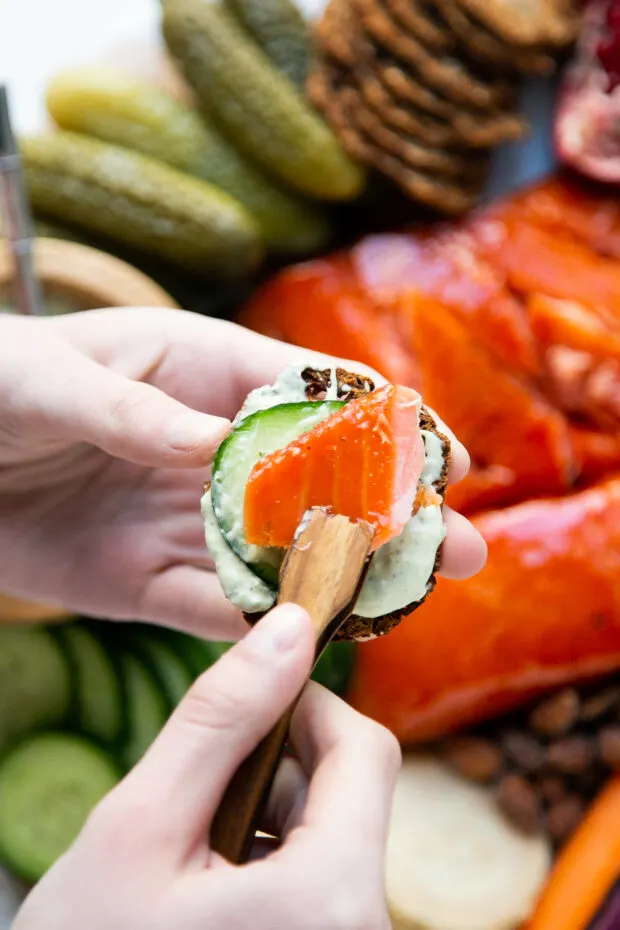 Add something sweet
Fruit is always a good choice and almost all fruit can be easily eaten as a finger food. I liked pears and pomegranates this time since they're seasonal for December. Depending on the purpose of the board, some candy or chocolate might be good, too.
Add something pungent, briny, and/or spicy
Covering all kinds of flavor is always a good idea and takes your charcuterie board to a whole new level. I chose pickles and spicy dill pickle almonds. Lemon wedges, pickled red onions, olives, Dijon mustard, spicy brown mustard, and marinated artichoke hearts would also compliment your smoky salmon well.
Another tip is to let your board sit at room temperature for an hour or so before serving. The flavor of the salmon and cheese will be better if they're not chilled.
We're big fans of meal boards. You can add whatever you like to your smoked salmon platter and make it as small or as large as you like. Here are a few other meal board ideas we really like.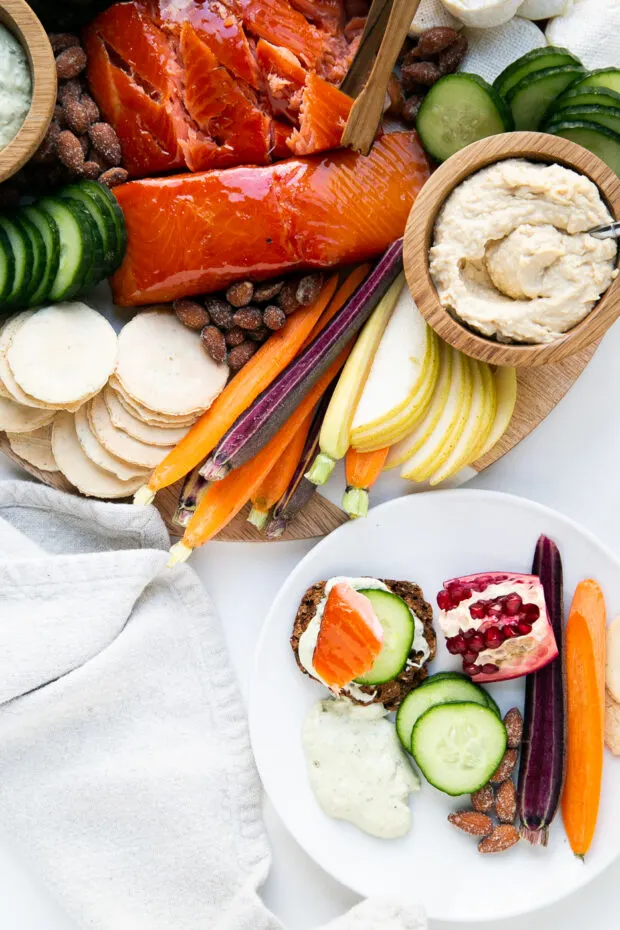 More Meal Board Ideas on Perry's Plate
Healthy Holiday Charcuterie with Cheese Fondue — Charcuterie and fondue is a perfect combination. My fondue recipe is easy to make and non-alcoholic. And you don't even need a fondue pot!
Rainbow Salad Board — A beautiful rainbowtized salad board we love to pull out for St. Patrick's Day or Pride Month. I love all of the different
Valentine's Day Breakfast Board — I surprised my kids one year with this giant breakfast board with waffles, bacon, and alllll of the toppings. And some chocolate, too.
---
If you make one of my recipes, be sure to post it on social media and tag me at @perrysplate or #perrysplate so I can send you some love!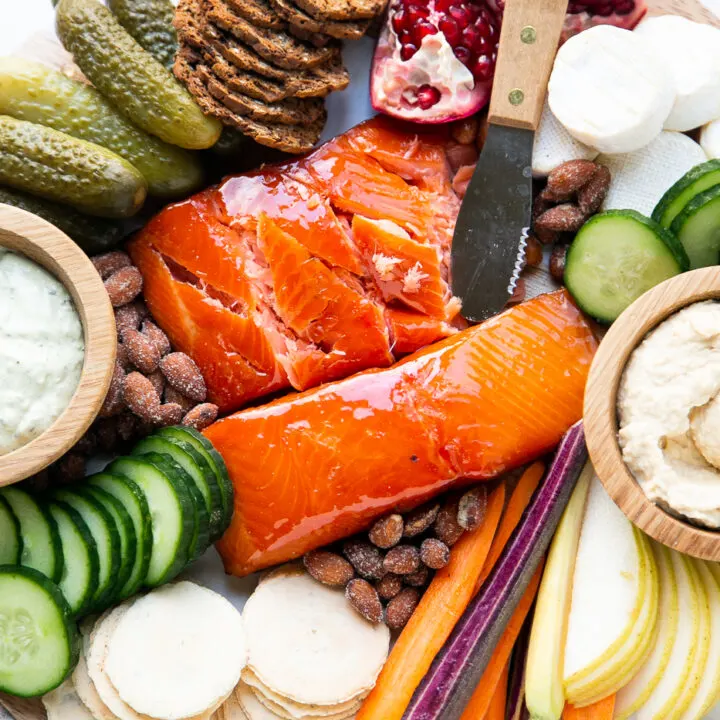 Holiday Smoked Salmon Board
This Smoked Salmon Board makes a beautiful presentation, and it's a great way to please everyone in your group because it's so customizable!
Ingredients
8-10 ounces hot smoked salmon
Crackers, mini toasts, or something to build crostinis
Fresh fruit and vegetables, cut into bite-sized pieces or spears
Creamy dips like hummus, ranch, or Green Goddess Dip
Briny things like dill pickles, pickled red onions, or olives
Soft cheeses like brie, herb cheese like Boursin, or another cheese you prefer
Instructions
Place the smoked salmon in the center of a large cutting board or food-safe wooden tray.
Arrange the rest of the items around the salmon, putting dips into small bowls.
Serve
This post contains affiliate links. Purchases made through affiliate links helps to keep my content free for you.